Twilio is a cloud communication provider, that makes it easier for businesses to offer flexible and customizable communication functionalities within apps, and websites. Some of these functionalities can enhance the user experience for voice, video, messaging, authentication, and more technical, back-end customization for developers.
Here, we're focusing on SMS messaging. SMS messaging can turn a simple app into a channel that customers can rely on whether they're at home, in store, or even working with an agent directly. It also plays an important role in omnichannel strategies by bridging the gap between a website and social media. That's why you'll see companies like Uber using Twilio's APIs to optimize their app. Let's break down how Twilio's SMS messaging API can optimize your app to its fullest potential and look at how other companies use Twilio to do the same.
But What's So Great about Twilio Specifically?
Twilio's SMS messaging API gives app developers a ton of features to work with. And like we said, they're customizable to fit the specific needs of any business, regardless of size. At the end of the day, personalization is what matters when implementing a business strategy that aims to prioritize the customer experience. So let's take a closer look at what Twilio offers so you can get a better sense of how these functions will optimize your app to its fullest potential.
MMS-enabled numbers in US and Canada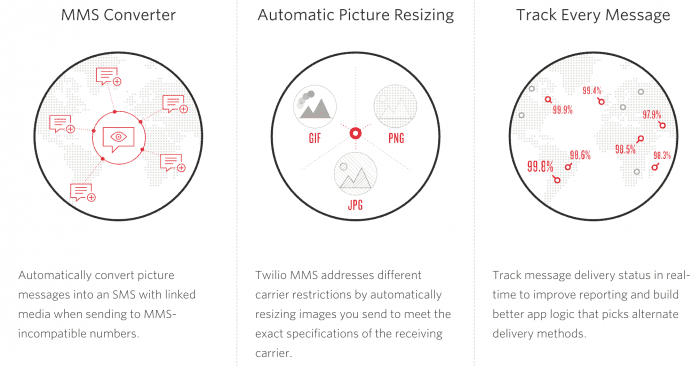 We say this quite often, but people are visual learners, meaning if there's an opportunity to communicate with a customer via a picture, .gif, or video, there's a higher chance of connecting with that customer. MMS takes SMS even further, which naturally optimizes a feature already aimed at optimizing your app.
Furthermore, if a customer has a complaint while they're on the go and it makes more sense to send a picture of the issue, they should be able to do so right from their phone and send it through your app. Twilio's SMS messaging API also identifies which customers can receive an MMS message, which can help prevent an awkward situation where you send someone a .gif, but they can't see it.
Messaging Short Codes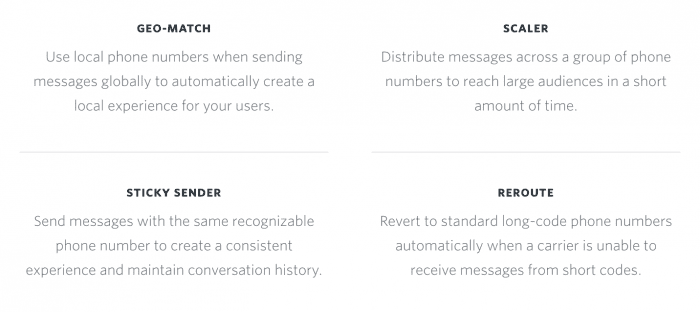 This allows businesses to send messages to large groups of people quickly, which also helps to send out time-sensitive messages that can make or break an experience. Without this feature, agents would have to note when a customer is reached, who that customer is, and what that message was regarding. It's a ton of time wasted for no reason.
Instead, your app can communicate directly with customers through Twilio to ensure important messages are delivered instantly. This is extremely effective in an omnichannel strategy where a customer walks into your store with your app in hand. When they open the app, they could receive a message that reminds them of coupons, deals, or any other valuable information they need to make the experience better.
Twilio Autopilot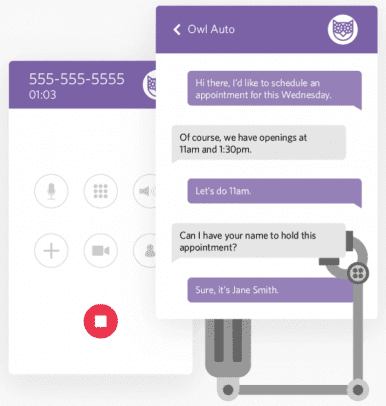 Twilio Autopilot, which was recently announced with Twilio Flex,  uses a "declarative API as well as NLU and ML" to interpret customer intent and actions. In other words, Autopilot is using AI to determine what a customer wants quickly, and then to offer a response based on that context via a bot. If you're a bigger business with a developing team, this is where customization can really come into play to make your app more effective. Developers can give the bot(s) unique commands that cater directly to your strategy while optimizing the user experience.
If you're a small business and you don't have a developer, Twilio Autopilot can help prevent you from hiring another agent dedicated to responding to any messages you receive on your app; or it can help keep you focused on more important matters by automating the smaller, time-consuming inquiries with AI. You can't ask for much more — especially when autopilot extends to other channels as well.
Unicode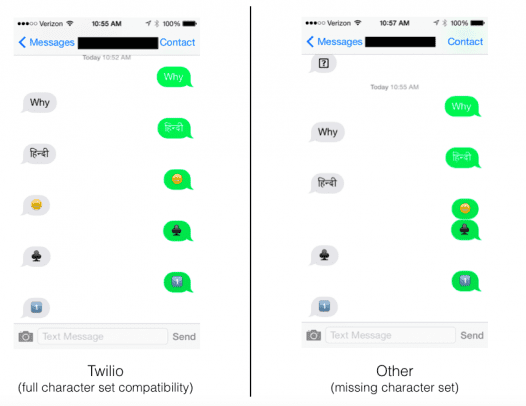 Twilio's SMS messaging API even allows customers to use characters from other languages like Chinese or Arabic. Apps need to be inviting for everyone, especially if you're a large business with customers all over the world. It needs to be easy for international customers to use your app and communicate as they wish without worrying about their message being delivered clearly. Unicode offers businesses one set standard to avoid any potential confusion.
The way Twilio's API works is that it will handle character recognition and encoding for you. Unicode SMS messaging, unfortunately, comes with character limits, but when paired with Twilio Copilot, the API will detect what characters should stay and go so your messages are optimized for readability regardless of where your customers are. An added benefit is that emojis can be used for more personalized messages too.
Android App Verification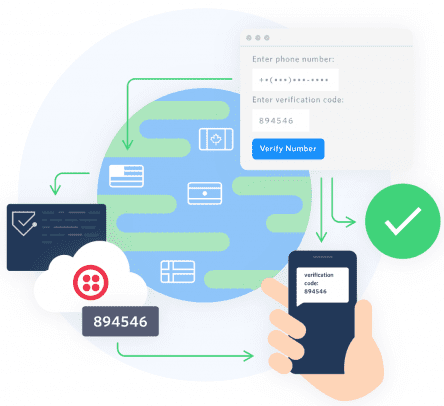 Security is imperative for building trust between you and your customers. It will never hurt to make your app more secure for your customers. Two-factor authentication is an effective strategy businesses now offer to customers so they feel as if their accounts will always be protected. Twilio's SMS messaging API automates the verification process, which helps increase the user experience and helps lead to higher conversions.
According to Twilio, it only takes two lines of code for this function to work for your app. This, as we've been stressing time and time again, is important for large and small businesses who have much bigger issues to deal with. However, larger companies and organizations have a harder time convincing customers their information is safe, so extra security is especially important.
Message Queueing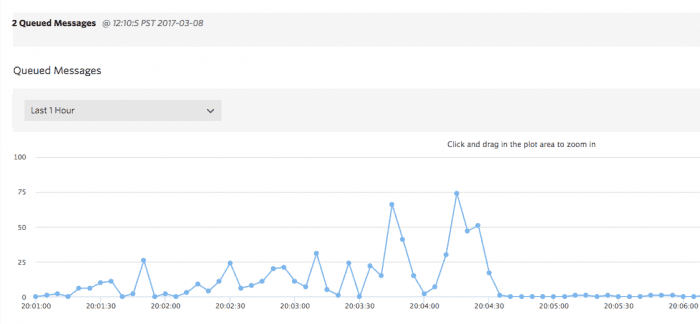 Back-end management is also imperative when looking to use Twilio's SMS messaging API to optimize your app. Message queueing helps agents stay organized by listing messages as they come in. That way, there's no mishap where one person's waiting twenty minutes for a response while you're busy handling messages that were sent thirty seconds ago.
You can also queue your own messages which will be sent out depending on how you see fit. The customizable capabilities of Twilio's APIs allow businesses to use them in a way that optimizes your specific app and overall business strategy. If you want messages sent out within five minutes of receiving a message, you can do that. If you haven't responded to someone in a long time, you can automatically send a message through your app to show a customer that you haven't forgotten about them.
Multichannel Capabilities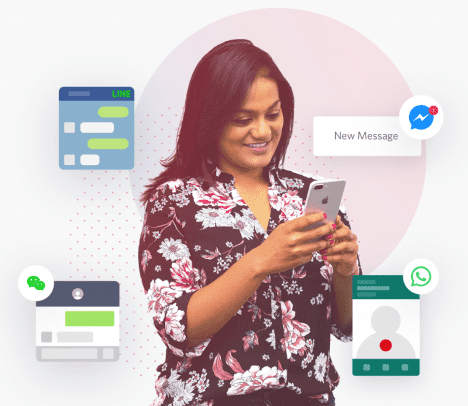 Here's where things get interesting. We're supposed to be figuring out how can Twilio's SMS messaging API optimize your app, but now we're bringing in different channels? Let's say you determine your customers use Facebook Messenger primarily, and you want to reach them on a channel they're already comfortable with. You can insert Twilio's coding into your app to give customers the option of communicating through Facebook Messenger without leaving your app.
This might seem redundant, using Facebook Messenger exclusively over your own personal app loses the personality that typically encourages a customer to make a purchase. Branding and first impressions leave a significant impact on the customer. You're also not limited to Facebook Messenger; Slack and WhatsApp are other great, popular channels.
Custom App Logic

You can design how you want Twilio's API works for your app, but what Twilio does to take this a step further is to offer businesses the ability to define custom logic for any response. This means you can create all kinds of workflows and your app will have a response ready-to-go for whatever message it receives.
The more your developers can automate for your app, the less you have to worry about. When paired with machine learning technology like Twilio's Autopilot, you can finally focus on what matters most — the customer experience. The more responses you receive, the more workflows you can create, the more workflows you create, the more an AI-powered chatbot has to address any and all inquiries at much higher rates.
Use Cases
It's not enough to simply list the functions of Twilio's SMS messaging API. What better way to describe how it can optimize your business' app than by providing you with some use-cases from major companies and organizations.
Uber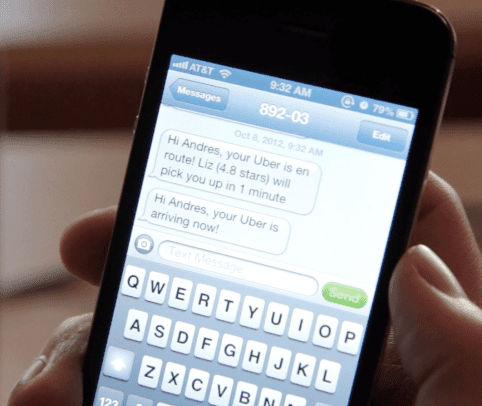 The Uber app allows customers to get real-time updates on where the uber driver is and how long it will take for the driver to pick you up. This is done through SMS message and through the Uber app itself. Immediately after confirming you need a car, you're sent a message with the driver's name, car type, and license plate number to ensure you can spot the driver immediately. In New York City where there are drivers everywhere with nearly-identical cars, this significantly improves the experience by eliminating the possibility of getting in the wrong car or just getting lost.
Dell

Dell uses Twilio's SMS messaging API for order confirmations. It's not always easy to tell if you actually ordered a product correctly or if you ordered the right one. Mistakes happen and they're often inevitable. However, what matters most is transparency, being able to see exactly what you did so you can either breathe a sigh of relief or cancel the order. You're also making sure all the bases are covered by sending an SMS message on top of an email because it's never a guarantee that the buyer will check their email for the confirmation.
Intuit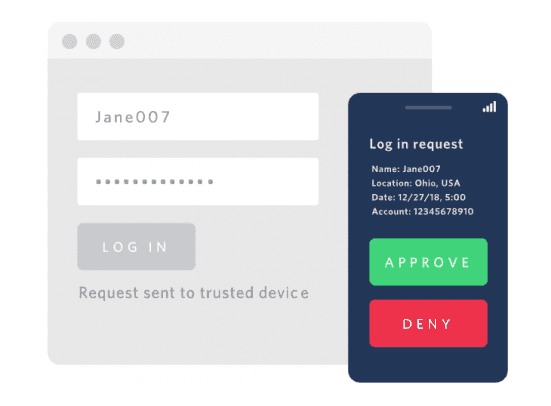 Intuit offers two-factor authentication, which is perfect for added security when using an app. We can thank all those security breaches recently for bringing to light how vulnerable apps can be. Two-factor authentication makes it much harder for anyone to access a user account. People are starting to realize that passwords are becoming more and more obsolete as hackers become more and more sophisticated. By adding an extra step to sign in to your app, you're giving your customers the impression that app security is a top priority and that their data will be safe.
Arkansas Children's Hospital

Arkansas Children's Hospital uses Twilio's SMS messaging API for appointment reminders. This significantly reduces the number of no-shows, which can be very costly when not addressed immediately. If you're in the medical field, you know appointments are hard to come by, and families don't always have all the time in the world to wait for a much-needed appointment. If the hospital assumes a child is coming in, but they find out last second that they're not, they're missing out on an opportunity to bring another family in. Appointment reminders sent via SMS message are instant and are almost a surefire way of contacting a family or customer.
Nordstrom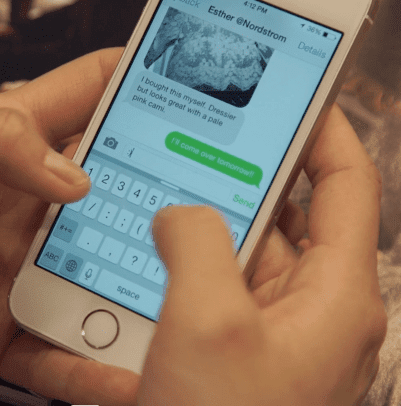 Nordstrom is known for offering a high-quality omnichannel experience. This is, in part, due to their ability to offer a great user experience for customers using the app as they shop in-store. Nordstrom uses Twilio to allow customers to purchase goods by messaging a personal shopper. This means a customer doesn't even have to go through the hassle of ordering online. They can simply send a picture of what they want through a text and they'll get it. Plus, customers can receive updates on new arrivals, which can help improve conversions significantly.
The Final Word
SMS messaging is a powerful channel for businesses looking to personalize the customer experience while broadening their business strategy or adopting an omnichannel approach. Twilio offers a powerful SMS messaging API for top companies that all aim to enhance the overall customer experience.
APIs also take a lot of pressure off developers who are busy with multiple tasks throughout the day. They're also a great solution for business owners with little-to-no coding experience who want to offer customers a powerful app that will make their lives easier. Customers are constantly using apps to do business, which means the app can't just be a simple rehash of your website. It has to be optimized for mobile from the start.
APIs act as a powerful shortcut to improve the user experience. When customers and developers don't have to worry about the user experience because Twilio has that covered, every interaction, regardless of channel, can be prioritized. SMS messaging is quick and easy for both parties, which is why Twilio's SMS messaging API should be seriously considered.
The use-cases we provided can be applied to businesses of any size, so you shouldn't think just because Uber and Dell are using Twilio doesn't mean you can't. One of the most powerful features of APIs is that they can be tailored to fit your business' specific needs. Twilio offers great insight into what businesses can do with their SMS messaging API. The functions we highlighted can, and should, be applied to your app now.