The VoIP industry itself is on the rise. Global enterprise mobility, which is a major driving factor for businesses as they switch to VoIP and move away from traditional phone lines, is predicted to reach an incredible $500 billion in value by as soon as 2020.
Out of all the industries that stand to benefit from a significant push towards VoIP, the hospitality industry is among the top. Here, we're going to look more closely at the best VoIP business phone systems for hotels and what features to look for.
There are a number of benefits that VoIP and
virtual PBX
 solutions bring to the table over standard
landline telephony
, most prominently being major cost savings. But along with those cost savings, Business VoIP also introduces a medley of features and functionalities that work not only for more typical organizations but also the hospitality industry specifically as well.
With virtual receptionists, for example, someone calling in to book a room for the night would never need to wait on hold if actual hotel employees are engaged in other activities. They can instantly be connected to a representative at a third party location who can handle all booking and customer interaction matters, likely without ever realizing they're not talking to someone from the hotel they'll be staying at in the first place.
The ease of international and long distance calling, along with the aforementioned cost savings, can be a significant boost to a hotel's bottom line – especially if they cater to hard traveling business professionals.
Online faxing improves productivity and empowers collaboration on-the-go, while IVR menus allow hospitality organizations to create relevant, helpful and specific automated greetings to improve the experience of current and existing customers.
Automated call routing, SMS messaging functionality and others are also a major draw to both hospitality employees and the guests they've dedicated themselves to serving.
These are only a few of the ways in which VoIP phone systems can be a major benefit for hospitality businesses in particular. In truth, this is only scratching the surface – there is a wide range of reasons why VoIP is a technology to be embraced across this sector. Let's dive in.
Running a hospitality business in particular often involves a tremendous amount of paperwork: credit card payments and statements, passports (for overseas travelers), for example. The mailing of important documents is also imperative. Hotels who handle thousands of guests at a time can spend endless amounts of money on paper, ink and printer needs; online faxing can eliminate much, if not all, of those costs if applied properly. And it will free up a dedicated phone line in the process, which, depending on the size of your hotel, can cut costs significantly.
Online faxing is very similar to traditional faxing — only in this case, a document is scanned and sent via an email before it is printed as needed. You can still send faxes to particular numbers, except now you can do so without a fax machine. This is often a very flexible option as it supports a wide range of different document types like .DOC and .PDF. This makes it an inexpensive option in addition to a versatile one. Below, you can see Nextiva's online faxing in action. Pay close attention to the phone in front, and how faxes can go right to your email.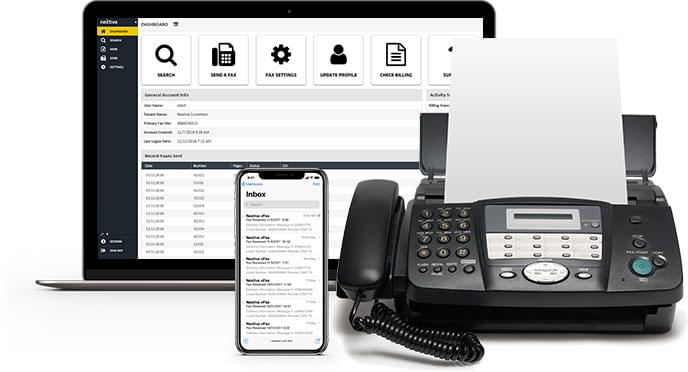 In addition, this doesn't just help a hospitality organization cut down on those aforementioned costs, but it can also be positioned as another "value added" service aimed at attracting the attention of business travelers in particular. If a business traveler is staying in your hotel and is in town for an event like a conference, the chances are high that they're going to need to stay as productive as possible for the duration of their trip. This could mean they need to send an important document to a client or colleague immediately.
The simple fact that you offer a feature as convenient as online faxing will often be enough to get people to book the room and it will likely mean that if they're ever in town again, they will be more likely to return to your organization. They can perform any function they need from a productivity sense without actually leaving the hotel. Online faxing typically offers users an e-signing feature to make documents official and offer added legal security to whatever is sent electronically. Now guests and employees have complete control over the documents they send.
Convenience is especially important when guests are in another country. If, for example, a copy of a passport is needed for proof of identification, your hotel can receive that copy instantly. It goes without saying that the customer experience has to be prioritized, and online faxing gives hotels the ability to do so.
Having a document such as a copy of your passport or birth certificate sent directly to your email versus being printed out provides extra security for those extremely sensitive documents. Building trust is important for hotels because guests want to feel at home while they're away. Small features with significant benefits make all the difference in improving the whole guest experience and will encourage them to come back.
Stay Connected Internationally
When guests are traveling out of the country, they naturally want to stay connected with their friends and family members back home. They need to keep people informed about how their trip is going and their itinerary and often use those precious moments of quiet time back at the hotel.
The problem is that international calling via a traditional phone system is often prohibitively expensive — both for the hotel and for the users who will eventually be paying for some of that business phone bill on their account. According to a study from Business.com, the average cost of an international call from the United States to Mexico via a traditional landline telephone for 30 minutes can range from $8.10 to $10.26 depending on the provider.
VoIP works via an Internet connection so from a data perspective, making an international call is not too dissimilar from sending an email or engaging in an online chat session. Data is data, and as a business providing a service, you get to enjoy the efficiency and cost-effectiveness gains that come with that. Guests should never worry about the cost of making an international call and neither should employees who have to get in contact with overseas guests who wish to book a room.
Another study revealed that switching to VoIP can help businesses reduce the cost of international calling alone by up to 90%. On average, most businesses of all sizes see a savings of 50-75%. Those aren't just savings that can help significantly cut costs for any hospitality business — it's also a benefit that you can use to cement a competitive advantage for yourself in your area.
Instead of paying a ton of money to reach out to international guests and lose a solid chunk of profits that come from booking extra rooms, you can reach out to those guests for free over the internet and not worry about the cost. Again, when you don't have to worry about the cost, you don't have to worry about speeding through a conversation, which might detract people from booking a room. Instead, your employees can focus solely on the customer experience.
Whether travelers want to stay in touch with family members while on vacation or they need to update their loved ones in the event of an emergency, the option to do so easily and cheaply — if not freely — should be there. If this is a priority for them and you market low or no cost international calling as a standard feature with booking a room, that can make all the difference in booking a room.
IVR Menus Optimize Support
Short for "Interactive Voice Response,"
IVR
menus are those automated greetings you hear whenever you call a business. Oftentimes you'll get a short welcome message and will be asked to "Press 1 to speak to the sales department; Press 2 to speak to a support representative," etc.
By far, IVR menus are a perfect opportunity for customer-facing organizations (like hospitality businesses) to handle incoming calls more efficiently. Each number on a keypad can be used to route a caller to a specific place depending on the reason they're calling in the first place.
Not only do you not need to hire an operator to manually route these calls, but you can even use different menus at different times of the day based on the way your business changes. Plus, AI is going to play a much bigger role with IVR systems. See this image below to get a better understanding of how it works: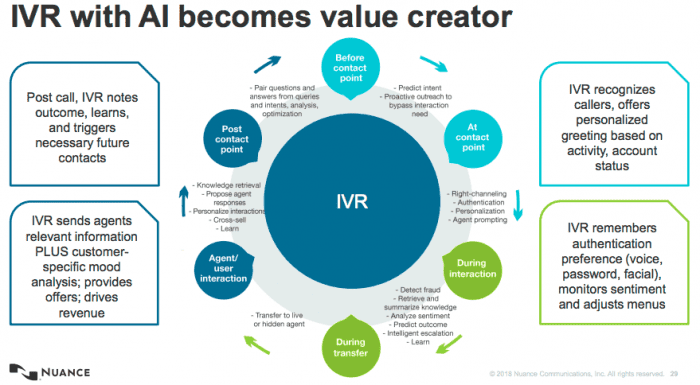 Keep in mind that guests, as is true with customers who interact with any other type of business, want to be directed to the appropriate department quickly and efficiently. If they book a room, they want to instantly speak to someone who will allow them to do that. If they have a question about billing, they want it addressed as soon as possible. IVR menus are your perfect chance to do that without manually routing a caller from one department to another on your quest to find them the right person to talk to.
This benefits your average hospitality business in a few different ways. For starters, guests are getting connected to the right department as fast as humanly possible – thus leading to faster resolution times for questions and concerns, along with a generally improved user experience. Likewise, this also means that you can handle higher volumes of calls with greater ease, once again improving the customer service arm of your business across the board.
Allow Guests to Ask for Help
Oftentimes, hotel guests need a lot of assistance — but at the same time, they may be hesitant to actually ask for it if they're in a rush and/or don't want to get stuck on hold with a support agent while on vacation. This is a common situation, and also one that underlines the importance of advanced call routing via VoIP.
With advanced call routing and automatic call distribution, you have more options than the simple 24/7 set schedule from basic call routing. You can forward numbers as needed, either those that are dialed simultaneously or sequentially, depending on the specifics. You can even have different functions performed based on whether a call is answered or goes unanswered.
If you don't answer, you can have someone automatically transferred to voicemail. If you do, you can record a call, place them on hold, transfer them to an additional number and more. Advanced call routing can even route callers to alternative numbers like support agent mobile devices, or enable organizations to establish unique and customizable schedules.
Hotels always need to make sure that they're interacting with guests in a way that prioritizes the needs of those people. Advanced call routing is one of the best opportunities you have to do precisely that, all while improving the overall quality of the guest experience you're able to offer at the exact same time.
Virtual Assistants Open Lines
Along the same lines, another major benefit to hospitality businesses that you get from VoIP (and from both the aforementioned IVR menus and Advanced Call Routing features) has to do with the concept of virtual assistants.
If you're unfamiliar with virtual assistants, they're, as the name suggests, a digital assistant — not a real person — that can make calls, perform certain phone management tasks, and use machine learning technology to handle more specific tasks without needing the user to feel like they're speaking to a robot. Virtual assistants and chatbots are often used synonymously with each other because they perform the same tasks. If you understand what a chatbot does, you understand what a virtual assistant does too.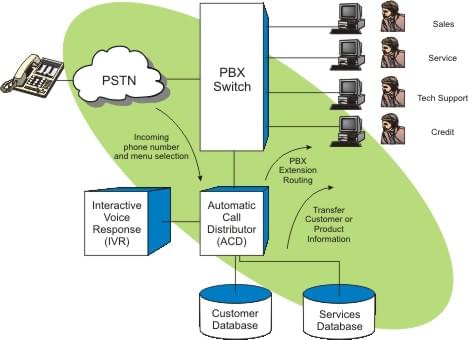 A real-world example of a virtual assistant would be Vonage's Vee, which can set up and manage accounts and desk phones, add group calls and a virtual receptionist feature to your service, and much more.
Oftentimes, virtual assistants use sophisticated technologies like machine learning and natural language processing and can become more adept at dealing with common client inquiries, like say tracking a package, or directing people to the right agent and/or department for more specific assistance. But even going beyond that, the benefits of this alone are plentiful:
Virtual assistants help free your employees from their phones so that they can provide more personal care and attention to guests who have important questions and issues.
Virtual assistants are often significantly less expensive than hiring actual employees (and paying benefits) to do the same job.
Virtual Assistants can provide clients and guests with information and support even after all of your employees have gone home for the day while offering a positive customer experience. In the hospitality industry, this is imperative because employees have to work quickly while dealing with guests face-to-face. If a front desk clerk needs to call a cab for a guest, they can simply ask the virtual assistant to do so. Some can go even further and find the closest cab service with the cheapest price without the employee lifting a finger.
SMS messaging is another term used to describe the fast, efficient text messages that most people receive on their smartphones countless times a day. With a traditional phone line, you cannot send an SMS text message, whereas, with VoIP, you can.
From any VoIP terminal or connected mobile device, you can instantly send out a quick update to specific numbers or even large groups of numbers in seconds. If you needed to send a fast security update to guests to keep them up-to-date about a fluid situation like a fire, for example, you could send that information as an SMS-based data message to all guests currently staying in the hotel in seconds. Think of how Amber Alerts work.
Not only can this be incredibly useful for situations like fires, but it can also be of critical importance when informing people about unfortunately common situations like active shooters. It can even come in handy for a number of basic situations like alerting people to interesting events taking place around town, reminding them about deals and certain promotions you may be running and more.
VoIP Phone Systems for Hotels
Here, you can see how the best
VoIP Phone Systems
hold up against each other when it comes to the features they offer. These features are ones we've already mentioned extensively throughout the article. However, just because you know what features to look for doesn't mean you know which provider is right for you. Price and customer service play an important role as well so make sure you go to the
Nextiva
,
Vonage
,
RingCentral
,
Jive
,
8×8
, and
Mitel
websites too.
| | | | | | | |
| --- | --- | --- | --- | --- | --- | --- |
| | | | | | | |
| Call Routing | Yes | Yes | Yes | Yes | Yes | Yes |
| Online Faxing | Yes | Yes | Yes | Yes | Yes | Yes |
| Virtual Assistants | Yes | Yes | Yes | Yes | Yes | Yes |
| IVR Menus | Yes | Yes | Yes | Yes | Yes | Yes |
| International Calling | Yes | Yes | Yes | Yes | Yes | Yes |
| Automated Group SMS | Yes | Yes | Yes | Yes | Yes | Yes |
| CRM Integration | Yes | Yes | Yes | Yes | Yes | Yes |
VoIP Equipment for Hotels
There's tons of equipment out there for hotels interested in making the switch to VoIP. Here, we're going to quickly outline some equipment that stands out the most to us. We'll also show you different price ranges so you can get a much better idea of what's in your hotel's budget.
VoIP Phone Systems for Hotels
Let's start with VoIP phones and phone systems for hotels, the most important tool a hotel needs in order to communicate with guests and for guests to book rooms, order room service, stay connected with family, and bring forth any potential issues they're experiencing. These phones are designed with the hospitality industry in mind.
Cisco SPA525G2 5-Line IP Phone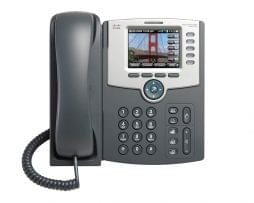 This humble VoIP phone is perfect for the front desk of a small hotel and comes at a surprisingly low cost for the number of features offered. You can find it on Amazon and it includes free shipping. You also have the choice of purchasing a headset, headset lifter, or both with the phone for an added cost. You even have the choice of buying up to ten phones.
For example, the Cisco SPA525G2 comes with five lines. During the holidays when business starts to pick up, it's good to have multiple lines open in case guests have a question while others want to book rooms. More technical features such as extra connectivity with Bluetooth, Power over Ethernet, or a Wireless-G client.
This can help transfer calls smoothly from a mobile phone. It has a USB port, an MP3 media player and supports Cisco MonitorView, which allows you to stream video to its color display from a remote IP video camera.
Here, we're just going to quickly list some of the features on Amazon:
Enhanced network connectivity with Power over Ethernet, 802.11g Wi-Fi client with Wi-Fi Protected Setup (WPS), and Bluetooth headset support.
Graphic-reach, high-resolution 3.2-inch QVGA 320×240 color screen.
Simple and easy to set up virtual private network (VPN) client for voice.
Monitor up to 4 video cameras from your phone with Cisco MonitorView.
Supports productivity applications directly on the phone.
Supports multimedia functions, such as playing MP3s, displaying digital photos, and viewing RSS feeds.
Wideband audio for unsurpassed voice clarity and enhanced speaker quality.
Supports both Session Initiation Protocol (SIP) and Smart Phone Control Protocol (SPCP) with the Cisco Unified Communications 500 Series for Small Business.
Polycom VVX 601 Corded Business Media Phone System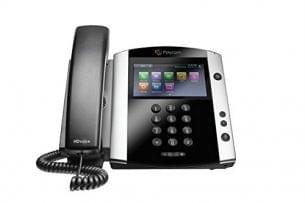 This sleek Polycom phone is not just aesthetically pleasing, but a workhorse for larger hotels who typically receive tons of calls on a regular basis. This phone is listed on Amazon with free shipping. It comes with 16 lines, a large touch screen, and a simple layout that won't be confusing to operate in the heat of the moment.
There are two USB ports, video playback and video conferencing via external USB cam, integrated Bluetooth, and a complete API toolkit for custom development, which is especially useful for hotels who have specific systems already in place.
This makes it easy to customize the phone to your liking, which enhances the user experience and, inevitably, the customer experience, giving your employees the confidence they need to focus on the issues at hand rather than figuring out how to use the phone.
Here are some extra features that make this phone worthy of your consideration:
HD Voice technology up to 14KHz on all audio paths (Speaker, Handset, Headset).
2 x Ethernet 10/100/1000.
2 x USB 2.0 host.
Green – low power.
Plug and play provisioning with zero touch provisioning.
Robust SIP feature stack.
Broad accessory support (Expansion Modules, Video camera accessory).
Skype for Business and Office 365 Cloud PBX interoperability (order "Skype for Business Edition" codes ending in "-019").
Yealink SIP-T48S Ultra-Elegant Touchscreen IP Phone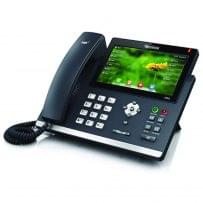 The Yealink SIP-T48S sounds like the latest calculator for high school and college students, but we promise that this is, in fact, a VoIP phone — and a good one at that. It's currently listed on Amazon and includes free shipping. As you can tell from the picture, the touch screen is massive, coming in at 7 inches.
What stands out to us are the reviews regarding this phone. It offers a ton of features that we'll list in a second, and those features are very high quality. Some people comment on how bright the touch screen is, which helps improve the clarity and usability of the phone.
The sound quality is high and another reviewer mentions how the weight of the phone was satisfying as well. Finding a phone that is structurally sound and full of advanced features for such a low price is hard to find. Yealink really goes above and beyond here.
Now let's look at some more specific features:
7″ color touch screen with 800 x 480 resolution.
 Dual-port Gigabit Ethernet.
AC 100~240V input and DC 5V/2A output.
29 touch keys.
HD Speaker and HD Handset.
Linux Operating System.
3-way conferencing.
Headsets for Hotels
You may have noticed that the phones we listed above have cords. If you're sitting at a desk all day, then it doesn't necessarily matter if there's a cord or not. However, there are tons of scenarios where you might have to get up, but it's awkward to put the guest on hold for something simple. To eliminate that potential scenario, we're going to showcase some VoIP headsets so you can get up if and when you need to.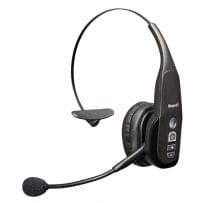 These headphones are all about convenience, which plays an important role as a call center agent or a front desk manager at a hotel. There will be times when you need to run back and forth to address guests waiting in person, when you need to go to the printer to organize files, and when helping other employees while you're on the phone.
You can always put the caller on hold, but there comes a point where that becomes uncomfortable and can risk spoiling the entire experience. This pair of Bluetooth headphones can be found on Amazon.
The VXI Blueparrott headphones look like they have a lot going on, but they fit comfortably on your head while blocking out 96 percent of background noise. This allows agents to pay attention to the call when necessary to ensure the customer receives the agent's undivided attention.
Some other features include:
Parrott Button can be programmed with the Blue Parrott smartphone app. (iOS and Android).
Unrivaled HD Voice call quality with 96% noise-canceling performance.
Near Field Communication (NFC) for easy, instant pairing. Talk for 24 hours, and charge via micro USB.
Use with two cell phones or a phone and PC at the same time. Durable all-day comfort.
Microphone Frequency Response:100 Hz to 10 kHz. Sound Pressure Level is 123 dB plus or minus 3 dB at 1 milliWatt.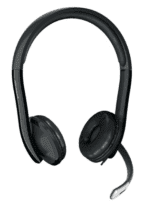 Here, we have another pair of wireless headphones that are at an extremely affordable $39.27 on Amazon. These headphones are a little bulkier than the first pair, but Microsoft keeps them light, weighing only five ounces. For a pair of noise-canceling headphones, this isn't bad at all. Audiophiles know this too.
What's also nice about these headphones are the settings that are easily accessible to the user. A front-end agent can mute a call quickly if they have to speak with someone at the front desk or adjust the volume if it's too loud or quiet. The padding around the ears is also important when it comes to comfort. Agents can wear these all day with little to no ear discomfort.
Now let's dive into the more specific features:
Clear stereo sound – The wideband digital audio reproduces sound accurately.
Noise-canceling microphone – Meetings and conference calls will be more productive as voices clearly cut through even noisy surroundings.
Inline volume and microphone controls – Adjust volume or mute on the fly with handy inline controls. The call indicator light lets people know you're "busy."
Plug and Play Simplicity – No software. Just plug it in and you're in business.
All-Day Comfort – Ergonomically influenced earpieces and a 270-degree adjustable microphone provide all-day comfort.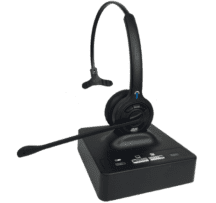 Before we go any further, we'd like to mention that these are top of the line (read: expensive) headphones, which can also be found on Amazon. However, you get what you pay for, and these come with a two-year warranty. These headphones are lightweight, come with a charging dock that can hold a charge for nine hours.
This allows agents to go about their day without having to worry at all about stopping to charge the headphones. They're also 100 percent compatible with macs and PCs so users can work directly on their computer without having to go back and forth.
We'd also like to point out that just because headphones are wireless, it doesn't mean agents can get up and go wherever they please. After a certain — usually short — distance, the connection becomes spotty, making them pointless. The Discover D901s, however, has a 1,200-foot range, which, again, ensure agents can move around without worrying about losing connection.
Here are more of the impressive features that are included with these headphones:
Experience up to 1200 feet (400-600ft in typical office) of wireless freedom to walk and talk in your office with clear conversations.

Built lightweight, with an adjustable headband and soft leatherette ear cushion for all-day comfort.

Compatible with 98% of corded desk phones.

The Discover D901 wireless headset is built with a noise-canceling microphone so your caller hears you without the background distractions.

You're covered with a 2-year advanced replacement warranty, meaning in the case of a defective headset, the warranty process is fast and simple to get a replacement.
Almost more so than any other industry, hospitality businesses rely on communication as a cornerstone of the experience they offer to their clients. This is a two-way street — it's not only how guests get answers to their questions and solutions to their problems, but it's also how hotels and other organizations keep people informed about all of the information they need to know to get the most out of the trip they're currently taking.
There was a day where simple voice calls over a phone line were enough to get the job done. Those days are officially over. In an era where the vast majority of Americans own a smartphone of some kind, people want more flexibility in terms of how, where and even why they communicate with the businesses they have a relationship with. They want access to quality and efficient customer service 24 hours a day. They don't want to wait on hold to get a resolution to their issue.
With features like advanced call routing, online faxing, virtual assistants and more, it's clear that a virtual phone service for business is your best opportunity to improve the customer experience for the better and for all time, all while cutting costs and improving operational efficiency in one fell swoop.
Disclosure – The GetVoIP team writes about stuff we hope you'll like and strives to offer the best recommendations we can. Our team has affiliate partnerships, and may collect a referral commission  from your purchase based off our recommendations. This does not influence the content we publish, but only supports our honest efforts to offer you the best and most transparent information. All recommendations are based on our own independent research and hands-on experience.