Talkdesk is one of several relatively young companies making inroads as the contact center software space goes through a major transformation to the cloud. This space has been ripe for innovation, and Talkdesk is riding some strong momentum right now. Opentalk18 in San Francisco is their first event for analysts, and they've been briefing us on several updates that have been publicly announced today. I've got three updates to share here, and my next post will be a broader recap of the conference and where Talkdesk goes from here.
Update 1 – 100% uptime SLA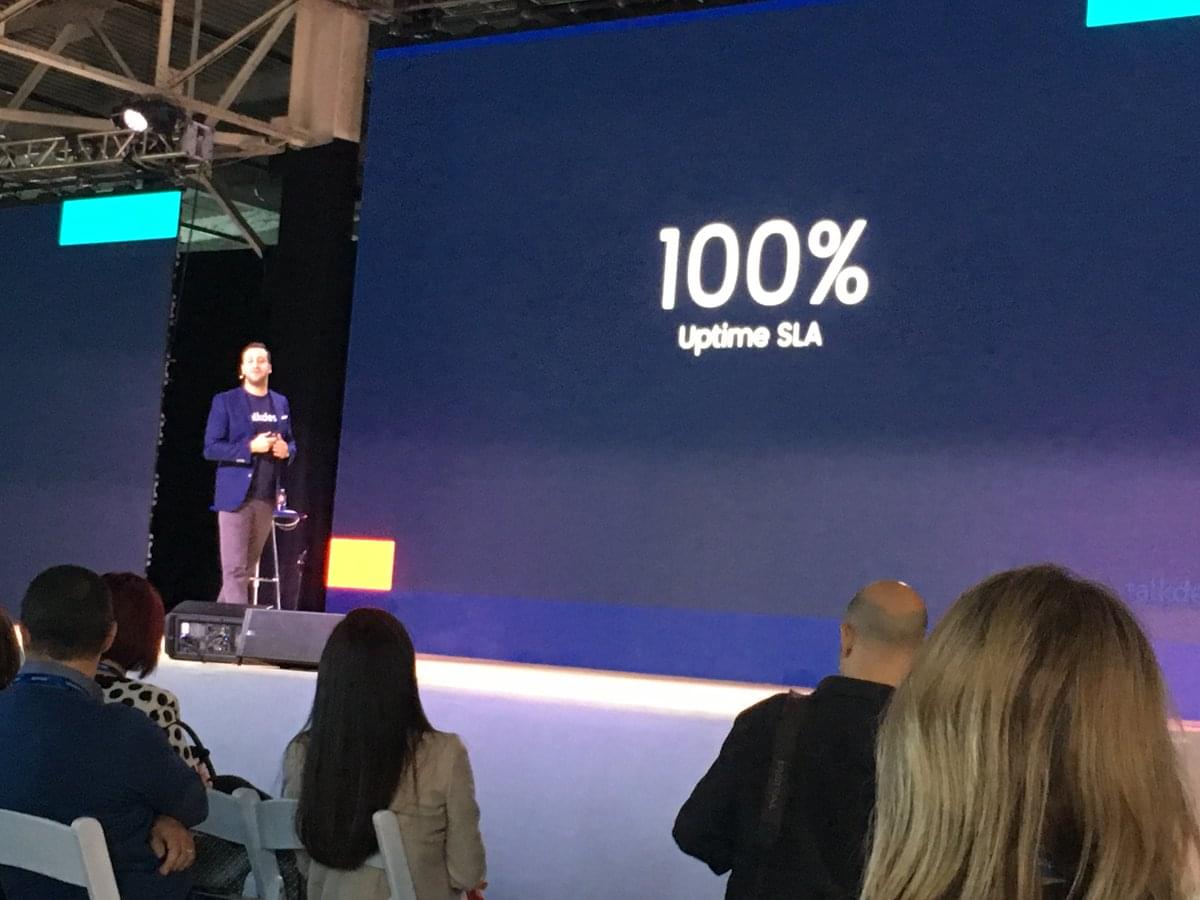 This is a pretty bold move, and not surprisingly it was the first announcement of the day. You can't beat a 100% uptime guarantee, so Talkdesk is definitely trying to raise the bar here, and use reliability as a differentiator to keep the customer wins coming. At face value, it's similar to Amazon Mayday, which promised 15 seconds or less response time. Another big line the sand drawn to shake up the market, for sure. Well, Mayday was quietly dropped earlier this year, and time will tell here with Talkdesk.
Not only are they promising failsafe reliability, but it's financially backed, and they claim it will essentially be a no-questions-asked policy. Clearly, they have confidence that their global network of nine data centers will hold up, and that will now be put to the test. It's aggressive, but the move will probably pay off. To whatever extent the odd outage will cost them money, they're betting this will be handily offset by the new business it brings, especially from contact centers who have had reliability issues and/or bad experiences with vendors who used exclusionary clauses to limit the financial impact of SLA shortfalls.
Update 2 – $10 Million Innovation Fund
Another good sign from a company that is building on solid momentum. As with any platform vendor, the lifeblood for driving innovation is the developer ecosystem. Developers follow the money, so this is a nice carrot to offer, and Talkdesk can afford it, given their freshly-minted $100 million Series B funding. This provides lots of runway to build out the platform, build out their channels, bulk up their engineering to keep R&D flowing, and expand their developer ecosystem.
AppConnect is their innovation ecosystem, which currently has over 50+ partners, and is growing 10% monthly. They need to keep this going, especially with so many new entries – most notably Twilio and Amazon – competing for the same talent. With the contact center space being transformed from top to bottom, this will be money well-spent if it allows Talkdesk to stay at the forefront of innovation.
Update 3 – Talkdesk iQ
This was the big announcement, with many moving parts. Basically, iQ is a portfolio of AI-driven applications that will run across the Talkdesk platform to tie all the elements together. The underlying theme is to drive deeper customer engagement, and make it easy for contact centers to develop new features to improve CX and optimize workflows. This builds on their deep integrations across over 40 platforms like Salesforce, Zendesk, Slack, Oracle, etc., which translates into huge caches of data from all these interactions.
Basically, iQ is the engine that harnesses all that data so agents can respond intelligently in real time in ways they just couldn't do before. This is the vision all contact center players are striving for, but in this case, it looks like Talkdesk is pretty close to making it real.
In terms of the moving parts, one notable is Talkdesk Mobile, which extends desktop capabilities to mobile devices. While most of the buzz around mobility pertains to the customer, this is about agents, enabling them to engage out in the field where they can be even more effective than when back at their desk.
Another one is omnichannel, where there can now support over 20 channels, including social. Of particular interest is "social listening", where the platform can monitor and flag customers on social media, and based on cues AI picks up on, those posts can be routed to the contact center for agents to handle right away. There's a lot more to digest with iQ, and the press release is a good starting point.