Genesys has recently announced what they are calling an industry first, AI-powered Forecasting and Scheduling, for more effective workforce management. As part of their months long Winter Innovations release period, which will include hundreds of features and services that are solely based in AI and automation, Automated Forecasting and Scheduling are both aimed at greatly enhancing an organization's ability to optimize and manage teams and projects.
By introducing AI and automation to all different platform levels with the Winter Innovation, Genesys is looking to empower businesses of all sizes to embrace and utilize an AI strategy, through one integrated platform. With Forecasting and Scheduling, organizations can utilize AI to save time and money.
Automation at Work
Artificial Intelligence isn't only about solving issues on its own, but also about helping humans solve problems with less work. AI powered automation enables workers to understand complex situations, make faster decisions and arrive at stronger conclusions with less time and effort, and Genesys is looking to tackle that head first.
Through the new Genesys Automated Forecasting and Scheduling functions specifically, organizations can gain complete and total AI-powered control over their workforce optimization management and process.
While these two new functionalities are common in their goals and can be directly integrated together, they are two separate solutions that help to optimize two distinct practices.
Automated Forecasting
We are constantly making decisions and encountering difficult situations within our work — and the same is true across all industries. Some organizations might be required to make some truly complex decisions based on a small grouping of information, and potentially some mystery thrown into the mix.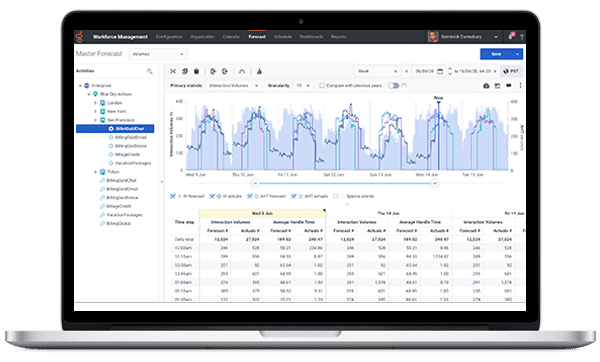 Instead of shooting into the dark, organizations and decision makers should utilize prediction and analysis tools. That's precisely where Genesys' Automated Forecasting solution fits in, to help teams better understand the potential outcome in a specific situation.
Unlike competitor's tools, Genesys has designed Automated Forecasting to specifically:
Compare parameters from more than 25 methodologies
Evaluate hundreds of thousands of potential forecast
Predict and determine the right forecast or course of action
Return results in under 30 seconds, with just one click
Genesys claims that this new tool is "light years ahead of other competitive offerings," in both speed and outcome," and even has "proven accuracy of 95-97 percent," which is above industry standards.
Automated Scheduling
Scheduling is an important aspect for a large number of organizations within multiple industries. Customer facing service and support positions specifically require precise and detailed scheduling to ensure there is never a moment without customer assistance standing by, ready to go.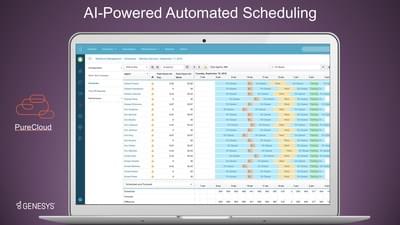 AI powered automation tools can come into play to help decision makers not only design and organize better schedules, but save massive amounts of time as well. Similar to the Automated Forecasting function, Automated Scheduling is all about letting AI do the busy-work to save time.
Genesys Automated Scheduling:
Relies on AI models toe produce staffing schedules up to 60 times faster than traditional methods
Enables businesses to create an optimized schedule in just a few minutes
According to Genesys, this revolutionizes the process of scheduling, away from old rule-based algorithms that took hours to days to determine. Automated Scheduling, on the other hand, can quickly make updates on the fly to accommodate unexpected changes.
Genesys and AI
Genesys is making a full, head-on push into the realm of AI with their Winter Innovation series. With the goal of improving the customer experience, and providing organizations with the intelligent tools they need to do just that, Genesys is helping organizations to embrace automation and other complex capabilities of AI. It isn't too surprising to see Genesys at the forefront of this innovation, after all they were chosen for our list of the 10 Most Innovative Cloud Products of 2017.
According to Genesys Chief Product Officer Peter Graf, Genesys is" enabling businesses of all sizes to realize their entire AI strategy on one platform."
"With voicebots and chatbots, workforce management, predictive analytics and more, our Winter Innovations introduce a series of applications that deliver on the promise of AI at scale. What's even more exciting is our AI innovations work in concert, sharing data insights that enrich the customer and employee experience and produce exponentially better business results."
This most recent announcement, the introduction of Automated Forecasting and Scheduling, is of course right up within that alley of automation and AI-powered innovations. These tools will enable organizations to improve their overall scheduling process and enhance and optimize the overall process of workforce management.
In fact, according to the announcement, Genesys noted that research from Call Centre Helper has recognized that "today over 50% of businesses use tedious, manual methods for forecasting staffing levels and developing schedules for customer-facing departments like service, sales and marketing." So, clearly there is a market here for what Genesys is going after — they are solving a problem that already exists.
Bottom Line
We will be keeping a close eye on Genesys within the next few months, to follow along with their Winter of Innovations. AI is quickly becoming a hot-topic within Business Communications as we are finally starting to see real world applications and examples of the technology filter their way in.
Genesys' latest Automated Forecasting and Scheduling tools are just some of the most recent AI powered developments, and help illustrate that AI isn't all about chatbots and personal assistants. Automation is an incredibly powerful aspect of AI, and one that will most likely see greater success in real world use.
It will be interesting to see where Genesys goes from here to further expand their call center software offering and AI footprint.