Twilio kicked off its annual developer conference, Twilio Signal, earlier this week on Wednesday the 17th. With just one day already in the history books, Twilio has made a few impressive announcements, highlighting the organization's push further into new solutions — specifically the cloud Contact Center market.
We actually took a close look at Twilio Flex and covered the original announcement the new Cloud Contact Center solution. Yesterday, the vendor had finally announced that Flex will be released, but now it is widely available to all organizations.
In addition to this official Flex release, Twilio also utilized the opportunity to announce the introduction of two new solutions, and features that will coincide directly with the release of Twilio Flex, AutoPilot and Twilio Pay.
Flex Is Now Widely Available
Just to recap really quickly, back in March of this year, Twilio officially announced the introduction of their cloud-based contact center platform, Twilio Flex. The platform had since been in a Beta period, with only a small number of organizations having access.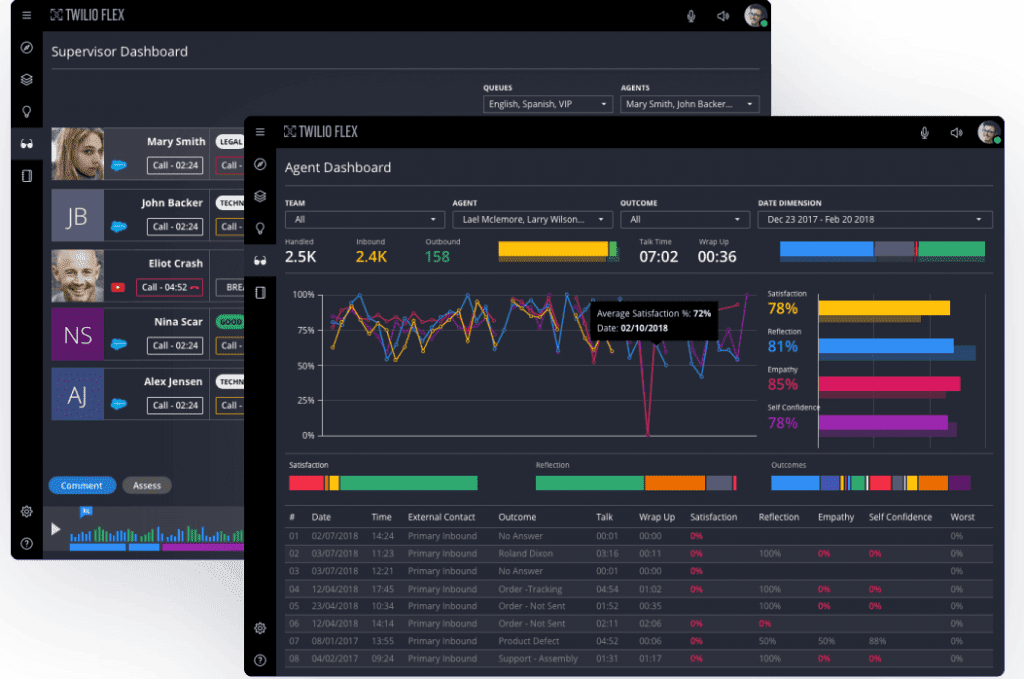 But starting Oct 17th, Flex has become widely available to any and all organizations looking to leverage Twilio's robust platform, and proven network. With a name like Flex, it is of course safe to assume that the solution is built with the idea of flexibility in mind. I took a pretty close look at what the platform has to offer, including:
Voice with PSTN support in 180 countries
VoIP embeddable in web/mobile apps
Video with screen sharing and co-browsing
Text/picture messages
Facebook Messenger
Twitter
LINE
WeChat
RCS Business Messaging
This level of functionality alone helps position Flex as a strong contender in the already fairly crowded Call Center Software market. To help continue with that theme of flexibility, Twilio offers Flex with two different payment plans, as well as a free option.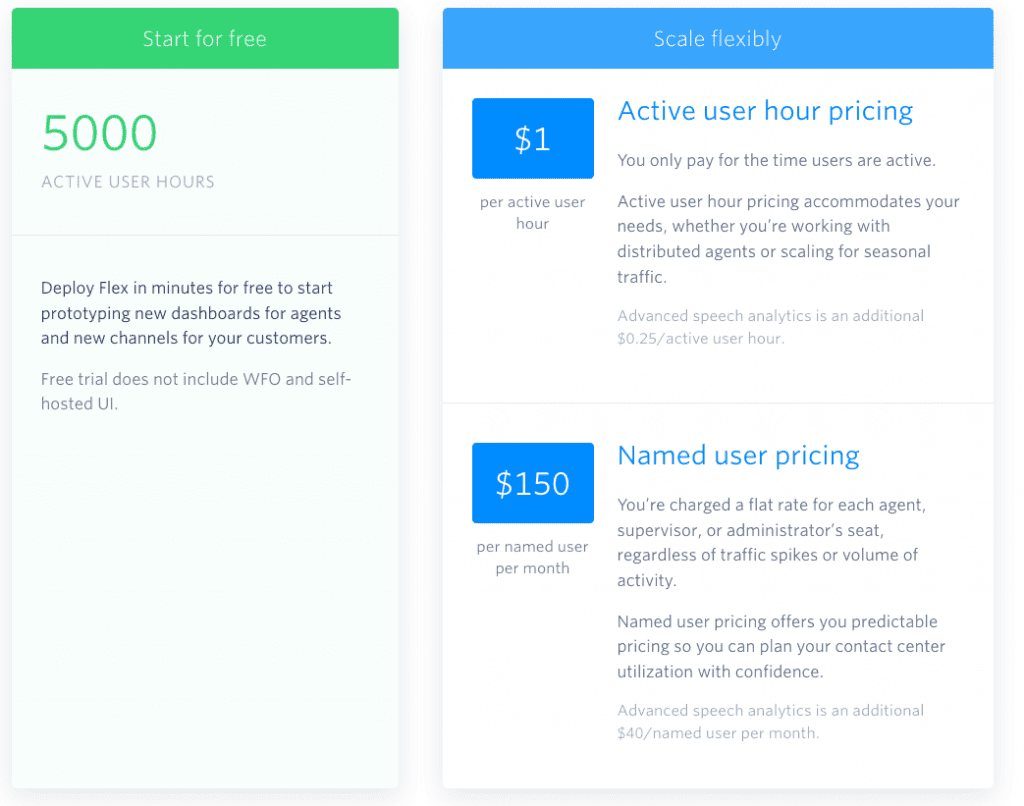 So, teams can either can up to 5000 free Active User Hours to try out the Flex platform, or upgrade to one of two different pricing tiers: Active User Hour Pricing at $1 per hour, or a flat fee for each individual user at $150 per named user, per month.
Twilio Recently Boosted Flex Through Acquisitions
While this news broke a little while ago now, I just wanted to touch on an interesting development that happened between Flex's original announcement and yesterday. In September 2018, Twilio had acquired another contact center software maker, Ytica.
Based in the Czech Republic, Ytica specialized in "customizable contact center reporting, speech analytics and workforce optimization software." This, obviously, introduces even more functionality that Flex might have been previously missing, when compared to the leading Enterprise grade Contact Center Solutions.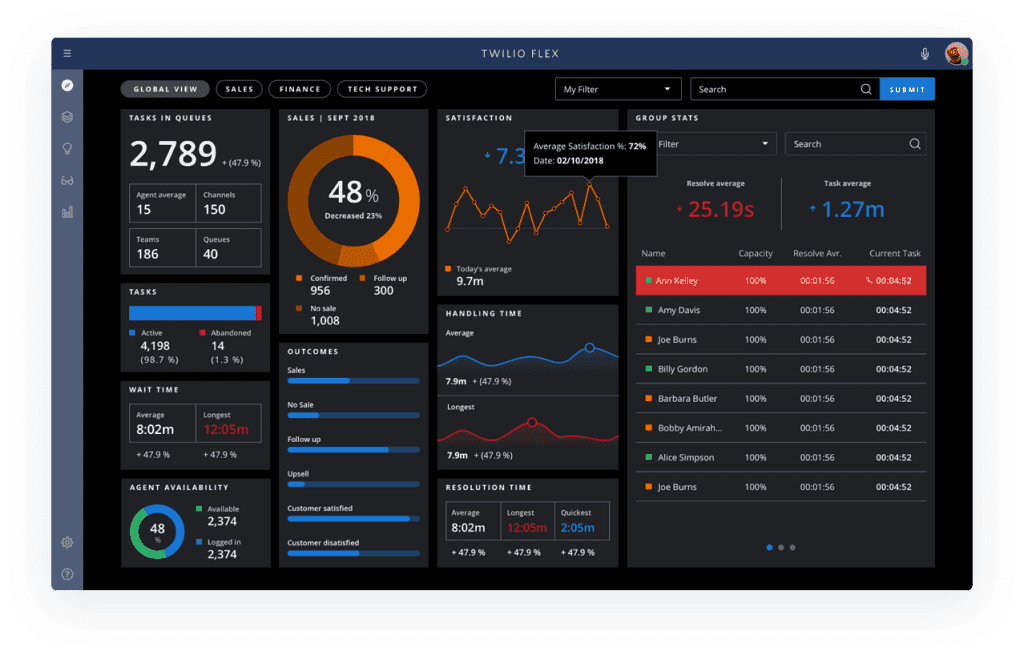 Workforce Management and Analytics and Reporting are specifically two other solutions generally bundled with Contact Center solutions, enabling organizations to gain a strong grasp over their data, and how to optimize their overall business around that data. At the time of this announcement, Al Cook, General Manager of Flex, explained:
"In working with Ytica over the past several years, it became clear they have both the most robust cloud architecture in the WFO space as well as the most similar perspective as Twilio on the value of customization for enterprise software. We've worked with many happy joint customers and knew that Ytica and Flex together could offer an enterprise-grade solution that is built for scale and far eclipses any other contact center solution currently in the market."
Twilio is clearly aiming above standard Cloud Call Center solutions, and is punching a bit above their weight looking to go after the largest legacy providers like Avaya, Genesys and Cisco.  The benefit with Flex is, of course, the flexibility provided by a Cloud based solution, with the strong network powering Twilio's billions of APIs behind the solution.
AI Powered Bots for Contact Center Agents
Along with the widespread availability and new functionality of Flex, two new Twilio solutions also shared the limelight during the first day of their Signal developer conference. First off, Twilio introduced what is known as AutoPilot, a new conversational AI platform.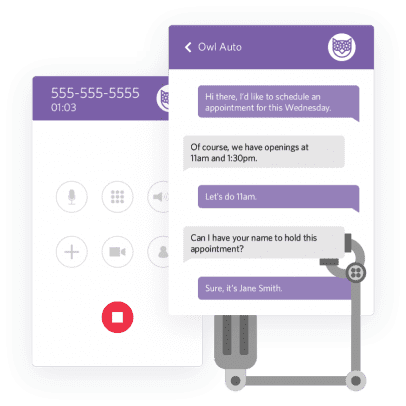 With AutoPilot, organizations can build their own custom messaging bots, IVR and other virtual assistant applications. Created with the idea of providing contact center agents with assistance, AutoPilot is being marketed with Flex and the vendor's new focus on Contact Center solutions.
According to the announcement, AutoPilot can "pull existing data to train bots and make the smarter over time," creating a truly adaptive personal assistant. These bots can also be deployed across multiple channels without the need for any additional code, including Voice, SMS, Chat, and third party apps like Alexa, Slack and Google Assistant.'
But Wait, There's More with Twilio Pay
Following in the footprints of bolstering their new Cloud Contact Center solution, Twilio also introduced Pay — an integrated payment option, in partnership with Stripe, to provide customers with "the tools needed to process payments over the phone."

Simply put, Pay is a PCI-compliant and programmable payment system that developers can directly integrate into their phone services. This way, organizations utilizing Flex can provide customers and users with a simple payment method right over the phone, while adhering to the strict compliance regulations necessary.
The Bottom Line
With the introduction of Twilio Flex now widely available to all organizations, it will be really interesting to see how the rest of the market follows suit. As I already noted, Twilio is most likely setting their sights high, aiming above popular Cloud options like Five9 and alternatives, but instead going after the true big players.
Twilio has quite the proven network behind their name, powering more APIs and connections than most other providers — this alone solid network alone helps reduce the need for on-premise hardware found in the legacy options that Twilio is looking to stack themselves against — Cisco, Avaya or Genesys.
With their latest acquisitions, introduction of new technologies like AI and personal assistants, Workforce Optimization, and even a Payment system, it is obvious Twilio is looking to gain any advantage they truly can. We'll have to go hands on with Flex in the near future to provide a closer look at the level of functionality and customization it truly provides.