RingCentral just announced their latest agreement to acquire Dimelo, a leading digital customer engagement platform. Through their unique solutions, Dimelo enables organizations to manage a vast number of customer interactions, of course all through one single platform.
Designed for the Enterprise, Dimelo is utilize by some really big names, including Allianz, AXA, BNP Paribas, Orange and Telenor — leading global organizations that encompass some pretty large industries, including telecom and financial services as well as insurance and retail.
While RingCentral did not provide any specific details on how the agreement was met, they did note that the acquisition is planned to close in Q4 of 2018, and should not have a "material" financial impact on the provider's year, ending December 31, 2018.
What Does Dimelo Offer?
A simple way to sum up Dimelo's platform is as digital customer care software designed for the Enterprise.  Dimelo helps a business organize all of their digital customer relation channels, such as email, or Facebook, or other popular messaging and social media platforms, into one, single and integrated application.
With five individual solutions, Dimelo Social, Dimelo Chat, Dimelo Mobile, Dimelo Mail and Dimelo Communities, the platform enables organizations to manage these large sets of customer data and the large number of interactions they see on a daily basis with ease.
The main idea is that organizations are capable of providing a consistent customer experience across multiple channels, all through one single application platform.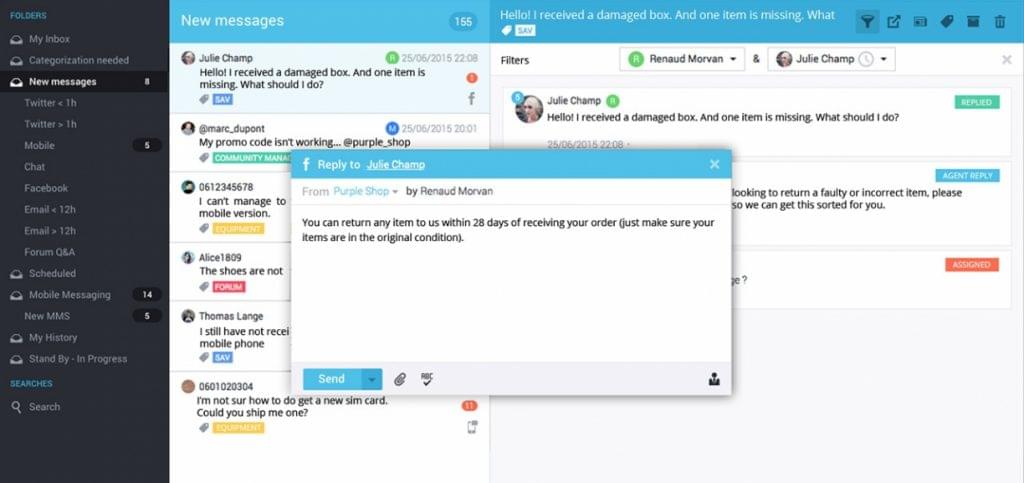 Of course, the platform goes even further, providing organizations with live and historical data reports and statistics, as well as advanced supervision and management tools to totally optimize the customer experience.
Overall, their platform provides businesses:
A unified process tailored to each organization's unique and specific digital strategy — provide a consistent experience and service across all these channels
A single unified interface enabling agents to respond to customer inquiries and service requests without having to utilize or learn new software for each channel
Simple and effective team management. Dimelo provides organizations the tools necessary to manage resources and allocate agents in real-time depending on the needs of each digital channel
CRM integration to aggregate customer interactions on digital channels, will simultaneously synchronizing ticket information and customer profiles
Centralized statistics to provide organizations with an in-depth look at each channel's results, resources and effectiveness — enabling teams to fully optimize the experience
Designed as an open platform, Dimelo of course makes it possible to integrate other common business applications like the previously mentioned CRM solutions, as well as chat apps.
Meaning, Dimelo isn't limited to a specific set of social channels but instead can work alongside an organization's specific needs and channels of choice.
So, Why Acquire Dimelo?
RingCentral is of course looking to expand their footprint beyond business VoIP through this acquisition, gaining a new edge by providing a complete Customer Experience and Interaction platform.
Within their release, RingCentral explained that "Enterprise transformation to digital communications is accelerating at a rapid pace, and is core to customer satisfaction."
CEO of RingCentral, Vlad Shmunis, said that "in today's digital world, engaging with customers over digital channels is crucial to business success." Dimelo enables organizations to "transform how they engage with their customers," enabling organizations to "vastly improve their customer interactions by delivering world-class integrated experiences across a multitude of digital channels."
But, more specifically, RingCentral was very keen to snatch up "Dimelo's AI-based smart routing engine" which "enables agents to efficiently manage customer interactions across digital channels." This is particularly interesting to note, as AI is becoming a hot topic within Business Communications.
So not only is RingCentral looking to utilize Dimelo to expand their platform, and offer businesses some pretty robust tools that will enable organizations to better manage their customer interactions and experience, they made a good choice with a platform that is more advanced, utilizing tech like Artifical Intelligence.
RingCentral's Newest Toys
So, RingCentral of course gains quite a bit through this acquisition, bringing in an entire Customer Interaction application. This should help to even further solidify their current position as a UCaaS leader in Gartner's Magic Quadrant. As included in their announcement, the RingCentral platform now gains:
Artificial Intelligence:

Intelligent Classification Engine (ICE) for optimizing message routing.
Machine-learning for recognizing contact patterns, suggesting answers, and filtering out noise.

Extensive range of digital channels and community forums:

Messaging (Apple Business Chat, Facebook Messenger, WeChat).
In-app messaging for iOS and Android mobile apps.
Social media (Facebook, Google+, Instagram, Twitter, YouTube, etc.).
Live chat and email response management.
Community forums (inSided, Lithium, phpBB, vBulletin, WordPress).
Consumer review platforms (Bazaarvoice, Google My Business, Google Play).

Integrated customer engagement environment:

All digital channels managed centrally.
Automatically recognizes 72 languages across all channels.
Unifies multiple consumer identities across all channels.
Efficient distribution of interactions to appropriate agents.
Ensures operational efficiency and traceability of interactions.

Open APIs:

Ability to integrate third-party chatbots with automatic escalation to agents.
Allows partners and customers to add their own digital channels.
Enables integrations with industry-leading CRM, helpdesk, business intelligence, and business process management solutions.
Simply put, Dimelo not only offers one of the most extensive footprints of supported digital channels, like a vast number of Messaging applications, Social Media, Live Chat and even Consumer review platforms, but they also introduce to RingCentral's platform some robust applications with AI, and open APIs.
The Bottom Line
What will be interesting to see is how RingCentral plans to integrate these technologies and applications into their already extensive UC solution platform.
As we know, RingCentral already offers a pretty complete Omnichannel Contact Center solution — I would expect to see Dimelo's solutions either directly integrated on top of these.
RingCentral is no stranger to making strategic platform acquisitions of this sort — I've personally always praised the provider for their inclusion of the Glip collaboration and messaging platform they snatched up, and now directly include with all their solutions.
We are definitely going to keep a close eye to see how the provider looks to integrate this latest feature into their VoIP phone system.
Additional Reading