Here at GetVoIP, we are always on the lookout for the absolute best value and platform for organizations. Our goal is to provide businesses with the information they need to make an informed decision about communications platforms.
Whether your team simply needs a calling solution or a complete unified communications and collaboration platform, Jive VoIP is an exciting option.
Jive Communications has long been a strong pick among the competitors in the market. We have been following them, and other providers, closely for a while now. However, Jive Communications specifically has recently completed quite a large move, joining the impressive LogMeIn portfolio of solutions.
While a Jive phone system always a strong choice, we wanted to dig even deeper to understand why LogMeIn wanted to snatch up this impressive platform, making Jive VoIP is such a strong choice in the UCaaS market.
Who Is Jive Communications?
Founded back in 2006, Jive Communications has been around for quite some time now. From the humble beginnings of just six software entrepreneurs, the provider was started when they became fed up with expensive and complicated phone systems.  Born in, and built for the cloud, Jive has been offering a scalable business phone system that can generally be viewed as much more flexible its competitors.
Jive VoIP pricing has helped it elbow out some of its closest competitors.
Jive's proprietary platform has been able to make a bit of a name for themselves with not only a unique solution but even top-ranked technical support. We've noticed this specifically in our provider overview for Jive Communications and referenced a bit in our user reviews.
Now, Jive Communications has grown even further with its most recent acquisition by LogMeIn, creating what we consider a bit of a collaboration powerhouse. Jive VoIP helps companies utilize a cost-effective and complete cloud-based system, but after this team up the platform has expanded to something even more  — a modern and innovative Unified Communications and Collaboration portfolio.
What Makes Jive Unique
Before we go deep into Jive Communication's newest platform additions with LogMeIn's portfolio, I want to take a step back and recognize where they have been, and what made them such a strong provider from the beginning. Just like any other cloud-based system, a Jive phone system has the unique benefit of offering a boat-load of features, while keeping the costs as low as possible. But that doesn't tell the full story.
A Jive phone system is outfitted with offerings including:
Jive VoIP tools are more than just an SMB phone solution, and the provider serves multiple industries including Small Business, but also Mid-size and Enterprise organizations, K12 Education, Higher Education, Law Firms and even Government entities. This range of industry coverage is mostly since Jive has managed to spread its reach far without diluting the actual solution — offering a truly well-rounded platform.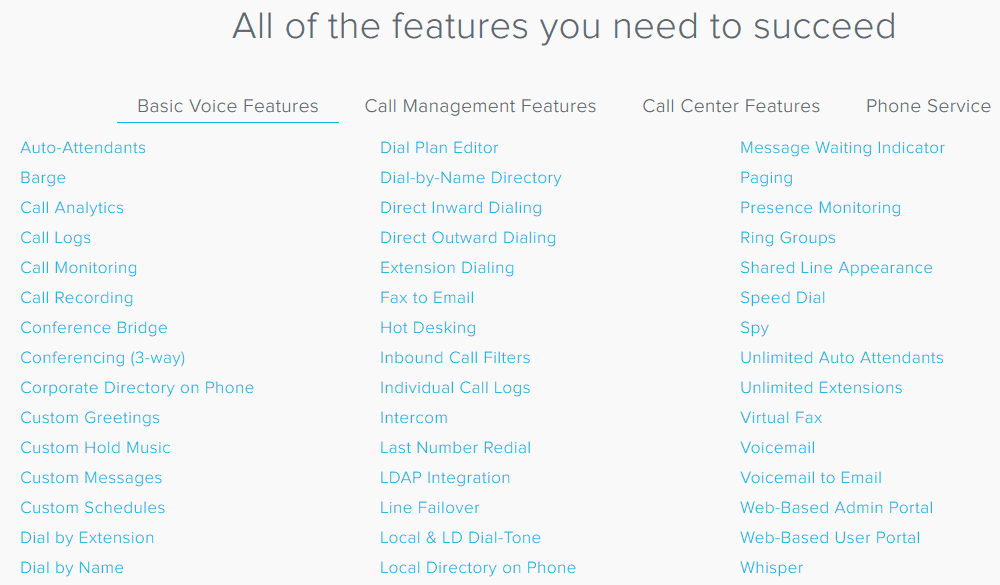 It has become a bit of an easy catch-all to simply state that a provider offers a robust cloud solution. But, when taking a closer look at exactly what Jive Communication's platform includes, you can begin to gain a better understanding of just how much their portfolio includes.
With Basic Call Features, Call Management Features, Call Center Features and more, Jive truly manages to provide organizations with an Enterprise Class system that can be customized to fit the specific needs of each business, and as we've seen, industry too.
A Closer Look at What Jive Offers
Without bogging down too much into the details, I want to offer a better overview of the different solutions that Jive Communications offers its users. As I've already mentioned, Jive manages to include a healthy number of features and functionalities within their solutions, rivaling even the most expensive system.
We're going to focus mainly on the calling and collaboration tools, as this is what many will be looking for when comparing Jive to similar solutions.
Voice
Just because a hosted Jive PBX is filled with features doesn't mean it has to be expensive. Jive keeps its service at an affordable rate, billed on a per-device basis. Overall, Jive VoIP pricing of their hosted platform will range from $19.95 to $29.95, depending on the number of users. For larger-scale organizations with over 100 users, Jive PBX even offers custom pricing and plans, working directly with your business to find something that fits best. Without digging too deep, some of Jive's impressive features include:
Call analytics and Call Logs including Individual Call Logs
Call Monitoring and Call Recording
Conference Bridge and 3-way calling
Custom Greetings, Hold Music, Messages and even Schedules
Both Direct Inward and Outward Dialing
Fax to Email
Hot Desking
Inbound Call Filter to keep away spam
Intercom for quick collaboration
LDAP Integration
Presence Monitoring for quicker collaboration
Unlimited Auto attendants and extensions for no extra cost
Web-based Admin and User portals for super-simple configuration
Find-Me-Follow-Me and Mobile app support for on-the-go communication
This list is looking beyond just the basic call functionalities we have all come to expect, and include some robust features that would normally be reserved for an Enterprise level solution.
Video Collaboration
Quickly becoming a staple in UC&C platforms, Jive also offers its own Video Conferencing platform, providing organizations across industries with a complete online meeting solution. The real selling point here is again the impressive list of functionalities provided, rivaling even the dedicated Video Conferencing platforms. When it comes to video meetings specifically, the largest gripe many will have is the complexity of the solution, and the number of steps it takes to set up and join a meeting. Well, Jive manages to include everything you would need, and a bit more:
Click to Connect for a simple meeting experience
HD Content Sharing for the highest quality meetings
Browser-based admin portal for easy configuration
Conference Controls to stay on task
Group text chat to compliment your video experience
HTTPS support to keep everything secure
SIP Security on top of that
Virtual conference rooms
Room system interoperability for complete hardware compatibility
Active speaker identification, normally found on only the most expensive solutions
Full-screen display along with video and audio mute
Record meetings for your records to ensure accuracy and compliance
Mobile App support for both iOS and Android for meetings on-the-go
Again, simplicity is an absolute key when it comes to a conferencing and collaboration solution, and Jive includes the functionality necessary to offer a complete collaboration powerhouse, not just a simple video call platform.
Contact Center
Broken up into two distinct offerings, Jive's Contact Center again rivals some of the more dedicated platforms, even like the leading Five9. Whether your team just needs an easy and affordable solution or a more robust and Enterprise-grade solution for multi-channel and outbound functionality, a Jive phone system has you covered.
With the Jive Contact Center, your team gains:
Queues
IVR
ACD
CRM Integrations, including the more recently added Zoho
Call recording
Supervisory features
Weighting Inbound Calls for the best routing possible
Historical and Real-Time Call Reports and Queue Reports
Historical Contact and Agent Reports
Going even further, with their Enterprise-Grade Jive Contact Center Pro, your team gains some impressive tools:
Skills-based Routing
Omnichannel Interface to maintain and combine multiple support channels for a truly modern Contact Center
Automatic Call Back so callers aren't left waiting on hold
Database Connectivity
Agent Scripting
Automated Speech Recognition as well as Text-To-Speech
Speech Analytics to better understand exactly what the caller is feeling, and what they need help with
What is particularly impressive is not only the inclusion of Omnichannel support but also advanced functions like Automated Speech Recognition and Speech Analytics — normally reserved for the most expensive Enterprise level solutions, these tools can help push any organization into the big leagues.
A Collaboration Powerhouse



Now for the big guns. We first reported on this acquisition back when it was announced in February of 2018. We noted back then that LogMeIn is known for its incredibly popular collaboration solutions, including GoToMeeting, GoToWebinar, OpenVoice, and Join.Me. With these solutions alone, LogMeIn was serving over 25 million users, seven million meetings and 900 million conferencing minutes every month.
LogMeIn knows what it takes to make a successful platform, and they noticed that Jive Communications was a strong fit with their existing platform. LogMeIn recognized Jive's success in UCaaS, stating that this was a "testament to [their] modern cloud-based platform." LogMeIn recognized Jive's "deliberate focus on customer satisfaction" as well as their "renowned culture of innovation." We specifically noted that Jive support has gone above-and-beyond to help a user when things went wrong.
Simply put, LogMeIn felt that Jive PBX, voice, video and contact center applications were a strong fit for their existing collaboration portfolio. Adding these two platforms together has truly position Jive as not only a comprehensive and complete Voice and Contact Center solution, but a Collaboration powerhouse as well.
The acquisition managed to officially close just a few short months later in April of 2018, with LogMeIn CEO Bill Wagner explaining:
"LogMeIn and Jive share a common philosophy. We both build frictionless user experiences and easy-to-deploy cloud-based solutions designed to scale simply and securely," said Bill Wagner. "As part of the LogMeIn family, Jive gains significant scale and resources to help accelerate innovation, introduce complementary best-in-class offerings, and expand their footprint into new markets. It's this combination that has us so excited about our future together – a shared opportunity to shape the ways modern workers communicate and collaborate to advance ideas, close business, and get work done." 
What's more impressive is that since this acquisition, LogMeIn has been named a Leader within Gartner's 2018 Magic Quadrant for meeting solutions, which we took a closer look at. LogMeIn jumped from a Challenger in 2017 to a Leader in 2018.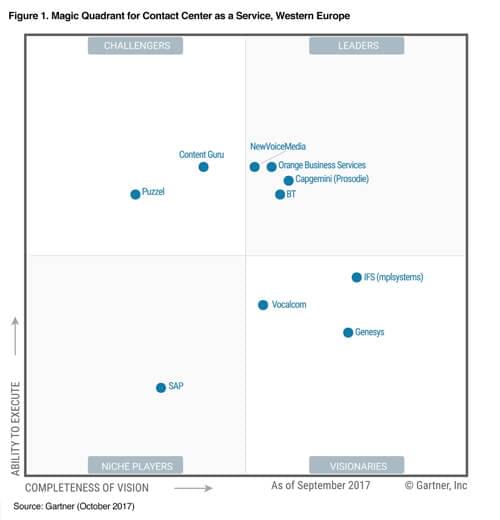 Awards and Recognition
Now again, this isn't to say that Jive wasn't a powerhouse on their own, they truly were. Last year in 2017 — before the LogMeIn acquisition, Jive was recognized by Frost & Sullivan for the 2017 North American Customer Service Leadership Award, "for its commitment to delivering compelling UCaaS solutions to businesses through continuous feature enhancements, integrations with third-party software and a superior customer experience."
Frost & Sullivan also noted that Jive's "home-grown UCaaS platform and software-based solutions" provide customers with a robust and well-rounded platform that includes advanced features and functionalities. On top of that, Jive VoIP pricing is low enough to suit almost any budget.
Recently, Jive was announced as a winner for the 2018 People's Choice Stevie Awards for Favorite New Product, specifically for the provider's Cloud Infrastructure and Platform.
Why Jive VoIP Will Stay on Top
We are always on the search for the best-of-the-best UCaaS, Business VoIP, Meeting and Contact Center solutions. When a provider starts making waves like Jive VoIP has, we dive in to understand why.
Jive Communications specifically offers a strong and robust platform that can fit into the needs of a large range of organizations, across a wide number of industries. Now that Jive is also a part of the LogMeIn portfolio, the provider has only grown its coverage and will hopefully continue to innovate further.
For more on what the most competitive VoIP providers are offering right now, check out our updated rundown.