It seems like we've been discussing Nextiva's next biggest move for some time now: four years to be exact. And that's because Nextiva's next biggest move has been in development for roughly four years. That is, until today. We finally come to you with news that Nextiva has rolled out their new NextOS platform, and delivered the solution to the market. Considered to be the next step for cloud communications, NextOS truly isn't something we've seen before, and is the culmination of an entirely new paradigm in customer interactions.
And to go along with their fresh new approach to business communications and analytics, Nextiva launched their new platform in a fairly unique way. Instead of the basic and boring press releases, Nextiva decided to reach out to clients and business owners in an entirely different way. Overall, Nextiva's goal is to provide users with an effortless and simple experience, an ethos that clearly shines through in everything they do.
What is NextOS?
So, like I said, we've been discussing NextOS for quite some time now. In fact, you can go back to 2015 to find an article about NextOS on GetVoIP. And more recently, in our NextCon coverage, we've been discussing NextOS time and time again. One would think, with so much coverage of the solution, it would already be available to end users. Well, that wasn't exactly the case: NextOS was still in development. We kept hearing of the latest developments, the latest promises and the latest updates, but we were still left without knowing when we could get our hands on NextOS.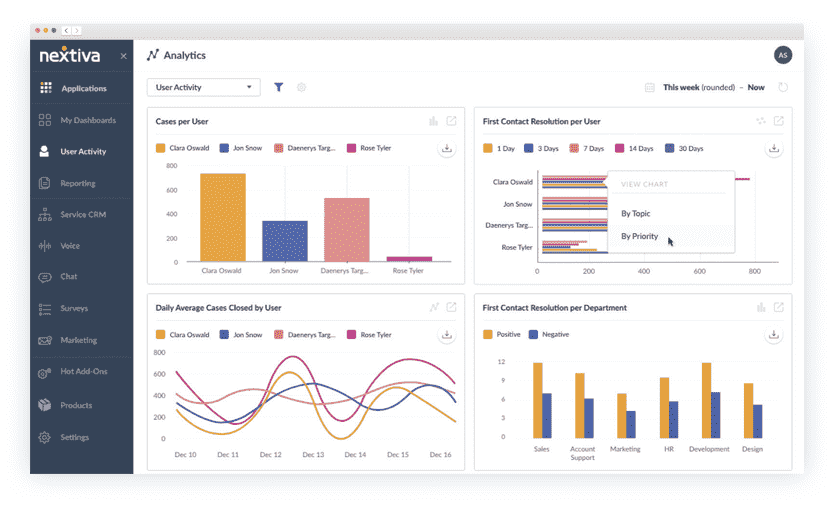 Thankfully, that's changed: NextOS is here. And there is good reason that the platform has been in development for so long. NextOS is an undertaking the industry hasn't seen before, and it's a bit of a paradigm shift for Business Communications and Customer Experience. The concept that's drilled into the core of NextOS comes down to an all-in-one power house. Seamlessly integrating multiple native solutions, multiple functionalities, multiple features all into one single simplified platform. This provides businesses with a complete view of all their customer interactions across all communication channels.
With one platform to manage all of your users, features, billing, internal and external communications, customer data, business trends, analytics, and much more, your organization gains a new grasp on every single interaction, every single bit of data, and every single metric worth analyzing. Not only does your business gain access to this information and functionality, its all within the exact same application. No more flipping from an external chat with a customer into a CRM, into an internal chat with a manager, back out into calling history, and then eventually again back into the chat. Its all right at your finger tips.
To break it down, NextOS is a platform that includes four different previously separated islands of technologies:
Nextiva Voice — Nextiva's industry leading Unified Communications solution. No matter where you or your team are located, always stay connected with this VoIP system designed for the way you work.
Nextiva ServiceCRM — A database for customer history, relationships, case management, and employee information that provides a view of each customer across all touch points, in real time.
Nextiva Chat — Connect with your website visitors in real time with Nextiva Chat. Help customers faster and exceed expectations to deliver a better experience.
Nextiva Surveys — With multiple options for customization, Nextiva Surveys is the only tool you need to collect information from your customers, prospects and teams.
Why NextOS?
We are in a time where companies must be at the top of their game at all times, no matter what. The customer experience is an incredibly critical, if not the most critical, aspect of any customer facing business. If your company provides a poor experience for customers and users, well, you won't be staying in business for very long. Customers will simply vote with their wallet, and take their business elsewhere.
"We are living in the era of the customer," says Tomas Gorny, Chief Executive Officer of Nextiva. "Expectations have never been higher, and while businesses are hearing more from customers, they are understanding less. Data is everywhere, but never where you need it. NextOS solves these problems."
By uniting all of the features and functions that your business needs to maintain, track and organize customer interactions, as well as employee communications, your business gains entirely new, ground breaking insights into that customer experience. NextOS is capable of capturing customer feedback, and analyzing the data to provide new insights.
Part of what makes this so possible is NextOS' use of Artificial Intelligence to enable businesses to automate their workflows. Utilizing NextIQ, Nextiva's AI and Machine Learning, along with NextStep, a customizable, visual rules engine, NextOS empowers companies "with a more comprehensive view of their customers."
Even their Announcement Approach Sets a New Paradigm
Only second to the unveiling of NextOS itself, is the way in which Nextiva announced the new solution. While there was a press release made available, Nextiva didn't want to sit around waiting for news publications to pick up the story. Instead, Nextiva went directly to the users, customers and business owners themselves. What seems like the entire Nextiva team has made it their mission to spread awareness of NextOS, and this new paradigm.
This alone shows Nextiva's culture, team passion, and how focused the provider is on offering the best solutions, and the best products for their customers. Nextiva is more focused on delivering the solutions that businesses need, and interacting with those businesses directly. This shows in Nextiva's incredibly friendly, in-house support, always working hard to ensure customers walk away happy, and this also shows in the way Nextiva wanted to spread the news about NextOS.
Its not everyday that you see a company go directly to its clients and users, and interact with them on such a wholesome level. Great job, Nextiva!