Cisco has recently been pumping out update after update to their collaboration platform in just the past few years. We've seen the growth of the Spark platform, the introduction of the Spark Board, and more recently a rebranding and integration with Cisco's existing WebEx solutions.
As a key member of the Collaboration Technology Group, part of the CEO's Executive Leadership Team at Cisco, and SVP & General Manager of Cisco's Application's Group, Rowan Trollope has been a strong driving force for this a new direction of Cisco applications — simplicity and ease of use.
And just this morning news broke that Rowan will in fact be leaving Cisco, and has been appointed as the CEO of Five9, Inc. Rowan will now be leading one of the largest Contact Center as a Service providers in the market.
A New Chapter
So starting May 3rd, Rowan will be leading Five9 as their new CEO. This also brings some leadership change within Five9, with Mike Burkland, the former CEO who transitioned to Executive Chariman due to health reasons, continuing as Executive Chariman, and Barry Zarenstein, Five9's Interm CEO during the transition, will continue as Chief Financial Officer.
Mike Burkland is of course excited about the new leadership:
"I am absolutely thrilled that Rowan will be our next CEO," said Mike Burkland. "Rowan is a proven superstar and one of Silicon Valley's most sought-after executives.  He is a seasoned veteran with an extensive track record of creating value, driving innovation and scaling large technology organizations. Rowan's valuable domain experience in cloud technologies and the contact center market will be a huge benefit to Five9 and we're really fortunate to gain a leader with his experience, talent and vision. In addition, I believe Rowan has the right character and personality traits to carry on our unique and thriving culture at Five9."
Rowan is entering Five9 at a good time, as the company is making a shift into a cloud focused model. With an existing leading market position, the new CEO will have a lot at his disposable to leverage. Clearly Five9 agrees with Rowan's management direction and feels he has the right character, personality and experience to continue pushing Five9's unique culture. I personally would love to see Rowan's influence come into Five9's products to further push the culture towards the idea of simplicity and ease of use.
And of course, Rowan is also excited about the upcoming opportunity:
"I'm honored to lead Five9", said Rowan Trollope. "Mike has done a tremendous job building the company into a leading provider of cloud contact center software. Thanks to Mike and his leadership, Five9 is extremely well positioned to continue expanding into the enterprise market in the years ahead. Five9 is a unique opportunity for me to join a market leader with strong momentum in a large market undergoing a shift to the cloud. I look forward to working with the Five9 team to take the company to the next level."
Rowan's History at Cisco
With over 25 years of management experience, Rowan seems like a strong fit to lead Five9. During his time at Cisco, Rowan was responsible for a major transition and reinvention of Cisco's Collaboration business. He also led the Applications Group, a $5 billion business.
Under Rowan's leadership, Cisco's Collaboration transformed to a SaaS model, "while putting design, simplicity and exponential improvement the guiding principles of product development." As I already noted, during Rowan's time, we saw the growth of the Spark platform with a major, major focus on user experience and simplicity, as well the launch of the Spark Board — again a design and experience that puts simplicity and ease of use first.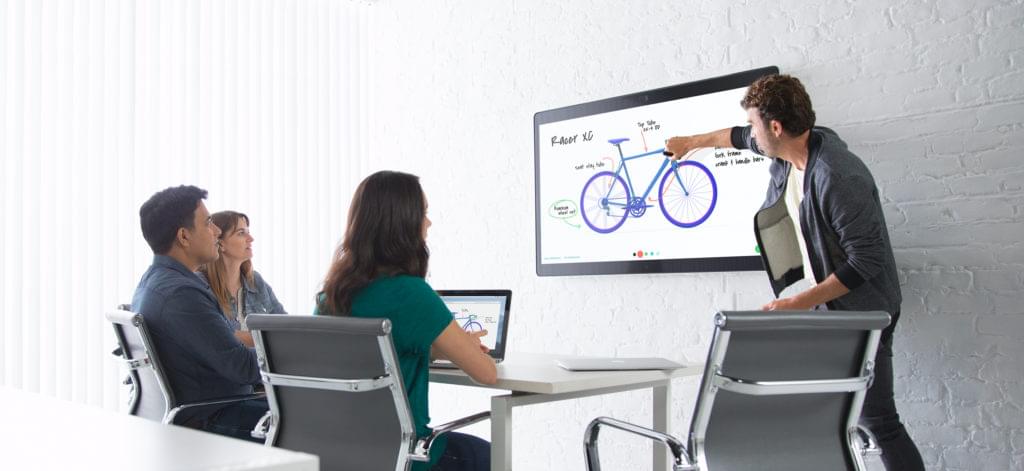 While it hasn't dethroned Slack just yet, Spark is quickly gaining market share, and with its unique whiteboarding capabilities, intense encryption and security and overall positive, fun experience, the platform stands out as a unique and strong option in the sea of Slack clones. Spark also returned the business to growth, "with recurring revenue growing in the double digits, margins expanding significantly, market share increasing, and leading Cisco's shift to recurring revenue."
But of course, Spark isn't his only achievement. During his time as a member of Cisco's Executive Leadership Team, Rowan's role in the organization expanded to "creating a new portfolio of new, high growth Enterprise SaaS businesses," first realized by "turning-around the IoT initiative and building the industry's first connectivity and data delivery platform." Rowan also helped lead Cisco's expansion into the APM space, and managed to capture #1 market share, and even "recently took responsibility for Cisco's blockchain strategy."
The Bottom Line
This is certainly an interesting, and great, move for Rowan! Jumping from an executive to a leader is a big step, and with Rowan's past 25 years of experience, the ship should sail smoothly. I'm very curious to see how Rowan's influence will help grow and expand Five9's already impressive platform.
What's really unique is that Rowan is entering into a company that already has a very strong market leadership position, so I'm looking to see how he will leverage his existing experience with this already strong starting point. He was able to turn Cisco's growth around and push collaboration into a positive revenue stream, so now with starting from the top, who knows how far he'll take Five9.
Either way, congratulations Rowan!