Pushing forward in their cloud initiative, Mitel has recently announced a new communication and collaboration app designed for small businesses. Designed for the always-on, always-connected workforce, Mitel OfficeLink is a mobile VoIP app that puts the power of your Mitel solution right onto your phone.
OfficeLink provides small businesses with the key Unified Communications features that users rely on with their desktop apps and IP phones, including multiple lines and mid-call functionality. Currently available in North America, OfficeLink is offered as a subscription-based service for MiVoice Office 250 customers.
What Can OfficeLink Do?
Designed as a productivity app for on the go workers, OfficeLink puts some powerful features right on your smartphone. The app bundles together easy-to-use collaboration features into one single platform and encourages a push to cloud PBX focused solutions, leveraging Mitel's CloudLink platform.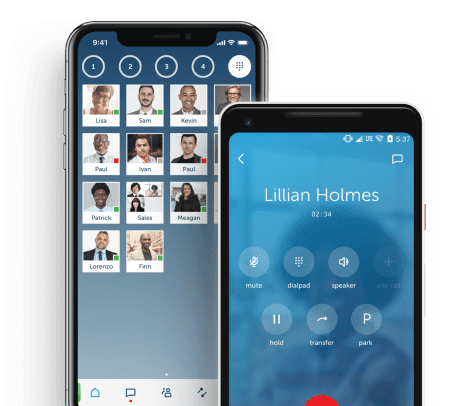 Overall, OfficeLink helps users stay connected while out of the office, and enables them to communicate with customers, clients, and co-workers. Some features of OfficeLink include:
Business Voice features like transfer, swap, merge, park, group calling and hunt groups
Secure chat for both one to one messaging and group chats
Presence and status information of users and extensions
Dynamic calling history
Contact synchronization and management
Simple admin controls
Essentially, OfficeLink puts the power of your cloud-based Mitel solution right in your hands. Advanced call controls and simultaneous ring means you'll never miss any important call, and chat functionality enables you to quickly stay in touch with your team.
The Bottom Line
OfficeLink is an interesting move in the right direction for Mitel, following their strategical shift into a cloud focus model. Mobile apps are becoming fairly standard for business phone service, and are an absolute must for small businesses specifically, which are generally more mobile-oriented, to begin with.
Mitel is clearly spreading further into the SMB market with its cloud strategy and MiVoice Office 250 solution. OfficeLink is just the next logical extension of that platform providing users with even greater functionality and mobility.
"Mitel OfficeLink was created hand in hand with our fast-moving small business customers. The result is a solution-focused on simplicity, delivering only the features they need most to communicate and collaborate effectively," said Bob Agnes, EVP, and President, Mitel Products and Solutions. "It reflects our commitment to enabling customers all along the path to the cloud as they journey from where they are now to where they want to be—at their own pace and budget."