GetVoIP is currently attending Avaya Engage this year, and there is certainly no shortage of information and announcements being delivered session after session. If there is one major theme to focus on for the entire conference, its that Avaya wants us to think Cloud. "Think Avaya, Think Cloud" is the motto being repeated.
During the first day of Avaya Engage, the provider had a clear outline for how the company will be moving forward into the cloud, starting off with their latest acquisition. Avaya announced that they have acquired the leading Contact Center as a Service solutions provider, Spoken Communications.
With this new talent and technology, Avaya is expanding their capabilities to deliver a transformative real-time customer experience management application built directly on top of and leveraging conversational AI.
Now, that's a bit of a mouth full, so lets take a deeper look into exactly what Spoken is, what they offer, and how Avaya plans to use these new capabilities deliver innovation to their customers and clients.
Who is Spoken?
To put it simply, Spoken delivers cloud contact center solutions, mostly to Enterprise customers. But what really separates them from the pack is the fact that Spoken places an incredibly high priority on Artificial Intelligence, with their solutions not only leveraging AI, but built directly on top of the tech.
One great example is Spoken's IntelligentWire contact center automation solution. These tools utilize Ai and deep learning technologies right on top of live conversations your agents are having with clients and customers. On the automation front, IntelligentWire helps agents reduce their after-call work by automatically inserting the correct information, and generating a summary of the interaction so agents don't need to spend extra time on one single call. Instead, the automation and AI does it for them, allowing agents to get to another phone call as quickly as possible.
But on top of that, IntelligentWire can also deliver insights into conversations and interactions with customers directly in real time. During the announcement at Avaya Engage, we were treated to a demonstration of IntelligentWire in real time. A demonstration call was presented, with a view of what the contact center agent would see during this conversation.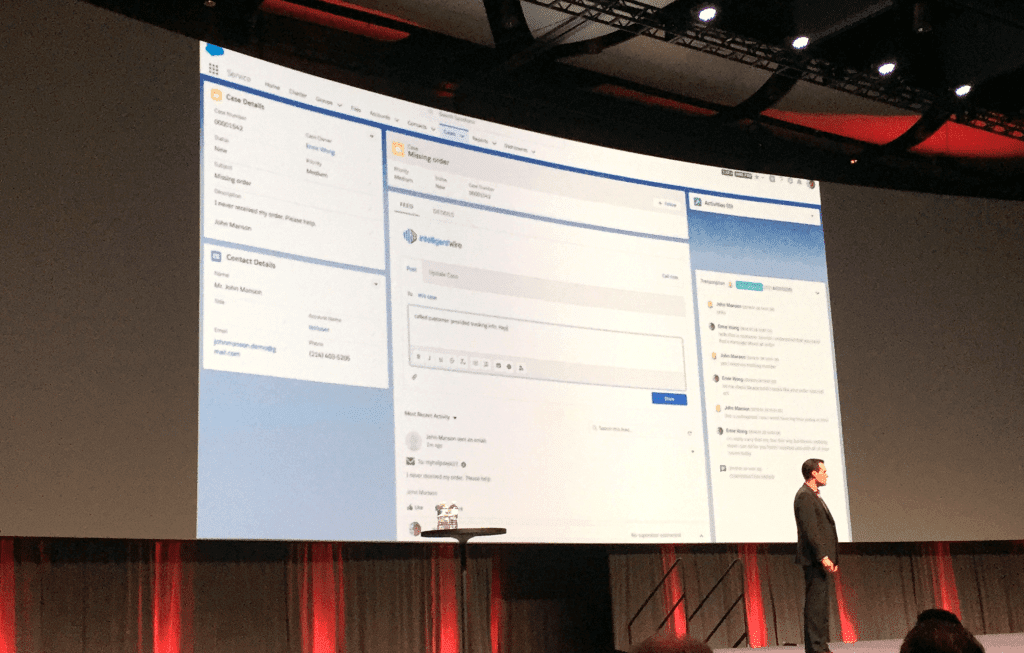 As the agent and client spoke back and forth, IntelligentWire was transcribing the conversation in real-time, and on top of that, was offering entirely new insights including the caller's emotions, if they were angry or satisfied, as well as the Agent's actions. For example, when the agent expressed the problem was out of their hand, IntelligentWire correctly descirbed this as "Agent Exhausted Options."
Overall, Spoken delivers an entirely different contact center solution with some really powerful capabilities.
Why Did Avaya Snatch up Spoken?
Well, this is the easy part. Avaya is already delivering contact center solutions, among others, to Enterprise customers. During Engage, Avaya made clear of new themes that will be driving their overall digital transformation one of which is Automation and Artificial Intelligence.
Avaya recognizes that these technologies will be a critical capability for just about every business in every industry in the near future, in fact its already here as we got to see with the IntelligentWire demonstration on stage. But this also fits directly into their latest goals in two ways:
New capabilities accelerate Avaya's growth in cloud solutions
Spoken's artificial intelligence (AI) and intellectual property supercharges Avaya's move into Big Data, Machine Learning and AI.
More important than just AI capabilities, Avaya is looking to transition their solutions directly into the cloud, and president and CEO of Avaya, Jim Chirico said that "with this acquisition, Avaya's large contact center customer base around the world will have a clear migration path to the cloud."
According to Avaya themselves, Spoken's cloud-native, multitenant architecture will be seamlessly integrated with both Avaya Aura and Elite technologies, providing a robust architecture for both Avaya's omnichannel offerings, as well as their UCaaS solutions.
"This transaction is a critical step in positioning our customers, partners, and new Cloud business for increasing success," said Mercer Rowe, senior vice president and general manager, Cloud, for Avaya. "We are now moving at cloud speed, capitalizing on Avaya's momentum to give our customers greater choice and flexibility in how they buy and consume our solutions, with the same outstanding experience whether it's on premises, in the public or private cloud, or a hybrid model."
The Bottom Line
Avaya is really pushing the idea of Cloud as hard as they can during Engage, and this all comes after the company went public. Think Avaya, Think Cloud is repeated almost ad nauseam, but it's the clear message they are looking to deliver. When looking under this lens of delivering and transition to Cloud models, this acquisition of Spoken makes perfect sense. Even Spoken seems to think so.
"This is an exciting time to join the Avaya family. Our successful partnership has demonstrated that working together, Avaya and Spoken can deliver a compelling cloud-native CCaaS portfolio for Avaya customers that offers every customer, from small and mid-market businesses to global enterprises, a seamless path to a modern cloud-based contact center," said Mohamad Afshar, president and CEO of Spoken. "Further, Avaya shares our vision for how communications, cloud and artificial intelligence will come together to transform the customer experience and drive new efficiencies for businesses everywhere. We look forward to pursuing this vision together and becoming the #1 cloud based contact center provider in the world. I want to thank everyone on the Spoken team for the outstanding contributions they have made to make all of this happen."
When you add in one of their three major themes for the future, Automation and Artificial Intelligence, well it makes Spoken look like an absolutely perfect fit. Right now we're not entirely sure if Avaya will completely absorb Spoken, or keep the solution as its own brand — but either direction, Avaya is now able to deliver a cloud first AI powered contact center solution.