Most have probably heard by now — the biggest announcement to come out of BroadSoft Connections this year was a bit different than previous years. Cisco will be snatching up BroadSoft for a massive $1.9 billion, and while this news was unexpected, it definitely makes a whole lot of sense. Cisco has been known to acquire different solutions and organizations to fill in the gaps before.
The company has also been going through a bit of a transition, shifting away from an old-school networking company with a focus on hardware, towards a Cloud first software provider.
Paying $55 per share, flat out in cash, Cisco is mainly acquiring BroadSoft to completely change the way in which they can deliver their services. With BroadSoft's existing product offering and partner network, Cisco will now have an avenue to reach towards the SMB market.
Filling in The Missing Gaps
Overall, this acquisition is bringing two different halves of the pie together — Cisco has its focus and strengths within the Enterprise market, meanwhile BroadSoft was a strong competitor for the SMB sector. Cisco looking to shift its focus to offering more and more cloud focused services is able to leapfrog a giant roadblock to delivering a new solution: they brought in a provider that's already doing so.
"Together, Cisco and BroadSoft will deliver a robust suite of collaboration capabilities across every market segment," said Rowan Trollope, senior vice president and general manager of Cisco's Applications Business Group. "We believe that our combined offers, from Cisco's collaboration technology for enterprises to BroadSoft's suite for small and medium businesses delivered through Service Providers will give customers more choice and flexibility."
Michael Tessler, president and CEO of BroadSoft has a similar outlook on the acquisition as well, explaining that joining Cisco will allow the provider to deliver "best-in-class collaboration tools and services" at the small to medium business level. He went on to explain how their existing services are "highly complementarity to Cisco's on-premises and enterprise-centric HCS offerings."
As I said before, Cisco has been known to acquire products and providers that fill in the missing pieces of their portfolio, and during their announcement of this BroadSoft acquisition, Rob Salvagno, vice president of Cisco Corporate Development noted that this is actually the company's 200th acquisition so far.
Acquisitions "continue to be a core part of [their] innovation strategy and over the past two years have helped Cisco accelerate or enter areas such as IoT, application intelligence, AI, hyper convergence and SD-WAN."
A Focus on Collaboration
When the dust finally settles, BroadSoft employees will simply join Cisco's Unified Communications Technology Group, which is being led by Vice President and General Manager Tom Puorro. This actually falls under the Applications Group which is led by Trollope.
Rowan Trollope has also been leading the collaboration side of things, with a strong focus on Spark, and Cisco's big announcement of the Spark Board earlier this year. What I'm curious to see, is how Cisco will leverage their existing solutions with BoardSoft's existing solutions — will they create an entirely new Unified Communications platform, or allow Spark and BroadSoft's offerings to sit separately within their portfolio.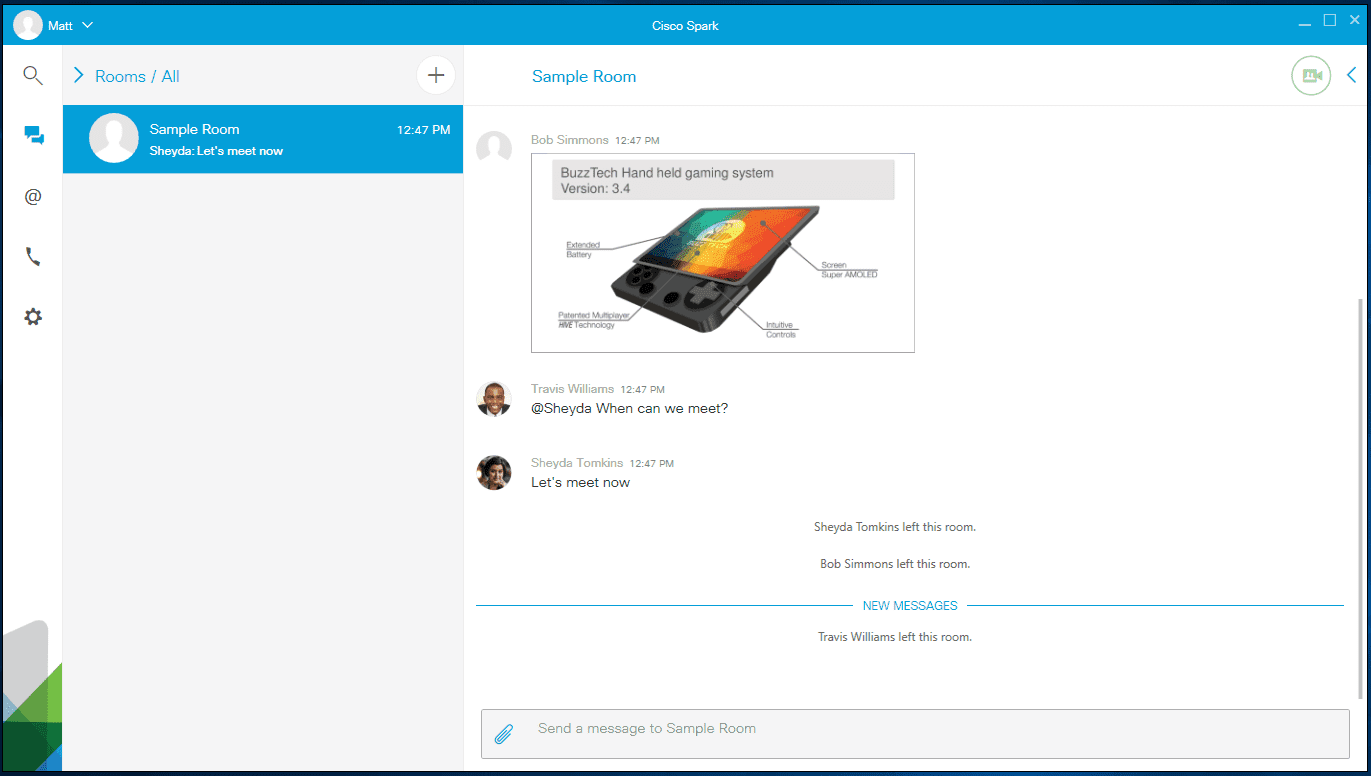 In fact, we can look to the past a bit to see how things might unfold — Cisco actually purchased WebEx, one of their still breathing collaboration apps, back in 2007. As TechCrunch noted, they made this purchase to "jumpstart its position in the enterprise collaboration and communications market."
Years later, WebEx still stands strong as part of their overall "enterprise communications strategy," but since then we've also seen the rise of Cisco Spark, which has also been undergoing a number of changes recently including heightened Enterprise security functionality, and the white boarding we saw back in January.
So how does BroadSoft fit in exactly, and why are they placing this strong focus on the Collaboration side of things?
But Why BroadSoft Exactly?
Well, in a blog post on Cisco's site, Rob Salvango explained even further why BroadSoft seemed like the right choice:
"We chose BroadSoft as it provides a portfolio of cloud collaboration platforms and business applications, which strengthen our cloud investments and ability to deliver collaboration solutions to our global telecom provider customers. Following the close of the acquisition, Cisco and BroadSoft will provide a comprehensive SaaS portfolio of cloud based unified communications, collaboration, and contact center software solutions and services for customers of all sizes."
He went on to further explain how "collaboration is the first step to business digitization and BroadSoft has partnerships with over 450 telecom carriers in 80 countries," which will be a huge boost to Cisco's ability to deliver their solutions across the globe, especially with this collaboration focus for the SMB market. Salvagno specifically stated that this acquisition is complementary to "Cisco's overall cloud investment strategy."
So pretty much what this means is that BroadSoft is bringing to the table a UCaaS platform that Cisco can leverage — but how they leverage this platform is the real question. Despite WebEx still existing, a lot of focus is being placed on Spark, and I'd be curious to see if Cisco decides to push spark on this new UCaaS platform in totally new ways.
As Dave Michels pointed out in his NoJitter post on the acquisition, BroadSoft specifically can help strengthen Spark. Since BroadSoft already sells their UCaaS services to providers in two forms, BroadWorks and BroadCloud, the former being licensed software "that providers run in their own data centers," the latter is "a wholesale services, hosted by BroadSoft." Michels explains that both are well suited for Cisco's current business models, and both also offer APIs that Cisco can utilize and tie directly into Spark.
A New Era for Cisco
So, it's easy to deduce from all of this that Cisco is looking to shift its focus, and its not afraid to flex its capital muscle to make that happen.  Acquisitions are a cornerstone of the provider, and help shortcut the massive levels development and work that would be required to establish their own UCaaS network.
Collaboration, specifically cloud first collaboration, is clearly what Cisco has in their sights, and introducing a platform that offers complimentary solutions, like the previously mentioned BroadWorks and BroadCloud delivery models, but also other solutions like BroadSoft's "My Room" video conferencing solution allow Cisco to leverage existing platforms to deliver their own, or combined services. I think we'll see a marriage, or even replacement, of My Room with Cisco Spark.
I'm very curious to see how Cisco will continue to reposition its focus, and move towards this cloud-first vision that they have. We of course won't see the Enterprise and Networking aspects of the company completely fade away, but they might take a back seat — after all, we're now at a point or UC and UCaaS have taken over as the primary communications solutions.