We're always looking around the industry to see how different providers are evolving to meet the demands and needs of a business. Unified Communications as a whole does a great job of filling a lot of gaps we didn't even realize existed before, with entirely new ways to communicate and collaborate. Well, we heard some news about Intermedia recently and were curious to learn a bit more.
Intermedia already provides a pretty wide range of Unified Communications solutions. Ranging from SIP Trunking and Cloud PBX capabilities, down to email, security and even file sharing tools, the provider has been able to differentiate themselves with this wide portfolio.
To help push their UCaaS platform even further, Intermedia has just recently announced their acquisition of AnyMeeting, so we wanted to take a look at exactly what this means for both Intermedia, and the options that exist on the market now.
A New Acquisition for a Stronger Solution
Even though Intermedia already has a fairly expansive UC platform, they've had to rely on a few existing solutions to build out this platform. For example, Intermedia offers Office 365 for productivity and email — which isn't necessarily a bad thing at all.

But, more importantly, Intermedia was relying on Skype to handle their web conferencing. Which is why it makes perfect sense to see Intermedia snatch up someone like AnyMeeting, with an already powerful, yet easy-to-use conferencing solution.
The main goal, it seems, is to continue to expand and evolve the entire UCaaS platform, which Intermedia is hoping to do by beefing up the conferencing capabilities. Instead of licensing Skype, Intermedia now has the backbone to build and and integrate an already successful solution into their own portfolio.
Why Web Conferencing?
Well, video and web conferencing are some must have features for a large number of industries and organizations. The ability to instantly hold a virtual face-to-face meeting can really go a long way. Similar to how we found Screen Sharing to be an incredibly useful feature, web conferencing adds in that extra level of content, turning a static phone call into a dynamic presentation.
While the best conferencing solutions can be costly, we have seen a good number of free solutions that get the job done, too. It doesn't matter if your business is 5,000 seats, or 5 seats in different cities, an option exists out there in some way — and its always worth considering. So, obviously, Intermedia has recognized the value that web conferencing, video conferencing, and webinars can bring to the table.
In fact, Intermedia's CEO, Michael Gold, explained that "the AnyMeeting acquisition provides SMBs with a suite of easy-to-use applications that will increase productivity through enhanced collaboration, and delivers an even greater breadth of opportunity for our partners."
Gold also went on to explain how Intermedia's UCaaS offering will soon be their largest product line, with the AnyMeeting acquisition specifically enabling the team to accelerate to the next phase of a broader portfolio of UC apps.
The Missing Piece
Just as I mentioned above, Intermedia already had a pretty wide product offering. Business email, Office 365, backup and file sharing, security, and of course calling with Cloud PBX capabilities. This is a pretty well rounded suite all on its own, but of course, a strong web conferencing piece of the pie was missing.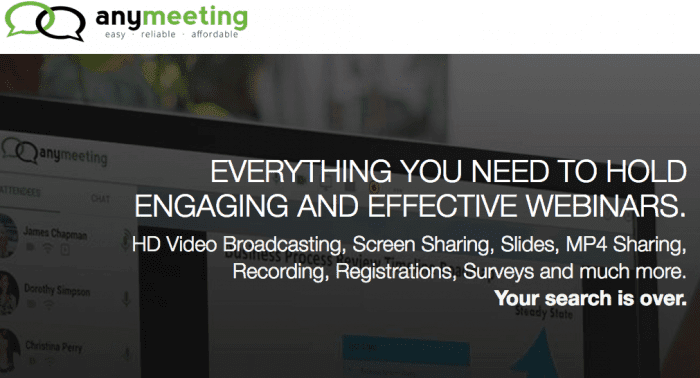 Gold had also said that "these applications will provide an integrated communication and collaboration experience for Intermedia's customers to enjoy and for partners to sell, delivering a highly reliable, flexible and scalable UC solution."
So clearly Intermedia knew what they were missing, and went right for it. What's also interesting to note is the direct focus on SMBs, which fits directly in line with what AnyMeeting was already doing.
So, What Changes?

Now, it's worth noting that integration of the AnyMeeting solution into Intermedia's solution stack hasn't happened quite yet, but the first offerings are expected to be available to businesses sometime early 2018.
According to the announcement, it doesn't seem as if AnyMeeting will cease to exist, quite the contrary. Instead, Intermedia plants to integrate the solution tightly into its own, but will still allow AnyMeeting to carry its own unique name and branding.
Costin Tuculescu, AnyMeeting's founder saw the acquisition as the right move for both providers:
"Since 2011, AnyMeeting has been developing low cost, highly reliable collaboration solutions tailored for SMBs. We are thrilled to be joining Intermedia with the joint mission of simplifying the way SMBs do business. Our team of experts brings deep experience in developing web, video and audio conferencing solutions — and, like Intermedia, puts reliability of service above everything else. We believe this acquisition will help us scale exponentially, and we look forward to building the next generation of UC solutions together."
Image Credit goes to Intermedia and AnyMeeting, respectively.