With both Nextiva hosting their NextCon and BroadSoft hosting BroadSoft Connections on November 14th to the 16th this year, there has been a bit of a discussion around which to attend. We at GetVoIP been frequently asked which conference we will be attending, but with both offering some really great opportunities, we weren't so sure. We wanted to take a better look at what both Nextiva and BroadSoft have to offer, from the Keynote Speakers, to planned events and talks, and even the venue for each conference. One thing is for sure, which ever you decide to attend will be quite the experience offering tons of information and insight.
Keynote Speakers
Of course the main attraction, and possibly one of the most important aspects of these conferences for some attendees is who is on the agenda as a keynote speaker. For many of the speakers invited to share their insight at both NextCon and BroadSoft Connections,  no where else might you have the opportunity to hear from so many well known voices and innovative minds in the industry. However, when making the decision on which conference to attend on keynote speakers alone, we try to take a look at which would be most beneficial for our own personal interest and knowledge, but also how these informative speaker's can benefit our business and work.
Here's the line up:
| | |
| --- | --- |
| NextCon | BroadSoft Connections |
| Tomas Gorny – CEO, Nextiva | Michael Tessler – CEO of BroadSoft |
| Steve Wozniak – Co-founder of Apple | Scott Hoffpauir – CTO of BroadSoft |
| Pat Wadors – Chief HR Officer of LinkedIn | Taher Behbehani – Chief Digital & Marketing Officer of BroadSoft |
| Guy Kawasaki –  Former Chief Evangelist for Apple | Dr. Peter Diamandis – Founder and Executive chairman of the Xprize Foundation |
| Gopi Kallayil – Chief Evangelist, Brand Marketing for Google | Isaiah Kacyvenski – Global Head of Business Development of MC10 |
| Kirsten Davidson – Head of Employer Brand for Glassdoor | |
| Mike Michalowicz – Author | |
| Darin Brow –  CTO for Angie's list | |
What Else Is There To Do?
It's safe to say that in between the Keynote Speakers, both conferences will keep you busy with loads to do and explore. From social events like breakfast gatherings, golf tournaments, solutions showcases, and even additional presentations, your days will be planned and filled to the brim for morning to night. However, making the decision to attend either conference will fall back on what fits your business and goals the best.
With a larger number of Keynote Speakers attending NextCon, it is safe to say the days will be filled with more talks and presentations, with almost every hour hosting one or two presentations from the impressive list of speakers, broken up by lunch breaks, Expo time, and even workshops. Nextiva made sure to include every bit of information on their website for you to plan out your day, with lengthy lists of daily agendas, titles for the presentations and events, and a nice graphic to make it all easy to understand.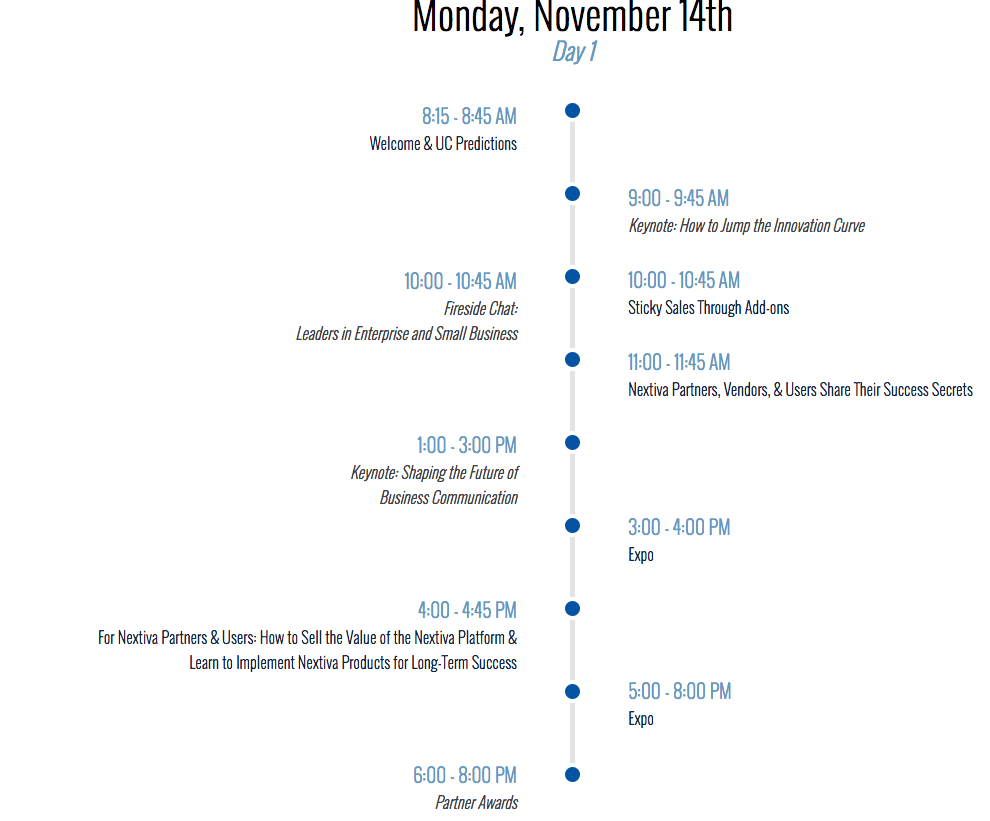 BroadSoft Connections, on the other hand, doesn't seem to cram as many presentations and speeches into as little time as possible, but instead offers a generalized overall view of the days agendas. Also worth noting, while NextCon starts on a Monday, BroadSoft Connections begins the conference on Sunday the 13th, which a day of gold, Texas Hold'em Tournaments, sporting clay shooting and an opening welcome reception. Monday and Tuesday are the real meat of the conference, with a layout for breakfast, a general morning session, a midday block for keynote speakers, later time for showcase solutions, more breakout sessions and even a planned dinner event. Although the information is a bit more generic currently, BoardSoft notes they will be releasing additional agenda information in early September.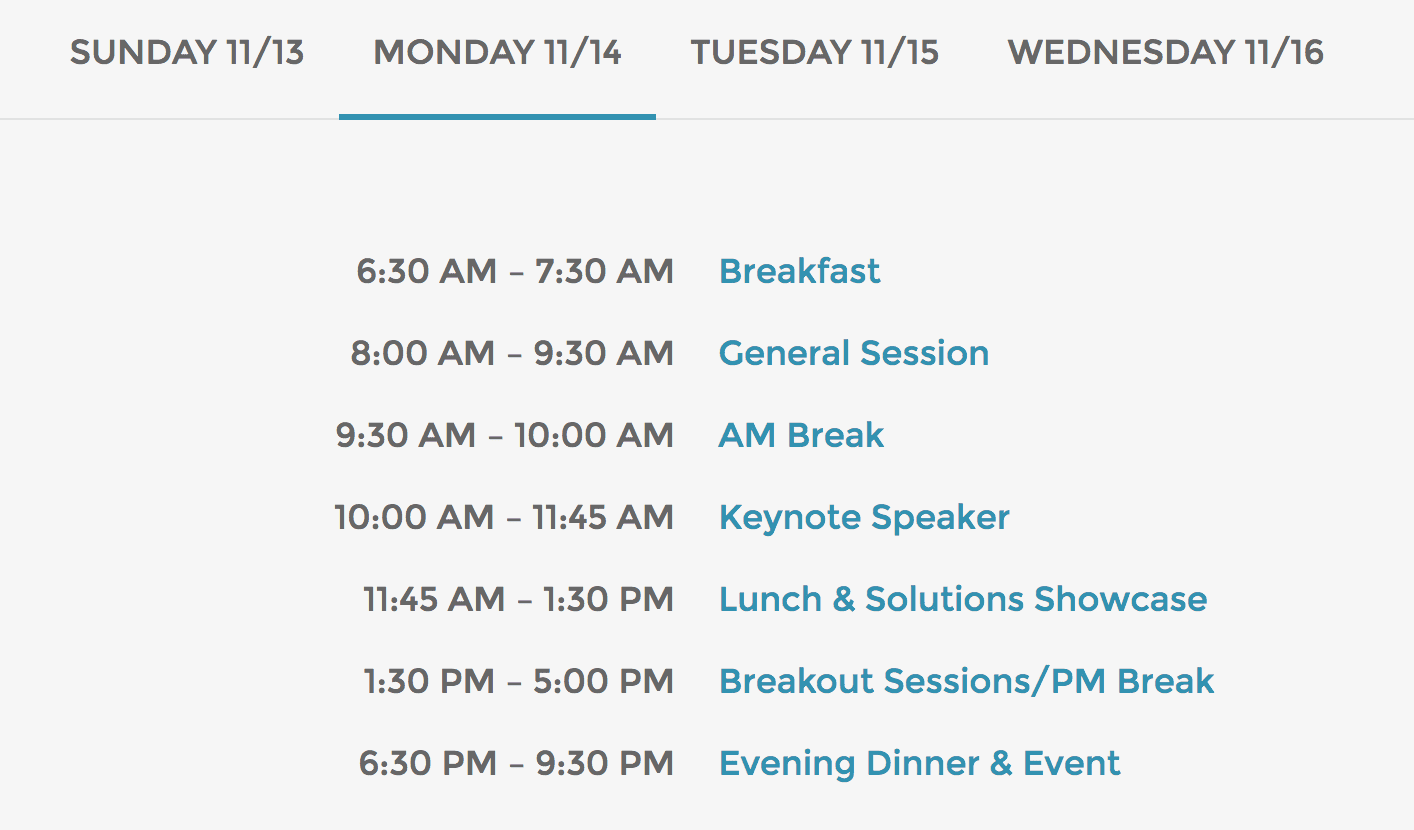 Location, Location, Location
Without a doubt the collection of impressive Keynote Speakers and lengthy, event filled daily agendas are the true meat of the conferences – but the Venue and chosen location can make a huge difference as well. When the weather in November begins to cool down, many of us look for warm, sunny places to travel. Thankfully, both Nextiva and Broadsoft have you covered there. NextCon will be hosted at the Talking Stick Resort in sunny Scottsdale, Arizona. Meanwhile, BroadSoft Connections will take full advantage of the equally warm and sunny JW Marriot Hill Country Resort & Spa in San Antonio, Texas. For those coming from colder states, the warm average of roughly 76°F for both locations will be a great break from the crisp fall, but not too hot that you'll be sweating at dinner!
I say Broadsoft connections will take full advantage of the venue because of the Sunday agenda, with time planed for Golf from 11:00 a.m. to 5:00 p.m., or the Texas Hold'em Tournament from 1:00 p.m. to 4:00 p.m.. If neither of those are your thing, in true Texas fashion, you can spend the day Clay Pigeon shooting from either 12:00 p.m. to 2:00 p.m. or later in the day from 2:00 p.m. to 4:00 p.m.. Of course, those attending Nextcon at the Talking Stick Resort will have access to the resorts scheduled live events, beautiful spa and pools, or even the attached Casino.
NextCon – Best For..
With an overall focus on fresh perspectives and creative strategies that allow you to take your business to the next level, NextCon will provide a more generalized business experience. With presentations such as Sticky Sales Through Add-ons, 5 Ways to Innovate with Paid Search, Different Paths for Raising Capital, Building a Brand, or Sales Done Right, NextCon will provide tremendous insight for not only those that utilize the Nextiva platform of services, not only for Nextiva' partners, but even entrepreneurs, business owners, managers, or anyone with an interest in empowering their business. Not to mention, Nextiva is known for hosting some really interesting events like when we attended Channel Partners and Nextiva let attendees challenge Dennis Rodman to a shoot off.
NextCon will offer insight for any attendee, even if you don't utilize the Nextiva platform or services, and according to Nextiva themselves, everyone should attend. "No matter your industry, company size, or role, you will take advantage of the fresh perspectives, creative strategies, and expert advice shared at NextCon – and walk away with actionable insight to take your business to the next level."
BroadSoft Connections – Best For..
BroadSoft has been known to introduce a lot of the next big things for the platform, or even large acquisitions, during their annual BroadSoft Connections. Just last year the company announced Project Tempo, and it is safe to say this year's conference will most likely come with its own fair share of big announcements. Featuring Keynote presentations from a number of BroadSoft's greatest minds, this year's Connections has a strong focus on "changing the game" so I'm certainly looking forward to see just what they may have up their sleeve, and how they plan to do just that – change the game. Broadsoft Connections will also offer attendees the opportunity to "participate in live demonstrations of new, innovative solutions and capabilities that can help differentiate your market offers." With a strong focus on BroadSoft, and BroadSoft platform, BroadSoft Connections will be a great opportunity for those already utilizing the platform, looking to adopt or even partners that resell. While less of a general focus, Connects will offer a more of a honed-in BroadSoft focus.
Where Will We Be?
Come this November, you'll be able to find the GetVoIP team at Nextiva's NextCon in sunny Scottsdale, Arizona. With such an impressive line up of keynote speakers, and an agenda packed with not only the opportunity to learn from the best how to build, manage, promote, and profit from your business, but the chance to hear from the Nextiva team, and of course CEO Tomas Gorny. Not to mention legendary minds like Steve Wozniak, NextCon is definitely an opportunity we can't afford to miss. We're all looking forward to spending our time with the Nextiva team, the tremendous insight and networking opportunities that NextCon has to offer. And of course, we're curious to see what twist Nextiva has up their sleeve this year, with NextCon being such the massive conference that it is – we're sure it'll be a good one.