Taking the plunge to handle all of your communication needs with VoIP is one of the easiest ways to cut down costs for any small business, while still maintaining that professional level of service. While it is crucial to choose the best VoIP provider tailored towards your specific needs and budget, even the best service in the world will suffer without choosing the right IP phone to handle your inbound and outbound calling. We decided to take a look at the different offerings out there to see what you're getting for your money. With hundreds of phone options ranging from entry-level to top of the line, VoIP phones can get expensive quickly. But with a business only in need of a handful of phones, it might not be worth paying the extra premium for all the bells and whistles you won't even use.
We rounded up a comprehensive list of 10 entry-level desktop VoIP phones priced under $100, for any company looking to take full advantage of their small business VoIP service. In this list, we tried to focus on what exactly a small team would look for in their phones between functionality, most popular phone features and cost. We placed a high priority on the number of lines available for each phone, as well as headset support and other helpful features like Power over Ethernet. We took note of bonus features as well, like four-way conference calling, extra Ethernet ports for other devices, and even Bluetooth support.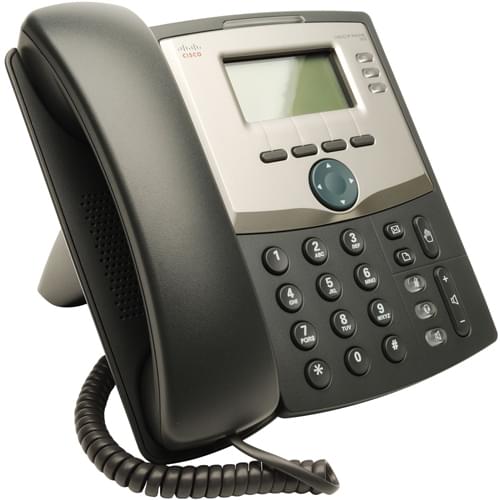 One of the biggest names in Unified Communications, it's hard to go wrong with Cisco VoIP phones. The SPA303 is the higher model in Cisco's entry-level, business-class IP phones while remaining a cost-friendly and effective device. Equipped with all the features you would need, the 303 includes some extras like Intercom paging. Of course, the 303 also sports all the useful calling features you would expect such as call swap, call park and unpark, multiparty conferencing, automatic redial, call waiting, and even 10 customizable ring tones.
With a 2.5mm jack, almost any standard headset will work with the unit, instead of the proprietary RJ9. If you already have a closet full of RJ9 headsets, require more than three lines and require Bluetooth support the SPA303 might not fill that niche, but it stands as a strong first choice. (See our Cisco SPA 303 editor's review for more info)
Polycom VVX201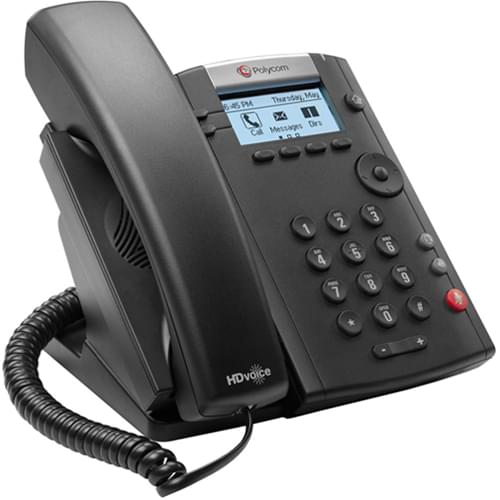 A little more on the basic side, Polycom describes their VVX201 as "simple yet reliable." With only two lines, the 201 is more suited towards low call volume offices, but if all you're after is a familiar setup that can make and receive calls the 201 might be the path to go down. It doesn't boast any impressive features or add-ons, although there are two Ethernet ports, and it can be configured through Polycom's easy-to-use interface, or dedicated web portal. This portal even allows administrators to jump on and tailor all or just one phone's settings.
Polycom VVX300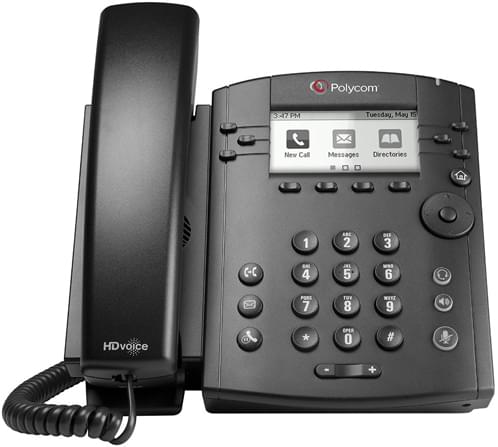 A step higher in Polycom's, the VVX300 does everything you'll need it to as a phone like the 201 but adds a few extra details that make life a bit easier. Jumping to six lines, from the mere two lines of the lower models, the VVX300 would be a better pick for offices that tend to have multiple lines going off at once, and would make it one of the top IP phones for a receptionist or incoming call center.
Though what makes the VVX300 stand out is its integration with third-party web-based applications through open APIs. You can set your phone to receive updates from your Microsoft Exchange calendar, for example, and ping you reminders or alerts. Users can even instant message other phones and see a list of other available. Through open APIs, the integrations you could build are pretty limitless. You could even attach the phone to your computer as an external display and use your mouse and keyboard to navigate on the VVX300's display.
Polycom SoundPoint IP 321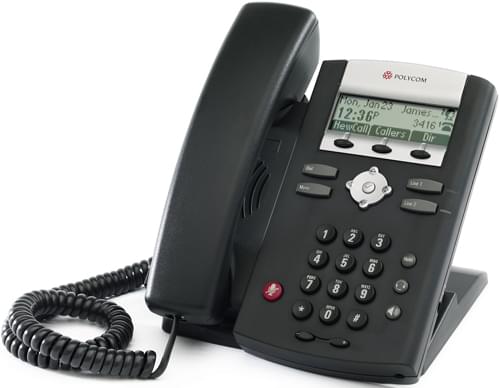 Bridging the gap between the VVX201 and VVX300, the SoundPoint IP 321 is a two-line phone that comes with some of the extra business calls features from the VVX300. Polycom describes the phone as a cost-effective solution for workers that utilize a "hard" desktop phone along with a "soft" phone client running on their PC.
The phone includes a long feature list of traditional telephony functions like call hold, park, transfer, pick-up, and three-way conferencing. It also adds a built-in XML microbrowser, and call/bridged line appearance. If you want the extra features of the VX300 but don't need the 6 lines, SoundPoint IP 321 fits right in.
Panasonic KX-HDV130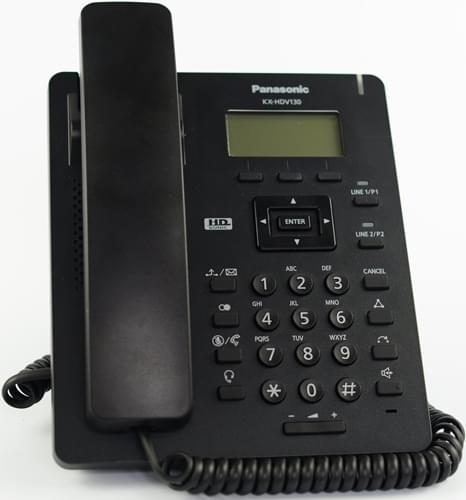 Panasonic's entry-level offering is comparable to both Cisco's and Polycom's in everything it bundles together. With two-line support, 2 programmable keys, dual Ethernet ports, power over Ethernet it kind of hits all the right points. It is interesting to note that Panasonic's built-in phone book will accept up to 500 entries on the HDV130, which is pretty great when you compare it to the Cisco SPA303's mere 100 listings. However, without any extra features like Polycom's API support or XML microbrowser, there isn't much that makes the XK-HDV130 stand out among the competition – but it'll get the job done if all you're after is a basic two-line desk phone.
VTech ErisTerminal VSP715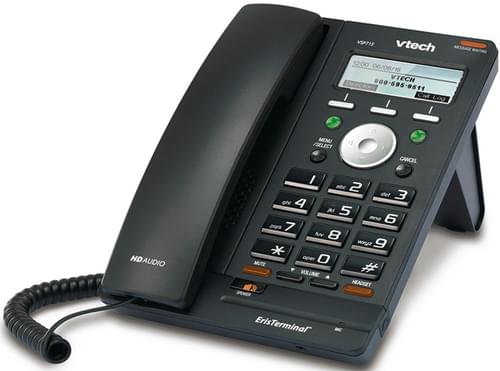 The cheapest phone in our roundup, the VTech ErisTerminal VSP715, still comes with all of the essential features you will need from a basic desk phone. The VSP715 manages to hit all the check all the boxes for our list, yet sits right at the halfway mark of our price point. With only two SIP lines the V SP715 might not be ideal for all offices, but its long list of features seen even on the expensive models begs to differ.
Two Ethernet ports, intercom support, an included 2.5mm headset jack as opposed to RJ9, and even a dedicated Web UI to fully customize your phone helps it regain some ground.
Grandstream GXP1630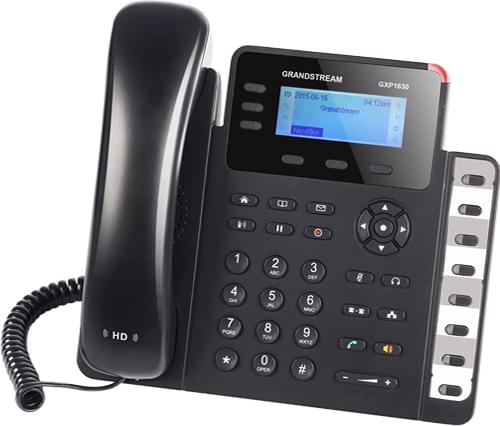 Designed for small to medium businesses, Grandstream's entry GXP1630 hits all the right points and even expands on some otherwise standard features. Three lines and three programmable buttons put the GXP ahead of the other standard phones that only allow for two lines. Dual Gigabyte Ethernet ports should make for faster connections, and the usual power over Ethernet is a welcomed addition. However what makes the GXP1630 notable is the four-way conferencing, as opposed to the more standard three-way, and even a built-in record button to easily record your calls. It is a bit odd, however, that the 1630 seems to only include Electronic Hook Switch support for Plantronics headsets.
Grandstream GXP2130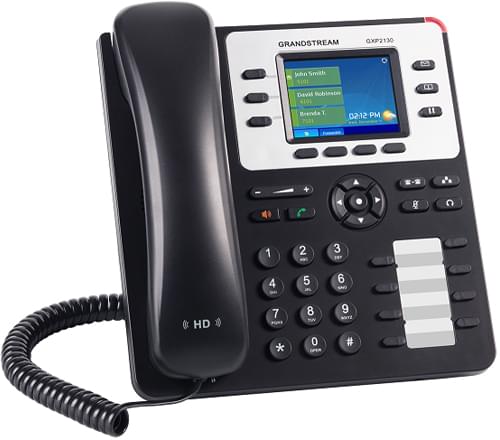 As an enterprise-grade phone, the GXP2130 is a more robust and feature backed version of the GXP1630. While only three lines still, 2130 has a feature otherwise unseen in this comparison list, built-in blue tooth functionality. Another unseen feature is the inclusion of a USB jack for headsets, instead of just a standalone RJ9 or 2.5mm jack.
As an enterprise-focused phone, the GXP2130 lets you download your phone book of up to 2,000 items and has a call log longer than most other phones – up to 500 records. This, of course, is all on top everything else you get with the GXP1630, like the four-way calling, dual gigabyte Ethernet port. Although, the GXP2130 seems to lose the former's standalone record button.
Snom 710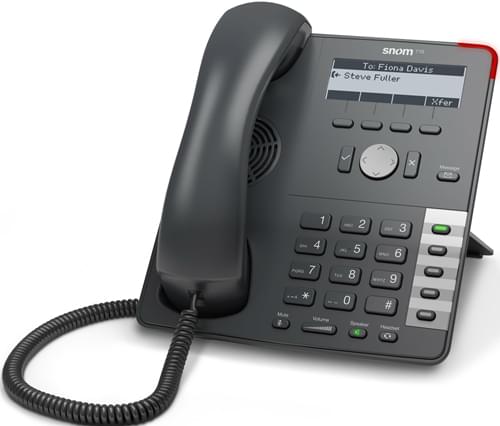 Snom offers an enterprise-grade, yet entry-level, phone comparable to the bigger names in the market. With four SIP connections, it manages to even score a few points over less capable phones in the list. A four-line display awards another check on the list for the Snom 710, and a built-in XML minibrowser rivals some of Polycom's offerings.
Remote management and provisioning is a nice feature for admins that want to stay on top of their systems from anywhere. The 710 does have Electronic hook support for wireless headsets, but only has an RJ4 jack for standard headsets, or a 4pin connector for Snom EHS Advanced headsets. Although, the addition of a 1000 entry local phone book is a bonus compared to the slimmer directories other models. Five programmable keys is another notable detail.
Yealink SIP-T4IP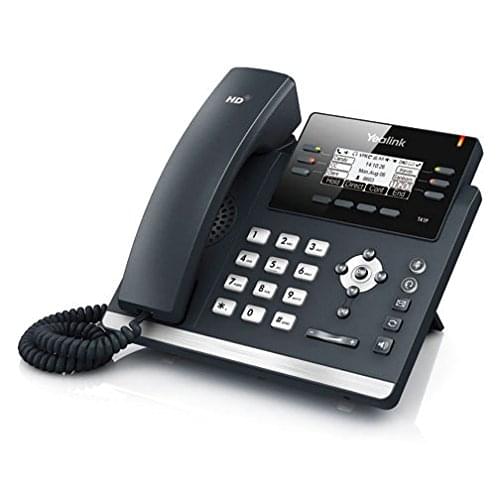 Only rivaled by Polycom's VVX 300, the Yealink SIP-T4IP boasts six-line support and a new modern elegant design. However, the T41P isn't all form and no function. Power over Ethernet support, a 2.7'' LCD, headset and Electronic Hook Support, XML browser and even an intelligent search method for your call logs or phone book make the Yealink a solid foundation. An interesting unique feature included with the T4IP is a phone locking system for personal privacy protection, when stepping away from your desk simply lock your phone and keep your voicemail, call history  or phone book private and protected.
| | | | | | | | | | | |
| --- | --- | --- | --- | --- | --- | --- | --- | --- | --- | --- |
| | Cisco SPA 303 | Polycom VVX 201 | Polycom VVX 300 | Polycom SoundPoint IP 321 | Panasonic KX HDV130 | VTech ErisTerminal VSP75 | Grandstream GXP 1630 | Grandstream GXP 2130 v2 | Snom 710 | Yealink SIP-T41P |
| Number of Lines | 3 | 2 | 6 | 2 | 2 | 2 | 3 | 3 | 4 | 6 |
| Headset Support | 2.5mm | 2.5mm | RJ9 | 2.5mm | RJ9 | 2.5mm | RJ9 | RJ9 and USB | RJ9 | RJ9 |
| Power over Ethernet | Yes | No | Yes |  Yes | Yes | Yes | Yes | Yes | Yes | Yes |
| Number of Ethernet Ports | 2 | 2 | 2 |  1 | 2 | 2 |  2 | 2 | 1 | 2 |
| Conference Call | | Three-Way | | Three-Way | | Three-Way | Four-Way |  Four-Way | | Three-Way |
| Bluetooth Support | No | No | No | No | No | No | No | Yes | No | No |
| Shared Call Appearance | Yes | Yes |  Yes | Yes |  NA | Yes |  Yes |  Yes |  No |  Yes |
| Display Type | Black and White LCD | Black and white LCD | 2 Line Black and White LCD | 2 Line Black and White LCD | Graphical LCD |  Black and White LCD | Black and White LCD | Color LCD | Black and White LCD |  Graphical LCD |
| Intercom | Yes |  No |  No | Yes |  No |  Yes |  Yes |  No |  No |  Yes |
| Price Range | $62 | $90-$100 | $90-100 | $83 | $79 | $51 | $85 | $95 | $80-$90 | $95 |
| More Info | More Details | More Details |  More Details | | More Details | More Details | More Details | More Details | More Details | More Details |
Where To Buy
When compiling our list, we sourced the price range for each phone primarily from VoIPSupply.com, and Amazon.com. Prices listed as a range are due to a large difference between the multiple retailers, while phones listed at a single price were much closer match between both retailers. Prices may vary slightly based on shipping costs or any sales or promotions from either retailer or manufacturers but as long as you know what an IP phone is and the features it should have, you'll know which is right for you.