Microsoft has announced the upcoming availability of Skype for Business on both iOS and Android. Redmond is introducing a number of new features in these mobile versions of Skype for Business, including a new design that completes the metamorphosis of its Lync product into the more familiar Skype interface.
The integration of Lync and business-version Skype began with Microsoft's acquisition of Skype in 2011. In a blog post, Microsoft states that the new mobile versions of Skype for Business are an "evolution [that] combines the ease and familiarity of Skype with the communication and collaboration features of Lync and enables you to conduct your business through an enterprise-grade secure platform using the devices you already have."
Skype for Business for iOS and the version for Android both have a new look that includes the Contacts list, presence indicators, buttons and icons and even the emoticons in the consumer offering of Skype.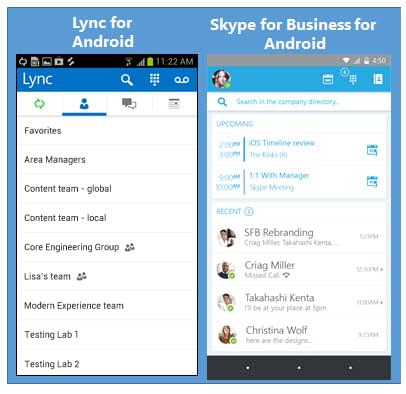 Both mobile VoIP apps will also have a dashboard that serves as a home page. From it, customers can quickly access their calendar, view upcoming appointments and quickly join meeting invites by tapping a "Join now" icon. The dashboard also allows for viewing the history of recent chats, phone calls, and meetings. iOS users will have the additional ability to search through their global address book and contact list from the home page.
Microsoft is really touting an enhanced call and meeting experience which many in the industry claim is meant to rival Google Hangouts. Added features include full-screen video; larger buttons for muting, adding participants and managing calls; as well as a choice of views for customizing meetings. For instance, users can move between video and content in a meeting or choose to see content and a speaker's video simultaneously (that is a feature only supported in iOS, however).
How to get the new Skype for Business Mobile Apps
Microsoft has an online application for registering for the technical preview of the new versions of Skype for Business. A limited number of applicants who are Office 365 tenant IT administrators will be selected to download the Skype for Business iOS or Android technical preview. When the final releases are available, all Lync customers will be able to download the app from Google Play or the App Store. Skype for Business is supported on Android 4.1 and later and on iOS 8.0 and later.