The Federal Communications Commission (FCC) announced it will auction part of the wireless spectrum reserved for TV stations to mobile carriers. The FCC's action addresses the heated competition among carriers as well as the explosion of startups offering new mobile products and services.
In a press release, the FCC issued the following statement:
"The Commission voted to reserve up to 30 megahertz of spectrum within the 600 MHz band to promote competition. Those rules established a market-based reserve of no more than 30 megahertz of spectrum for non-nationwide providers as well as nationwide providers that hold less than one-third of available low-band spectrum in a license area."
In April 2015, a coalition of wireless carriers and service providers including T-Mobile, Sprint and Dish Networks, called on the FCC to construct rules on auctioning the 600MHz wireless spectrum citing that doing so will benefit smaller carriers and increase wireless competition. However, these companies also wanted higher 40MHz of spectrum auctioned but the FCC decided to reserve only up to 30MHz.
Reactions in the industry to the FCC's decision are mixed. In a series of Tweets, T-Mobile CEO, John Legere, praised the decision: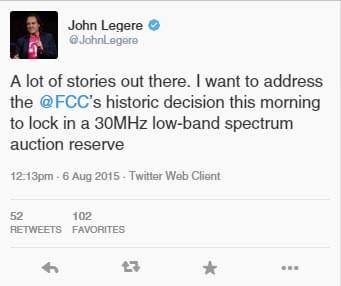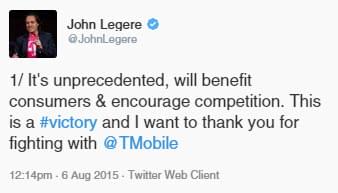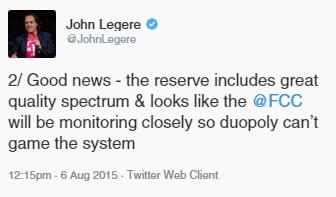 Despite his enthusiasm on Twitter, Legere did not get everything he wanted with the decision as the FCC nixed the request to reserve low-level wireless spectrum for bidding only by smaller carriers like T-Mobile. This request to the FCC was an attempt to lock out large providers such as AT&T and Verizon from participating in auctions of these highly-sought after airwaves.
In an official blog post, AT&T's reaction on the decision was far more reserved. "Some of the auction framework proposals adopted today raise significant questions about the value and utility of the spectrum that will be made available at auction," wrote the blog's author, Joan Marsh.
PCWorld notes that "stakes are huge" in auctioning the wireless spectrum. The FCC's  last auction, of 65MHz in the less desirable AWS-3 1700MHz and 2100MHz bands, raised US$44.9 billion earlier this year.