The Good
---
This is a great desk phone. It sits well and is cosmetically pretty, energy efficient and feels like a solid phone. The HD voice clarity is felt on the headset and the speakerphone. I am always excited to see Yealink's enterprise features extended to their lower model phones also
The Bad
---
This phone is lacking in some areas like gigabit LAN. Those of you wanting a fast PC bridge in a phone might want to shy away from this and pickup a stronger model. The screen is not color, not touch screen, and is a little smaller than I would like to see on a desktop phone.I have a little bit of trouble finding things "wrong" with the phone vs things that this phone does not have that other phones do have.
The Bottom Line
---
Yealink delivers a strong mid-level phone that offers some enterprise features while still not breaking your small business budget. If you are ok sacrificing the touch screen and the gigabit lan then this phone is a steal. Yealink's ability to produce devices that appeal to many different customer types is what makes them one of my favorite manufacturers. At $75, it's hard to beat this one.
In the box you get:
– Phone
– Base
– Handset
– Handset Cord
– Power Cord
– Manuals
Top 5 Pros:
Top 5 Cons:

Price.
Ease of use for all customer types.
Small physical footprint.
HD Voice.
Enterprise level features and security.

Only 3 lines.
No color screen.
No adjustable base.
No gigabit.
No bluetooth or wifi support.
Editor's Review
Video Review:
Physical Overview:
Dimensions: Phone base is just over 8" wide, 7.5" deep, 6" high
It's actually quite a small footprint for a desk phone and this has the ability of coming off as a cheap phone or simply a perfectly sized phone, only you can decide that.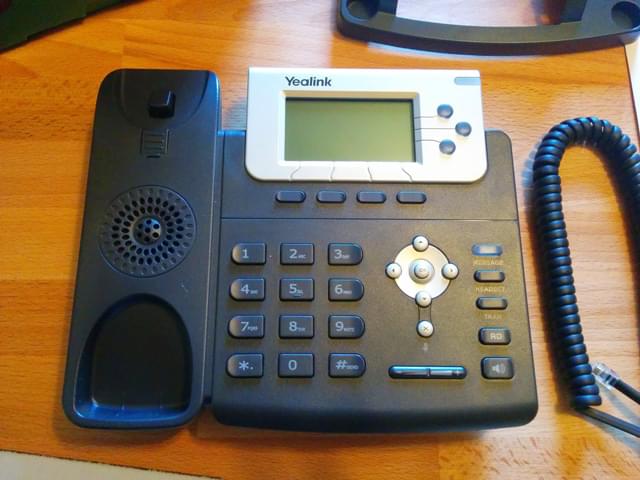 The design is spot on with the layout of the buttons and lights, it fits and is visually appealing.
Installing the base mount couldn't be easier, however I wish it was adjustable (tilt).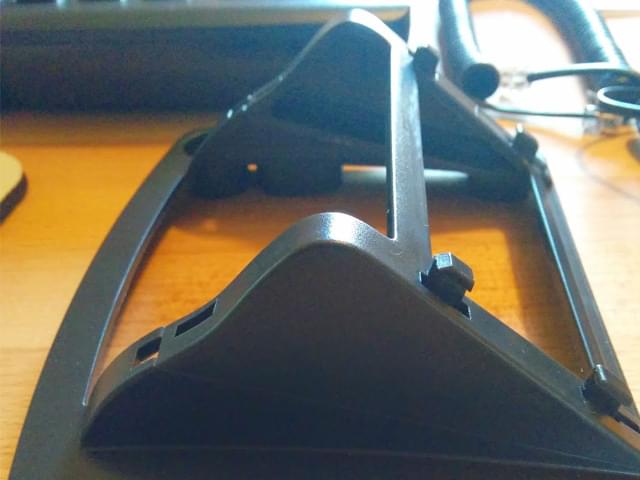 Behind the phone view with base mount installed: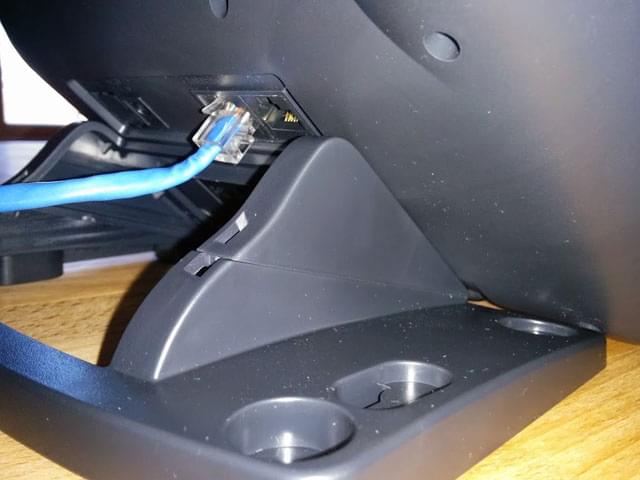 It does allow for wall mounting, which is what I would use this phone for in an office environment if it were my choice. A good place for a small phone is on a wall. The center of gravity on this phone is great so no knocking it over if you answer a call quickly and your phone cord is tangled. It has enough weight to hold itself where it generally sits.
The screen is a bit small for my liking but that's based preference of course. I would prefer a larger color screen, nothing too crazy, but if I were to mount it on the wall, I'd like it to be cosmetically appealing with a color company logo background. The handset sits firmly in the base and has the proper weight to it (not too light, not too heavy).
Menu Overview:
The menu is accessed via the hard "MENU" button on the front right of the phone screen.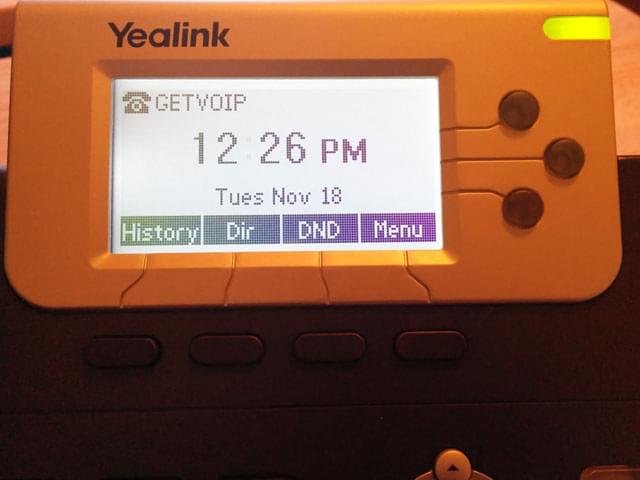 In the menu, you have a tree of sorts that flows like so: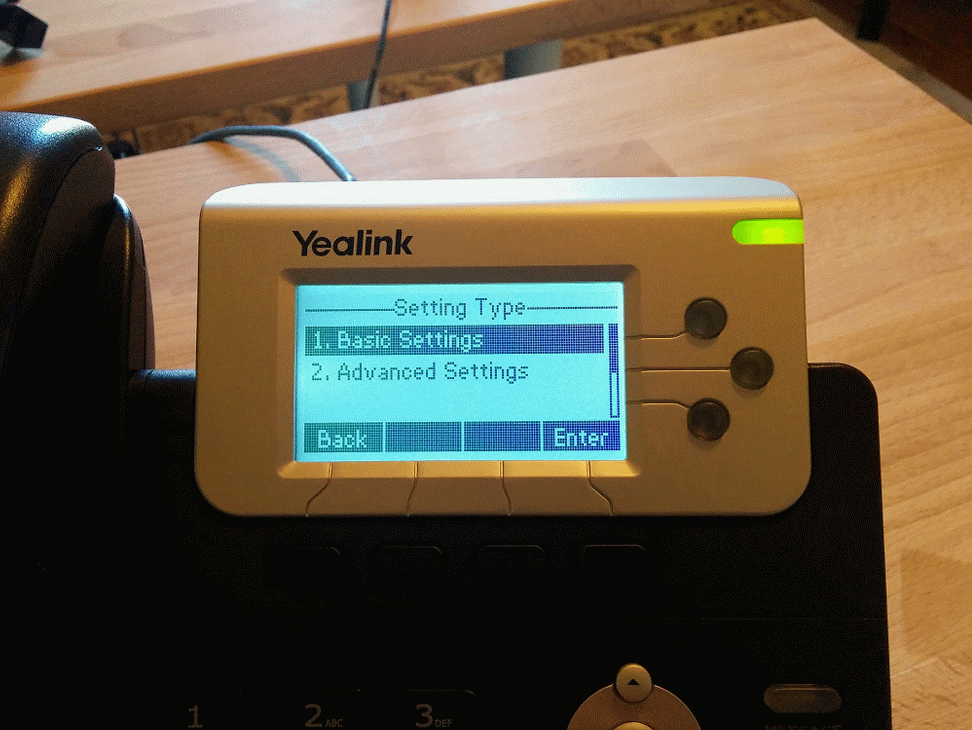 1. Status
a. IP
b. MAC
c. Firmware
d. more
– Network
– Phone
– Accounts
2. Features
a. Call Forward
b. Call Waiting
c. DSS Keys
d. Key as Send
e. Hot Line
f. Anonymous Call
g. Auto Redial
h. DND Code
i. Intercom
j. Call Completion
k. Broadsoft Settings
l. History Setting
3. Settings
a. Basic Settings
– Language
– Time & Date
– Ring Tones
– Phone Unlock PIN
b. Advanced Settings (Password Protected, default "admin")
– Accounts
– Network
– Softkey Label
– Keypad Lock
– Reboot
– Reset to Factory
– Set Password
– Set AES Key
– Auto Provision
– FWD International
4. Messages
a. Voicemail
b. Text Message
5. History Type
a. Local History
b. Network Call Log
6. Directory
a. Local Directory
b. Remote Phonebook
c. Broadsoft
d. Blacklist
Setup and Registration:
The setup and registration was extremely easy. In my testing I did not use any auto provisioning tools, it was manually provisioned through the web interface. First off, simply navigate the menu to find your IP address.
(Menu → Status → IP)
Then hit that IP in your web browser and login. The default login credentials are admin/admin. You are instantly provided with the "home/state page" or sorts like so: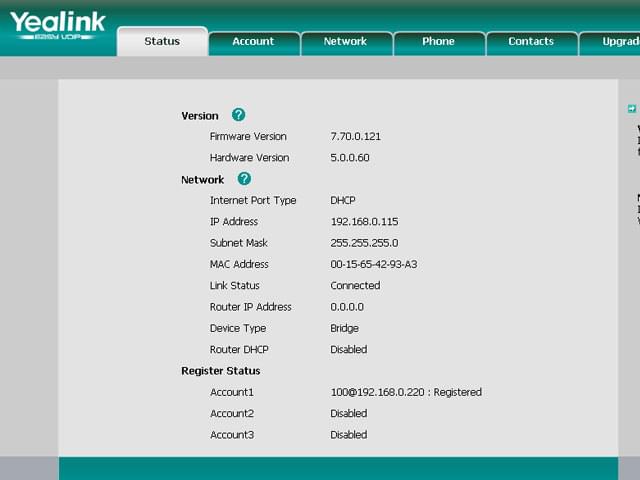 Click on the "Account" tab and setup your credentials for your line and your SIP server like seen here: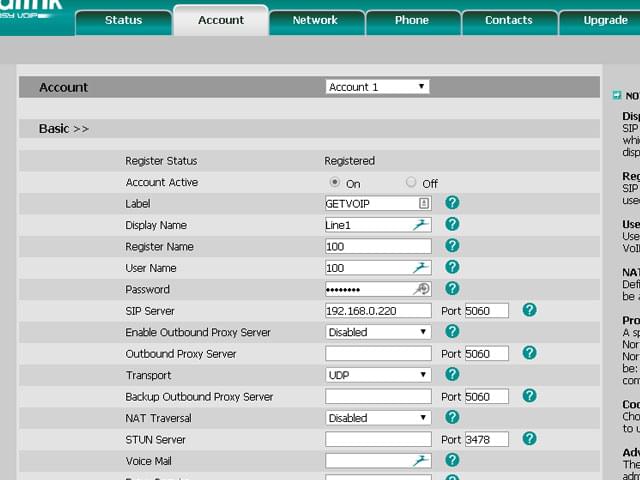 As soon as you save it applies the settings, no reboot necessary. (See this Polycom? That's how it's done, no reboot needed!) At this point you should be registered and can make a call. It's very easy and simple for a novice to understand.
Calling Experience:
The calling experience is actually pretty impressive. For a "cheaper" phone I expected to have the lack of some features like HD voice but this phone came through. Of course your endpoint must support HD voice wideband codecs for one to use this feature.
Wideband codec: G.722
Narrowband codec: G.711, G.723.1, G.726, G.729AB, VAD, CNG, AEC, PLC, AJB, AGC
The full duplex speakerphone quality is sharp and still clear at it's loudest setting, which is quite louder than my aging Cisco desk phone.
I mentioned that the handset is a good weight and to me it feels comfortable also when resting on the shoulder to ear while typing. Making outbound calls and inbound calls connect quickly and the codec negotiation process is pretty quick.
Talking: Transferring: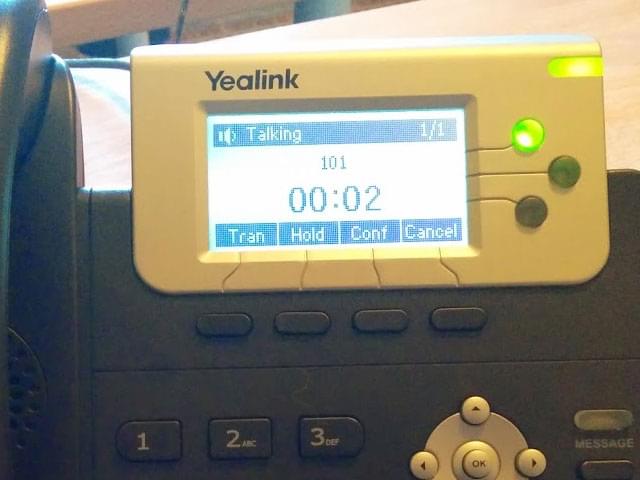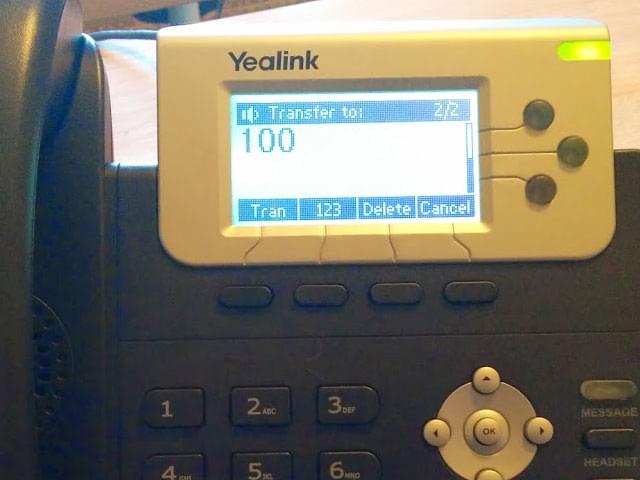 Technical Specs
Specifications
# of RJ45 Ports
# of lines
3
3 way conference
yes
AC Power Supply Included
yes
Built-In Bluetooth
no
Built-In Wifi
yes
Color Screen
no
Desktop Paging
yes
Display Type
LCD
Gigabit Ethernet Support
no
Headset Interface
2.5mm
Mass Provisioning
yes
MWI Support
yes
Peripheral ports
no
PoE Compatible
yes
Protocol Supported
SIP, TFTP
Provisioning Method
TFTP
Sidecar Compatible
no
Speakerphone
yes
Supported Codecs
Touch Screen
no
Voicemail Button
yes
Wideband Voice Protocol
yes