Cloud technology has changed the face of communication and collaboration, within teams, between teams, and across client bases. Small business owners are beginning to look beyond email and phone calls to find more dynamic, efficient, and engaging ways of tackling communication tasks. But new technology comes with a learning curve, and the vast array of software, apps, and solutions out there can be intimidating. To help you find solutions that work for your business, we put together this list of the best powerful communications tools which will work hard for your business, while making life easier for you.
1. Slack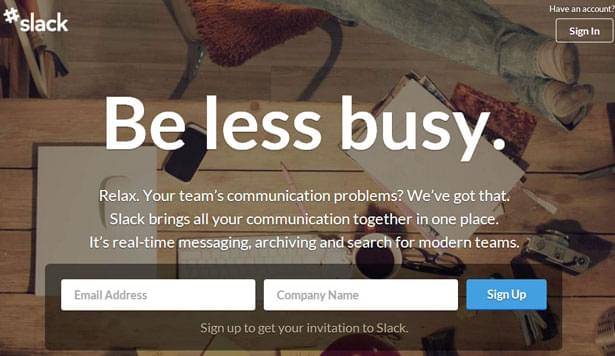 Slack is a powerful new next-generation communication tool and management system with a mission to "kill email". It acts as a single, searchable repository for team communication and shared information, including messages, comments, files, videos, and automatic notifications from an array of sources. It integrates seamlessly with dozens of existing tools, including RSS, Dropbox, Google Drive and Hangouts, GitHub, Twitter, and many more, and also they provide apps and extensions which will allow you to easily create your own integration, so that absolutely everything is together in one place. It includes one-on-one messaging, persistent chat rooms, private groups, and group chats organized by topic. A slick, intuitive interface allows deep search of all chats and files, in context, and it syncs perfectly in real-time across desktop, Apple and Android devices.
Cost: Free basic version, with premium features at tiered subscription levels.
Ease factor: Comes with its own internal help robot, Slackbot, which talks you through setup for each user, communicates with you whenever you take a step that requires outside authentication, and lets you instantly program automatic responses and acts as your personal notebook within the app.
2. Smartsheet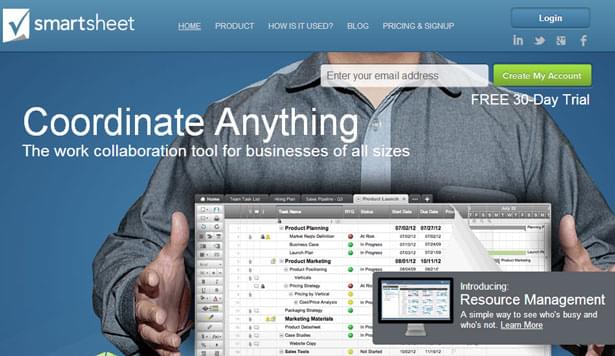 Deceptively simple and extremely powerful, Smartsheet is a collaboration that looks just like an Excel file, but performs like a full-service project management suite. It can be used across all aspects of your business operations. Resource management, task allocation, file-sharing, scheduling, contacts, sale tracking and much more are made easy with an extensive template library.. Everything you do with Smartsheet is instantly shareable across desktops and a mobile app, making collaboration easy and consistent. Advanced reporting tools make it easy to pull needed information and instantly get it to the people who need it. Customizable alerts keep you connected to changes and updates.
Cost: Monthly pricing starts at $14, with added features, functions, and support at premium levels.
Ease factor: The spreadsheet simplicity of the platform means that there's no special training required to get up and running. The interface is familiar and flexible, and contributors don't even have to sign up to use it: once you share a spreadsheet with them, they can instantly edit and collaborate upon opening the sheet.
3. Biba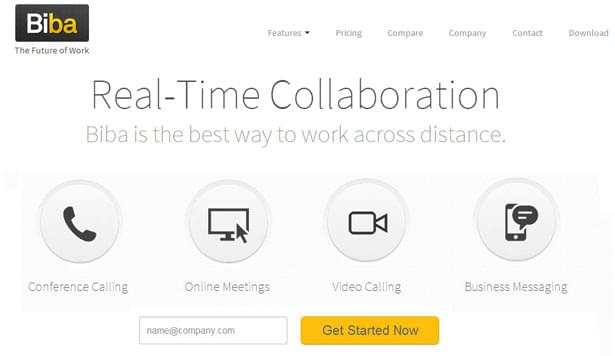 Biba is an all-in-one mobile communication tool for businesses, which includes conference calling, video conferencing, business messaging, and online meetings. "Getting meetings to start on time" is their rallying cry, and they've come up with a unique approach to making that possible.  Instead of passcodes and complex dial-in procedures, you create a meeting list, and Biba calls all participants instantly. The  app is also backwards compatible with a regular dial-in phone connection. The desktop screen-sharing and video conferencing tool is easy, with HD quality, and one-click group chat, audio, and video conferencing options.
Cost: Free basic version, with extra features starting at just $1/mo/user. Full functionality begins at $9/mo, with premium and enterprise options also available.
Ease factor: When it comes to audio conferencing, Biba functions primarily as an in-phone app, so once you've downloaded it to your smartphone, you can get started immediately. If you want to include a participant who doesn't have the app, you can offer them a web link where they can access the full meeting instantly
4. VeriShow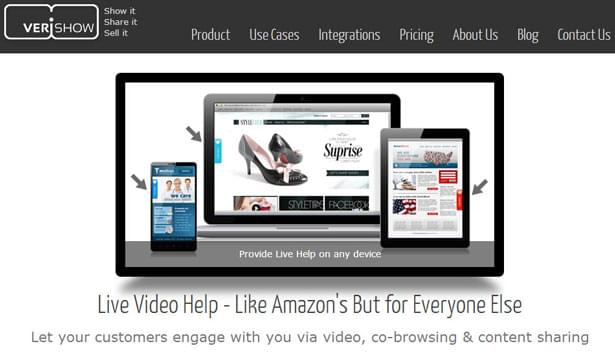 This is a business communication tool with a twist. VeriShow works like many online communication tools, with file sharing, chat, voice, video conferencing, screen-sharing, whiteboard, and live annotation capabilities. While it can be used within your company for team meetings, its special value comes in the great customer-facing features. Put simply, VeriShow allows you to embed real-time customer support technology into your website with the use of a simple HTML code call button. You can provide live web demos, respond to questions, co-browse and guide customers to the content they're looking for, and right through to a sale.
Cost: A free version is available to try. Custom pricing begins at $99/mo.
Ease factor: The web-based app means that neither you nor your customers need to download anything. You simply sign up for the service and cut and paste the HTML code into your website.
5. Kona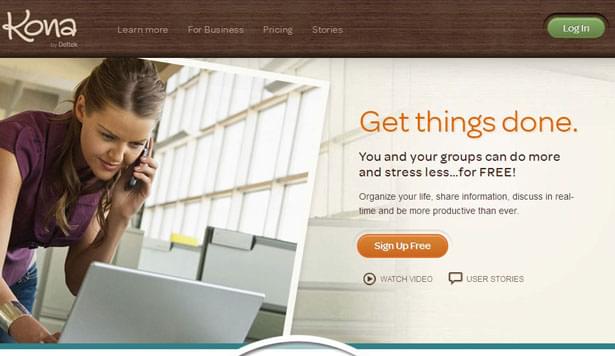 Kona is an online "virtual office space" and collaboration tool which allows users to stay connected through tasks, chat, shared calendars, as well as knowledge and idea sharing. Through Kona, you can create separate "spaces" for teams and projects. You retain control and viewing for all spaces, but each group only sees what they need. Collaboration templates keep things clear and consistent across tasks. Special attention is given to rigorous security and privacy, which is vital in a cloud-based app. With an easy-to-use mobile app, team members can remain connected to the conversation wherever they are. Kona integrates with existing file platforms like Dropbox, Sharepoint, and Google Drive, but also has its own file uploading capabilities. A real time poll feature makes decision making clearer and allows HR to get feedback from employees.
Cost: Free for a basic subscription, with extra spaces, features, and storage at "Pro" and "Business" levels.
Ease factor: Kona was designed to appeal to personal users as well as businesses, so the design is intuitive, attractive, gentle, and easy-to-use. As a web-based service, there's no set-up required: just sign in and get going.
6. Yammer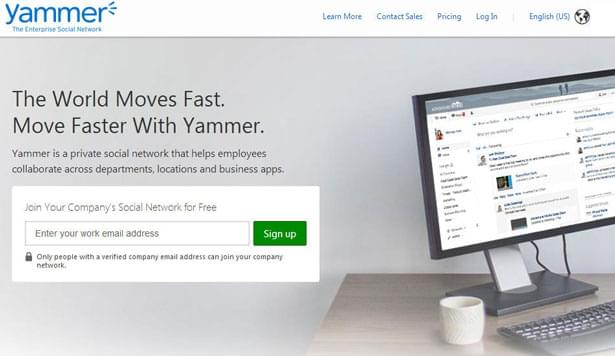 Yammer works as a full-service private social network for organizations. It connects employees and decision-makers at all levels of your company, promoting clearer communication, advanced knowledge-sharing, project management, and flexible collaboration. Yammer also works as a central file location for version control, document collaboration, notes, comments, and seamless sharing across teams, and all content is easily searchable. . For each user, all relevant material is collected in a convenient inbox, which brings together @mentions, chats, group announcements and discussions all in one place.
Cost: For Yammer alone, free and $3/mo./user versions provide basic social networking and collaboration functionality. For extra support, security, and integration with other Microsoft products, there are an array of subscription options
Ease factor: To begin, employees simply fill out a profile online. Yammer can be fully integrated with SharePoint, Skydrive, Skype, Lynk, and the full Office365 suite, which provides consistency with the software you may already be using, and the Facebook-esque design offers instant familiarity and ease of use. It's worth noting that the website requires an official.
7. CardBoard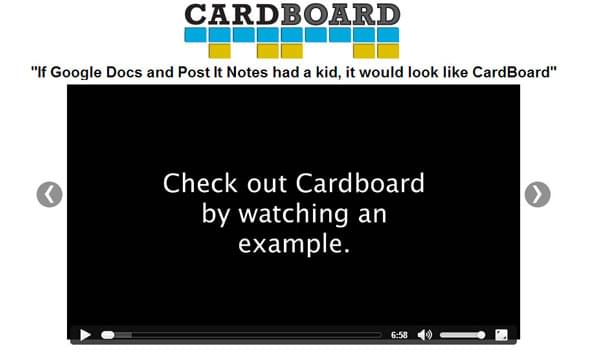 The website tagline is: "If GoogleDocs and Post-Its had a baby, it would look like CardBoard", and that's the most accurate description you could ask for. As a collaboration tool, online whiteboard, and work-flow manager, CardBoard takes a unique visual approach which is as intuitive and engaging as it is simple. CardBoard allows you to collaborate on story mapping for content, product and release planning, workflows, presentations, and more. It's a great option for note-taking within meetings: maps can be downloaded, shared, or printed with the click of a button.
Cost: The free option for a single user gets you up to five maps, but lacks the collaboration function. Upgrades begin at $9.99/mo and allow increasing numbers of maps and collaborators.
Ease factor:  A five-second sign-up gets you creating maps immediately. You can share and collaborate instantly with anyone who has an email address: they don't need to sign up to view and edit your maps.
8: Twoodo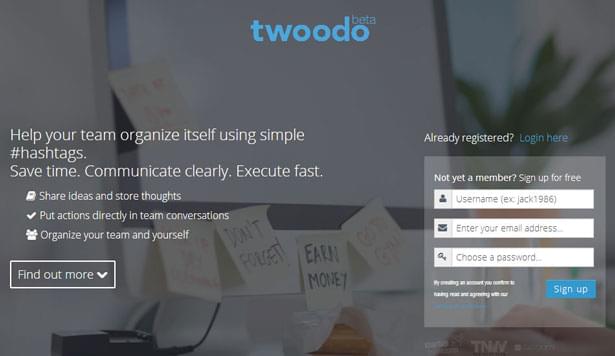 Twoodo harnesses the intuitive power of hashtags to organize and streamline communication and collaboration within your team. Its mission is to cut down the chaos of emails and create "smart" to-do lists within the context of conversations. The Twitter-like interface allows users to have conversations that integrates tasks, events, reminders, and thought-processes instantly with the use of simple micro-syntax commands: @mentions eliminate ambiguity in assignments, +team communicates with everyone at once, #todo adds a task to an easily searchable list, while '#vote creates a poll within the post. All posts are fully searchable and shareable. The app integrates with DropBox, Skype, and BitBucket for a complete collaboration solution in one place. For now, the app has an iPhone mobile version, with Android promised soon.
Cost: Twoodo is still in beta, and as such is free as of this writing.
Ease factor: Just sign up and go. Hashtag organization takes all the work out of creating folders, assigning tasks, and finding file versions. The hashtag commands are simple and few, easy to learn and intuitive to apply.
Efficient collaboration in the world of PDFs can be a challenge, but Revu has brought PDFs to the cloud, with an amazing product that allows multiple users to work together on PDF markup, commenting, and editing tasks, even at the same time. Revu is full of features, customizable options, and specialized plug-ins, but the basic functionality is fully accessible to anyone who deals with PDFs on a regular basis, and with full Office integration, it has many applications throughout your business. It makes reviewing in-process versions simple, allowing real-time communication in the design approval process. Designers, marketers, in-house publishers, and project coordinators will find it a huge time-saver.
Cost: The price tag per seat starts at $219, which is significantly less than its main competitor from Adobe.
Ease factor: Simple menus, intuitive controls, and effortless document comparison are just a few of the ways Bluebeam has made this product user-friendly. An extensive library of free training videos makes Revu accessible to employees at all levels.
10. Glip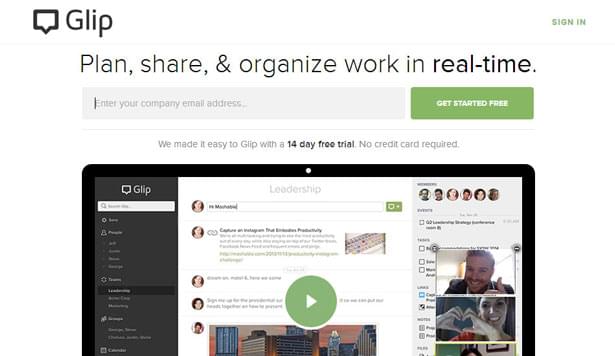 Glip is based around a real-time chat interface, with built-in video chat support, task management, file-sharing, notes, link-sharing, and shared calendars. Work is organized around the conversations you have with your team members, and you'll save time by having all action items in one place, in context. It emphasizes a natural, collaborative workflow to allow for the organic development of ideas, a free flow of communication, and streamlined decision making, while keeping all of your resources in one spot. Indefinite chat and content storage, searchable in context with an impressive array of filters, means that nothing is lost and everything is at your fingertips when you need it.
Cost: $5/ company user monthly or $50/company user annually. Unlimited guest users to allow for easy client collaboration.
Ease factor: Glip promises "zero learning curve", and it shows in the clean, simple design and super-fast setup.
Finding new ways to help your company communicate better is at the heart of growing your business. In this field, innovation is everything, but you don't need to be an IT expert to keep up. These days, user experience has become a priority, and technology is becoming more accessible all the time. Here at GetVoip, we'll remain on the lookout for all the tools you need to revolutionize your communication and collaboration performance across the cloud.