The Good
---
A stylish clean look with a large touch screen supporting a wide range of enterprise level features. Would look great in a small office or a large corporation. Gigabit bridge to PC.
The Bad
---
The stand is not adjustable and is in a fixed position. While the screen is touch responsive, one would expect the physical hard arrow keys to be used to navigate menus but is not the case.
The Bottom Line
---
The Yealink T48G is a great desk phone that might offer more features than you would use depending on your need. As someone who is technical, this phone appeals to me from a large corporation perspective as it offers many great features. The touch screen is nice and the screen is crisp and clear. The lack of tilt seems to be pretty common with Yealink phones however the static position it is fixed to is perfect for most situations.
In the Box: Phone, Stand, Power Brick, Handset, Handset Cord, Instructions.
Not in the Box: Ethernet Cable, USB Bluetooth.
Physical Features:
Wall mountable (sold separately)
External universal AC adapter: AC 100~240V input and DC 5V/2A output
Power consumption (PSU): 2.0-6.4W
Power consumption (PoE):  2.4-10.5W
Dimension(W*D*H*T): 266mm*226mm*185mm*54mm
Operating humidity: 10~95%
Storage temperature: -10~50°C
Top 5 Pros:
Top 5 Cons:

High Resolution Crisp Touch Screen.
Easy to use for beginners and advanced users.
Scalable for use in home office or an enterprise environment.
Full Gigabit PC Bridging with advanced management.
Enterprise level features such as Action URL and Directory Options.

Touch screen is resistive instead of capacitive (feels slightly cheap).
Fixed stand. Not adjustable.
Initial boot does not look for TFTP, needs manual process.
Remote directory lacking contact photo.
Since this is a higher level device, it would be great to have a first time use guide to using the phone at initial boot.
Editor's Review
Video:
More Photos: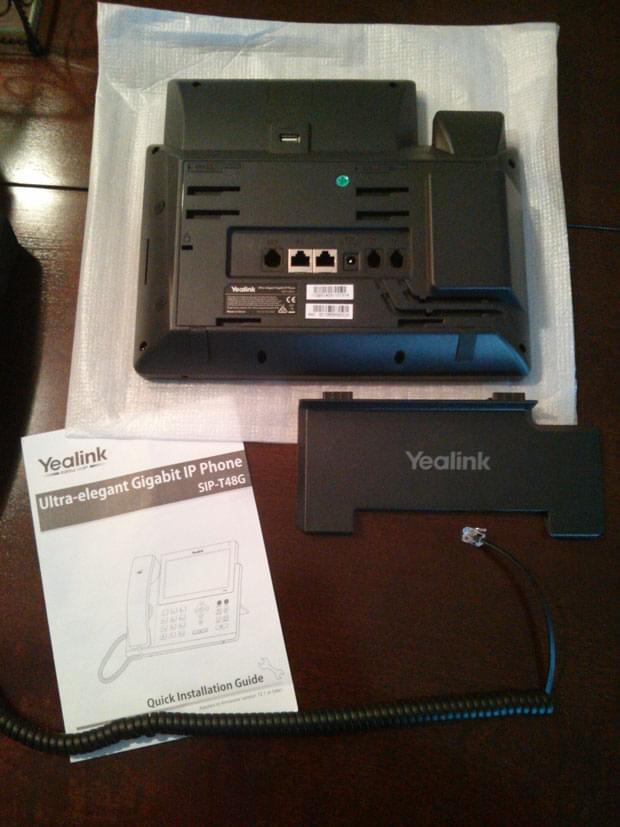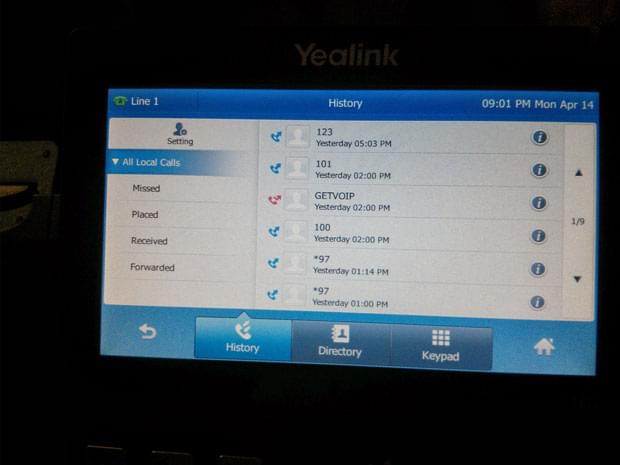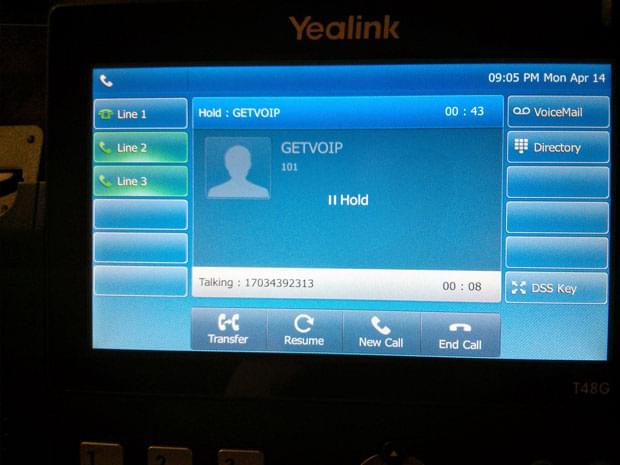 Other Yealink Phone Reviews:
– Yealink SIP-T46G 
– Yealink VP530
Technical Specs
SPECIFICATIONS
# of RJ45 Ports
2
# of Lines
6
3 way conference

YES

AC Power Supply Included

YES

Built-In Bluetooth

NO

Built-In WiFi

YES

Color Screen

YES

Desktop Paging

NO

Display Type
Touch (Capactive)
Gigabit Ethernet Support

YES

Headset Interface
RJ11
Mass Provisioning

YES

MWI Support

NO

Peripheral ports
USB Bluetooth, Expansion Ports
PoE Compatible

YES

Protocol Supported
SIP
Provisioning Method
Sidecar Compatible

NO

Speakerphone

YES

Supported Codecs
G.722, G.711(A/µ), G.729AB, G.726, GSM, iLBC
Touch Screen

YES

Voicemail Button

NO

Wideband Voice Protocol