Though email, instant chat messaging, and team collaboration software are all popular ways to share business files, faxing is still far from obsolete.
In fact, a recent IDC study found that over 80% of companies have seen an increase in the number of faxes they send per year. Faxing creates a paper trail, lets users copy and scan documents with ease, and is sometimes required by industry regulations.
This head-to-head comparison of eFax vs RingCentral Faxing compares the features, pricing and plans, and user experience of two of the most popular tools on the market.
Table of Contents:
A Brief Overview of eFax and RingCentral Faxing:
Provider
eFax
RingCentral Faxing
Best For

Small businesses that send occasional faxes and that prioritize low-cost faxing solutions, as well as companies looking for a standalone virtual fax platform

Midsize to large businesses with high monthly fax volume and additional team communication and collaboration needs

Standout Features

Mobile application

Electronic signatures

Unlimited storage

Unlimited fax 

Advanced fax notifications

Spam blocking

Price

3 available plans from $14.13/month

2 available plans from $17.99/user per month
The State of Faxing Today
If it's been a while since you've sent or received a fax, the thought of doing so likely calls to mind a bulky fax machine that's always breaking down, failing to properly send faxes, or taking too long to send them.
The truth is that fax messaging today is nothing like it was in the past.
Today, you don't even need a machine to send and receive faxes. Instead, you can send faxes online and via email from your smartphone, your desktop computer, or your tablet. Virtual fax platforms also integrate with today's popular large file sharing and storage apps like Google Drive and Dropbox.
What other features do Internet fax services offer? Capabilities like:
Local and vanity phone numbers
Electronic signatures
Delivery confirmation
File sharing with multiple simultaneous recipients (as opposed to having to fax people separately)
Online storage
Custom fax cover sheets
Which Industries Benefit The Most From Virtual Fax Tools?
Given that roughly 90% of healthcare professionals communicate via fax, medical doctors, nurses, insurance providers, and healthcare admins will see some of the biggest benefits of switching to online faxing.
Virtual fax platforms make sending/receiving medical records, patient consent and health history forms, and even prescriptions much easier. Plus, online fax storage means essential health records are accessible and organized, eliminating the need to dig through countless old paper files.
Real estate agents use online fax lines to send contracts and offers, copies of inspection notices, floor plans, and more.
Finance professionals are also sending 17% more faxes now than in the past. Their clients can send/receive loan applications, copies of financial statements, or even digital signatures faster than ever.
Especially in the time of social distancing, educators can easily send reading materials, handouts, tests, and transcripts to students with the click of a button.
Legal professionals can quickly send essential case files, copies of billing statements, and any forms to each other, the courts, or their clients.
Though online fax provides excellent security and privacy, familiarize yourself with industry fax regulations and security standards before investing in a fax tool.
eFax vs RingCentral Fax Prices and Plans
Since the average traditional fax machine costs anywhere from $100 for a more basic model to over $500 for a more advanced option, virtual solutions offer great cost savings from the start.
Below, we'll outline the prices and plans of both providers, so you can compare costs, add-on features, and more.
eFax Prices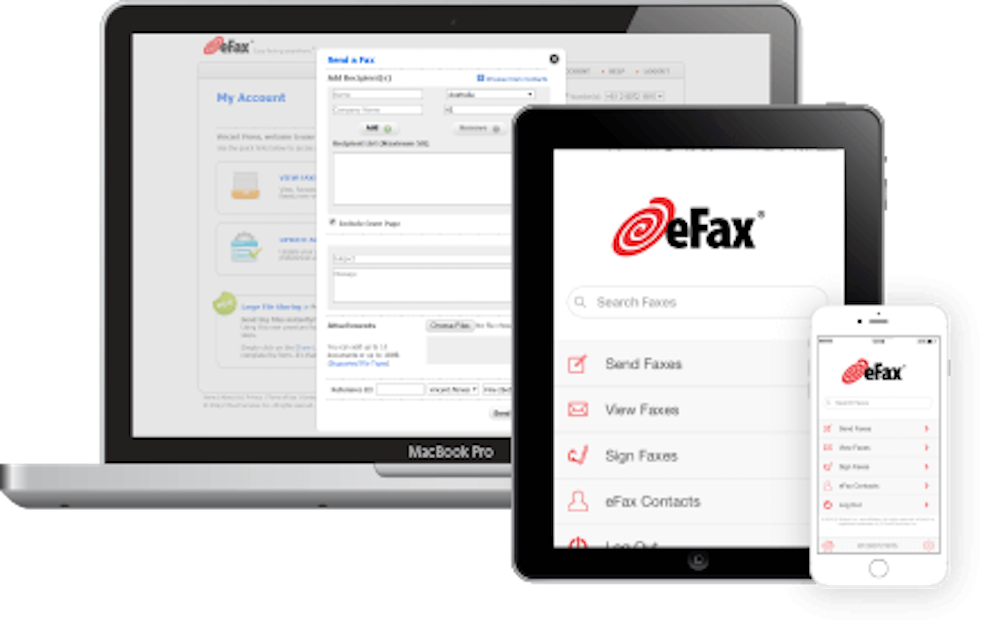 eFax offers three paid plans for multiple users, meaning that the cost is calculated based on the number of pages per month you'd like to be able to send and receive.
Each plan includes:
One free local or toll-free fax number
Unlimited storage
Electronic signatures
Fax editing
Email to fax
Fax to more than one recipient
File sharing up to 3 GB
Android app and Apple iOS app
Searchable faxes
24/7 online customer support and phone support
The below table outlines the price structure and features for each plan.
| | | | |
| --- | --- | --- | --- |
| Features |  Plus Plan | Pro Plan |  Corporate Plan |
| Prices | $16.95/month | $19.95/month | Quote-based |
| Number of Sent Pages/Month | 150 | 200 | Scalable  |
| Number of Received Pages/Month | 150 | 200 | Scalable |
| One-Time Setup Fee | $10.00  | $10.00 | No setup fee |
| HIPAA, SOX, PCI, and FERPA Compliant | X | X | ✓ |
| Fax API for Integration | X | X | ✓ |
| Dedicated Account Manager | X | X | ✓ |
| End-to-End Encryption | In Transit Only | In Transit Only | ✓ |
Each plan provides a maximum of ten local, toll-free, or international fax numbers, in addition to allowing for number porting.
Note that eFax offers two free months of service for those who choose the annual plan. Additionally, if you go over your page limit, there's a 10 cents per page charge when faxing to the United States and Canada.
RingCentral Fax Prices and Plans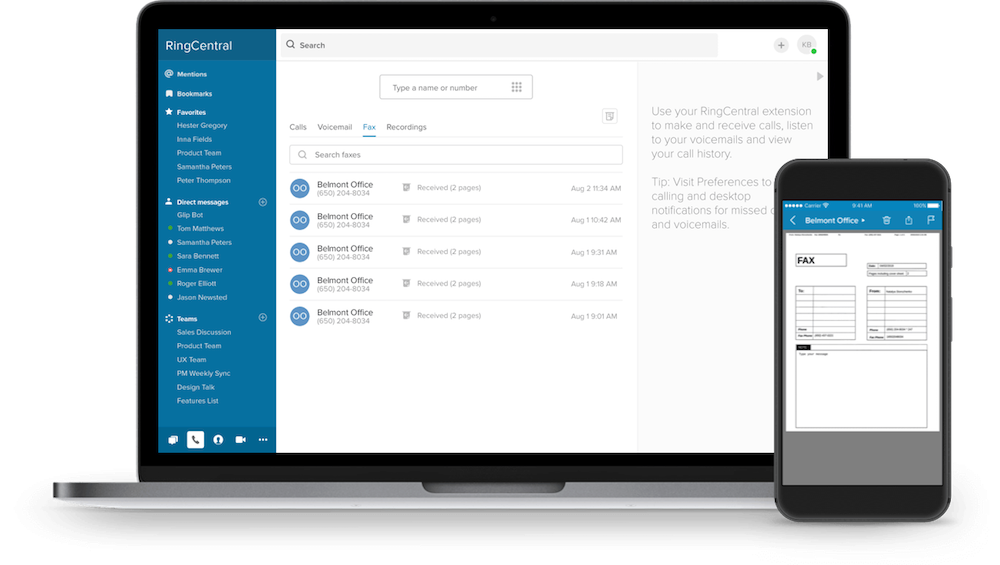 RingCentral Fax is priced much differently than its competitor, as it allows you the option to purchase a standalone fax plan or the complete RingCentral Office software which includes fax, VoIP phone lines, and video conferencing functionality
The below table breaks down the two available plans.
Features
Fax 1500 Plan
RingCentral Office

Pricing

$17.99/user per month

From $34.99/user per month 

Included Monthly Pages

1,500 pages/month

Unlimited

Cloud Storage Integration (Google Drive, Box, Dropbox, Microsoft Outlook) 

✓

✓

Multiple Users per Fax Number

X

✓

Unlimited VoIP phone calls, SMS text messages, team chat messaging,

video calling

, and file sharing

X

✓
Note that additional pages are available on the Fax plan for 4.9 cents per overage page to the US and Canada. Additional 800 and vanity phone numbers can be purchased for a $30.00 one-time fee, while additional fax numbers cost $4.99/user per month.
RingCentral Fax vs eFax Features
The table below offers a quick side-by-side comparison of e RingCentral vs. eFax features.
| | | |
| --- | --- | --- |
| Feature | eFax | RingCentral Faxing |
| Number of monthly pages | 150-200 | 1,500-Unlimited |
| Local/Vanity Phone Numbers | ✓ | ✓ |
| Electronic Signatures | ✓ | X |
| Online Storage | Unlimited | Up to 200 faxes |
| Custom Cover Sheets | ✓ | ✓ |
| Delivery Confirmation | ✓ | ✓ |
| Send Faxes to Multiple Recipients  | Up to 20 | Up to 50 |
| Supports Multiple File Types | ✓ | ✓ |
| Block Spam Faxes | X | ✓ |
| Additional Communication Channels Available | X | ✓ |
Now, let's take a closer look at the specific capabilities that each provider offers.
eFax Features
eFax lets users send and receive faxes through the Messenger desktop online portal and via email address.
However, its standout feature is its Android and Mac iOS smartphone app, which makes sending and receiving faxes on-the-go simple.
The mobile app also lets users electronically sign documents with their fingertips or sign by uploading a photo of their signature (users upload a photo of their signature on the desktop app.) Users can also add notes/text to faxes on smartphones and review recent fax history including the date, time, number of pages received, and the number that sent the fax.
It offers unlimited lifetime storage and Online Retrieval capabilities that let users search for specific saved files from within their password-protected portal on desktop and mobile devices.
Users can also upload files on the desktop and mobile devices from popular cloud storage apps like Dropbox, Google Drive, iCloud, and Box.
This feature is especially useful on mobile devices, as it means you no longer need to save photos of documents you need to fax to your smartphone to be able to send them from the app. Instead, you can upload the files to the fax just as you would an email attachment.
Multiple file formats and types are supported, including Powerpoint presentations, Word documents, Excel spreadsheets, Adobe PDFs, JPEg and PNG images, and email/web HTML and plain text files.
Additional features include:
Fax search according to keyword, recipients, date, or via tags
Send faxes to up to 20 people simultaneously
Address book and contact list integration
Local numbers and toll-free vanity fax numbers (800, 877, 866, and more)
Custom cover pages
Fax markup and editing tools
Fax delivery confirmation
SSL and End-to-end encryption
RingCentral Fax Features
RingCentral Fax lets users send/receive faxes from the RingCentral Phone desktop softphone, the Android and Apple iOS mobile application, the online account portal, and via email.
Faxes can be viewed online or sent and received as PDF email attachments, and users can send faxes via any Microsoft Office application or via a physical fax machine through an analog adapter.
Users can choose from local, toll-free, and vanity numbers, or they can elect to port in existing numbers.
One of its best features is its notification system. Users can opt to receive real-time push notifications on their desktop computers, within the mobile app, via SMS, or via email when they have incoming fax. Users can also set their preferences to automatically print out any fax once it's received.
Additional features include:
FaxOut feature to send outgoing faxes to 50 simultaneous recipients
Integration with Box, Dropbox, and Google Drive
Support for multiple file types (Word, Photoshop, Powerpoint, PDF, etc.)
Storage of up to 200 faxes in a password-protected online portal
FaxEditor for editing and customizing fax cover pages
Dedicated company number
Fax blocking for numbers with no caller ID
Note that unlike eFax, RingCentral offers fax capabilities as a part of its larger RingCentral Office Unified Communications platform.
Office allows users to access all of the above features, in addition to:
Business VoIP with unlimited US and Canada calling
Team chat messaging and file sharing
Audio and video conferencing for up to 200 participants
CRM integrations
Real-time analytics
eFax vs RingCentral Fax User Experience
Based on available features, prices, and reviews from real customers, we've evaluated the overall user experience of both eFax and RingCentral.
eFax Pros and Cons
eFax is best for small to midsize companies that work out of traditional offices and only occasionally send outbound faxes.
They may use another business communication solution and collaboration software that does not offer fax capabilities and are therefore looking for a standalone fax solution. It's also a smart choice for companies that are on a bit of a budget, and who therefore need multiple users to be able to access the account.
Its users have no need for fancy features since faxes aren't one of their primary modes of communication. However, they do use fax providers to send secure documents, collect and send signatures, and store essential files they need to frequently send to clients.
The below table explores other pros and cons based on user reviews.
| | |
| --- | --- |
| Pros | Cons |
| Allows for multiple users | A limited number of monthly pages with basic plans |
| Consistent mentions of high reliability and  few issues with sending or receiving faxes | The outdated user interface is not especially user-friendly  |
| More affordable option than RingCentral faxing | Some customers have complained of receiving spam faxes  |
| Unlimited storage  | Only allows up to 5 email accounts per fax number |
RingCentral Faxing Pros and Cons
RingCentral Fax is ideal for primarily remote teams that send/receive a high volume of monthly faxes, as well as large and mid-size businesses that need additional team collaboration and communication tools outside of fax capabilities alone.
It is likely not a good fit for small businesses, as it is more expensive than eFax and offers features that younger companies simply won't need.
The majority of customers will see the greatest benefit from using the tool if they plan to make RingCentral Office their primary platform for business communications, including but not limited to faxes.
Common pros and cons from customer reviews are outlined in the table below.
| | |
| --- | --- |
| Pros | Cons |
| Offers an unlimited number of faxes with RingCentral Office plan | Only one standalone fax plan |
| A higher number of fax pages on the basic plan | Only RingCentral Office allows for multiple users to share a fax number |
| Cloud integration included with the basic plan | Can end up paying for features you don't need |
| Ability to block spam faxes | The online portal only saves up to 200 faxes, cloud storage platform integration is required for additional space |
Alternative Virtual Faxing Services
Though RingCentral Fax and eFax are two of the most popular fax tools today, you may still wish to explore other options.
Looking for additional information on alternative online fax providers?
Our interactive table on the best online fax services offers information on additional software from Nextiva, MyFax, and MetroFax.