We've written before about how cloud technologies are revolutionizing the way businesses are communicating and collaborating with their clients, their employees, and the world at large. It's clear that the cloud is here to stay, and more and more small business owners are finding ways to integrate cloud computing into their daily operations with great results: the ability to centralize and streamline through cloud technology drives efficiency and savings. So how do you make sure you're keeping up with the cutting edge of the cloud?
When you follow cloud computing communities on Google+, the news comes to you. From the basic to the super-specialized, you can keep tabs on all the latest developments, scan the most-shared cloud headlines, ask questions, and learn.
Learn more about the world of cloud computing
These three communities share a wide focus on the cloud, looking at every aspect and application of the technology.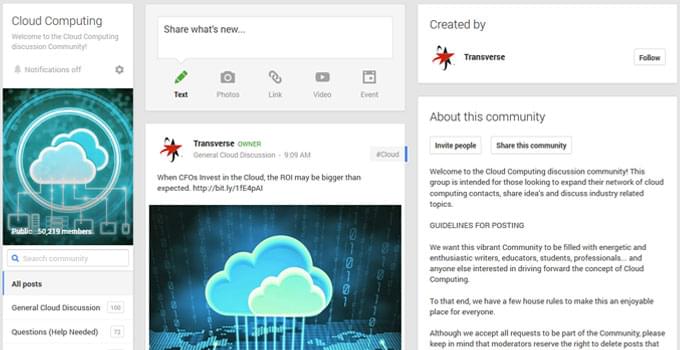 This is your first stop. An incredibly large and vibrant community of Cloud experts, enthusiasts, and amateurs alike, this is the supergroup of the bunch. It's a dynamic atmosphere, with almost 50,000 members. Information flies thick and fast here. No matter when you visit you're bound to find something new and exciting.
Follow for:
– A fascinating feed, with dozens of articles, & conversations updated hourly.
– A community which gathers together everything cloud in one spot.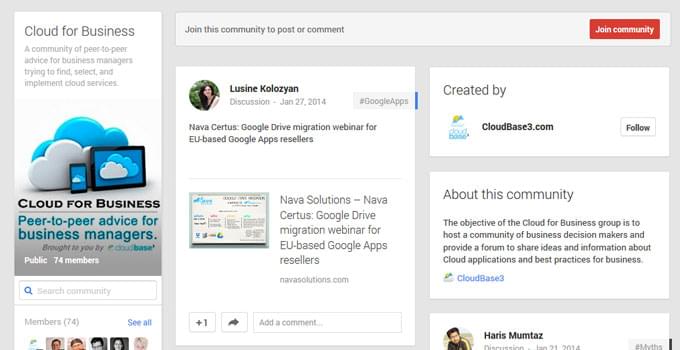 This is a much more intimate community, but it's active and updated and worth a watch. Designed for peer-to-peer sharing on the subject of choosing cloud computing services for your business, in time it should develop into a powerful resource. For the time being, it's easy to keep up with the conversational pace, and if you've got something to say yourself, you're much more likely to be heard here than in one of the giant communities.
Follow for:
– An easy-going small group, open to new voices.
– Information specifically oriented towards business managers.
As advertised, this group is focused on the latest news and conversations in, around, and about the cloud. Subjects range from the highly technical to the more philosophical. It's also a great source for webinar invitations, reviews, and opinion pieces.
Follow for:
– A high degree of activity for a group of this size.
– Well-curated content.
Keep up with some of the big guys:
These groups shine a light on some of the big players in cloud computing. There are countless small firms doing a great job of innovating and disseminating cloud technology, but these industry leaders are often at the vanguard. Keeping an eye on their news can help you stay well-informed about important developments in the field.
1. Official Google Cloud Platform Community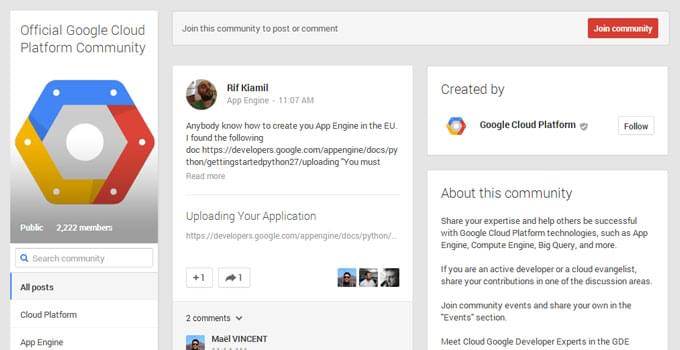 It's their playground, so it makes sense that Google would host a huge community based around their suite of cloud technologies. This is a great resource if you're using any of the Google cloud products such as App Engine, Big Query, or the Google cloud storage. This is a well-organized and well-moderated community which gives you direct access to Google experts when you have questions. The rest of the time you're treated to up-to-the-minute articles and news from some of the most experienced and involved cloud users out there.
Follow for:
– Expert advice from Google professionals and well-informed enthusiasts.
– A birds-eye view of Google's cloud platform technologies.
2. Open Shift Origin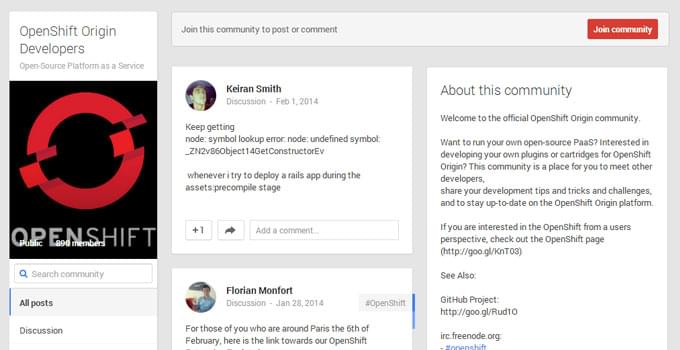 Dealing with the free software behind the Redhat Linux cloud offering Open Shift, this is by far the "techiest" community on the list and may seem impenetrable at first glance. Fear not! While it's aimed at developers, we've included it here because it has a lot to offer a more casual member. If your business works with Linux, this look at the back end of things could be instructive and valuable. If not, just observing the way collaborative development is changing cloud computing offers you a new perspective on the technology.
Follow for:
– A deeply involved and creative community of developers.
– Linux-based cloud computing news.
– Regular videos and hangouts offering an inside look at new developments.
3. The Other Big Guys
We're stepping out of format for a moment here to address a couple of elephants in the room. IBM and Apple don't host Google+ communities around their cloud technology. In fact iCloud doesn't even have a Google+ page. IBM's Cloud Computing page, however, is going strong. While it's obviously carefully curated to stay on brand message, the posts are frequent and fascinating, and worth a look if you want to know what's up with this giant.
IBM Cloud Computing (Page)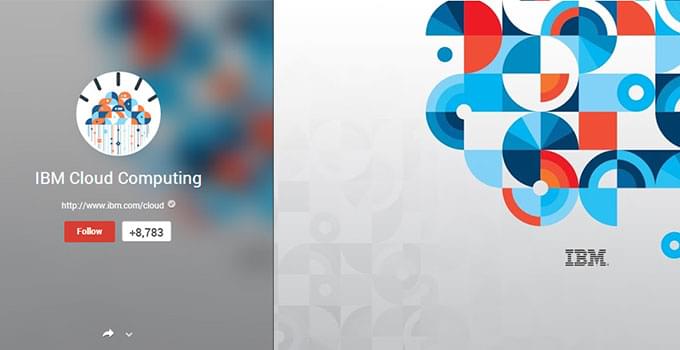 Focused on highlighting the achievements of IBM's Cloud offering, this is the best way to keep a finger on the pulse of this leader. The posts take a fun, customer-facing tone, with sports tie-ins, flashy infographics and attention-grabbing headlines dominating.
Follow for:
– IBM Cloud news.
– More IBM Cloud news.
Delve deeper into specialized cloud uses:
As more and more individuals and businesses turn to cloud computing, people constantly are finding new ways to apply these technologies to very specific applications. These groups have sprung up to explore some special business-related uses and the related issues.
1. Accounting Through Cloud Computing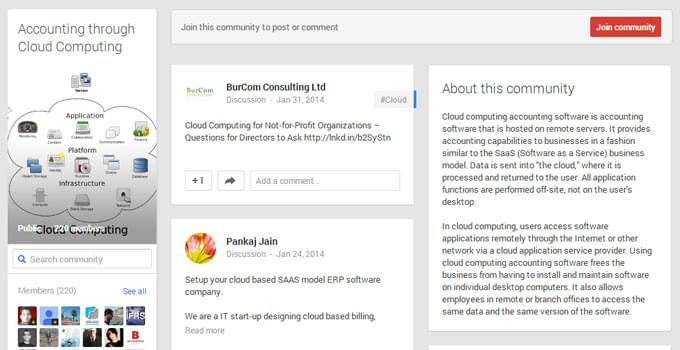 This small but regularly active group is for people working with cloud accounting software. The centralization and standardization of accounting software function throughout an organization is a huge driving factor in cloud accounting adoption. You'll find conversations about security, advice on selecting a provider, and educational webinar information.
Follow for:
– Accounting- and bookkeeping-specific cloud news and updates.
– Peer-level information sharing with financial and tax professionals.
2. Compliance in the Cloud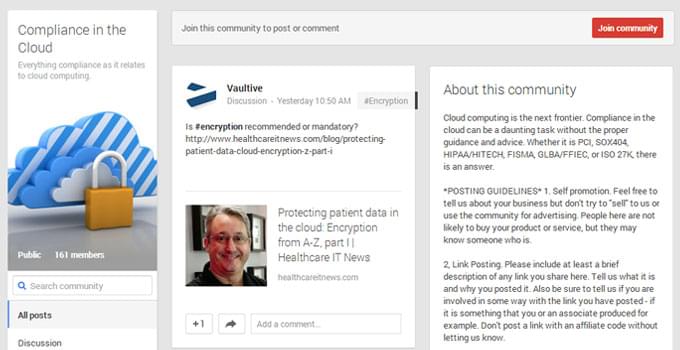 If you handle sensitive data about clients or employees and you use or are thinking of using cloud technology in your work, this group is a must. It's not a large community, but the discussion still flows. Find out how to ensure that your information storage and handling in the cloud complies with privacy and security regulations.
Follow for:
– Up-to-date news and developments in cloud-related compliance best practices.
3. Cloud Computing for Lawyers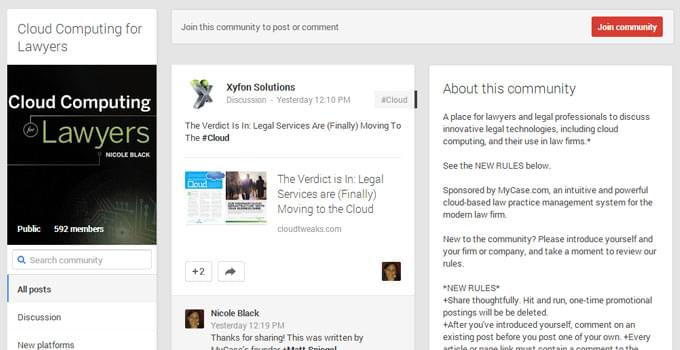 While this community is specifically targeted at lawyers, many of the topics here should be of interest to a much wider audience. The majority of posts focus on how legal professionals are using the cloud, but there also are ongoing conversations about legal issues in cloud computing in general. In a young technology which is changing and developing day by day, new questions of legality can arise on a regular basis.
Follow for:
– An inside look at how cloud computing is changing the legal profession — and how that could affect you and your business.
For more information:
Google+ communities are still growing in popularity and acceptance. A quick search for "cloud computing" will turn up dozens of tiny, quiet groups with only a few members, but that's set to change. As cloud technology adoption grows and Google+ continues to gain traction among professionals, you should see more and more discussion, especially in the realm of specialized uses. You don't need to join every community and every conversation, but membership in a few carefully selected groups will keep you informed and ready to turn cloud computing to your advantage.