As cellular phones and mobile devices continue to make communication easier and more available, the balance between work and life can be harder to maintain. While being available via phone call can be harrowing, where do employees stand on text messaging with their boss? Texting is done by thousands on a daily basis; however, is it a plausible means of communication between employees and their bosses?
There are a number of factors to consider regarding texting your boss; therefore, justification can be very objective. To find out just where employees stand on the reality of texting their bosses, GetVoIP conducted a survey of over one thousand American employees ranging from all age groups. In participating, respondents answered one question: Do you text your boss?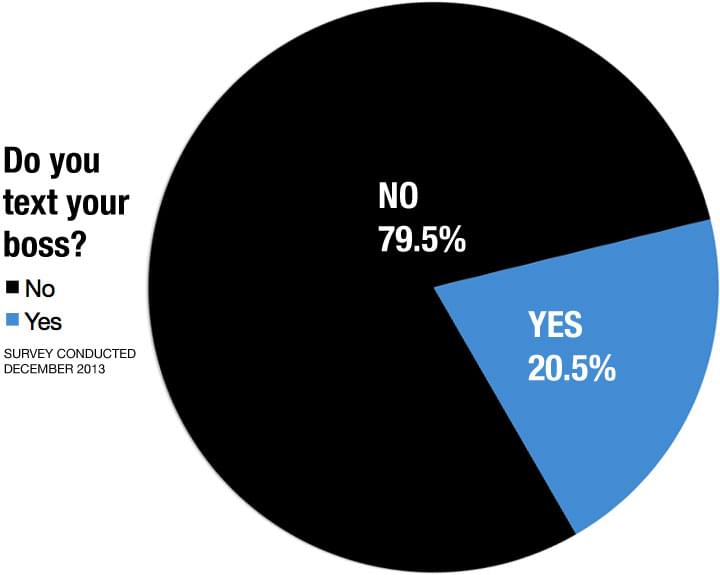 Do You Text Your Boss?
As it turns out, about 4 out of 5 employees do NOT text their bosses. Nearly 80% of employees polled answered "NO" to texting their boss. Why? There's no singular reason really. Instead, some deem it unprofessional while others see it as a potential issue just waiting to happen. Regardless, the decision ultimately rests on the individual party's perspective.
Of the respondents, 578 were male. Here's where they stand:
77.51% of Males responded No when asked if they text their boss.
18.16% of Males responded Yes
504 were female, here's what they responded:
80.51% of Females responded No when asked if they text their boss.
19.57% responded Yes
Males Are Roughly 3% More Likely to Text Their Bosses than Females
Gender is a great example of exploring judgment of whether or not to text your boss. Based on the information collected, it seems that males are slightly more likely to text their bosses than females. Again, this could be due to a number of reasons—namely, the awkwardness of a male asking a female for her phone number, or even that text messaging may be a gateway to some potential sexual harassment issue down the line.
Outside of gender, another big consideration to account for is willingness to text based on age. Currently, younger employees and older workers are less likely to text their bosses. Inversely, employees between the ages of 35 and 44 seem much more willing to do so.
Age is another major determinant in dictating texting roles; however, here it is much more situational than perspective.
Employees Ages 35-44 Are Nearly 15% More Likely to Text Their Bosses
Middle aged employees within this range are more likely to text their bosses because they are in the ideal time frame. At this age, it's likely employees have been in their respective positions for at least a little time. This allows bosses to create a unique relationship with their employees. With these relationships, employees may deem texting alright.
Older & Younger Employees Lack the Relationship to Justify Texting
Inversely, younger employees (18-24) are less likely to text their bosses because it's less likely that this type of relationship exists yet. Similarly, older employees (55-65+) are also less likely to text their bosses due to lack of a relationship—i.e. it's too late to establish this type of relationship.
Rules for Texting Employees
Unlike answering calls and emails, there aren't really guidelines for texting with a business or boss. Calls and emails have more specificity and usually occur within company accounts or on company property (devices); therefore, there's more of a guidelines for what's acceptable and compensation. Texting on the other hand is more of a grey area—one which many businesses and employees are still trying to figure out.
Texting can occur on users' personal devices at any point. Therefore, it can be substantially harder for a business to moderate texts. Despite the absence of actual guidelines, there is ample texting etiquette all professionals should be aware of. Ultimately, the decision to text one's boss is a personal decision; therefore, this behavior should only be enacted if both parties are comfortable.
Methodology
GetVoIP surveyed 1316 American employees via Google's Consumer Survey Tool from November 12, 2013 through the 15th. Those who participated asked the question: Do You Text Your Boss? Respondents were given a yes or no option to answer. This survey did not include the results from respondents that selected Not Applicable, leaving a grand total of 1082 participants. Google gathers responses by requesting answers in exchange for access to premium content.