Though the provider has since launched a slew of new devices, Polycom's VVX 600 still holds as a superior business media phone. Released last fall, the VVX600 looked to carry on the quality tradition of the VVX line by injecting simplicity with reliability. As such, the phone is designed to provide business users with Unified Communications and desktop productivity solutions. In this regard, the phone succeeds very well.
The VVX 600 integrates a wide array of functions and features not found in previous models. As a result, this phone is one of the most comprehensive devices available. While every IP phone boasts a catalogue of features, Polycom's phone includes unique amenities that make this device an ideal choice. Here are some features to mention:
Feature 1: Improved Interface – Bigger Touch Screen & New Status Bar Icons
One of the most prominent and visible features of the VVX600 is its larger multi-touch screen. The VVX600 features a 4.3 in LCD (480×272 pixel) resolution touch screen with a 16:9 aspect ratio. As such, this size is 23% larger than other business media phone. The size is even significantly larger than its immediate predecessors, the VVX500, which featured a 3.5 inch TFT LCD display at GVGA (320×240 pixel) resolution and 4:3 aspect ratio.
Separate from the screen, the VVX600 features a slew of updates status bar icons.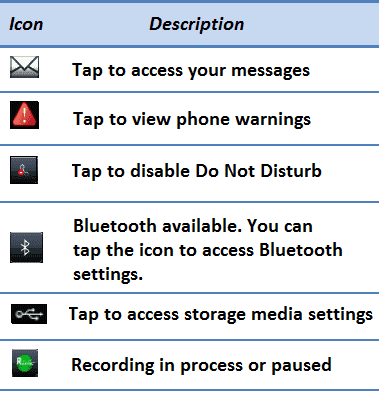 These icons are clear and help users access key workplace applications much more easily. Additionally, each of these icons is touch-capable, which also helps reduce navigation time.
Generally, a larger display is always a plus, but here there's a very tangible purpose.With a larger face display, there's a bit more room between buttons (touch and hard). As such, it's a bit easier to navigate around the device.
In addition to those changes, the VVX 600 also utilizes Polycom UX software, which includes a host of new innovations and features while cutting the need for IT management and support requirements—i.e. injecting simplicity. The UX software works to deliver an industry-best video collaboration platform. In doing so, it includes over 20 new user innovations and features such as higher-quality video (up to 1080p60 resolution) at lower bandwidth, content sharing and Wideband Audio.
While some users may be a bit spooked about an all new user experience, they have nothing to worry about. Essentially, the VVX 600 is an improved version of its predecessor (VVX 500). While the UX provides new features, the user experience is generally the same. While there are some physical changes (bigger screen) and aesthetic changes (new status bar icons), neither have a negative effect on usage. If anything, they make user experience even more pleasant.
Feature 2: Built-in Bluetooth Connectivity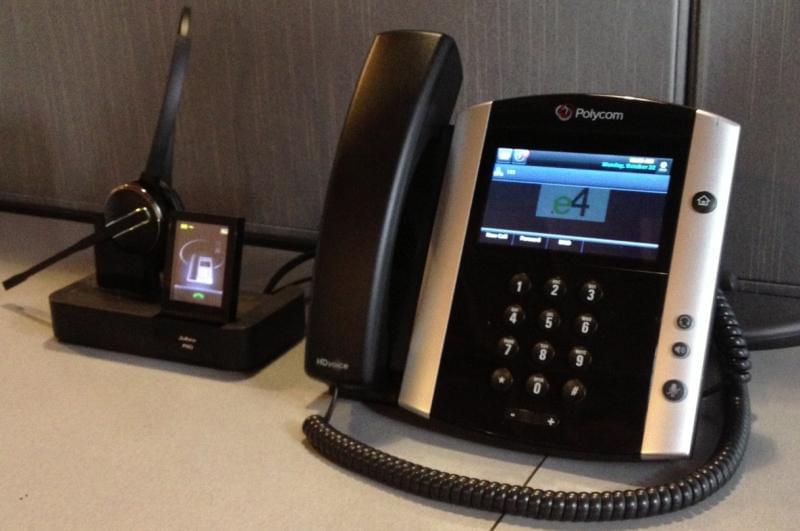 Another new addition to the VVX600 is the built-in support for Bluetooth Headsets—something the VVX500 does NOT have. The phone supports the use of Bluetooth 2.1+ EDR headsets & Hands-free Profile (HFP) 1.0. As such, users are able to handle and manage calls via the same Bluetooth headset used with their smartphone, tablet, or PC. Additionally, the device support the HFP Audio Gateway Role—which provides users with basic call control, volume control, and audio routing capability to and from the headset and the enabled phone.
Feature 3: Microsoft Exchange Calendar Integration
The VVX 600 supports both HTML 5 and XML-based applications. It also features a built in web browser. As such, users are able to integrate their Calendars from Microsoft Exchange—meaning they can view and manage events, receive meeting reminders and alerts, and even search the corporate directory directly from their phone. In addition to this, users can even set up meetings, accept meeting, join meetings, and view meeting notifications, too.
To integrate one's calendar, users will need to install and configure essential Polycom and Microsoft software:
– Polycom Conferencing for Microsoft Outlook Add-In (V.1.0.3)
– Microsoft Active Directory (2003 or 2008)
– Microsoft SQL Server, Microsoft Exchange Server
– Microsoft Outlook
Once these products are all installed, users only need to Install the Polycom Conferencing for Outlook Add-In, Update each phone's configuration file, and define login credentials for each phone user.
Feature 4: Microsoft Lync Call Control Client
Unlike other models, Polycom's VVX series supports video—namely integration with Microsoft Lync (as well as SIP and H323). As such, the Lync integration works with Polycom's own Real Presence video and voice solutions to provide a seamless, scalable, and secure UC solutions for voice, video, conferencing, and collaboration from any location at any time. Furthermore, this integration does so within the familiar Lync interface.
Outside of Lync, Polycom's RealPresence Platform includes universal video collaboration for all Lync and non-Lync systems; therefore, businesses can plan Lync migration without any interruptions. Previously, the VVX 600 was inter-operable with Lync 2010; however, earlier this year the provider announced a software extension that works to provide broadest interoperability for Lync 2013.
Feature 5:  Power-Saving Mode
Polycom's VVX 600 includes an extensive power saving feature that users can enact both during and after office/working hours. The feature works by helping to better manage the power consumed by the phone during periods of light or no use. In doing so, the device utilizes an energy-saving smart motion detector that enables the screen to go into power save mode when there is no activity.
There are a number of ways to configure this feature, which enables users to use it according to their own schedule(s). For example, if you wanted to activate the power-saving feature while still at work, you would be able to configure an idle time after which the power-saving mode enacts. To do this (from the Home view), hit Settings>Basic>Power Saving>Timeouts. From here, select Office Hours Idle Timeout. This is where you'd enter the number of minutes the phone waits before it enters power saving mode. Users can choose 1-600 minutes with 10 minutes being the default.
Additionally, you can also set it to activate automatically (according to the time and day) for when you are out of the office. To do this (from the Home view), hit Settings>Basic>Power Saving>Office Hours>Start Hour. From the Start Hour screen select the day and time you'd like the power save feature to initiate.
Overall, the VVX 600 is pretty power efficient. It consumes less than 6W when fully active and 4W on average. Once the power-save mode is enabled (and the LCD turned off), the device uses less than 2W.
Simply put, the VVX 600 is an upgraded version of the VVX 500 model. While this may sound like a retread, Polycom improves upon and expands a number of features this time around. As a result, the VVX 600 offers a lot of amenities that aren't found with other devices. Though some may fear this expansion to complicate the user experience, Polycom injects simplicity and reliability that makes this phone highly accessible. Again, there have been a slew of new devices introduced since this phone was released last year; however, the VVX 600 stands the test of time quite well.