Video Collaboration tools can be integral to a business as they can provide greater personability, flexibility, and cohesion amongst multiple parties. Though many tools and solutions bear similar functionality, there are still a number of importannt differences present. As such, we've put together a list of the 25 best video collaboration tools to help you make an informed choice.
Free Options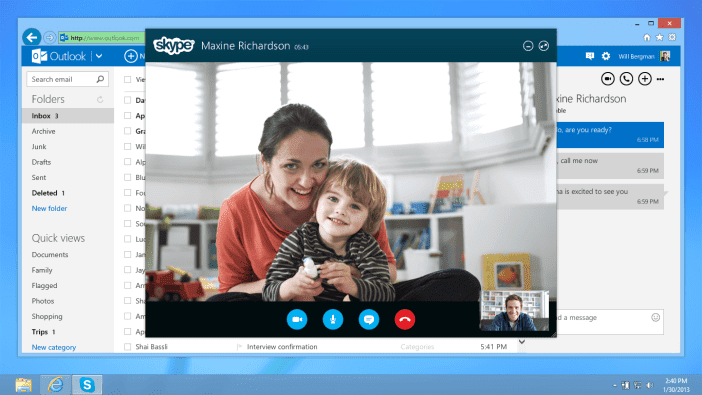 1. Skype: Skype is both a mobile and desktop application that enables text, voice, and video sharing between users. In regards to video, Skype can be used for one-to-one (free) or group (premium) calls, as well as Video Messaging.
2. TokBox: Tokbox's OpenTok platform works to equip desktops and/or mobile apps with live face-to-face video experiences. As such, the platform utilizes video, audio, and networking technologies such as WebRTC. In doing so, OpenTok also provides the infrastructure, scalability, and features needed for WebRTC. As a result, the platform allots for multi-party calls (for up to 20 users).
3. Fuze Box: The Fuze Box service platform (mobile & desktop) is built around better enabling communications between individuals. As such, the provider's service includes: HD Video Conferencing, which supports up to 12 HD Conference streams and 125 total participants; unique hi-res wideband audio; and auto-adjusting video and audio that adapts based off of available bandwidth.
4. AnyMeeting: AnyMeeting is an intuitive webinar platform that allots users a more active role and professional presence. How? Through Video Conferencing—which allows for up to 6 video presenters and 200 attendees. Past this, the platform also helps users to better plan and organize meetings through a number of features—email invitations, social network integrations, screen/file sharing, conference calling, and more.
5. Vyew: Vyew provides a ton of conferencing features (white boarding, video conferencing, screen sharing, VoIP) and collaboration tools (continuous rooms, forums, voice-notes, activity logs). In regards to compatibility, Vyew works with PC, Mac, and Linux, and supports PowerPoint, documents, images, videos, MP3s, flash files, and more.
Low Cost Options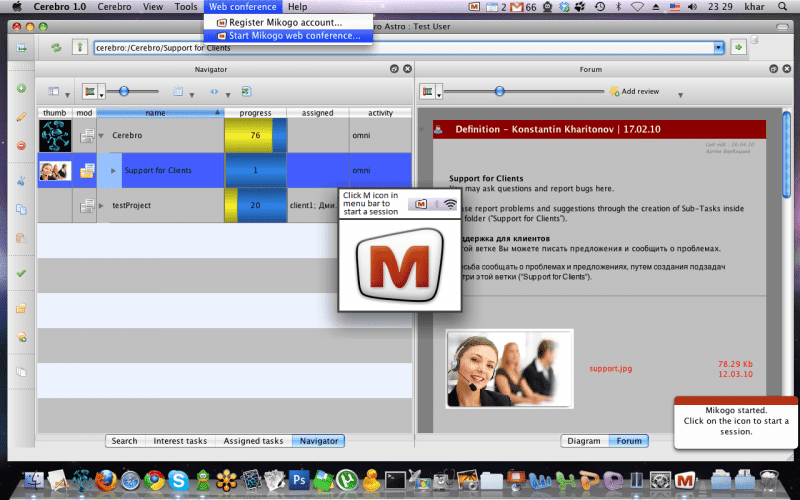 1. Mikogo: Mikogo is an affordable desktop tool that helps users host online meetings. Users only need to download the software—there are no registration(s). Participants connect through the website using a session ID. During these online meetings, which can include up to 25 participants, users can enact any number of features including Desktop Sharing, Remote Keyboard & Mouse Control, Chat, HTML Viewer, etc.
2. OmniJoin: As a web and video conferencing solution, OmniJoin combines HD quality, multi-party video with seamlessly synced audio. There are three plans (Basic, Pro, & Enterprise), which include different features—i.e. attendees range from 30-50, video attendees range 12-20, etc. Offers document sharing, desktop sharing, whiteboard, application sharing, direct file transfer, and more.
3. ClickMeeting: ClickMeeting provides a more immersive online meeting experience via audio and video conferencing, desktop sharing and control, moderated and private chat. ClickMeeting25 includes up to 25 attendees, up to 2 hours video recording, up to 2 presenters, and meeting room rebranding. ClickMeeting25 is $30/month (monthly) or $22.50/month (annually). There's also a 30 Day Free Trial.
4. Infinite Conferencing: Infinite Conferencing's services include audio conferencing, web conferencing, webcasting, and related virtual event services. As such, this company offers the standard array of features; however, it also includes event services such as marketing support, event production and management and pro services.
5. ReadyTalk: ReadyTalk offers Web, Audio, & Video Conferencing, Webinars & Events, Recording & Archiving, Integrations, and more. ReadyTalk allows up to 4 simultaneous video feeds with up to 3000 participants. There are four subscription offerings: WebPro25 ($49/month), Webinar150 ($149/month), Webinar500 ($399/month), and Webinar3000 ($499/month).
6. BigMarker: BigMarker's platform helps users build an interactive online community with all the necessary tools for conversations, resource sharing, webinars, and video conferencing. The service also includes webinar services, multipoint video conferencing, and real time collaboration (whiteboard, chat, record, etc.). BigMarker is free for the first 14 days. After that, it's a flat $20/month.
7. MegaMeeting: MegaMeeting's service blends video and web conferencing, allowing users to share information and view conference attendees face-to-face. The service is browser-based and requires no software for you (or your guests) to install, download, or configure. All that's needed is a web-browser with Flash version 7.0 or higher. In regards to pricing, plans start at around $39/month.
Whiteboard Collaboration Options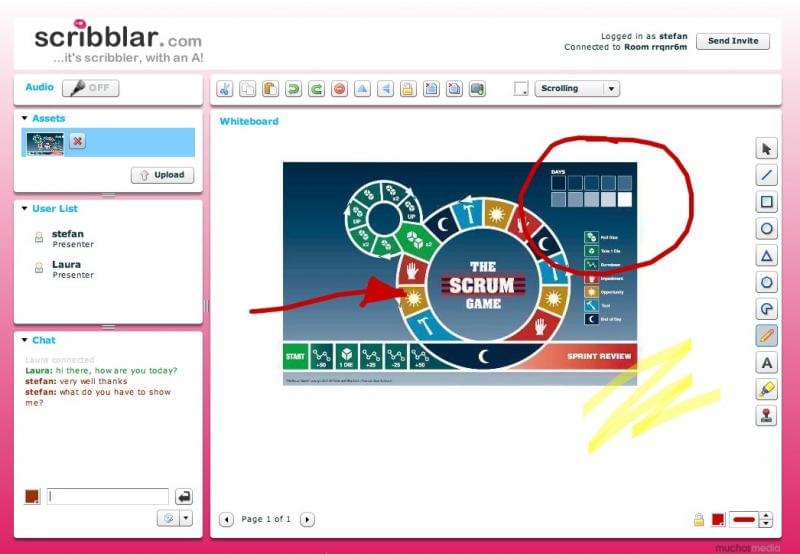 1. Scribblar: Scribblar primarily works as a real-time multi-user whiteboard platform. As such, it allows for image and document upload, text chat with user list, crystal-clear live audio, and more. In doing so, users are able to utilize this service in a number of different ways—i.e. online training and tutoring, revising artwork/images, creative brainstorming, and more. Users can choose from paid or free plans. Amenities such as document limit, file limit, freehand tools, persistent rooms, etc. vary depending on plan.
2. Twiddla: Twiddla is a real-time collaboration tool available 24/7 via Internet connection and web browser. This tool allows users to share files, browse the web, make new documents for brainstorming, and mark up websites, graphics, and photos all while communicating with one another. There are no downloads, plug-ins, or firewalls, which makes it easy to inject this tool in a conference call. Users can choose to enter as a Guest (Free), Pro ($14/month), Team ($49/month), Business ($189/month), or Enterprise (Contact for Quote).
3. ConceptShare: ConceptShare provides Creative Operations Management (COM) solutions—which are "proofing tools" used to review, mark up, annotate, or approve images, documents, web pages, video files, audio files, and more. These services enable greater collaboration between users. They also work to fortify file and user management, too. In regard to availability, businesses can choose Project Edition ($5/user/month), Group Edition ($25/user/month), or Professional Edition ($50/user/month) depending on their needs.
4. Scriblink (no longer in business): This free digital whiteboard allows users to share to share online in real-time. When arriving at the homepage, users will see a whiteboard immediately. From here, users can enact Privacy (where the board is only open to those you invite), initialize VoIP Conferencing with invited collaborators, Transfer, Save, Upload, Print, and Edit files, and more. Outside of the free mode, there are paid business solutions—i.e. Silver ($9/month), Gold ($19/month), and Platinum ($29/month)—which allow users to customize the Scriblink whiteboard for their site.
5. Padlet: Padlet gives you a blank wall and allows you to build it however you like—i.e. YouTube videos, Word Documents from your computer, Picture from your smart phone or tablet, etc. This tool is highly customizable. Users can choose different layouts, color schemes, backgrounds, interface, etc. In regards to collaboration, users can set the wall up to include whomever they want, and all activity on the wall can be seen immediately. Users can also embed this wall in their own site.
6. Cacoo: Cacoo is an intuitive online drawing tool that's highly enabled for real time collaboration. With it, users can easily create various diagrams (site maps, flowcharts, mind maps, etc.) using stencils, auto arrangements, and connectors. When it's time to share, users can embed this tool in their Blog or Wiki in PNG format, export it as a PDF and/or SVG, and/or share with select parties. Users can choose to utilize the Free, Plus, or Team options; however Plus and Team are paid.
Enterprise Web Conferencing Solutions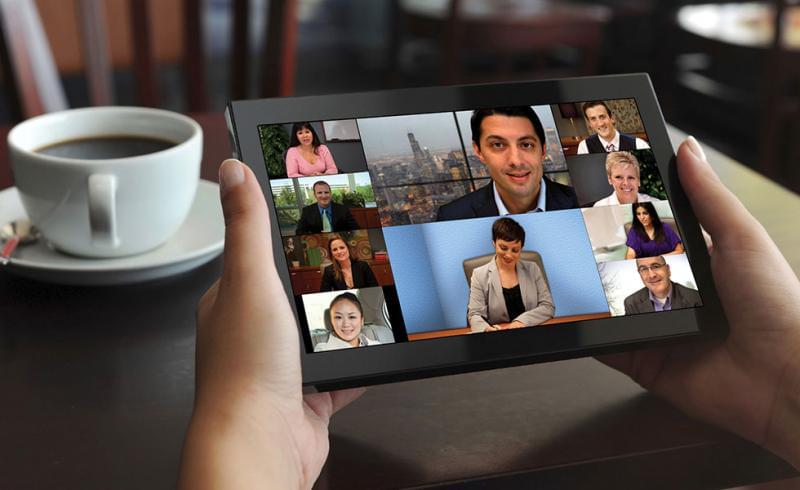 1. LifeSize: LifeSize provides HD video conferencing services that stretch beyond the office to any device at any location. In doing so, the provider offers an array of video conferencing systems, video infrastructure, and video services that utilize flexibility and cost efficiency. Video Conferencing for large enterprises can be expensive—i.e. solution, hardware, and bandwidth costs add up; however, LifeSize helps users stay on budget with various pricing options.
2. InterCall: InterCall offers 3 distinct collaboration services to both small businesses and enterprises—Conferencing, Unified Communications, and Event Services (earnings calls, product launches, etc.). There are also add-on options that can extend the reach of conferencing solutions. Also, there are Professional Services, which induce expertise and/or resources to augment management.
3. Vidyo: Vidyo's Enterprise Cloud service is built around HD technology. The service includes intuitive infrastructure tools that work to turn IP networks into video communication systems. As a result, video conferencing is able to extend to various devices—i.e. smartphones, tablets, laptops, etc.—while retaining HD quality.
4. Telstra: Telstra's Video Conferencing solutions include Hosted & Managed video options, as well as Immersive Solutions—which enhance the quality of audio and video. Users can choose their level of involvement—i.e. Hosted (provider hosts equipment and infrastructure); Managed (provider manages users' on site equipment and infrastructure).
Open Source Options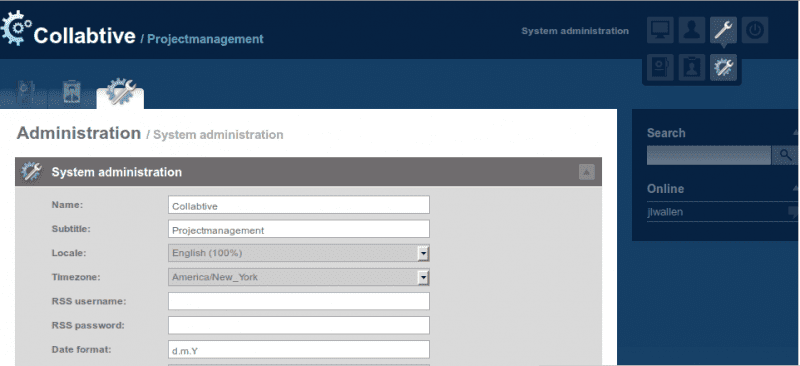 1. Collabtive: Collabtive is a compact project management tool complete with an extensive Graphical User Interface (GUI). Users are able to manage any number of projects simultaneously. As Open Source software, Collabtive has a lot of versatility–the software includes International Language Localization in 25 languages while most commercial tools are only available in English. Additionally, the software supports complete installation via web server with no additional space required.
2. Project(.net): Project.net is an enterprise class, web-based project management solution. As such, it works to merge blogs and wikis into the project management workflow—which augments collaboration between users. Project.net comes stocked with the full host of standard project portfolio features (empowers team, drives collaboration, enhances visibility, etc.); however, as open source software it supplements wider adoption and greater user engagement.
3. Project Pier: This cross-platform application enables the management of tasks, projects, and teams through an intuitive web interface. How? By offering a central structure that integrates users' existing tools and workflow—which makes managing projects with multiple parties much easier. Project Pier downloads and installs directly on one's web server. The app is free and users are able to use and modify the software however they'd like.
Picking the Best Video Collaboration Tool
While there has always been an interest in video collaboration, the influx of apps, tools, and services has made this mode much more tangible. However, in selecting a collaborative mode it's important to denote the differences that exist between these tools. Though many video collaboration tools may bear similarities, they are inherently different from one another.
For example, there are a number of different types of video conferencing. As such, not all apps, tools, and services are going to perform the same way, include the same features/functions, etc. For you, the ideal video conference tool may be different than for someone else. Because of this, we recommend browsing through the tools and picking a great one for you and your team.