The Good
---
An amazing balance of full color touchscreen and hard keys make this phone very intuitive to use right out of the box. Great directory system and memory keys.
The Bad
---
Though it has a touch screen, I would have liked it if the top menu was touch-sensitive, in order to activate/deactivate features like DND, Auto Answer, etc. No tilt or mounting available.
The Bottom Line
---
The Yealink VP530 is unapologetically, unabashedly, a video phone. It has a large touchscreen display that cannot be folded down, the phone cannot be tilted or mounted, and the corner of the screen always displays what the camera sees at the upper right hand side of the screen.
In the box you get:
Yealink VP530 Console
Handset
RJ45 Cord
LAN Cable
Power Supply
Top 5 Pros:
Top 5 Cons:

7″ Full Color Touch Screen Display

Full Set of Hard & Soft Keys

Intuitive Menu

Highly Flexible & Customizable Device

Quality Directory & Menu Keys

Touch Screen is NOT Very Touch Sensitive

Stationary Display–can't be titled or mounted

Bulky design due to inflexibility

More Involved Installation

Workability/Feature Quirks
Editor's Review
The VP530 is a four-line video IP phone that's able to complete a wide variety of tasks without sacrificing usability. The device comes loaded with a 7" touch screen display (with color and high resolution). As such, there are a number of soft keys designed to navigate the phone's various menus; however, there are also a number of hard keys, too.  Aside from the display, Yealink's device also supports a variety of codecs (G.711 u/a law, G.722, G.723, G.729 a/b, H.263, and H.264) to ensure quality transmission for HD voice and audio and video data. In addition to this, the phone bolsters an impressive lot of features including 3-way conference calling, call forward, call waiting, new/missed call notifications, voicemail, DND, call logs, as well as many other audio and video features. With reliability, quality, and a comprehensive roster of functions, the VP530 is able to be implemented in a number of environments including offices and SOHOs (small office/home office), as well as throughout industries (i.e. Healthcare).
In regards to configuration, the device supports provisioning via DNS, FTP, HTTP, HTTPS, and TFTP to allow for easier configuration. Despite this simplicity, installation is a bit more complex. Unlike other IP phones, the VP530 does NOT share the Plug-and-Play type installation. Instead, users need to plug, initialize, and configure their settings. This isn't the worst fate, and it's by no means a deal breaker; however, it is something to note. In regards to reliability, consistency, and Quality of Service (QoS) the phone also supports various network protocols. Past this, the device also features recovery and reboot modes, as well as supports PoE (for alternative power supply) to ensure continuity.
Though the user interface is very easy to use, some of the phone's complexities may initially be lost on new(er), less experienced users. Regardless, with a vast variety of functions and features in tow and highly intuitive interface, the VP530 is very capable of delivering an immersive and rich user experience regardless of your experiences.
What's in the Box?
– VP530 IP Video Phone   -Power Adapter   -Handset & Cable   -Ethernet Cable   -Quick Installation Guide & Quick Reference Guide   -CD-Rom
The Bottom Line: The Yealink VP530 is unapologetically, unabashedly, a video phone. It has a large touch screen display that cannot be folded down, the phone cannot be tilted or mounted, and the corner of the screen always displays what the camera sees at the upper right-hand side of the screen.
Interface Experience:
The VP530 has eight plugs on its back: 1 for DC 5V power supply, 1 for Internet, 1 for PC, a headset jack, a PSTN plug, and 3 colored inputs, 1 Yellow for Video Out, 1 Red for Audio In (Right) and 1 White for Audio Out (Left).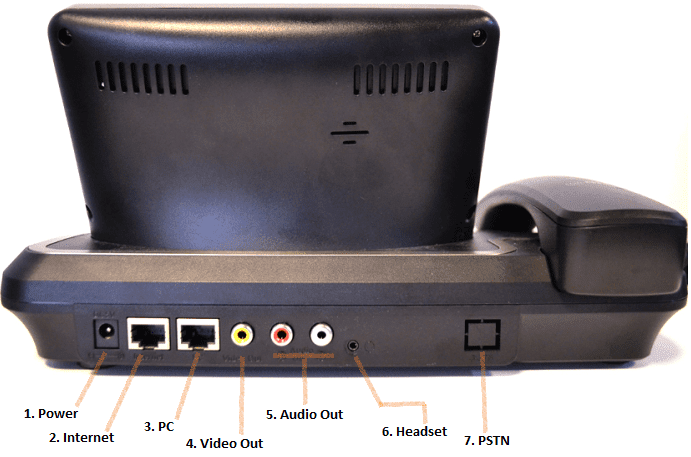 Additionally, there is a slot on the side for an SD memory card and a plug for USB 2.0 cable.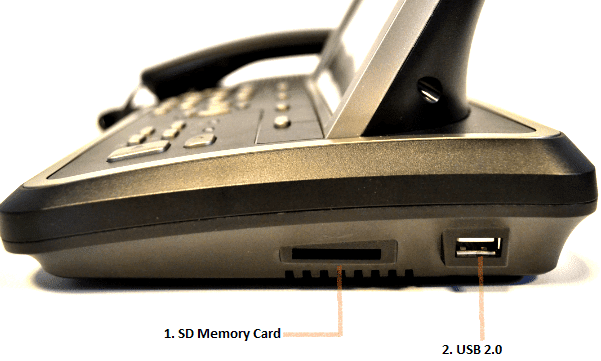 Aside from this, the face of the device itself is pretty straightforward. Users will see the 7" touch screen display; however, it is not able to be titled down or mounted. Separate from this, there are the hard keys.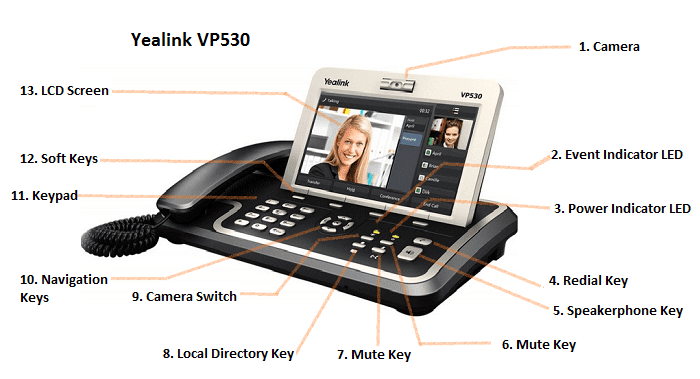 Aside from the hard keys, there are a number of soft keys on the phone's display, all of which have their own icons. On the main screen alone users will see: their wallpaper (which they can select), History tab, Directory Tab, DND tab, Menu tab, all 4 lines, a drop down for contacts, and a display that includes their primary number, date, time, and Menu drop down.
Features:
Yealink's VP530 includes a wide variety of features and functions allow for a number of different operations to be executed. Note: These features are NOT calling features, but actual features of the device itself. As such, the SoundPoint IP 550 includes:
| | |
| --- | --- |
| Video Features | Phone Features |
| Video Codec: H.264 & H.263 | 4 VoIp Accounts, Video/Voice Call |
| Image Codec: JPEG, PNG, BMP | 18 one touch soft DSS Keys |
| Video Call Format: CIF/QCIF | One Touch Speed Dial, Redial |
| Bandwidth Selection: 128kbps~1Mbps | 3-Way Video Conferencing |
| Frame Rate Selection: 10~30fps | Call Return, Group Listening, Group Pick-Up |
| Adaptive Bandwidth Adjustment | Volume Control and Ring Tone Selection |
| 1-frame Adjustable | Backlight Time Selection |
| Picture-in-Picture (PIP) | 6 Feature Keys: Mute/Camera/Phonebook/Transfer/Redial/Hands-Free |
| Full Screen or Remote Side | New Message & Missed Call Notifications |
| Door Phone Application | Voicemail, Mute, & Auto Answer |
| | |
| --- | --- |
| Security Features | Audio Features |
| Time and Date Sync | Acoustic Echo Cancellation |
| Transport Layer Security | Adaptive Jitter Buffers |
| AES Encryption for Configuration File | Voice Activity Detection |
| Proxy Mode & Peer-to-Peer SIP Link mode | Full Duplex hands-free speakerphone with AEC |
| IP Assignment: static/DHCP/PPPoE | Packet Loss Concealment |
| HTTP/HTTPS Web Server & HTTPS Certificate Manager | HD Voice: HD Codec, HD Handset, HD Speakerphone |
Again, these features do NOT include calling features, as those vary based on provider and service plan. The VP530 includes the standard set of features users would expect from a premium VoIP device; however, it also expands upon these standards in a number of ways.
Impressions Unboxed:
Yealink's VP530 has a pretty straightforward physical display. First off, the 7" color touch screen lays out functionality and menus very clearly, which makes navigation very simple. Past this, the hard keys on the body of the phone are also self-explanatory.
Running right below the 7' touch screen are four hard keys tied to the soft keys—i.e. History, Directory, DND, and Menu (from left to right). Below this on the left-hand side is the keypad, to the right, four arrow keys and an "OK" button. The right and left arrows control ringtone volume (when speakerphone and/or handset is not engaged) and call volume. The up and down arrows are scrolling tools on select menus—i.e. History (scroll through numbers, not types of calls). The "Ok" button works to confirm a choice, or (when hit alone on the home screen) to bring you to your status. Separate from the hard keys are the four main soft keys (denoted above). The touch screen device is very responsive except towards the top of the screen.
The layout of the home screen is user-friendly, as it includes shortcuts and prompts to get you anywhere in your phone system. Additionally, each menu is intuitive and extensive, breaking down into various sub-menus for convenience. For example, when users select the "Menu" button, they'll be brought to a menu page with options including Status, Call Feature, Directory, History, Message, Basic, Advanced, Application, and Help. This is the central hub of the device. From here, menu breakdowns are pretty straightforward. For example, "History" brings users to their call history log, which is sorted by All Calls, Dialed Calls, Missed Calls, Received Calls, and Forwarded Calls. Here, users can choose to edit (delete) certain numbers, clear history, or add callers into contacts.
While the menu is nice, it's not without its faults. Sometimes, functions are a little roundabout. For example, users can activate/deactivate calling rules (DND, call forwarding, call waiting, and auto answer). When activated, they appear at the top bar of the main screen; however, users cannot deactivate these rules through the touch screen.
Workability of the phone is pretty straightforward. For example, making calls is really easy with the device. On the right side of the display, users can view their lines. To make a call, all one needs to do is use the touch button or pick up the phone. From here users can use the hard keypad, hit the soft keypad drop down, view contacts and call, redial, view and call favorite contacts, or select a number/contact from their previous call list which comes up automatically. There are also notifications for actions too—i.e. when calls are transferred or sent to voicemail automatically, users will get a notification on their screen to inform them that they missed the call.
Similar to the menu, there are some little workability quirks too. For example, when using the "auto answer" feature, it makes a notification sound and goes right into the call without so much as a singular ring. Though this might be good for users waiting for a call on hold, it might just catch you off guard.
Despite this simplicity, there are also some complexities. For example, the phone has various configuration and provisioning options—i.e. it's very customizable and flexible. This is by no means a bad thing; however, it does mean that users need to know their way around an IP phone. For example, under the "Basic" menu prompt is a video heading. Here, users can choose Preferred Call Type (voice or video), Video Format (CIF, QCIF), Bandwidth, Frame Rate, and Local Video for each of their lines. Again, this allows for extensive customizability and flexibility, but you need to know what each function does. Through trial and error could prove helpful, the wrong choice could affect quality. As a business user, this is unacceptable.
In regards to installation, while it isn't bogged down with complexity, it isn't overly simple either.
Overall, Yealink's VP530 caters to the executive business class. With a ton of functionalities and features in tow, flexibility, and relative ease of use, the device is great for any office environment. However, as the phone does have more advanced attributes, new(er) users should perhaps approach the device with a little more caution.
Utilization & Implementation:
As stated above, this device can be a little advanced at times. This is because of the phone's functions and features set. While the standard host of VoIP features is all present and accounted for, they are also expanded upon here. As such, users can deploy these devices in various environments and commission them to complete a variety of tasks.
The intuitive design and menu allow for users to better implement those various amenities of the device. For example, video calls. The phone features a camera with an adjustable lens (capable of adjusting all the way up to a privacy shutter). For all intents and purposes, the camera in the device is always on. Furthermore, as detailed prior, there are red, yellow, and white A/V output ports on the back of the device. These enable users to connect the camera to their TV set. This isn't as high quality as HDMI (it's not High Definition), but the quality is still good. With all this, users are able to make video calls as long as the default option is always on (check "Basic" under Menu).
Aside from this, the VP530 also includes a memory key function. With it, users are able to adjust the type to speed dial, Busy Lamp Field (BLF) List, line, shared line, key event, intercom, and URL. In short, this means users can set up favorite numbers, favorite SIP URLs, detail Busy Lamp Field info, and set one to intercom. In doing so, users are better able to utilize their contacts within their phone systems.  Again, this boils down to flexibility and customizability. Users have a variety of options, which they are able to fit their individual needs.
Another note that's important to make is the lack of extracurriculars present within this device. As such, there are no games, no YouTube, no Facebook, and/or Twitter integrations/applications. While some may see this as harrowing (i.e. no social media), it's far from being a deal breaker. Furthermore, the VP530 has an XML browser and support for third-party apps.
Price:
When the VP530 was first released, it retailed at around $389.00, which is about 66.2% more expensive than the average IP phone. Since then, the price has dropped considerably to around $200-$300.00 new.
Again, the price may seem a bit steep, but the phone gives users a lot of bang for their buck. Additionally, it's super intuitive, and while more experienced users stand to gain more for usage, it isn't completely inaccessible for newer users either.
Performance Tests:
Here at GetVoIP.com, we subject each and every device to a number of operability and performance tests. In doing so, we are able to detail the processes and functionality that are inherent with the device.
Installation:
Installation isn't terribly dense; however, it's not as simple as plug-and-play either. Once all the necessary plugs are connected (power, Internet, and handset), the phone will enter initialization automatically. When this happens, users will get this screen:
From here the device will look to automatically connect with DHCP server. If for any reason it cannot, users need to configure a static IP address manually.
Here users need to: Go to Menu>Advanced>Enter OK to enter network settings interface>Select Static IP from the Type drop down menu> and enter the parameters IP, subnet mask, gateway, primary DNS, second DNS in the corresponding fields. From here, users should save the changes and return to the main menu.
Aside from this, installation and configuration are pretty straightforward and adaptable; therefore, most users shouldn't have a problem.
Call Quality:
Using the Polycom VVX series as the gold standard of voice quality, the VP530 is comparable to the VVX500; however, it doesn't stand out as it's neither better nor worse.
Yealink's VP530 offers rich and full call quality when using the handset. This is what the call quality sounds like using the Handset.
The speakerphone quality is just as sharp as the handset. This is what the call quality sounds like using the Speakerphone.
Additionally, the speakerphone retains pretty consistent quality even when the user isn't standing close to the device. This is what the call quality sounds like using the Speakerphone while 5 feet away from the phone.
The VP530 also has a headset jack on its back (where the power adapter plugs in). This is the call quality of the VP530 from the standard 2.5mm Headset jack.
Features:
The Yealink VP530 features an extensive portfolio of audio, video, and phone features. While this may seem a bit intimidating, the device wraps them all up nicely in an intuitive interface that's highly accessible to all business users.
Menu:
Perhaps the most encouraging highlight of the VP530 is its accessible and user-friendly menu. Again, the device utilizes a proprietary OS, as opposed to Android. Here, the OS is very capable and one of the easiest to use of any phone reviewed so far. As a result, the interface is one of the most intuitive. For example, the "Directory" can be accessed from the main page from either hard key or soft (touch) key.  From here users can sift through contacts sorted by All Contacts, Companies, Family, Friend, Blacklist. Users can also search for contacts specifically, or access their favorites. Additionally, users can add new contacts or edit existing ones (delete, delete all, or move to). Furthermore, this is also where the Group Manager is found. With this, users are able to create and name a group and assign that group ringtones. Past the Directory, other menus are just as extensive and well organized. So, while certain amenities and configurations may seem a little intimidating, the menu is intuitive and accessible enough not to discourage users.
Conclusion:
The Yealink VP530  is a well-rounded phone in that it's truly comprehensive without ever being bogged down by complexities. Though some may still be a little turned off by the price and scale of the device, it's definitely a viable device. Though there are other devices that may be comparable, few offer as wide a range of amenities as the VP530. Ultimately, Yealink's VP530 phone system delivers an extensive device geared for experienced users that even new(er), less experienced users can utilize.
Technical Specs
Specifications
# of RJ45 Ports
2
# of lines
4
3 way conference
yes
AC Power Supply Included
yes
Built-In Bluetooth
no
Built-In Wifi
yes
Color Screen
yes
Desktop Paging
no
Display Type
7″ 800×480 digital LCD Touch Screen
Gigabit Ethernet Support
no
Headset Interface
USB, 2.5mm
Mass Provisioning
yes
MWI Support
yes
Peripheral ports
USB, SD
PoE Compatible
yes
Protocol Supported
SIP
Provisioning Method
DNS, FTP, HTTP, HTTPS, TFTP
Sidecar Compatible
no
Speakerphone
yes
Supported Codecs
Video: H.263, H.264, CIF@30fps video up to 1Mbps. Audio: G.722, G.711(A/µ), G.723.1, G.729AB. Image: JPEG, GIF, PNG, BMP
Touch Screen
yes
Voicemail Button
yes
Wideband Voice Protocol
 HD Voice