The Good
---
Easy to use phone that is affordable and gets the job done. Hidden bonus: Stand rests the phone at a comfortable angle.
The Bad
---
Advanced features are not as intuitive as I'd like. Seems to be one softkey short.
The Bottom Line
---
There are better phones out there, but as an entry level phone, this phone is capable of all the major features of VoIP.
In the box you get:
Cisco SPA303 Base Unit
Handset
Curly Cable
Power Supply
Desktop Stand
Cat5e Cable
User Manual
Top 5 Pros:
Top 5 Cons:

1. Crisp Sound Quality

2. Ease of Installation/ Menu-Based & Web Based Configuration/ Secure Remote Provisioning

3. Extensive Hard Keys

4. E911 Information on the Handset

5. Affordability

1. Not that user intuitive

2. Short, tight wound cable and light weight require users to stay close or the phone moves

3. Hard to Upgrade Firmware

4. No LCD backlight

5. Short on Softkeys
Editor's Review
The SPA 303 works as a 3-line business class IP phone and supports SIP (Session Initiation Protocol) as well as SPCP (Smart Phone Control Protocol) with the Cisco Unified Communications 500 series. Additionally, with this device the manufacturer has strived for universal interoperability with equipment to enable service providers to fit their customers with quality features and services quickly. This allows for easy installation as well as ease of use.
While the device seemingly bolsters universal appeal, the SPA 303 is truly ideal for small business and home offices. Though the device is complete with a host of features, it's not as extensive or advanced as other available options; however, it isn't really intended to be. Instead, it exists and operates on a much smaller scale. In doing so, it is ideally suited for users with limited knowledge/experience with IP telephony as well as users with fewer needs and/or smaller infrastructures. Sure, it may not have the more advanced features found in similar devices, but it includes the primary amenities business users expect—i.e. multiple lines, voicemail, call forwarding, custom ring tones, etc.
What's in the Box?
-SPA 303 console  handset   – base for the phone  – DC adaptor   – Ethernet Cable   – handset cord-
The Bottom Line: The Cisco SPA 303 is not the "be all, end all" of phones. In fact, there are definitely better phones out there. However, as an entry level phone, this device is able to carry out all the major features of VoIP.

The SPA 303 includes three ports on the back of the device: 1 HAC, for the handset, and 2 Ethernet ports, 1 for your computer (labeled PC)  and the other is for LAN or your network (labeled SW). Additionally, it requires a 5 Volt DC adapter for power.
As for the face of the device, it's pretty standard. The face of the device includes:
It's also important to note that the LCD screen/display is NOT backlit.

It's easy to get lost amidst the slew of available features; however, more doesn't always mean better. There are a lot of features associated with VoIP service; however, just because they exist doesn't mean they're all that useful or even necessary.  This is ultimately up to the user and their intended use of services and devices. Regardless, while other phones boast more expansive rosters of features/functions, Cisco's SPA 303 is more than able to get the job done. Note: These features are NOT calling features, but actual features of the device itself. As such, the SPA 303 includes:
3 Lines—three separate phone lines on one device.
Speaker Phone and Handset Modes—answer/make calls using speaker handset device.
DND (Do Not Disturb) Mode—block calls and decide what to do with them (send to voicemail, drop the call with a message, or drop the call without a message).
Customizable Ring Tones—custom rings/sounds for specific callers.
Call Forwarding—calls made to one number can be transferred to another specified number.
LCR (Last Call Return)—gives time and number of last received call.
Call Park—put a call on hold on one phone and pick it up at another
Blind Call Transfer—call routed to 3rd party, the original call is ended, and no check is done to see if the call was answered or if the number was busy.
Shared Line Appearance—multiple phones register to the same extension
Intercom—one or two way communication system allowing users to speak with one another.
Group Paging—paging for a selected group of extensions (i.e. specific departments).
Again, the above features do not include call features, as those vary with provider and service plan. The Cisco SPA 303 allots business users the standard features and functions they would want. One point that seemed a bit hypercritical was the inclusion of unnecessary prompts. For example, the phone display instructs users to hit any key to unlock the phone.

Overall, the Cisco SPA 303 is exactly what it appears to be—an bare bones basic IP phone for small businesses and home offices. Aside from the basic features and functions, which are denoted above, the installation is pretty easy and straightforward. Again, the device comes with the DC power adapter. The phone is NOT PoE (Powered over Ethernet); therefore, you WILL NEED this power supply. When it comes time for configuration, you'll find that it can be done remotely (and securely) by the provider. In regards to configuration, users have the option of both menu and web based methods.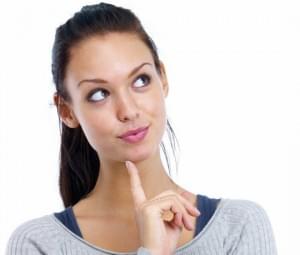 Now, despite a pretty straight forward installation process, usability is not the best. While the hard keys and they're attached functions are easy to use, the softkeys, which are slim pickings as is, are a bit vacant. For example, the DND softkey, which is the rightmost softkey on the display, emits only one command "LCR" (Last Call Return) when the pad is hit. It'd be nice to include some other options, for example call logs. Though you can get to your call logs easily enough (press the menu hard key then 3), options might make things a bit clearer. Another minor convolution lies within the Directory's inclusion of a search function, but not a browse. While this might seem a bit nitpicky, it's curious enough to take note of.
For a phone aimed at new(er)/less experienced users, one would think usability and intuitiveness would be a point of pride. While it's far from being horrendous, there's definitely room for improvement. The biggest fault of this Cisco phone isn't hinged on one major discrepancy, but the existence of little quirks. As such, these little operational hiccups cloud the usability of the device. While it's more overcast than full out thunder clouds, it can still be a bit confusing to get used to.

Cisco's phone is well equipped as an entry level phone for small businesses/home offices. It success comes from its bare bones approach as the device neither overstretches itself nor limits itself. Instead, it works comfortably within its little bubble. While some users may write the device off, it's important to note that the handset offers crisp call quality and includes the same codecs as other Cisco models (most notably the 500 series).
As such, users would benefit from implementing these phones through their offices, as well as reception areas, lobbies, and even break rooms. Overall, this device is perfect for small business looking to implement IP systems cost efficiently. With affordability well intact and quality accounted for, the SPA 303 is ideal for smaller and simpler implementations.

VoIP phones can help augment cost efficiency for users in a number of different ways; however, some of these devices come with a hefty price tag. This phone has just the right bang for its buck. Despite a "List Price" of $125.00, the SPA 303 retails new at around$75.00-$90.00; however, users can also buy the device used for under $70.00. Again, the Cisco phone includes the basics, but not a whole lot more; however, for the price, this entry level phone is a true value.

This is a Cisco device; therefore, it has a look and feel consistent with the manufacturer's line of products. The LCD screen, despite not being backlit, is typically clear and easy to read. Furthermore, the phone's basic functionality is present and intuitive. While some may be tempted by the lean price tag, it's important that users are sure this device is able to meet ALL their needs. That being said, for new(er)/less experienced users, this small business phone is definitely worth opening your wallet for.

Here at GetVoIP.com, we subject each and every device to a number of operability and performance tests. In doing so, we are able to detail the processes and functionality that are inherent with the device.
Installation:
Installation is crucial as misuse and misinformation can open the door to chaos–i.e. workability issues, usability issues, service issues, security issues, etc. Luckily, installation is a pretty starlight forward process with the SPA 303. On the back of the device there are three ports—HAC, PC, and SW. Plug  your headset, Ethernet, and network cable in accordingly (detailed above). Additionally, be sure you plug in the DC adapter power source. Once everything's plugged in, connect to your network. The process will vary depending on your mode of connection—i.e. Wireless connection or Ethernet cable. In regards to provisioning and configuration, users again have a variety of options (remote provisioning, menu and/or web configurations).
Call Quality:
Cisco's SPA 303 holds crisp call quality when using the handset. This is what the call quality sounds like using the Handset.
While the speakerphone quality isn't as sharp, it's still serviceable and definitely NOT a deal breaker. This is what the call quality sounds like using the Speakerphone.
Additionally, the speaker retains pretty consistent quality even when the user isn't standing close to the device. This is what the cal quality sounds like using the Speakerphone while 5 feet away from the phone.
When using the phone you're going to have to enter prompts at some point—i.e. press buttons while on the line. For example, you'll need to do this to transfer calls, look at call history, etc. Additionally, when you call out to other businesses you may have to hit keys to respond to automated attendants and prompts. Regardless of the reasoning, you will hit keys while using the phone. This is what the pressing of buttons sounds like on the receiver's end.
Features:
The features that are attached to hardkeys are very easy to use. For example, to place a call on hold, just hold down the Hold Button (#8 on the diagram above). When this is done, a line key (#4 on the diagram above) will begin to flash red—indicating there is a call on hold on that particular line. Once the call is put on hold, the caller will hear three beeps followed by the on hold music. To resume the call, simply hit the flashing red light button for the call.
Aside from these uses, usability is a little more cloudy.
Menu: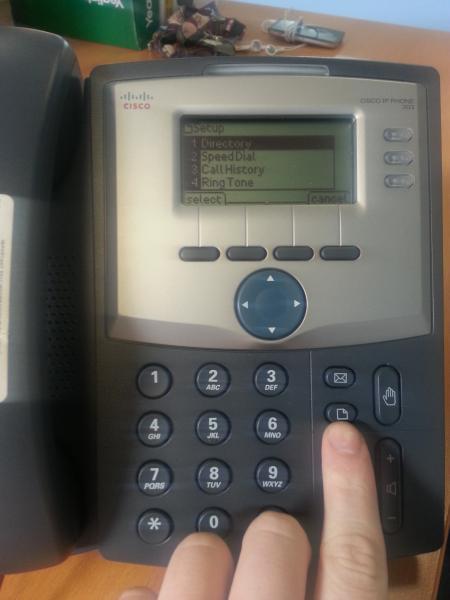 By hitting the "Setup Button" (#9 on the diagram above) users are given a long list of menu options (22 in total). These options include everything from Directory and Call History to Call Control Settings and Reboot History. Essentially, this is THE menu for this phone—meaning everything can be done from here. Aside from these 22 options, there are sub menus and additional information under each. For example, Connection Type includes WAN Connection Type, Current IP, Host Name, Domain, Current Netmask, Current Gateway, Enable Web Server Option, Non-DHCP IP Address, Non-DHCP Subnet Mask, Non-DHCP Default Route, and much more.
The amount of information and options given is very extensive; however, the organization is not that intuitive. Each menu breaks down categories into related areas; however, how are new(er) less experienced users supposed to grasp what concepts are related? Sure, the main menu is straightforward enough, but what happens when a user is looking for something past this?
For example, What if a user wants to simply enable VLAN? This option is located under the "Network" category of the main menu; however, there are 24 sub options here (this specific option being number 16). Therefore, a user would have to scroll through these options to find this. As stated above, the SPA 303 is an entry level phone; therefore, most users are not going to have a lot of experience with these devices. With dense menus and a laundry list of options, some may find the system hard to navigate.
Inversely, it's nice that there's a lot of information and options for users. This allows users to better adapt the device for their own environment, service provider, infrastructure, etc. When it comes down to it, it's not the amount of options available, but the presentation.
Conclusion:
Cisco's SPA 303 is a great entry level phone, especially for the price. While usability isn't as welcoming as installation, it's overall functionality is sure to please small business users. However, for users wanting expansive features and advanced function, you're best bet lies with other phones.
Technical Specs
Specifications
# of RJ45 Ports
2
# of lines
3
3 way conference
yes
AC Power Supply Included
yes
Built-In Bluetooth
no
Built-In Wifi
yes
Color Screen
no
Desktop Paging
yes
Display Type
monochrome LCD
Gigabit Ethernet Support
no
Headset Interface
2.5mm
Mass Provisioning
yes
MWI Support
yes
Peripheral ports
PoE Compatible
no
Protocol Supported
SIP, SPCP
Provisioning Method
HTTP, HTTPS, TFTP, WEB GUI
Sidecar Compatible
no
Speakerphone
yes
Supported Codecs
G.722, G.726, G.729AB, G.711 µ/a law
Touch Screen
no
Voicemail Button
yes
Wideband Voice Protocol
Cisco Wideband