What began like any other month for Polycom concluded as anything but. The video communications provider kicked off July with a few announcements involving a new innovation (Around-the-Table Video Collaboration Experience Full HD, 360 Degree Panoramic Video), their involvement in educational programs with Cornell and Queens Universities, and their second quarter earnings—nothing too out of the ordinary, right? Well, not exactly.  By the time July came to a close, the provider was faced with some very harrowing developments, all of which revolve around the now former CEO, Andy Miller.
CEO Resignation

On July 23rd, Miller, after a three year stint, resigned as Polycom's CEO after "irregularities were found in his expense submissions." While a CEO step down (and inevitable change) may not seem all that stirring, it most definitely is, especially considering the circumstances here. Generally, the CEO presides over all aspects of a company/organization; therefore, his or her techniques, policies, and practices steer said company/organization. That being said, change can be either good or bad, it depends on the circumstances. A good example of this can be seen with Apple Computers and CEO, co-Founder, Steve Jobs.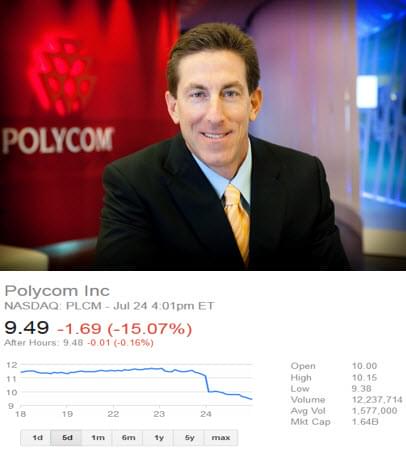 Is a Change in CEO All That Bad?
With chaos comes opportunity. Steve Jobs created and propelled his company into an unstoppable force only to be later pushed out. Upon Jobs's absence, which would span about 10 years, Apple went from flourishing to fledgling. It would remain this way until the creators return in 1996. Since then, Apple has become a titan, churning innovation after innovation. This is one way things could go for Polycom. Before coming to work for Polycom, Andy Miller racked 11 years experience with competitor, Cisco. As such, the man had experience; however, given the conditions of his departure as CEO, it's likely his legacy will not be remembered fondly. Regardless, this doesn't change the fact that Miller did steer Polycom towards success for the last three years; therefore, the provider may flail a little in finding a suitable replacement.
Inversely, Polycom may continue on the same path it's been trailblazing. Allow me to use the Apple/Steve Jobs example yet again. In 2011, Jobs passed away, leaving his company to another new CEO. At first, there was a lot of speculation as to what would happen next. While the company may have experienced somewhat of a drop off, Apple persevered and still remains a major technology mogul. A change in CEO is a huge deal; however, companies are often able to help guide or steer individuals, or even pick a new CEO because of their particular style, practices, etc. As such, Polycom may be well suited to select a serviceable replacement whose able to continue the provider on its current path.
Resignation & Stock Drop

While speculation is well and nice, one cannot help but wonder what comes next. It's plain and simple, damage control. Upon Miller's departure, Polycom stepped up to announce that Miller had taken responsibility for the irregularities, and that these actions didn't have a tangible impact on its current or previously recorded financial statements. Despite this little glimmer of silver lining, partners, consumers, and employees were still not thrilled upon hearing about Miller's departure or the conditions. This was made clear immediately the following day, July 24th, when shares fell about 15% (after rising 11% over the past month).

Polycom moved again to stabilize the situation, announcing Kevin Parker, the newly anointed chairman, as interim CEO. Upon this move, Parker gave an spoke to separate Miller's actions from the company itself. "I can assure you the board's continuing commitment to the Polycom strategy and to our customers, partner, and employees." With this in mind, it looks as though Parker is set to continue to drive Polycom down the same path it had already started on.
The People vs. Polycom: Class Action Lawsuit

Despite this optimism, however, things were not over for Polycom. On July 31st, Gainey McKenna & Egelston announced the filing of a class action lawsuit "on behalf of purchasers of Polycom, Inc. between July 24, 2012 and July 23, 2013." The lawsuit discloses that Polycom made false and misleading statements regarding company's business and policies. Additionally, Miller's resignation confirmed the company's lack of control over finance, conduct, and infrastructure, and that a lack of control created greater risk of harm for the company itself—which renders all financial statements false. That being said, optimism doesn't look to be on the table for Polycom.
As stated above, July didn't prove to be Polycom's shining month. Instead, it was filled with a whole bunch of drama that has yet to conclude. Yet, even while odds don't necessarily seem to be in the company's favor, the provider is still hopeful—i.e. they do expect future growth from their RealPresence CloudAXIS product (which was launched in April). Though there are a ton of negatives for consumers and other parties to focus on, it's nice to see a company who's just as interested in continued quality and resiliency as they are in damage control. There are definitely some big changes on the horizon for the provider; however, while things start to conclude with their former CEO, some solidarity might help the nudge the provider in the right direction.
Related Articles:
– Polycom EEC 2013 Coverage: Experts Discuss Executive Experience Center & Collaboration
– VoIP Roundup 2012: Record Breakers & Industry Firsts