One of the most appealing aspects of business VoIP and hosted PBX is the number of features that come standard with service. Typically, these features vary depending on the service provider, and in some cases the plan selected with the provider. While a number of these amenities are somewhat standard, it's still important for users to consider what they're getting versus what they're not. This is especially true in the case of CEOs. Most VoIP features are commonly geared towards employees and users, not CEOs; however, these systems are just as important for CEOs, too. That being said, we've compiled a list of 30 VoIP features that are essential for CEOs.

1) LED Line Management: Managing calls throughout your system is crucial to overall productivity and efficiency. As such, it's important that CEOs (along with other employees) know the status of their employees' lines and extensions. Busy Lamp Field does exactly this. Simply put, this is a light found on an IP phone, which indicates whether another extension (connected to the same PBX) is busy or not. While this is often used by receptionists, CEOs may find this tool useful as it can help better keep tabs on employees and better dispense calls throughout an office.

2) Personalized Link Invitations/Requests: Personalization can go a long way, especially for CEOs. Customers want to feel they are of value to your company, and that all their needs are being met. As such, this goes beyond service, quality, and feature and through to creating a personal relationship. The Call Me Now feature helps CEOs account for this by sending one's unique link to a prospect and/or customer. Though implementation may vary from provider to provider, this feature is typically easy to set up and use. For example, with Nextiva's offering users need only to enter the phone number and select the "Reverse Click to Call" action. This sends a request inviting the end user (the number you dialed) to call you. From here, the provider, which would be Nextiva in this example, initiates the call.
3) Share & View Calls/Lines Across Multiple Locations: Time and call management NEED to be optimized through a business's phone system. There are no ifs, ands, or buts about it; however, it's not always easy to ensure employees, or even CEOs, are always at their desks. The Shared Call & Line Appearance feature can help CEOs better manage their system (without missing calls) regardless of employees' locations. Also, it can also even allow assistants or other executives take calls (or messages), or even stay on the line/bring other staff on the line to help with a call. Simply put, the feature allows: calls to appear across multiple locations simultaneously, users to answer the call or originate a call for the primary location, or even utilize this function to share a line with another user. Furthermore, users can have assistants or other executives take calls (or messages), or even stay on the line/bring other staff on the line to help with a call.
4) Identify & Assign Callers' Phone Numbers Unique Identities: As detailed above, personability can be a very helpful tool; however, one should not sacrifice timeliness, productivity, and other efficiencies for it. The Custom Tagging feature tows this line very nicely. With this app, users can identify all incoming calls to any and all numbers as well as add a unique tag to calls coming into each number. Simply put, CEOs can assign individual identities to specific numbers for departments, companies, functions, etc. As such, this can help them better manage both their own and their employees' calls by identifying the origin of the call and thus ensuring the call is answered appropriately.
Aside from personality, this feature can also work to provide users with data about their system. For example, tags (once reported) can help measure the success of marketing campaigns. Also, Vocalocity's offering goes so far as to add a Google Analytics ID, which helps track call volume and run reports. The Custom Tagging feature is available for extensions, Call Groups, Call Queues, and even Virtual Receptionists. Also, users can perform this function simply through the Admin Portal.
5) Call Alerts/Notifications with Voice Prompt: In a sense, this could be seen as part of the Custom Tagging feature. Call Announce "whispers" an audio version of the custom tag you assigned to a number before the call is connected. Simply put, this feature keeps users completely informed. For example, if you answer a call from a mobile device, Call Announce informs you that the call is to the office; therefore, you can still address the caller professionally. As with Custom Tagging, this can help with marketing campaigns and promotions—i.e. by alerting sales representatives if a caller is aware of any promotions. Furthermore, this feature can also be used in conjunction with Call Screening and the Screening menu—which means users will have the option to answer the call, send it to voicemail, or even transfer it somewhere else.
Separate, but not entirely dissimilar from this is the Pre Alerting Announcement feature. With this, users can pre record a message that plays for the incoming caller prior to the call being connected. This can be programmed for specific days, times, or even for callers. CEOs may want to utilize this announcement to dispense information to callers before the call is even connected. For example, holiday greetings/hours, promotional offers, hour changes, etc.
6) Caller ID Management & Privacy: Some users may not want their information to appear upon making outbound calls. For example, one may not want their business number showing up when making a personal call. The Caller ID Blocking feature allows for just that. As such, there are a number of ways users can do this—i.e. toggle their Caller ID on and off, activate/deactivate it from their online portal, etc.
7) Comprehensive Systems Notifications: The Stutter Tone Notification feature works by advising users pertaining to the status of their phone—i.e. if it is accepting calls, if one has any messages on call forward, do not disturb, or if one has a new voicemail. This is a great tool to help better manage one's incoming calls.
8) Call Management & Privacy: As with anything, there is some point where a user is not going to be available—i.e. during a meeting with a client, working on a time sensitive project, etc. Regardless, a ringing phone can be both distracting and annoying. The Do Not Disturb feature allows users the opportunity to send inbound calls directly to voicemail. This can be set up for specific times or days.
9) Expand Voice to Video: Furthering personability and expanding upon calling feature, Video Conferencing enables users to see eye to eye with colleagues, customers, and partners. As such, users can communicate over video to work on projects, review decisions, and much more. Additionally, in cementing a more physical presence you can better work with others to complete a goal as well as increase morale.

10) Online Web Systems Management: The large majority of providers offers an online web portal interface—typically described as a Web Portal Interface/Dashboard. From here users can typically manage and edit a variety of areas of their service including plans, bill pay, voicemail, call history, profile scheduler, and every feature throughout their service. As such, these portals can greatly help CEOs better monitor, edit, and manage nearly every aspect of their service. Additionally, in some instances, users can also get a real time status of all their extensions within the system. For example, one can look at call history to calculate how much time is spent on phone calls.  Or, one can select or drop additional features as needed.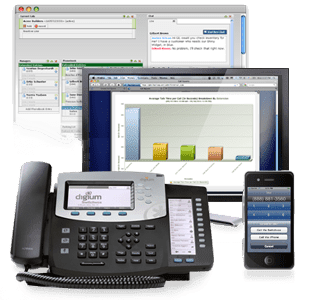 11) Employee Training Tools: While a number of providers offer call logs/records and recordings, few supplement it with training tools. As a CEO, you need to be sure your staff is running as effectively as possible. Vocalocity offers training tools which enable users to both train and review employees. As such, CEOs can use the provider's training tools to monitor and record incoming and outgoing calls. In doing so, CEOs can use real examples to review their staff's consistency, train new hires/trainees, and even review with those already on staff.
12) Protection from Solicitation and Unwanted Callers: In the quest to optimize phone traffic, the last thing you want is telemarketers (or other unwanted callers) using up your employees' time. The Block List feature allows users to block calls from specified numbers—i.e. calls can be forwarded directly to voicemail. Additionally, users can even set it so callers only hear a busy signal.
13) Back Up & Storage: Failure to sufficiently back up critical information can be detrimental. While users may elect to back up on their own drives, what happens when those fail too? Backing up on your own drives is important; however, it's also helpful to supplement it even further. There are providers whom offer online backup and storage. For example, Vocalocity offers all users 2GB of free storage on their servers. Users can choose to back up critical info or even use the space as a shared server, the choice is theirs. Using a provider's offsite server can give peace of mind as users don't have to worry about the safety of their data.
14) Balance Web Traffic for Overall Improved Quality: It's important to be conscientious of how much bandwidth you're using, as overuse can cause system delays, crashes, and other errors. Also, there are other services that require bandwidth—i.e. one service shouldn't consume most of it. As such, CEOs want to be sure their employees are able to operate efficiently; meaning one's VoIP system needs to run optimally. As such, providers, such as VoIP.com, offer a Bandwidth Savers, which lets users reduce the amount of bandwidth their VoIP service uses.
15) Ensure Continuity Even After Outages: There's no way to avoid outages altogether; however, you can prepare for them. The Call Continuity feature works by routing calls to a number(s) of your choice in the event that the provider cannot route calls to your specified phones. You want to be sure your phones are up and running as often as possible, especially during an outage. Again, there are a number of providers, such as Vocalocity, that offer this feature.

16) CRM Integration: As the CEO, one must be sure their system is as effective as can possibly be. Currently, a number of providers offer various integrations with applications such as Box, Microsoft Outlook, SalesForce, and more. With these integrations, employees can utilize their service and manage their progress directly within these applications. For example, with RingCentral's Microsoft Outlook Integration, users can send voice and fax documents in Outlook and faxes directly from the Office application. Going even further than this, 8×8, Inc. offers these Integrations as well as ACT!, NetSuite, SugarCRM, and EAgent integrations.
17) Create Flexible Call Paths For Incoming Calls: Again, CEOs want to be sure their system is running as effectively as possible. A good way to ensure this is with the Answering Rules feature, which routes calls through your company's main number and individual extensions and mailboxes based on routes and options. This allots for more flexibility as users can establish specific routing rules (with unique greetings) for specific days and times—i.e. departments can be given their own hours, holiday greetings, vacation messages, after hour messages, etc.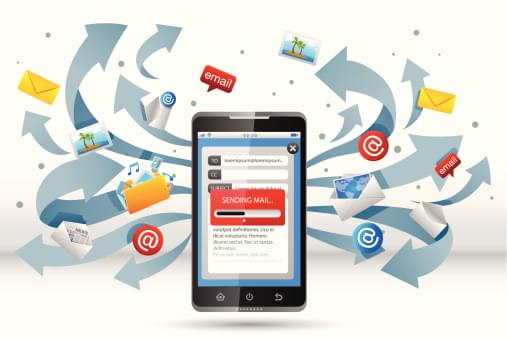 18) Receive Calls Throughout Your Office: For the CEO who's always on the run, Call Park enables calls to be held in a virtual location. Once there, the calls can be retrieved from any desk phone in the system.  This enables CEOs to carry about their office activities while still being able to take calls.
19) Cell Phone Integration/Mobile Applications: Make sure your service is able to forward calls or faxes to cell phones. Also, be sure that same VoIP functions are available on cell phones. This again helps users stay mobile while still being available to prospects and customers alike. Aside from forwarding to extension, users would do well to look for mobile applications (iOS and Android being the most common). These apps typically allow users to receive calls as well as utilize other aspects of their service—i.e. check voicemails, view call logs, view contacts, and more.
20) Call Routing To Any Location Across Multiple Devices: Composed of two technologies, the Find Me/Follow Me feature enables calls to be received at different locations on different devices. The Find Me tech allots users the ability to receive calls at any location. Separate from this, the Follow Me tech allows users to receive calls at numerous phones, either simultaneously or sequentially. Again, for CEOs on the move this function can be very helpful in keeping them connected and available even if they're out of the office. As such, there are a number of providers, such as Jive Communications, that offer the feature.
21) Text Messages With Business Phone Numbers:  Offered by RingCentral, the Business SMS feature allows users to utilize the text messaging platform through their business's phone number (as opposed to their own personal mobile phone number). In doing so, this helps sustain uniformity across one's business as well as present a more professional image. Furthermore, Business SMS integrates with an existing phone system, which allows users to text entire departments (without needing every member's number)and send and receive texts over smartphones, tablets, and PCs, as well as access text, voice, and fax messages on a single mobile device.

22) Better Presentation with Outgoing Caller ID: Not be confused with standard Caller ID, the Dynamic Caller ID feature specifically pertains to users' outbound Caller ID. As such, users are able to present any phone number on their account as their outbound caller ID number—i.e. the number other parties will see. This helps users better present themselves depending on the call. For example, if one makes a business call from a mobile phone number (within the user's account), Dynamic Caller ID allows the user's mobile number to appear as the business number (or any other number of one's choosing).
23) Music for Users on Hold: The way one presents their company is very important, as it gives users their first impression of your infrastructure (organization, call wait times, customer service, etc.). That being said, appearance can go a long, long way with customers, especially prospective ones; therefore, the Music on Hold feature compliments phone systems nicely. Many providers offer the option of uploading pre recorded music. Some allow users to record and upload their own music.
24) Virtual Receptionist with Menu Options:  Just as with Music on Hold, an Auto Attendant, or virtual receptionist, can really help boost one's company's image. Furthermore, an automated receptionist (with a full menu of prompts—i.e. company information, directory for employee extensions and departments, categories, etc. ) can help dispense call traffic more evenly—i.e. to available parties, applicable departments, etc.
25) Voicemail with Personal Messages: As detailed in prior sections, personability means a lot to customers and prospects; therefore, a personal voicemail greeting can be very welcoming for callers. There's a bit of a stereotype surrounding most CEO types. Regardless of whether or not a CEO fits this mold is pretty irrelevant—i.e. at this point this character conception is pretty widespread. As such, any personal touches may help deconstruct this connotation and make you all the more approachable and appealing.
Overall, VoIP offers a ton of useful features that can improve a business's overall functionality; however, the value of a feature may ultimately lie in the eye of the beholder. As such, there are a number of VoIP features CEOs should look for in service providers as they can truly help to improve the overall operability of one's business.
Related Articles:
– Business VoIP Services And Desktop Integration
– 20 Definitive Ways To Improve Your Business With VoIP
– 5 Underrated VoIP Devices You Should Consider