Vonage for business is a result of the growth of their success in the residential VoIP market, and RingCentral is built from the ground up to replace a traditional PBX in a business setting. Put another way, Vonage is looking for smaller businesses, particularly home-based businesses while RingCentral is looking for more medium sized businesses, although they work well in the home as well. With these two backgrounds, it makes sense that the two would have a different approach to business VoIP. What other differences are there?
For more, let's look at the tale of the tape.
Services Compared




Monthly Cost of Cheapest Service

$19.99/mo/line

$49.99/mo/line

Activation

Free

Free

Metered Plans

Pro: $9.99, 300 mins + 4.9c add'l; Pro-Plus: $19.99, $1,000 mins + 4.4c/add'l; Pro-Power: 2,000 mins + 3.9c/add'l

1,500 minutes, $39.99, all inbound calls free

Mobile App

Free

Free

Phone Tech Support
24/7 for PBX users
M-F 8am – 9pm EST for 1 line customers

24/7

Fax Options

Paperless fax – included

Dedicated Fax line with 500 outbound faxes included, $0.039 add'l faxes, free inbound faxes

Conference Bridge

Up to 1,000 participants, included

Up to three participants, included

​Call Group/Simultaneous Ring

Up to 10

Up to 10

On-Hold Music

Custom music & prerecorded music available

Not Available

Voicemail Transcription

Not Available

Visual Voicemail

​Group Paging/Intercom

Push-to-talk included

Not Available

Softphone

RingCentral Call Controller

Vonage Softphone

Toll Free #

$30.00 Activation

$4.95/mo, includes 100 minutes, 4.9c/add'l mins

Cloud Integration

Box, Outlook Salesforce

Not Available

Minimal Subscription Option

Month-to-Month

Month-to-Month

More Details
Plans:
Vonage's residential plan is an all-you-can-eat plan based on up to two phones. Their Small Business Plan gives you the option of 1,500 minutes for $39.99 base price, or unlimited  calls for $49.99 base price. Vonage subscribers can make unlimited calls to US, Canada, Puerto Rico, and landlines in Italy, France, Spain, the UK and Ireland. The unlimited plan only includes one extension—but can ring up to five phones. One free mobile extension is included and additional extensions are $4.99/mo. RingCentral's price for 2-19 phones is $24.99/mo/user. For a business with four phones, Vonage would be priced at $65, while RingCentral would be $100.

If you want metered minutes RingCentral now has three plans to choose from. The $9.99 "Pro" has 300 toll free minutes + 4.9 cents additional minutes; the $19.99 "Pro-Plus" has 1,000 toll free minutes + 4.4 cents additional minutes; and the $24.99 "Pro-Power" tier has 2,000 toll free minutes + 3.9 cents additional minutes.
The difference between RingCentral and Vonage for business highlight the otherwise esoteric technical differences between VoIP and a hosted PBX system. One feature that Vonage lacks is music on hold. Vonage also lacks business hours and holiday rules. RingCentral has presence and Call Park, both of which are not available on Vonage.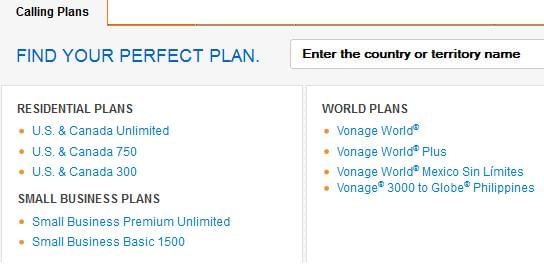 Vonage and RingCentral both offer reasonable toll free plans. The number itself costs $30.00. You get a thousand minutes included in a basic plan (the number is not included, but the minutes still are), plus 3.9c per additional minutes. RingCentral has one of the best values in the business when it comes to toll free minutes. Vonage toll free is an add-on. It costs $4.99 per month, and you get 100 minutes included. You can get more than one toll free number if you wish. Additional minutes are 4.9 cents/min. There is a $9.99 activation fee for toll free numbers.
Features:
Both Vonage and RingCentral have advanced call routing. Vonage calls theirs "Simulring," but whatever you call it, Vonage subscribers can select up to five phones to ring sequentially or simultaneously. RingCentral allows FindMe call routing to up to ten numbers.
RingCentral's conference bridge allows an astounding 1,000 participants. Vonage doesn't offer a conference bridge, so conferences calls are limited to just three participants.

One feature that is is limited to just a few VoIP providers, and RingCentral is one of them, is call flip. Also known as call pass, the feature allows you to seamlessly move a call from one phone to another. Vonage lacks this feature.

Mobility is an interesting comparison. You can take the Vonage box anywhere there is an Internet connection and move your business. But, if you have an IP phone from RingCentral, you can do the same thing. Both providers have mobile access over data.
Support:
Vonage has a 30-day money back guarantee. Vonage has free shipping and free activation, and thy collect all local taxes and fees, including an information and emergency number fee. RingCentral also has a thirty day free trial. Separate from this, RingCentral has 24/7 technical support for its PBX customers. For subscribers with only one user, tech support hours are Monday – Friday, 8am – 9pm EST. Vonage has 24 hours customer support.
The Bottom Line: Vonage is a capable system for the small and home businesses consumer, but it can't match RingCentral's very robust feature set. For many average home-based businesses, Vonage offers a reasonable plan at a reasonable price.
Related:
– Ringcentral Reviews
– Vonage Business Reviews