In the world of business VoIP, there are a few household names because of their scope and size, and one of those names is Nextiva. Known for their "Amazing Service" customer support, Nextiva proudly provides hosted call center solutions to some of the biggest enterprises, including Acura and Delta Airlines. Hosted VoIP is a much better deal financially for businesses of any size, and on average businesses that switch to Nextiva VoIP save 65% on their phone bill. Small businesses get to take advantage of features that traditionally only the largest companies could offer, such as Auto-Attendant and dial-by-name directories. When making the upgrade to a cloud-based business phone system, Nextiva is definitely the provider to consider.

Nextiva offers hosted VoIP in two tiers – Office Pro and Office Enterprise – for businesses that want to completely replace their PBX or upgrade from having only phone service. Businesses will find it very easy to make the transition because Nextiva Office includes a local or toll-free number, has no setup fees or long-term contracts, and, as I'll get into in more detail later, U.S.-based tech support. When you pick up the phone for the first time, you'll have unlimited calling and over 100 business features at your disposal.
Nextiva's prices are very competitive, and are per line per month basis. Customers with up to four lines can expect to pay $34.95 for Office Pro or $44.95 for Office Enterprise; businesses with 5-20 lines will pay $29.95 for Office Pro or $39.95 for Office Enterprise, and for the best deal, businesses with over 20 lines can expect to pay $19.94 for Office Pro, or $34.95 for Office Enterprise.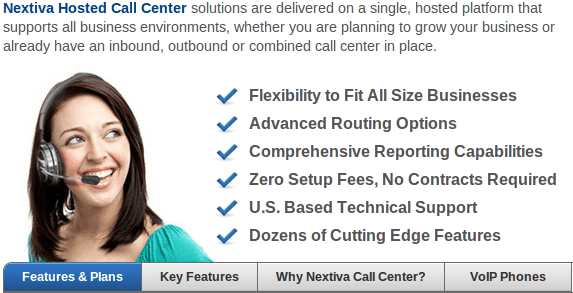 Nextiva call center plans are available in both pro and enterprise tiers as well. They provide service to some of the biggest call centers in the world, including Allstate Insurance, Travelodge, and Delta Airlines. But if your business is much smaller, don't fret. Nextiva offers customized pricing plans to fit your needs, and you can add or subtract call queues as you need them. Again, there are no contracts. Call Center Pro includes CRM migration, Outlook Integration, call queues and ACDs, and recorded greetings and auto-attendant. Call Center Enterprise lines get supervisor features, including the ability to listen into a call and give messages to the agent without the other party hearing, time-based call routing, and the ability to make outbound calls.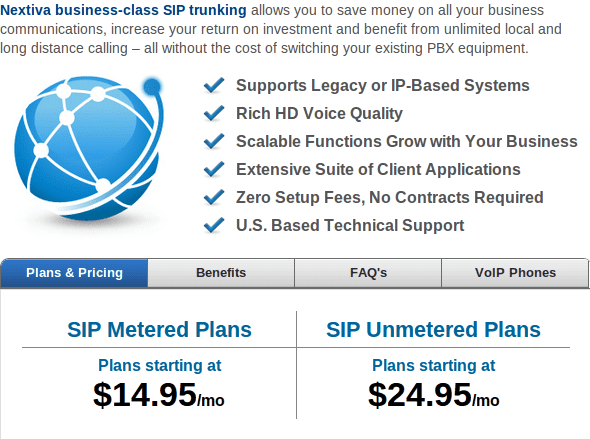 For businesses that want to keep their existing PBX system but take advantage of SIP Trunking prices and quality, Nextiva has SIP plans for you. SIP metered plans start at $19.95/mo, and unmetered plans start at $24.95/mo. By speaking with representatives from Nextiva, I've personally confirmed that they can handle the largest SIP trunking needs, and one told me that there are accounts with as many as 450 lines. Nextiva SIP trunking customers get wideband audio. They can connect to legacy or IP phone systems.

Nextiva has over 100 features, some of which are familiar, some of which are not. Nextiva has a click-to-call widget, which they call "Call Me Now," which you can put on your web site and arrange a call immediately just by pressing an icon that you put on your website. You can initiate a one-way call to many users, called "Group Paging." You can place a call on hold and transfer it to any other phone, called "Call Park." These are just a few of the features available for all Nextiva customers. Nextiva has a feature called "Hoteling." With hotelling, you can make a call from someone else's phone and have the outbound caller ID and inbound phone number be your own. Office Pro users can make be a "guest" at the hotel, but only Office Enterprise phones can "host" the hotel. Nextiva Office Enterprise users have exclusive access to custom ringback tones, and greater ability to work remotely.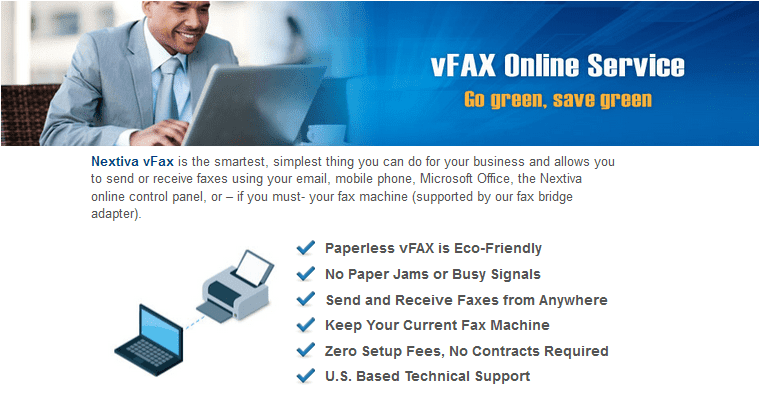 Many VoIP providers have their own brand of paperless fax, and Nextiva's is called Nextiva Fax or vFax. The vFax plans are available for a monthly price or as an annual prepaid plan. Up to 500 pages are $4.95/mo, up to 1000 pages are $12.95/mo, and 3000 pages are $29.95/mo; the prices are slightly higher on a month-to-month plan. Paperless faxes are better for the environment because they don't require any additional paper. You have the option of receiving faxes on an actual fax machine, or through email. Similarly, you can mix and match whether you want to send to a fax number or an email. Your options for the vFax include email, smartphones/tablets, MS office, the Nextiva Online Portal, or a fax machine with a special adapter.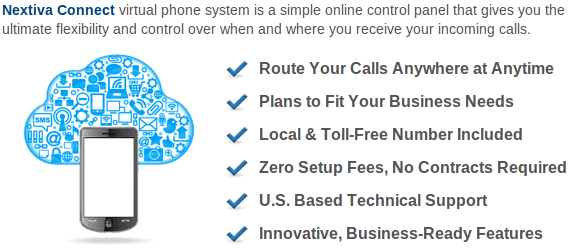 For those customers that are on the go, Nextiva has virtual office plans as well. Called "Nextiva Connect," the plan is essentially an online portal that controls how your calls are routed. Created with smartphone users in mind, the prepaid annual plans are 100 minutes for $8.95/mo, 500 minutes for $19.95/mo, or unlimited calls starting at $69.95/mo, with month-to-month plans being slightly more expensive. The Nextiva Connect is perfect for microbusinesses. The key features are a local or toll free number, and auto-attendant and a dial-by-name directory. All of these features can make tiny business look huge.
Amazing Service: Nextiva's Greatest Product
Nextiva plans and pricing offer great value, but perhaps the area that Nextiva is especially proud of is their customer service. They even trademarked the words "Amazing Service." Nextiva holds themselves to a very high standard. Although they do not have 24/7 phone support, they do offer US-based support six days of the week out of their Arizona headquarters. 95% of calls are answered on the first ring. Hold time is minimal, and they want to get the issue resolved on the first call. Their hand-on approach is in keeping with their corporate culture of valuing their customers' time, and knowing how important phone service is to keeping an office going. In addition to their excellent phone support, you can also email them or check FAQs and tutorials online at any time.
Youtube.com/Nextiva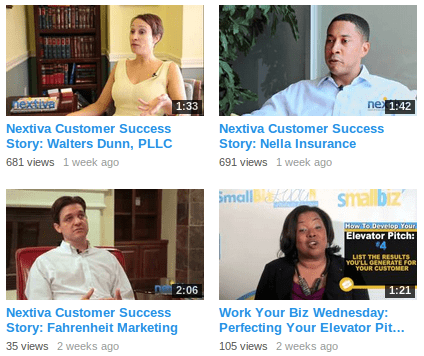 If you're unsure whether Nextiva is right for you, I invite you to check out Nextiva's Youtube channel, Youtube.com/Nextiva. Nextiva has basically two categories of videos. The first is videos alliterative titles like "Mondays with Mike," which give small business advice. The second is testimonials from small businesses. While it's great to hear that major companies like Burger King use Nextiva, it's great to hear from small businesses about their experience. Each about two-minute long interview gives an example of a kind of business, like a law firm or a marketing company, and how satisfied they are with Nextiva. On top of that, they might mention a particular feature they like or experience they had that left a good taste in their mouth. By having these testimonials, they are letting their service speak for itself.
When a business, large or small, wants to make the switch to SIP trunking or hosted VoIP, there are no shortage of options, from big names to small startups. Nextiva name-drops some pretty big brands on their web page, but their Youtube channel highlights the backbone of America's economy, the SMB. These testimonials serve to back up the bold claims Nextiva makes about their high level of service and support.