BYOD (Bring Your Own Device) and Call Center solutions have an interesting relationship. While Call Center solutions have been an integral part of business VoIP service, BYOD has managed to completely transform the infrastructure of the office. That being said, the relationship between these solutions may seem like a rivalry; however, BYOD looks to help Call Centers adapt and expand to users' changing needs. Typically, Call Centers are tasked with handling large volumes of phone calls for a number of functions including customer support, collections, telesales, and more. In doing so, these centers implore a number of tools such as Interactive Voice Response (IVR), Automatic Call Distributor (ACD), Queue Strategies, and more. While each of these tools and applications has proven to be effective, BYOD looks set to change Call Centers' practices.
BYOD service is exactly what it sounds like—a service which allows employees to utilize their own devices (smartphones, tablets, etc.) for work purposes. In doing so, users connect to the business's network and are fit with full functionality of the office phone system. In providing users with this level of functionality and flexibility, BYOD has churned a mentality of 'anywhere, anytime, anyone' amongst users—meaning users want to be able to communicate anywhere from any device/any application at any time. BYOD allows for users to communicate in a number of different ways. In using the solution, employees use their own devices, meaning they can use a number of different communications tools—i.e. voice, IM, chat, etc. As these applications are readily available with BYOD, many users now expect this range of functionality from Call Center solutions.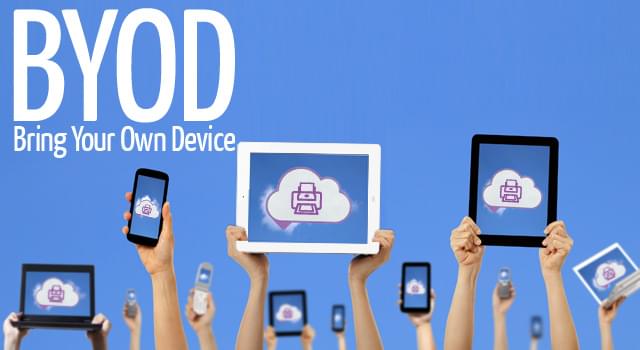 As such, many providers have sought to account for these wants by including various communicative functionalities (voice, email, messaging, etc.) in a single application. While this sounds a bit harrowing, Call Centers would do well to unify these functionalities under one banner application—i.e. Unified Communications. UC services typically include real time services such as IM, presence information, telephony, video conferencing, data sharing, and more. That being said, many businesses would stand to benefit from UC; however, the lack of simplicity and uniformity make it hard to implement. As stated above, the BYOD mentality has lead users towards wanting a broad set of functionalities/applications. If Call Centers were able to offer functionalities similar to UC solutions, they would undoubtedly increase their appeal and viability.
Additionally, the popularity of the cloud and other hosted services has made both Call Centers and BYOD more viable. Separate from offering expansive functionalities, the cloud works with Contact Centers to undercut costs. As stated in Heavy Reading's "VoIP Call Centers Adapt to a BYOD World" report, many solutions are cloud based or at least hybrid. While this may seem rather insignificant to cost, it enables Call Centers to become wholly more cost efficient, a similar advantage of BYOD.  "Such hosted solutions continue to drive down the cost of VoIP Call Centers and make it possible for users with legacy equipment to integrate VoIP over time instead of absorbing the cost of a complete rip-and-replace solution." As such, the cloud not only reduces the cost of Call Centers, but also allows for more users to adopt VoIP services—i.e. users with legacy systems are able to implement VoIP service on a smaller scale; therefore, businesses can use Call Centers as a stepping stone. Aside from Call Centers, hosted solutions work for BYOD solutions as these solutions can also be cloud based.
With more advanced functionality on the way, Call Center solutions may be users' best bet. As stated above, Call Centers have been an integral part of business VoIP for years. This is due to the level of control the solution fits users with.  With a Call Center, users are often able to access many different points of their system—i.e. management controls, voicemail facilities, call routing facilities, and more. Sure, BYOD may offer users a number of benefits (increased productivity, cost efficiency, greater mobility), but it is not a perfect solution (security issues, IT issues, data loss, etc.). BYOD is also a solution better fit for VoIP savvy and mobile-ready businesses (i.e. businesses already imploring a VoIP service/whose staff is mobile device ready and literate). Inversely, Call Centers allow new users to ease their way into VoIP. Regardless of the potential risks, BYOD adoption shows no sign of slowing down. While this growth has had a big affect on Call Center solutions, it's hard to say that the results have been negative. As such, both BYOD and Call Center solutions have expanded considerably and both look likely to continue to do so.