The Good
---
Awesome picture and sound quality not just for calls but for online radio, video, and apps. A great web browser. Social media integration. This phone is full of surprises.
The Bad
---
Default settings make it difficult to make calls. No way to toggle back and forth between speakerphone and handset. Screen can be sluggish at times.
The Bottom Line
---
This phone has video, social network integration, widgets, and more. Out of the box, this phone is perfect for everything…except making phone calls. Despite this having a GUI, this is not an Android phone.
In the box you get:
Grandstream GXV3175 Console
Handset with handset cord
Base Stand
LAN Cable
Power Supply
Downloads:
Grandstream GXV3175 Spec Sheet
Grandstream GXV3175 Quick Start Guide
Grandstream GXV3175v2 User Manual (English)
Grandstream GXV3175 User Manual (English)
Top 5 Pros:
Top 5 Cons:

1. High-Quality Picture & Sound for Calls, Radio, Video, & Apps

2. Top-Notch Web Browser

3. Social Media Integration

4. Extensive & Easy to Navigate Web Portal

5. Expansive Feature Set

1. Complex Default Settings

2. No Toggle Between Speakerphone and Handset

3. Touch Screen Can Lag at Times

4. No Hard Keys

5. Can't Make Calls From Contact List
Editor's Review
Don't get me wrong, the GXV3175 is a quality phone; however, in trying to encompass a variety of functions, it stretches itself a bit thin in some areas. Grandstream's phone utilizes a number of amenities well, including superior video quality, an extensive (touch screen) detail-oriented interface, advanced integrations (YouTube, Facebook, Twitter), various web applications, an online database of radio stations, a speakerphone (with crystal clear quality), dual network ports with integrated Wi-Fi, comprehensive auxiliary ports, and much more. As such, the device is able to offer users more options and thus a more immersive experience. Furthermore, the device is able to appeal to more types of users—i.e. business and personal users. While this all seems well and nice, there is one factor working against this: default settings. The default settings leave much to be desired when it comes to making calls. Though the phone is highly customizable, and settings are easy to change, default settings are complex and dense; therefore, initial use may be a bit arduous.
Overall, I'd say that too much time was spent focusing on the features and not enough spent on the phone itself. While features are nice, the phone aspect of the device itself is a bit tough to use. Unlike other devices, the GXV3175 is NOT a hybrid (tablet meets phone) device. It is primarily a phone. However, as a phone, functionality pales a bit. For example, users can only make calls via dial pad, and any modern phone that doesn't allow calls from favorites, call logs, etc. is one that is behind the curve. On top of this, the operability of the device is plagued by lagging menus and a less responsive touch screen. Their hindrances are substantial, and in turn make the device a bit of a paradox—in that it offers so much, but is troubled by the basics. While there are some problems are present, they aren't insurmountable or irrevocable. Additionally, there are a ton of pros that help balance out the cons. For example, the Internet Browser application is highly touted as one of the best on a desk phone to date.
Ultimately, the GXV3175 is not the best product Grandstream has produced; however, it is definitely a quality multimedia device worth your attention. It includes a ton of features and functions that not only make the device more appealing to various types of users, but also lays the foundation for future releases. Though default settings are a bit shoddy and dense, settings are easily changeable, and users can implement various customizations to the menus. As such, this allows users to exorcise some of the negatives keeping this device from greatness; however, until these changes are made, users may find other devices better suited to handle their needs.
What's in the Box?
– Main Case (With Stylus in back)   -Handset & Handset Cable   -Headset Dongle   -Quick Guide   -Ethernet Cable   -12V Power Adapter   -Phone Stand   -Wall Mount   -TV Adapter Cable
The Bottom Line: This phone has video, social network integration, widgets, and more. Out of the box, the device is perfect for everything…except making phone calls. Despite having a GUI, this is NOT an Android phone.
Interface Experience:
The GXV3175 has four ports on its backside: 1 for the DC12V power supply, 1 LAN Port, 1 PC Port, 1 Handset Port. Additionally, users will find a wheel mechanism on the back of the phone at the top. This controls the privacy shutter on the front of the device (swivels between the camera and blocking the camera).
Users will find more slots under a clip cover on the side of the device—i.e. two USB ports, an SD card slot, and an RCA Video/Audio Jack (labeled TV).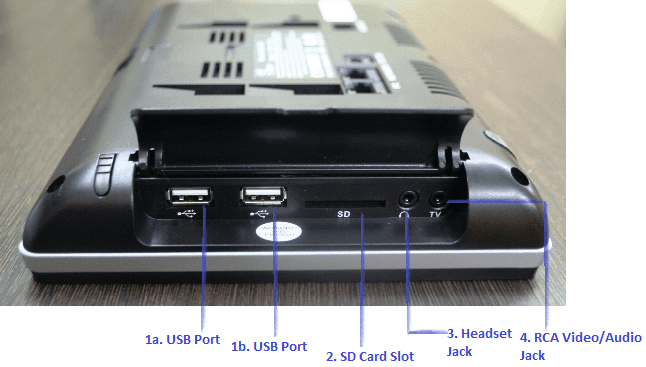 In regards to the face of the device itself, there is a 7" resistive touch screen color LCD (800×400), Mega Pixel CMOS camera with privacy shutter, and a home button. Aside from this, the face is pretty bare as all menus and keys are accessed through the touch display.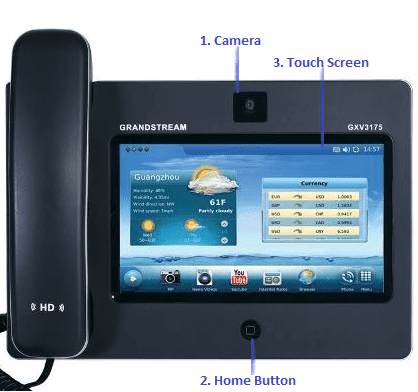 Aside from the physical display, which is very bare-bones, the GXV3175 utilizes a number of different screens and menus. The touch interface offers 4 different menus/screens, which can be navigated by swiping or arrow keys. Each of these screens is fit with a variety of different widgets and apps. For example, users can choose Weather Widgets, RSS News Feeds, Time & Date, Currency Converters, Stock Widgets, and more. Users can add/delete and move Shortcuts, Apps, Widgets, and Folders from any of the screens based on one's own personal preferences. To do this, just hold down the app/widget/etc. until it becomes transparent then drags it to move it, or click the "X" to get it off that screen.
Regardless of the page selected, there is a menu at the top right of every page containing icons (phone, speaker, settings, and camera). Users can select this top menu for it to drop down with options.
At the bottom of these four screens lies a menu/taskbar. This typically includes various applications such as Last.FM, Tudoi, Movie Trailer, Online Video, Browser, Radio, PIP, News Videos, Youtube, and Facebook, as well as the phone function and the menu button.
Selecting any of these will launch the application/function directly. For example, the phone button activates a screen with: a Digital Dial Pad, Volume, Contacts, Call History, Message, Voicemail, and BLF options, Audio Call & Video Call options, Redial, Available Lines, and Call, Paging, IP Call Options.
In selecting the MENU button from this taskbar, users will find the main menu consisting of BLF, Contacts, Call History, Message, Browser, PIP, System Info, Settings, Setup Guide, User Guide, Photos, Music, Video, SNS, News, Tools, and Games.
The layout of menus is a bit different on this device compared to Polycom's VVX500 or SoundPoint 550. Instead of menus/categories breaking down into submenus/subcategories, they break off into intuitive interfaces—i.e. Contacts, Call History, Browser, etc. They all launch their own windows with different functions. For example, Call History enables users to call, message, view/edit information, and/or delete calls.
Opposite this, options like Settings and System Info break down more classically. For example, Settings brings users to a menu consisting of Accounts, Networks, Time, Display, Maintenance, Camera, Video, Call Features, Screen Saver, Background, Tones, and Language. Each of these also further breaks down into submenus.
Features:
Grandstream's GXV3175 places a heavy emphasis on features and functions. As such, the device is able to support a variety of different applications and integrations, which prime it for advanced implementations. Grandstream's phone delivers all this through the utilization of various multimedia technologies. Note: These features are NOT calling features, but actual features of the device itself. As such, the GXV3175 includes:
| | |
| --- | --- |
| Audio Features | Phone Features |
| Audio Codec: AAC, MP3, WMA, Real, Ogg-Vorbis | |
| Voice Codec: G.711, G.722, G.723.1, G.729AB, GSM-FR, G.726-32, L16-256 | Auxiliary Ports: SD/MMC/SDHC, 2xUSB 2.0 Ports, Stereo Headset with mic, Mini HDMI |
| Multi-Language (English, Chinese, Japanese, Korean, Spanish, French, German, Italian, etc.) | 3 Individual SIP Accounts, Plus Support for Free IPVideoTalk |
| High Fidelity Full-Duplex Speakerphone with High-Performance Acoustic Echo Canceller | Expansive Video Capabilities H.264 Baseline, H.263/H.263+ |
| | WebKit Based Full Web Browser |
| | Various Applications (Facebook, YouTube, Calendar, Google Voice, Internet Radio, etc.) |
| | |
| --- | --- |
| Security Features | User Interface Features |
| Support TR-069 and Syslog for Remote Provisioning and Monitoring | 7" Resistive Touch Screen Digital TFT Color LCD with 800×480 Resolution |
| Provisions HTTPS, SIPS/TLS/SRTP, AES | Tiltable MegaPixel CMOS Camera with Privacy Shutter |
| QoS: Layer 2 (IEEE 802.1Q/p VLAN tagging) and Layer 3 QoS (ToS, DiffServ, MPLS) | Smart NAT Traversal Technology to Allow Zero-Configuration Plug-And-Play |
| | Integrated Wi-Fi |
Impressions Unboxed:
The Grandstream GXV3175 is an all touch screen device—save for the home button. As such, every function completed will be done through the touch screen. While this may sound appealing, the screen isn't all that responsive to touch, and it can even lag a bit at times. Sure, the touch is functional and serviceable, but for a device that's only a touch screen, I would honestly expect a little more sensitivity. Aside from this, though the device is fitted with a number of ports and plugs for various operations. For example, this includes two USB ports, Ethernet ports with integrated PoE, stereo audio output, video output, etc. Furthermore, the device even supports Wi-Fi, which is a nice add-on as many desktop phones often don't.
Aside from the physical display and layout of the device, the user menus are a bit of a mixed bag. One of the highlights of this device is the level of customizability it allows for. This is due to the use of "spaces". Unlike the GXP2200, this device does NOT utilize the Android OS, but "spaces"—which allows users to fit various widgets throughout the four menu/interface pages. As such, users can select whichever widgets they'd like on each page. At the bottom of each page, users will see a scrolling taskbar type menu. Here, there are a number of applications to choose from too; however, none of these can be added to the screen themselves. Now, typically, the more customizable the device, the better able users are to utilize and navigate through the interface. This doesn't really ring true here. With this device, the default settings stand in stark contrast with ease of use. The settings, though easy to change, make using this device a bit tougher as they are pretty complicated. Another highlight of the device is the web browser, but even that has limitations. For example, users cannot view more than one page at a time. Also, pages don't generally load as fast as they would on an actual computer or tablet device.
In regards to features, the GXV3175 delivers an eclectic and useful portfolio. One of the best-utilized amenities on the device is the built-in camera. The camera can be used to make video calls, take pictures, and even as a motion detector (to halt screensavers). Furthermore, there is a tiny knob located on the back of the device which allows users to adjust the position of the camera lens, or scroll it up all the way to have no video. In addition to the camera, the device also includes YouTube videos, Games, Movie Trailers, and a Radio. The phone boasts superior sound quality, which makes each of the above features all the more enjoyable. The picture quality rivals that of a computer screen, although it is smaller and pointed upward. Pick up the phone while you're watching a video and the phone will immediately switch to phone mode. You can watch the video from the beginning, but it won't save your place. Also, the videos only play on the speakerphone, there's no way to get the audio to come out of the handset. You can press the icons at the upper toolbar just like a PC, and it will give you shortcuts to common options such as volume, DND, camera on/off, the settings menu, and the date.
What is most curious about this device is its general lack of phone functionality. As stated above, this is not a hybrid/half device. It is first and foremost a phone; however, as such, it doesn't offer too much function. Furthermore, making phone calls is far from being the phone's strong suit. There's only one hard key on the device. So, to make a call, users need to press the call icon, which initiates a dial tone. From here, users can pick up the handset if they choose to; however, one cannot switch from the handset to the speaker. Now, if you've ever been placed on hold, say on a technical support call, you know how convenient it is to put the phone into speaker mode and have both hands free to complete other tasks. This isn't really an option here.
Though this may only be a minor inconvenience, there are more pressing issues with the calling functionality. Again, I stress that this is under the DEFAULT settings, which can be changed, this is an unboxed section; therefore, this is the device as-is out of the box. That being said, perhaps the biggest blow comes when it's time to actually start talking to people. In order to make a regular call, you dial the number and press "audio call" on the touch screen. If you wait a few seconds for the phone to dial by itself, it will drop the call; if you hit "video call" it will drop the call. Here's where it gets frustrating: all of those names that you so easily added to the contact list…you can't dial from the contact list. It has something to do with the settings that would press "audio call" automatically.
In regards to installation and configuration, users can do so directly from the web portal of the device, or through the Setup Guide, which appears when first plugging in the device. With the Setup Guide, users can create/edit accounts (up to three accounts can be set up). Here, users will need SIP Server, SIP User ID, Authenticate ID, and Authenticate Password info, as well as select between DHCP, PPPoE, or Static IP.
Separately, the portal is definitely a highlight of the phone, as its extensive, yet very intuitive and easy to use. In the portal, users can choose to input account information for any/all of the social networks they're using. In doing so, these networks will be synced and ready to go when the first phone boots.
Utilization & Implementation:
Grandstream's GXV 3175 boasts a variety of amenities and features; however, the calling process is a bit underwhelming. Though the voice quality isn't the best, it is still very good. However, the actual calling processes can be complex and therefore, hindering. That being said, the utilization of this phone greatly depends on the intended usage. For example, as stated above, users cannot toggle between the handset and speakerphone. As such, this phone wouldn't suit a customer support representative well. Inversely, the device does feature a wide set of functions and features that some business professionals may benefit from greatly.
The GXV3175's strong suit definitely lies with its expansive list of functionalities; however, its hindrances may ultimately make the phone better suited for individual use. For example, business executives and remote employees may benefit from using this device; however, deploying it wide scale throughout a workforce may not be the best option. The device is highly customizable—thanks largely in part to utilization of the "spaces" virtual desktop feature, which enables users to create numerous virtual desktops specially fit to each individual's specifications. This not only allows for greater individualization, but greater ease of use in navigating and deploying different functions on an individual basis, too. This further reinforces the idea of more contained usage.
As stated above, in choosing this phone, users need to know their intended usage. Therefore, this may not be ideal for new(er), less experienced users. Additionally, the touch screen can seem a bit off-putting/intimidating to some. There are virtually no hard keys on this device (aside from the Home button). Everything is done through the touch screen's various menus. Though the menus are easy to follow, and there are a number of apps, widgets, and shortcuts available, an all touch-interface may not be the best route for those less familiar with similar desktop phones/devices. Beyond this, default settings are not very beginner-friendly, and they may require a call to the manufacturer. While the device is flexible, newer users may not be familiar enough to execute certain changes.
Outside of function and customizability, this may all seem a bit negative, the phone is a quality device and is fitted with a number of highlights. For example, the Internet browser is very expansive for a desktop phone. Also, there are little touches that work nicely too—users can choose ringtones, backgrounds, screen savers, and more to completely individualize the device. Though these are great features, this device is a phone first and foremost. Unfortunately, in that regard, it doesn't hold up quite as well as similar devices.
Price:
Upon its initial release, this phone retailed at around $349; however, now, users can find the device new at around $220.00. For those who are looking (or willing) to go the used route, the GXV3175 can be found for as little as $175.
Though the GXV3175 isn't Grandstream's personal best, it is definitely their most ambitious release to date. The device really dabbles in a bit of everything. Though it is certainly extensive, it does stretch itself a bit too thin in some areas—namely phone processes. Ultimately though, the device is well rounded and comprehensive. Users may benefit from implementation on a more individual basis. In that regard, this phone is a good fit.
Performance Tests:
Here at GetVoIP.com, we subject each and every device to a number of operability and performance tests. In doing so, we are able to detail the processes and functionality that are inherent with the device.
Installation:
As usual, Grandstream delivers a pretty straightforward and standard installation process. First off, the manufacturer includes everything you need (including a power supply). In regards to configuration, this can be done through the Setup Guide, which pops up upon plugging in the device. This can also be done through the expansive web portal.  Both these options are pretty straightforward, as long as users have all the necessary information (detailed above). Upgrades are simple, too; therefore, users don't have to worry too much about compatibility/interoperability issues.
Call Quality:
Grandstream's GXV3175 offers rich and full call quality when using the handset. This is what the call quality sounds like using the Handset.
The speakerphone quality is just as sharp as the handset. This is what the call quality sounds like using the Speakerphone.
Additionally, the speakerphone retains pretty consistent quality even when the user isn't standing close to the device. This is what the call quality sounds like using the Speakerphone while 5 feet away from the phone.
Lastly, for users that want to utilize the headset port, quality is carried over as well. This is what the call quality sounds like using the standard 3.5mm headset jack.
Features:
Perhaps the greatest attribute of this device is its wide set of features, functions, and amenities. The device really does include a bit of everything—ranging call features to web browsers, apps, integrations, and widgets. For example, in using the camera users can make video calls. Furthermore, during videos, users can take snapshots of the screen, as well as complete a slew of other call functions—i.e. call transfer, forward, BLF, mute/unmute, conference call, as well as even switch between Video Off/On (when off, the default picture will show instead of the video).
Menu:
To be 100% clear, the default settings of this device are NOT clear. They are complex and they hinder usage; however, they can be changed. Aside from this, the menu layout is very straightforward and intuitive. Though the touch isn't always that responsive, and the screens can lag, the actual layout design is concise. Just as with the GXP2200, the departure from categorical menu breakdowns is a welcome one, as menus lead to more interfaces that are optimized for usage. Though the menus are expansive, this device would benefit from some hard keys on its physical display. In regards to virtual display, again, the "spaces" virtual desktop approach works very nicely to fit screens with widgets and apps according to user wants/interests.
Conclusion:
The Grandstream GXV3175 is a quality device for sure; however, in trying to be truly comprehensive, it stretches itself too thin in some key areas. Again, this is a phone above all; however, it doesn't work as well as similar desktop options. While it does include way more features and amenities, they are also limited—i.e. web browser can only open one page at a time and its not as fast a PC, tablet, or smartphone. Instead of finding a niche, the GXV3175 looks to be a jack of all trades. However, in doing so, it ultimately borders mediocrity. Despite this, the phone is definitely ambitious; therefore, it'll be curious to see how the manufacturer improves upon these offerings next time around.
Technical Specs
Specifications
# of RJ45 Ports
2
# of lines
3
3-way conference
yes
AC Power Supply Included
yes
Built-In Bluetooth
no
Built-In Wifi
yes
Color Screen
yes
Desktop Paging
no
Display Type
7″ TFT Touch Screen
Gigabit Ethernet Support
no
Headset Interface
2 RJ45 Ports
Mass Provisioning
no
MWI Support
no
Peripheral ports
2 USB, SD, Headphone, TV
PoE Compatible
yes
Protocol Supported
SIP, H.323
Provisioning Method
Smart NAT traversal technology to allow zero-configuration plug-and-play
Sidecar Compatible
no
Speakerphone
yes
Supported Codecs
G.722, H.264/H.263/H.263+
Touch Screen
yes
Voicemail Button
no
Wideband Voice Protocol
Grandstream Wideband Audio