Updated on June 3, 2013…
Last month, VoIP providers submitted a number of proposals to the FCC suggesting that they be given direct access to the National Numbers Pool. Now, it looks that these providers may very well get their wishes. The FCC, via the FCC 13-51 document, has announced that they will allow for a six-month adoption of this change to better analyze and review the ramifications it would have. "We propose to promote the innovation and efficiency by allowing interconnected Voice Over Internet Protocol (VoIP) providers to obtain telephone numbers directly from the North American Numbering Plan Administrator (NANPA) and the Pooling Administrator (PA), subject to certain requirements." Additionally, the document goes on to state that this change has been moved to trial with the goal of promoting innovation, investment, and competition for the benefit of both consumers and businesses.
With that in mind, one must wonder the effects this will have on the telecommunications/VoIP industry, as well as how and if this will alter the relationship between the FCC and the VoIP industry at large. Currently, providers must go through intermediaries—i.e. Competitive Local Exchange Carriers (CLECs)—to access numbers; however, now they will have direct access to the number pool—meaning providers can assign VoIP users phone numbers without having to go to an intermediary source. Though this shift sounds simple enough, it could ultimately quicken increased adoption of VoIP on a much larger scale, as well as hasten the decline of traditional phone service.
For users and the VoIP industry, direct access changes everything for the better. In being able to obtain numbers directly from the numbers pool, VoIP providers will be able to work more freely and efficiently, which in turn could increase the appeal of VoIP. For example, in not having to work with intermediaries, providers are able to supply users with numbers more quickly and cheaply—which in turn drives user costs of VoIP down. Though VoIP technology already offers cost efficiency, providers' direct access to the numbers pool could add even more fuel to the fire. Additionally, in eliminating an outside relationship, VoIP providers can work in house more efficiently—which can greater further reliability and quality of service.
While the correlation between the numbers pool and increased VoIP adoption may seem like a stretch, one must simply turn to the advantages detailed above to see the potential. Sure, these changes could take some time, as it's likely that users will not be aware of this shift (and its advantages) immediately, but it is still a very distinct reality. VoIP providers are aware of the opportunity they have been given, and thusly want to maximize its potential and effectiveness.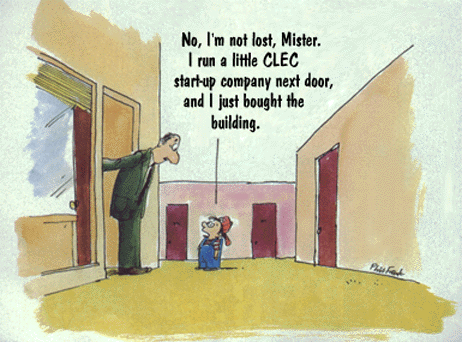 Though this change looks to positively impact some, it may be another crucial blow to the already dwindling traditional phone service industry. As stated above, providers currently go to intermediaries (CLECs) to get access to the numbers pool. These intermediaries are typically local carriers such as Verizon and AT&T. That being said, VoIP providers have been somewhat dependent on these carriers, and the carriers have known this; therefore, they have been able to leverage their advantage over VoIP providers to access details and information about the providers themselves. "Put another way, the three giants that dominate the industry right now can hold VoIP providers hostage, perhaps, and at the very least get a direct look at what level of business VoIP carriers are doing in their territories," states Stuart Zipper. However, now, with direct access, carriers are stripped of this advantage.
As Zipper stated, carriers have been able to view VoIP providers' levels of business—i.e. their business in territories. With this access now gone, carriers will be unable to counter VoIP providers. For example, if a provider was doing well in a territory and a carrier was losing business as a result, the carrier would have direct knowledge of this by dealing with the provider. As a result, they would be better able to address and counter the target area. Now, however, carriers no longer have that relationship with providers.
While beneficial for some and threatening for others, access to the Numbers Pool is crucial for all parties, as well as the industry itself. The FCC understands this, which is why the 13-51 document has issued this change under a trial period. The governmental agency is interested in bettering the industry as a cohesive whole, and therefore, it's open to exploring new options. "We tailor this waiver to test whether giving interconnects VoIP providers direct access to numbers will raise issue relating to number exhaust, number porting, VoIP interconnection, or intercarrier compensation, and if so, how those issues may be efficiently addressed." The FCC's official announcement goes on to denote that through the trial, participants will be responsible for submitting reports, which all interested parties will be able to review and comment on. With that in mind, it's clear that the FCC has taken the right steps to ensure no decision is made lightly.  Additionally, as the FCC has sought a more active role with VoIP regulation/monitoring, this seems to be a nice entry way.
UPDATE: As a part of this Direct Access Order, the six month trial required interested companies to submit a detailed numbering proposal within thirty days of the order, with monthly reporting starting sixty days after submitting for direct access to numbers from a numbering admin. Now that the 30 day deadline period is over, the FCC has reportedly received four proposals to participate in the trial. These proposals were submitted by Vonage, SmartEdgeNet, LLC, WilTel Communications, LLC, and Inteleeper, Inc. The FCC states, "Each proposal will be approved 30 days after its respective filing date, unless the Bureau finds that the proposal does not comply with the requirements of the order." Additionally, the agency goes on to state that no entity will have direct access to numbers until its proposal has been approved.
Related Articles:
– VoIP Providers Want Direct Access to Numbers Pool
– FCC Chairman Calls for Gigabit Ethernet in 50 States by 2015
– Burner Mobile App Gives Users Disposable Phone Numbers, but Why?