UPDATED 4/23/13
If you don't recognize the terms above, don't freak out. The three terms above are types of symbiosis that define the relationship between two separate entities engaged with one another. As such, the relationship can be beneficial for both (mutualism), beneficial for one/harmful for the other (parasitism), or beneficial for one/no affect on the other (commensalism). With this in mind, let us turn our attention to the Cloud platform and VoIP.
Over the last few years, the Cloud platform has seen tremendous spikes in popularity. Now, with recent forecasts showing no foreseeable slow in growth, one must wonder how this will affect the VoIP industry and its own continued growth. Both cloud and VoIP technology, though separate from one another, operate within the same proximity. That being said, it seems likely that the Cloud platform has begun to affect VoIP service; however, whether the effect is positive, negative, or neutral is open to speculation. Currently, many VoIP providers offer on-premise solutions, hardware, and equipment necessary to run their service. In purchasing, setting up, and running these services, users can expend a lot of time and money. Inversely, Cloud services are less dependent on hardware and equipment as they utilize virtual servers to perform. As a result, users do not need to keep bulky hardware/equipment on site. Instead, it is kept by an outside provider at a remote location. In doing so, Cloud services are able to offer users tremendous flexibility and cost efficiency, as well as easier management of communications, files, etc. As such, Cloud services have seen increased adoption and implementation.
In response to the growing popularity of Cloud services, many VoIP providers have utilized this approach to offer users hosted solutions—meaning a third party provider manages and maintains a user's system from a remote location. As such, there is a distinct similarity between cloud services and hosted VoIP, with only minute differences; however, despite similarities in function and feature, the cloud still stands as an emerging service, separate from VoIP. The reason behind this is the impact the cloud has had on users (businesses in particular). Cloud technology has changed (and will continue to change) how businesses operate in a number of ways. For example, with the Cloud comes a variety of new innovations/products that were either previously too expensive or unavailable. Yet, regardless of the Cloud's continued to success, the platform seems unlikely to wholly replace VoIP services; however, it is still a possibility. Inversely, as the Cloud has allowed for expansions and innovations within VoIP services, the industry does not stand much good to consume the platform either.
The bottom line is this: BOTH VoIP and Cloud services share a symbiosis—a shared relationship in which both function in association with the other; however, what is unclear is what type of relationship these two services will have moving forward.
Mutualism: Here, both services exist benefiting from one another.
This seems to be the current state of these platforms' relationship. Currently, many users are looking to utilize VoIP telephony as well as Cloud services to reduce hardware expense and increase management, cost, and time efficiency. Virtual servers allow them to do this. As such, many have turned to hybrid solutions in which both services exist and are used in conjunction with one another. The push for hybrid solutions balances the need for both services. As such, the increased popularity of Cloud services and the increased demand for hybrid solutions has boosted the VoIP services market. "Vendors are increasingly pitching cloud telephony and unified communications services alongside SIP trunking as more multi-site businesses seek out hybrid solutions," states Diane Myers, principal analyst for VoIP, UC, and IMS at Infonetics Research.
As touched upon above, both services benefit from the other in a hybrid solution. For example, as the workplace becomes less centralized—i.e. mobile offices, mobile employees, home offices, etc.—cloud services provide the flexibility needed to maintain a unified system; however, while the workforce stretches out, users will still need the same functionality from their phone systems. This is where VoIP services come in. VoIP providers can utilize the cloud infrastructure to fit users with extensions, voicemails, and other features.  In doing so, both services work together to fit users with a complete solution.
Aside from a hybrid solution, both services still exist separately—which allows users to pick and choose the service(s) that best fit their needs.
Parasitism: Here, one service benefits at the expense of the other.
Both VoIP and the Cloud could be defined as either the host or the parasite. In one instance VoIP is the host, which Cloud service has latched onto. Cloud services have sprung forward from VoIP to expand and add  new functionalities. On the other hand, hosted VoIP services share many similarities with Cloud services; therefore, the Cloud could be seen as the host. Under both circumstances, either service may start to leech and mimic the other's functionality. This could lead to a subsequent drop off in usage of either service. In a mutual relationship, VoIP services utilize the cloud to fit users with the full functionality of their phone system (and vice versa); however, if VoIP services can replicate the cloud's mobility and range (or vice versa), there is redundancy, and therefore no need for cloud platforms.
Though the above argument can be made, it's a bit of a stretch. In actuality, both services are expanding their functionalities, as well as offering users greater cost efficiency. In doing so, it is ultimately up to the user to choose which service better fits their individual needs. Despite this though, VoIP is being affected to some degree. While both hosted VoIP and Cloud services grow, on premises solutions are sure to become less and less viable. On Premises solutions require users to purchase, store, and manage/maintain all necessary hardware/equipment. This can be expensive and time consuming. Inversely, hosted VoIP and the Cloud utilize virtual servers to provide service. In doing this, the Cloud and hosted VoIP offer greater time and cost efficiency. Additionally, there is a move towards mobile devices and smartphones in the workplace. While hosted solutions can accommodate, this renders on premise solutions irrelevant.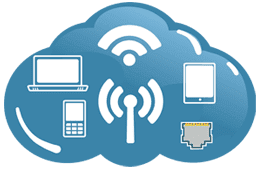 Commensalism: Here, one service benefits without affecting the other.
Much like Parasitism, this type of relationship can occur (to an extent); however, it's unlikely. As the Cloud grows, it's likely to benefit VoIP services market—as indicated in Infonetics report above; however, if VoIP continues to grow it doesn't necessarily mean growth for the Cloud. Ultimately, hosted VoIP would undoubtedly spark interest in the Cloud, but that could take some time to occur. Unlike the circumstances above, here, only one service is affected while the other benefits. This doesn't seem a viable reality as the two services are so tightly connected.
There are a number of ways to interpret the relationship between Cloud and VoIP services; however, it is important to note that BOTH these services have seen (and are projected to continue to see) rises in adoption and popularity. With that in mind it seems unlikely that the two exist within a parasitism or commensalism relationship. Instead, it seems that VoIP is learning from the Cloud and subsequently adapting to changing user demands. As this occurs, both services are likely to continue to grow, and thusly coexist and benefit from one another.