Released on the iOS platform in August of last year, Burner, the disposable number mobile app, has now come to the Android platform. Upon its initial release, the app found a lot of success—i.e. landing a slot on TIME Magazine's Top 10 Apps of 2012. Now, Burner looks to expand its availability to a new platform. While compatibility and accreditation are nice perks, many are still in the dark when it comes to disposable numbers, and more specifically, Burner—i.e. what is a disposable number, and why would users want one? The answer is actually pretty straight forward.
Telephone numbers have seen a number of incarnations over the years—all of which have allowed different functionality (i.e. landlines, cordless, mobile, etc.). Disposable phone numbers are no different. A disposable number is just that—a temporary phone number separate from your fixed number to be discarded after use. That being said, Burner is the leading mobile app providing these numbers. Burner fits users with a sample mobile phone number equipped with 5 minutes of talk time or 15 SMS text messages (for free). The number is available to users 24/7, or until allotted minutes/texts have been used. Additionally, users can elect to extend their number for 30 days and add 50 minutes or 150 SMS messages for 5 credits (pricing for credits ranges, $1.99 for 3 credits to $11.99 for 25 credits). Either way, when the user is finished with the number, Burner "burns the phone number"—meaning the app takes the number out of service and wipes all of its data from the user's phone. When this burning is done, the number can no longer be reached. For example, if someone calls or texts that number, they will receive an error message.
With all the apps features and functionality laid out, one may still be wondering why this type of number would be wanted. The answer is quite simple—extended user privacy and security. Ad Hoc Labs, the developers behind the Burner app, define the app as being "a privacy layer for your phone." The primary function of a disposable number is to help users protect their identity and keep their private information private. Now more than ever, people are much more interconnected. Having said that, it's very easy to find information, connect, and stay connected with people. While this can be very beneficial, it can also lead to breaches is privacy.
As stated above, information is very obtainable. Subsequently, privacy and security are much harder to maintain. With a variety of tools, users' information can be lifted by unauthorized parties; therefore, many people don't feel comfortable disclosing their information, more specifically their phone numbers, to new people, websites, agencies, etc. Disposable numbers give users a way around this. As stated above the number has full functionality and limited work time, which the user selects. Once the user is done with the number, they are able to terminate it—clearing all data from their mobile device, and thusly making communication via that number impossible. This is perfect for a number of users. For example, if someone wants to place an ad on Craigslist, they'll have to post a contact phone number; however, one doesn't want to publish their personal line on such an easily accessible, public forum—i.e. it could lead to spam, identity theft, and a laundry list of other horrors. In using a disposable number, users can leave a temporary number that's function is suited for such a circumstance.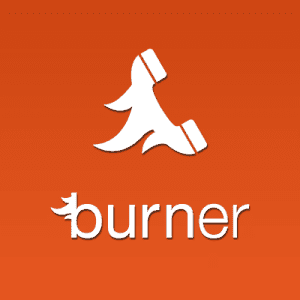 While the Burner app is both popular and well accredited, it is not the only game in town. For example, there are Burner phones available, as well as other services—i.e. NotMyNumber, another temporary number mobile app. Despite these other options, however, Burner may be users' best bet. Typically, burner phones can cost between $20 and $30 (a piece). Inversely, the Burner app is free (with paid extensions an option) on both iOS and Android platforms; therefore, users can end up saving quite a bit. In comparison with other apps, Burner has a sterling reputation complemented by acknowledgements from TIME, Wired Magazine, Engadget, Lifehacker, and more. So, while other options may be available to you, Burner may be your best bet.
Aside from expanding to the Android platform, iOS users will also see a new update which includes "smarter notifications as well as the ability to keep easier track of conversations by way of favoring and archiving." With all that being said, disposable numbers look to be a valuable commodity to users in an increasingly digital world. The Burner application may be the right tool to repel the intrusive nature of increased interconnectivity.
Related Articles:
– Difference Between a Phone Number, an Extension, and a Line
– VoIP Providers Want Direct Access to Numbers Pool
– How Do I Prepare for Business Number Porting?