There is a distinct trend developing, and it's impossible to say you didn't see it coming. Mobile VoIP use is surging, as the technology begins finding itself on the radar of more and more wireless users.. In fact, we are reaching that point where VoIP usage is becoming more than a trend – it's a very real threat to the profits of leading carriers. Many companies have had plans to launch initiatives in the new year for the Mobile VoIP & UC Market, and it really isn't personal, it's 'just business' as they say. There's much speculation, but opinions seem consistent with this movement resulting in a 'can't beat 'em, buy 'em'/join em' outcome [see Nimbuzz's agreement with Singapore-based mobile carriers], to companies possibly creating their own blend of mobile VoIP solutions.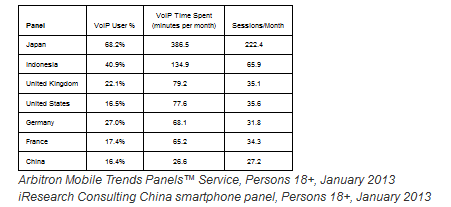 The reaction from providers will most  certainly vary, especially in light of the variance in "market and demographic groups" – a recent report from Nielsen, focused on mobile consumer usage rounds out this theory. This report lines up nicely with a study from iResearch/Arbitron, Inc., noting the use of VoIP applications in Japan exceeded that of seven other countries considerably. The U.S. actually came in 6th, nearly having less percentage than China, with more minutes spent per month. This is clearly a result of the fact the United States doesn't exactly boast the most communications-based app smartphone user, with other locales having their own preferences. This isn't to be taken negatively, as some applications might come in as a necessity in areas with poor reception, or simply for their cost efficiency. In many markets this increased penetration is being led by a new generation of young adults eager to embrace smartphone technology.
Old Dogs, New Tricks: The numbers are all there, but the explanations for how to prepare for this impending future are not. Perhaps that's what makes this trend so exciting and frightening at the same time. What will become of AT&T, Verizon, and others who have been providing voice service for years? On the other end of the spectrum, how will developers of all these great new mobile VoIP solutions continue to be players on the bustling IP communications field when veterans desire them to be sidelined? In a recent study, Juniper Research estimated that in less than a decade, one of seven mobile subscribers will be using third-party OTT solutions. This adds another element to the mix, and if that weren't enough 4G LTE will have it's own impact on mobile VoIP against the backdrop of companies dredging for profit and what's rightfully theirs (with an anticipated 785 million LTE subscribers by 2017).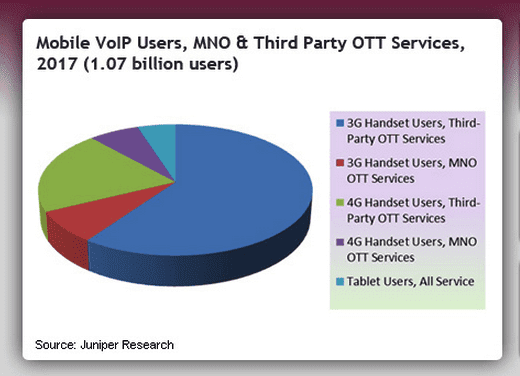 The New Frontier​: Again, there's that year that keeps coming up in studies – 2017. There is still the maturation of VoLTE, which is slated to abandon older forms of connecting while combating the looming threat of OTT services. Market adoption is very slow, though cellular soothsayers predict that carriers will forbid users from using VoLTE anywhere else than their own proprietary service. The tides are already changing, with providers shifting focus from minutes and SMS to more finite data plan offerings.
As much as possible, I do use my cellular provider as a dumbpipe, though I feel these days are coming to an end. One thing users can be sure of, is their longstanding carriers aren't going anywhere. Spectators will continue to pontificate as to the extinction of these companies, though my premonition is it will be astoundingly clear that is not going to be the case before 2017 even hits. Save your thoughts, and your money…
Related Articles:
– For the Sake of VoIP & 4G: Do NOT Give Up Your Unlimited Mobile Data
– AT&T to Invest $14B in VoIP, Cloud, & Mobility