Today, we took a look at business VoIP provider, nexVortex, gauging how they stack up among the vast number of choices companies have. The perk of going with this company is that they are a BYOB wholesale SIP Trunking solution – in other words, bring your high-speed connection, and enjoy automatic provisioning with high-quality call routing, nexVortex, Inc. was founded in 2002 and is based in Delaware, with a corporate office in Virginia. Their specialty is namely in SIP Trunking, with a central focus on customer service and a vision to create a Universal IP-based Global Communications Infrastructure. Using SIP endpoints, SIP switches, and even mediums that aren't particularly built for SIP, the company had an epiphany of sorts. That realization was that the VoIP market didn't need another manufacturer or software client, it needed a comprehensive service provider.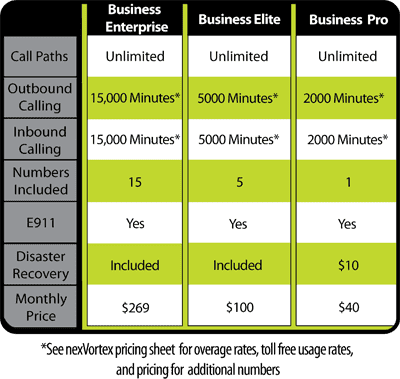 At this juncture, it became clear that their journey to their success had been fueled by SIP, but I needed more. The next natural step was to take a closer look at their offerings, starting with their main direction in providing SIP Trunking service. The company offered some highly flexible billing plans, with different strokes as compared to other providers. The fully customized plans are set to company needs, based on calling patterns and call volumes. Included from smallest to largest,  a Business Pro Plan, Business Elite Plan, and business enterprise plan, ranging from $40 to $269/mo with no setup fees. All of the offerings were robust and were, as mentioned in nexVortex's mission statement, affordable, not to mention well-designed. The pricing sheet was incredibly logical, with lots of options for scalability, and little, if any grey area. nexVortex definitely does things differently, via a refreshing approach to providing phone service.
nexVortex also offers Audio Conferencing service, with on-demand conferencing for up to 35 participants. With a new SIP Trunking account, these were offered on a pay as you go basis, with all accounts having multiple access numbers and conference bridges. Conference calls were billed on a per-minute basis according to the number of individuals in on the call, along with the duration. In reality, this seemed an option I'd pass on for several reasons, as it can be dangerous ground to tread on. Conference calls can last from a few minutes to a few hours, and I'd rather not be concerned with the clock when the call would obviously be the number one priority. Conference bridges are typically paid, so there's nothing new here, yet there are plenty of better alternatives that won't tax your company on the amount of participants.
There is also an Internet Connectivity service from nexVortex to optimize company infrastructures, including T1, Bonded NXT1, T3/DS3, Ethernet and EOC, and finally, MPLS and Point to Point Infrastructure. Of course, customers may call for a quote on connection pricing, as the size of the project will most certainly vary.
The great things about nexVortex I saw thus far, included reasonable rates, focus on high performance, and an exuding of care for client relationships. Another fantastic thing about nexVortex, is the allocation of free trunking channels, allowing customers to scale up and down as needed, HQ voice, lots of compatibility with IP-Dealers, and rave reviews for the web portal were abundant across the web. The roster of SIP-enabled products certified through their service is also first-class, with big names like 3CX, AT&T, Asterisk, Cisco, and more. nexVortex's extensive team of channel partners appeared the perfect network to adequately equip resellers for the indefinite future, with a comprehensive section on educating partners, along with the option to sign on for upcoming webinars.
All in all, nexVortex is a company I'd certainly put my trust in, with my only qualm being in the conferencing system. By using SIP Trunking, the quality and reliability of calls is maximized,  eliminating the need for Primary Rate Interfaces (PRIs), ISDN Basic Rate Interfaces (BRIs), and local Public Switched Telephone Network gateways. With this understanding, businesses of around 20 or more will find nexVortex to be a secure, flexible, and cost-efficient option. Additionally, being a partner or customer of nexVortex has its respective benefits,  as the company touts a service that's controlled (yet flexible) and organized, not to mention beautifully designed for a wide range of enterprises.
Related Articles:
– Most Popular Small Business VoIP Phones
– Business VoIP Buyer's Guide – 10 Questions to Ask
– SIP Trunking Providers