At this year's ITExpo, RingCentral have been an incredible presence, whether it be in the insights of their reps and exhibitors, or the actual exhibit itself. Their booth had an indomitable amount of spirit, and I'm relatively unsure if I should completely attribute this to the orange pants. In any regard, RingCentral have really seemed to hit their stride as of late, following a powerful merger with AT&T (Office@Hand) and the rolling out of a series of new features (Business SMS, Salesforce integration, Conferencing, etc). Don't call it a comeback, since RingCentral never left – their service is simply better than ever, with all of the exclusive offerings being ready to go, "out of the box", so to speak. Bonnie Lam, Senior Director of Channel & Franchise Sales, alongside Ricky Dodd, Field Engagement Manager, brought me up to speed on some things to look for in the coming months, not to mention what's already out.
Business SMS
We've been covering it for several months, and business SMS is now officially out (beta). In case you missed it, the innovative new communications tool has been out since January 22nd, and is available to all customers. It may be toggled in the Call Controller on your desktop, and even on-the-go, through the RingCentral App (iOS, Android, BB). As I love to send picture messages for emphasis and/or shock value, I questioned if business SMS would support MMS. As RingCentral are always thinking forward, Lam informed me that it would be available in the next release, which doesn't have a distinct date at this time. For now, version 3.5.1 is a phenomenal build on the last, with a ton of features that matter, which I'll cover in a moment.
The new and improved portal in the RingCentral App allows you make real-time changes to your phone system on-the-fly. Included in each tab, are menu related help videos, along with company shortcuts for quick transfer of calls and information to and from other departments.
What Else is New?
Normally, this question would be followed by "not much" from individuals and service providers alike; not the case with RingCentral. They are doing big things to ramp up their service offering, and the list goes on:
Conferencing: Via a single company bridge, you get unlimited audio conference calling – something many providers charge for. Conferences may be initiated by each user through their unique host and participant access code, with an allowance of up to 1000 attendees (odds are you won't even need that many). With hosting comes great privilege, as you can mute participants (something I'd love to do at my own parties), get a caller count, record live, and a whole lot more. On the topic of recording, it's worth repeating you can now set incoming and outbound calls to be documented for later audio playback – one more new and innovative feature from RingCentral in ACR.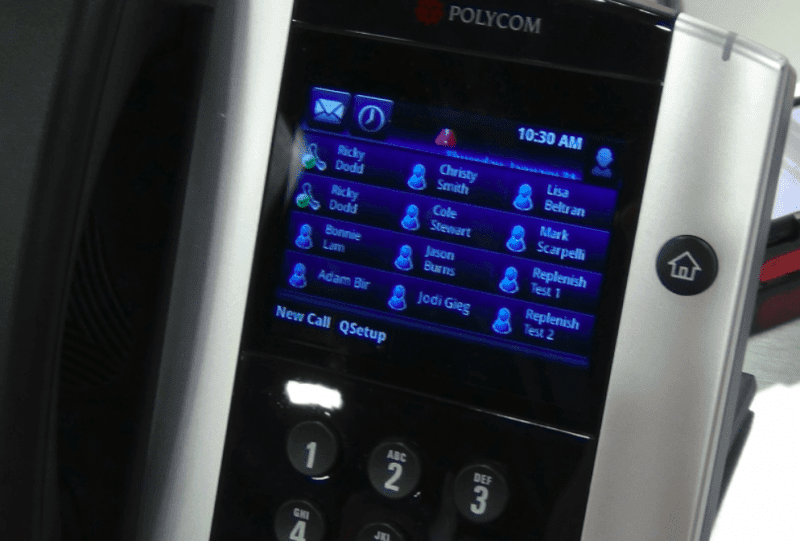 With the new integration of the Polycom VVX 500 with RingCentral, users will enjoy making real-time changes, presence monitoring, and more with the touch of a finger.
Integration: Bringing big features to small to medium businesses, RingCentral are proudly rolling out Salesforce integration to streamline business and bring a lasting impact to company productivity. Their representative on hand, Ricky Dodd, gave me a close look at the vibrant capabilities of the RingCentral App on an iPad – turning the tablet into a comprehensive controller for his phone system. While logged in as the administrator, associated users may import contact seamlessly, with this web-based portal/app working especially well with RingCentral's new Polycom VVX500 integration. I was impressed to see real-time changes made by Ricky on the tablet, reflected on the touchscreen of the VVX in mere seconds. Kudos to RingCentral for exhibiting technological prowess that boundlessly useful and seamless to boot.
I can't wait to return to our New York HQ and give many of these new offerings a try. RingCentral have seemed to succeed where other companies have failed, rolling out SMS like it's never been experienced before, and building an application that's highly functional without a steep learning curve. Despite following them for months, there were many things learned at this year's ITExpo East that I was simply unaware of. Rest assured we'll be tracking the cloud-based VoIP provider daily, as they've surpassed revving their engines, and are redlining full speed ahead towards new ground.