RingCentral offers a ton of features within their VoIP service. Amongst these is their Call Controller softphone. The softphone feature allows for users to make outbound calls directly from any Internet enabled PC with only a headset required. Additionally, it provides users with optimum call management features such as call screening, one touch call response, call routing (to live phone, office, home, or mobile phone), text to speech message before answering for callers, conference calling, call recording, sending and receiving faxes, Microsoft Outlook integration, and easy to access voicemail. However, while the features and options have a wide range of purpose and function, installation and general use of the Call Controller may seem complicated to users. So, we have made a hands on, step-by-step tutorial to help better explain how to install and operate the RingCentral Call Controller.
Step 1. Logging into Your Account – Upon reaching the main RingCentral website, click the Login tab, located at the top right corner of the homepage. This will take you to the Member Login page, where you will need to enter your Phone Number (with area code), Extension (optional), and password. Once you have entered this information correctly you will again be redirected to another page.This page is your account homepage. You will be able to access all features and services from this page.
Step 2. Select the Call Controller Feature –  At the top of the page there is a blue line menu fit with a number of different headings. The headings include (from left to right), Overview, Messages, Activity Log, Contacts, Settings (with its drop down menu), Billing, and Tools (with its own drop down menu). Place your mouse over the Tools heading for the drop down menu to appear. Here you will find Mobile Apps, Softphone, Tell a Friend, RingMe, Appearance, and Account Validation. Select Softphone from this menu.

Step 3. Download RingCentral Softphone – Once you've clicked Softphone, you will be redirected to another page. This page is where RingCentral allows for the Softphone software to be downloaded.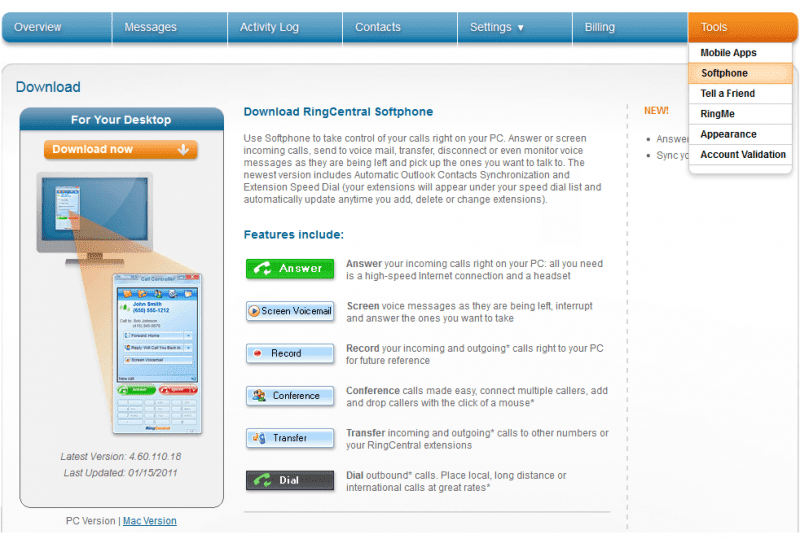 On the left hand side of the page there is a column entitled, "For Your Desktop." Under this there is the "Download Now" feauture. Before downloading, check that you have selected the right platform—directly under the column are two options PC version and Mac Version. Choose the appropriate platform. Once you have selected your version, click "Download Now." The download will ask to be saved and then begin.Aside from providing the download link(s) here, RingCentral offers more expository information regarding the Call Controller Softphone and the features included with it.
Step 4. Setup the Call Controller Softphone – Once the download is complete, the Call Controller client will open automatically. The controller will look like a digital cell phone. Additionally, any available updates may pop up along with the controller.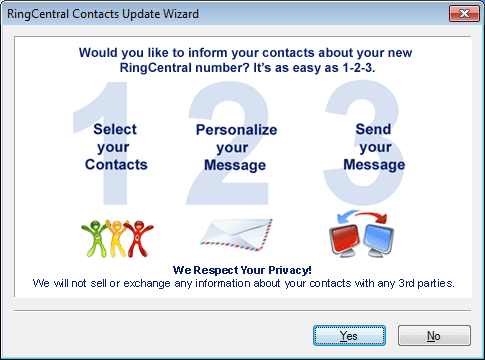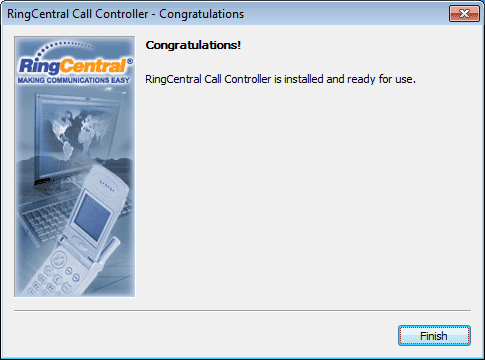 Aside from updates, another window will pop up. This window will congratulate you on successfully installing the software. It will read, "RingCentral Caller Controller is installed and ready for use." At the bottom right hand corner, click finish to begin using the controller.
Step 5. Operating the Call Controller – The face of the Call Controller may seem intimidating at first; however, its very easy to operate.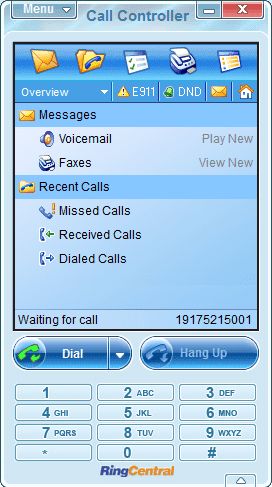 The top left hand corner is the "Menu" drop menu. This will include all links to all the features, as well as your account, tools, options, help, enable DND (Do Not Disturb), and exit. Under that are 5 large icons. They are (from left to right):
Open Messages to Inbox (Envelope)
Open Recent Calls Folder (Open Folder with Phone on Cover)
Open Online Call Log (Chart with check marks)
Create and Send a Fax (Fax Machine icon)
Open Your Online account (Chart with Yellow Bullet points)
Clicking each of these will bring you to the correlating page.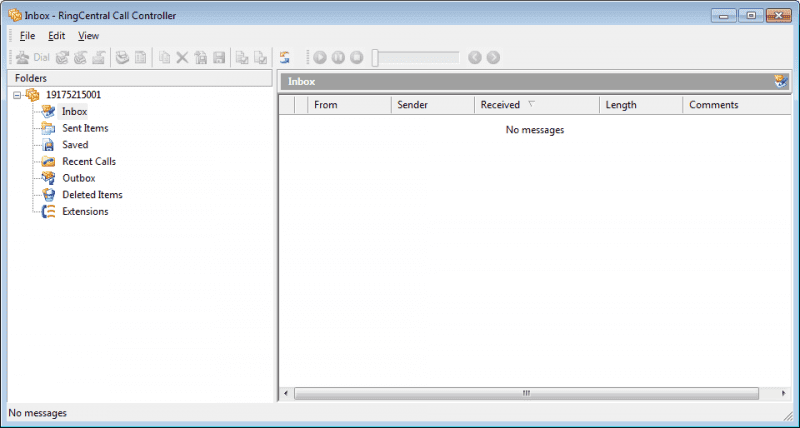 Both the "Messages" and "Recent Calls" icons open your inbox in a new window with subheadings on the left hand side. Each heading categorizes messages according to their designation. The categories include: Inbox, sent Items, Saved, Recent Calls, Outbox, Deleted Items, and Extensions. –Note: Clicking the "recent Calls" icon opens the same window under recent calls subheading as opposed to inbox.
Additionally, the "Open Online Call Log" and "Open Your Online Account" icons will redirect you to the appropriate web pages. The "Create a Fax Page" opens another window with all of the settings and required information necessary to send a fax.
Under these five icons are four more options. They are (from left to right):

Overview: This Menu is divided into Messages and Missed Calls. Under Messages there are two options, Voicemail and Faxes. Under Recent Calls there are three options, Missed Calls Received Calls, and Dialed Calls. By clicking the desired location, you will be taken to that information.
E911: make emergency calls when necessary
DND: Clicking this will enable the "Do Not Disturb" function. Once this is activated you will not receive notifications about incoming calls or messages.
Show All Messages: Clicking this will display all messages sorted by sender, date, and length.
Go To Overview: Clicking this brings you back to the general overview tab located on the left hand side.
At the bottom of the controller there is a "Dial" button (which has a drop down menu consisting of speed dial and extensions), a "Hang Up" button, and a keypad.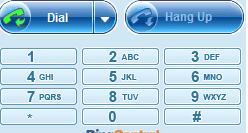 To make calls you can select numbers from your contacts, use speed dial, extension numbers, or type the numbers using the keypad. When you are done making your call, simply click the "Hang Up" button to end the call.
The Call Controller is a very useful tool that allows for extended mobility without sacrificing quality. RingCentral includes a ton of features in their softphone, which account for a number of different uses. Though the software may seem complicated at first glance, it is highly accessible and easy to download. Icons and easy settings allow for optimum ease of use. For more information on other RingCentral services including RingMe, Call Handling and Call Hunting, Auto-Attendant, and Fax, be sure to check all our blogs.
Related Articles:
– Ring Central Call Handling and Call Hunting
– RingCentral RingMe Tutorial
– RingCentral Fax-How it Works
– RingCentral Reviews