Based in San Jose, Virtual PBX are as they declare, the "pioneers" of hosted PBX. Specializing in implementing solutions without the potentially exorbitant prices of maintenance and installation, they've found success doing just that. More often than not, companies that create their namesake after the service they provide are taking a bold move in doing so – fortunately for Virtual PBX, they follow through on the moniker in a big way. Aside from this, they also offer a wide set of options that don't necessarily leave anyone out in the cold, no matter how they might be looking to apply a PBX system.
If you haven't realized by now, Virtual PBX are about options, whether you want to use VoIP phones of not – if you'd like to commit, simply use them month-to-month, or casually make calls through limited usage plans: it's all there in black and white. The setup process can be taken care of completely online, and is especially user friendly and straightforward. There's literally something for everyone, with the website and service built around that philosophy. It's worth noting that shipping costs on the phones for annual plans will be billed to you (plus applicable taxes), and upon early cancellation, the total cost of the phone will also become your responsibility. Of course, this is to be expected since companies must take measures to protect themselves from being hurt as much as the consumer does.
The features offered from Virtual PBX are exactly what you'd expect, including TrueACD (their in-depth breed of call distribution), auto-attendant, day/night modes, on-hold music, and more. Not convinced by my words alone? Take the tour…Phone systems may be managed via their dedicated, web-based GUI – which also provides real-time monitoring such as call time, caller activity, and other implementations geared towards optimizing the way you do business. The deeper I delved into Virtual PBX's site, the more I realized they are with their customers every step of the way.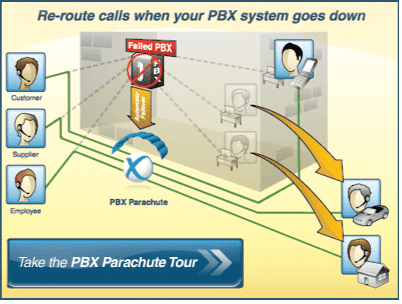 Ok, so onto the design of the website, which is of high importance considering this technology is still foreign to so many. As I recently mentioned, Virtual PBX are with you every step of the way, and navigating their website is probably one of the easiest and informative experiences I've had as compared to many other service providers. Little nuances such as being able to subscribe to an RSS feed pertaining to system status is great, plus other areas of their support section which offer interactive training, a detailed VoIP glossary, and other tips and tricks that make their service alluring.
The BBB have rated them an A+, the are constantly bringing in awards, not to mention boasting a strong community full of testimonials and places to obtain detailed information on product updates and developments. Virtual PBX are incredibly active across the industry, and stand as a huge presence for their customers. They have designed a complete and intuitive disaster recovery service in PBX Parachute, so it goes without saying that business continuity is also a facet in which Virtual PBX have got you covered. Need a professional greeting? Well, they also recommend the services of Snap Recordings – a highly esteemed company in their own right. Frankly, my exposure to Virtual PBX has been limited to reading headlines about their awards and innovations. After a short tour of their website and a closer look at their service, there's no doubt in my mind that Virtual PBX are an absolute force in the industry and will be so indefinitely.
Related Articles:
– Virtual PBX Honored as Silver Winner at 2012 Golden Bridge Awards
– Virtual PBX Announces iPhone App with PBX Functionality