PBX, or Private Branch Exchange, systems offer a number of call routing and connecting features. Through its use of hardware, PBX service contains numerous features that range from call routing and personal email, to remote extensions and call interception. Some features include Call routing, Interactive Voice Response (IVR), Remote extensions, 3-way calling, Personal voicemail, Line transfers, Call Waiting, Call conferencing, Music on hold, Company directory, Call Interception, and Call Reporting.
While the list of features stretches on, PBX systems can typically be separated into different categories of service types, one being Hosted PBX, and the another being Managed PBX. While both services offer similar features, as well as similar infrastructure, the difference ultimately lies in the user's level of involvement.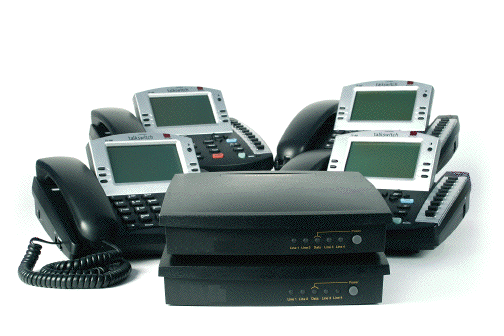 Hosted PBX: The Hosted PBX system provides all the functions and features of the standard PBX system without having the hardware located or managed on site. Instead, an external provider manages the system off premises while the PBX services are managed and delivered through the internet. In having another party manage and maintain the technical aspects and hardware of the system, the process becomes even more simplified. This locational shift can greatly impact everything from the quality and benefits to cost and accessibility of the service.
 In this scenario, the user does nothing but pay for the services received. The hosted solution frees users of any technical capacity, and therefore eliminates the stress of dealing with the hardware. As a result this solution is much more accessible to users. In the same vein, the hosted solution is typically better suited for small to midsized businesses, as the storage room to house all the hardware is not required. In a hosted system communications are more wholly unified, which eliminates the need of multiple sets of wiring and other redundancies. With tech all accounted for, the hosted solution also condenses the infrastructure within an office.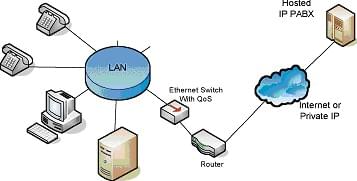 Aside from the physical advantages of Hosted PBX, there is greater cost efficiency in this method. Here, there is no purchasing of hardware. Also in not owning the hardware, upgrade and maintenance costs become nonexistent. Upgrades are available immediately through the provider. As a result, the user doesn't have to be cost conscientious about upgrades. Instead, users know they have quality service.
Hosted PBX offers an array of options that ranges from basic, where an administrator plug phones directly to the network and configures the router, to more advanced, which offer additional features and services. It is important to understand the type of service needed as it will dictate the features included and overall cost. Where other categories of service are used to replace service, the hosted system can be used independently, or in conjunction with another service.
Another feature built into hosted service is greater security and protection. As the service is hosted by another party, security is obligatory, which ensure providers offer sufficient security and safety measures. Amidst the various differentiation, Hosted PBX allows for greater flexibility and reliability. In having external parties provide the service(s), there is a tremendous amount of flexibility that allots for a number of various work locations (in office, home, on the road, etc.).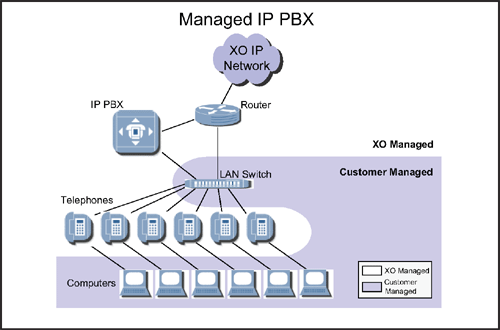 Managed PBX: Where Hosted PBX provides the system's service, Managed PBX condenses networks to more thoroughly manage and control a business's IP box. This solution allows the IP Box to integrate with WAN and LAN to deliver a number of services and features that increase productivity and allow for better network management. Where the Hosted PBX is a strict deviation from other categories of PBX service, the Managed option takes the middle ground as it allots for increased liberties, but not the complete freedom of other categorical options.
Here, as with the hosted option, a third party offers all the equipment, software, operational facilities, hardware, and technical insights necessary to provide IP-enabled phone service. As a result, the costs, risks, and technical savvy typically required are greatly reduced.  Where hosted systems benefit from automatic upgrades, Managed systems do as well.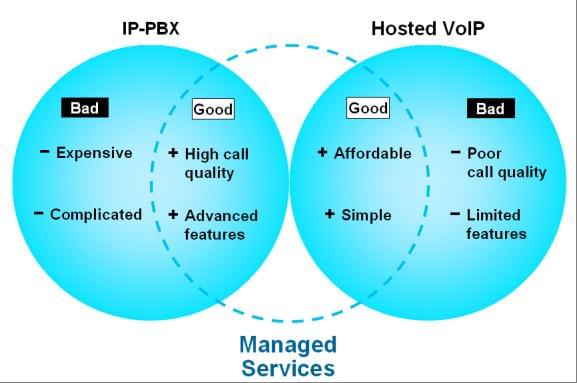 Though the similarities between the hosted category and managed option are great, there are distinguishing differences as well. For example, instead of hardware being sought out (as in a hosted solution) the Managed solution includes the design, consolidation, and application of the necessary equipment and software. While Managed PBX may seem striking similar to other modes such as Hosted PBX and traditional IP PBX, Managed solutions offer additional maintenance services, which include remote fault monitoring, trained IT personal, network surveillance, legal agreements, guaranteed network uptime and more.
As far as cost efficiency goes, Managed PBX takes the middle ground. While the managed solution is cost efficient, pricing can vary greatly. Though this is true with some Hosted solutions (as on time fees arise) pricing typically depends on the needs of the company. As a result, the scaling of costs may be more difficult.  These variables are present in Hosted PBX as well; however, here they are slightly more prevalent as complete liberty is not wholly available.
As these categories of PBX services become more commonly implemented, the features, services, and systems will undoubtedly grow more encompassing and advanced. While there are many similarities between Hosted and Managed PBX, the overall options and applications denotes more individual identities. The different system type all cater to different types of users. Regardless of the intended demographic all PBX services are available to users. As both services host tons of features and cost efficiency, these options are steadily becoming essentials as opposed to add-ons.
Related Articles
– What is Hosted PBX?
– What is Cloud Hosted PBX?