Over the past year, the VoIP industry has seen tremendous growth. As it continues to push along, many providers continue to expand their services, features, gadgetry, and so forth. In doing so, there a number of new items and accessories made available to the market throughout the year. With less than a week left in 2012, we've rounded up the top ten VoIP gadgets released this year.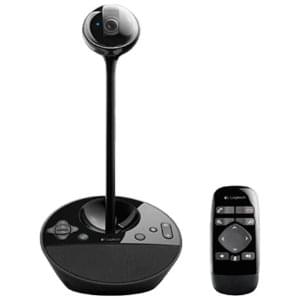 1. Logitech BCC950 Video Conference Camera: Logitech blends their high definition webcam with a full duplex speakerphone and a noise cancelling microphone to create a truly comprehensive desktop unit. The result? A high-grade webcam designed for business grade video conferencing. The Logitech BCC950 allows users to make the same impact of a face to face meeting through video conferencing; therefore, meetings can take place whenever and wherever necessary. Featuring up to 1080HD and 30 frames per second resolution (depending on bandwidth and video client), the BCC950 delivers smooth and quality video. Aside from features, Logitech is suited for both PC and Mac platforms, and offers tremendous accessibility and numerous user friendly options. Additionally, the BCC950 webcam is also primed for popular video communication services such as Skype and Microsoft Lync. Also, UVC H.264 technology allows the webcam to work with many desktop platforms such as Lifesize Connections, Cisco Jabber, and Miral Softphone. The Logitech BCC950 delivers a high quality webcam that fits your budget as much as your needs.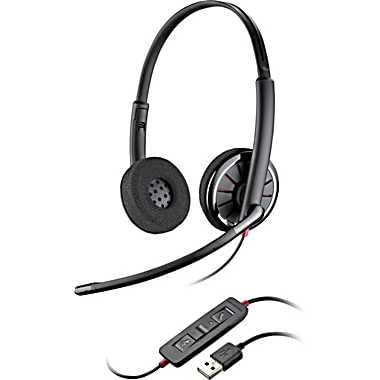 2. Plantronics Blackwire C320 USB Headset: If you are looking for a simple and quality USB powered headset for under $50, look no further. Plantronics' C320 USB Headset manages to fit high fidelity stereo audio into a light, durable, and easy to wear frame. Complete with noise canceling technology and inline volume controls, the headphones have a wide variety of applications that range from recreational to business. The two ear headset supports wideband audio as well as contains a noise canceling microphone. In addition to quality features, Plantronics' headset comes equipped with an easy plug and play installation. With accessibility, comfortablity, and durability all in row, Plantronics' Blackwire C320 USB Headset manages quality with affordability.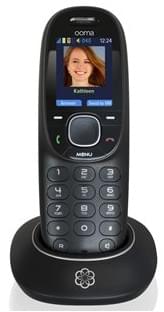 3. Ooma HD2 Handset VoIP Phone: Ooma's HD2 Handset combines the features of a Smartphone with that of a home phone to provide versatile usage. The handset offers HD Voice call clarity, as well as features enabled by the Ooma cloud platform. The HD2 also hosts a two-inch color screen that allows for picture caller-ID, as well as the syncing of contacts and profile information from networks such as Facebook, Google, LinkedIn, Yahoo, Outlook, and Mac Address Book. Ooma's web portal is also available and allows for easy management of contacts and contact information. Aside from contacts and the web portal, the HD2 handset has a detailed call log that can store meticulous records of your history, as well as allows you to view incoming calls, outgoing calls, and call duration. Additionally, the HD2 handset utilized DECT technology, which ensures call quality and security without interfering with your local WiFi network(s), and increases the overall range. With a built in speakerphone, intercom feature, and advanced voicemail features, Ooma's handset allots for greater mobility. While all the above features are available through standard plans, Ooma's Premier Services offer even more features including instant second line, do not disturb/send to voicemail, and personal number feature (which allows you to create unique phone numbers with unique ringtones for whomever you choose). While the handset does require Ooma Telo, which is sold separately, this device offers more than enough bangs for your buck without sacrificing quality.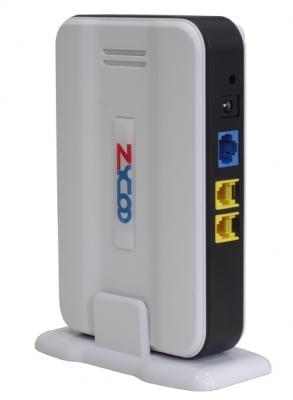 4. ZYCOO zx20-A2 Mini Asterisk IP PBX: ZYCOO's zx20-A2 Mini Asterisk IP PBX can not only provide the basic features of traditional PBX, but advanced features such as Music on hold, Auto Attendant, and Visual voicemail as well. This IP PBX solution allows users to quickly deploy VoIP networks to connect with multiple locations through the internet without changing their previously existing equipment or dial plan(s). In doing this, the IP PBX utilized traditional landlines via a gateway to connect local calls. There are a number of features available, some key ones are video calls, 30 SIP registers, auto provision, call monitoring, support POE, multiple languages, and more. Aside from features, the IP PBX is designed to function on various different VoIP applications to provide voice conferencing, support paging/intercom, and other functions.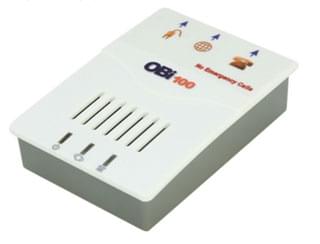 5. OBi100 VoIP Telephone Adapter and Voice Service Bridge: The OBi100 adapter is the perfect tool to help you use your existing phone and broadband router to make and receive calls over the Internet for, or close to, no charge. The adapter makes and receives phone calls by using your home phone and high speed internet in addition to a VoIP internet service provider (for example, Google Voice). In terms of features, the adapter allots users a ton of features that were previously unavailable. As a VoIP telephone adaptor (ATA), the device supports both GV and SIP services. Additionally, users can make free calls using the OBiTALK network, where users connect to other OBi devices or by using mobile applications (OBiON for iPhones and OBiAPP for PC). Aside from the network, the OBiTALK portal allows users to manage their account, connect to friends' devices, add services, download apps for PC, and speed dial up to 99 numbers. The OBi100 adapter also includes a number of service features such as caller ID, Call Forward, Anonymous Caller Blocking, Message Waiting Indication, and Three Way Conference Calling. In using this device, you will only need to pay for the device, as it is not a locked service; however, you can add additional VoIP services to make and receive calls outside the network. The OBi100 VoIP Telephone Adapter and Voice Service Bridge ensures quality service and requires only a broadband internet connection, an internet router with Ethernet port, Analog/Digital Corded or Cordless Phone, and (optional) VoIP service provider account.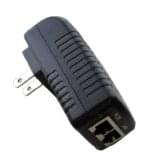 6. Universal 48V Wall Plug POE Injector: Weno Networks' universal wall plug is a low cost Passive POE injector that is compatible with a wide variety of devices that are passively powered by POE. Compatible with most Cisco, Aastra and Polycom phones, this is a midspan device. This simply means there is a data in port and an output port with power and data. Additionally the plug is fit with RJ45 connectors that are shielded so that the path is not interrupted between the data source (computer or router) and the device being given the POE power.  Aside from protection and feature, the plugs are autoranging so they accept AC inputs from a wide range, and supply regulated DC voltage at the POE output. Weno Network's' Universal plugs also feature a number of security and safety protections to prevent shorts, surges, etc. With security and quality assured, the POE Injector is conveniently compact in its design, and again is compatible with a number of different devices (save for some older models).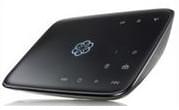 7. Ooma Linx VoIP Phone and Device:  The Ooma Linx wirelessly connects phones, fax machines, and other telephony devices around your home with the Ooma Telo. By using the latest DECT technology, the linx offers convenience and portability as it allows you to install your main phone at any location convenient for you, even if the router and Telo are remotely located. In addition to convenience, the Linx also supports advanced features such as distinctive ring patterns, caller-ID, call waiting caller ID, and visual message waiting indicator. The Ooma Telo is needed here, as well as with the previously mentioned HD2 handset; however, with optional premier services, the Ooma Linx allows users to configure a second line without a headset. Premier Service also allots for additional advanced features and configuring personal devices.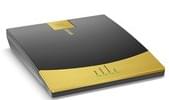 8. snom ONE Mini IP PBX: This mini unit, though small in size, runs the full array of features and functions of the standard snom ONE and IP PBX. While the unit can be powered by POE, the snom One Mini IP PBX can handle up to 20 extensions in addition to a host of features. Some of these features include running snom ONE software, solid state body, uses less than 60kWh annually for power (compared to a PC's 876kWh), and is POE powered. Additionally, this mini IP PBX can be used as a backup SIP registrar for cloud services. The snom ONE mini hosts a 1.4GHZ Processor, 512MB NAND/512MB RAM, USB 2.0 port, and 1GB Ethernet capability. With all the power and functionality of the standard, the snom ONE Mini IP PBX is top notch.
While the ten gadgets above are not arranged in any specific order, they are amongst the best gadgets made available throughout the year. Though the list is not comprehensive, it includes a little bit of everything. As the year comes to a close we look forward to next year and multitude of tech that will inevitably be made available. As the year moves forward we will continue to cover new product releases, updates, and more. 
Related Articles
– Top 20 Most Influential People in VoIP of 2012
– Top Public VoIP Companies in U.S. and Their Performance in 2012