RingCentral is re-imagining their phone system to include a host of new features, as well as further simplify their user interface. Under this initiative, the company looks to create an improved web interface, as well as to better implement Business SMS, which allows you to use your RingCentral business number to send and receive texts with customers, clients, departments, etc., and Conferencing, which allows you to setup and join conference calls anywhere and anytime even from your Smartphone.
RingCentral has announced that these updates and more are 'Coming Soon," and will happen automatically in the next few weeks. Additionally, the company has stated that users should stay tuned for further details and information. In the meantime, however, RingCentral has released a video overview of their new interface.
While the video offers a step by step tutorial, we look to break down some of the updates being made.
When the new updates are released, you will first have to log in to your RingCentral account to access the user interface and all of its updates and changes. Upon doing so, you will be privy to all the available enhancements, which allot for easier account updating and management. The first change covered pertains to the setting consolidation and shortcuts.
Setting Consolidation: RingCentral will add setting shortcuts, located at the top right hand corner of the page. The shortcuts are designed to allow both administrators and users access to quickly and easily change commonly used settings.In addition to setting shortcuts, the interface adds changes to some of the drop menus. The previous menu, composed of four settings (featured below) will be refit.

The "Settings" drop menu has been simplified to include two brackets, Phone System, where you would control company settings, and My Settings, where you would control your personal settings.

Phone System: Upon clicking the "Phone System" tab, you will be taken to a new page. On the top of the page, RingCentral has added a box of Company shortcuts. These shortcuts include the most popular settings, and will take you directly to each option. The shortcuts are: "Edit Company Hours," "Change Company Greeting," "Set Company Caller ID," and "Set Company Call Recording."

So, for example, if you needed to edit company hours, all you would need to do is click on the "Edit Company Hours" tab, and you would be taken to a simplified mini window. The window would appear on top of the current page instead of in place of it. There, you are given options to specify and set your hours accordingly.
Despite the increased accessibility of the user interface, you may still have questions. In anticipating this, RingCentral has also added a number "How Do I…" videos.
Videos: The videos are designed to answer the most common questions, and are available directly under the links on top of the page. Some of these "How Do I…" videos include changing what callers hear, setting up call forwarding, changing company voicemail, and more. Each video takes a hand-on approach to helping you with any subject.

Aside from offering additional help and support, RingCentral has included a number of quick links, which are located on the left hand side of the window.
Quick Links: These links are designed to allow you access to a number of features/options throughout the 'Settings" tab. They can be accessed at any point throughout you navigation through settings. Some of these are Company numbers, Auto-Receptionist, and Phones.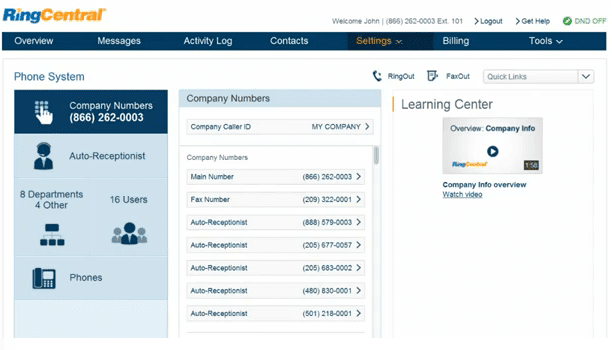 For example, if you enter "Phone System" from the "Settings" drop menu, you can click "Company Numbers." Once accessed, you will be taken to a page that lists all the company's numbers that have already been entered and saved (for example, main number, fax number, auto receptionist, etc.). Here you can edit accordingly.
The RingCentral Interface further blends feature with accessibility in reimagining their system. While there are pages and menus dedicated to service, the provider never abandons you. Throughout your navigating the "Settings" menu, each page is fit with options for additional information and help.
RingCentral has grown its interface to allow for a more universal accessibility and greater user ease. By implementing a number of new shortcuts, tutorial videos, and additional supplemental to aid in changing user settings, they set out to create an encompassing and inclusive interface. While the system update has still yet to come, we will be following RingCentral's updates as they develop. 
Related Articles
– RingCentral Interviewed at CloudBeat on Their Launch of Business SMS
– RingCentral Reviews