You might be asking – what's the Polycom Experience Event all about? Well we went to find out first-hand at One Penn Plaza in New York City earlier this morning, against the backdrop of the bustling metropolis. In a packed room with about 25 others, roughly 300 people from over from 12 different locales dropped in to discover Polycom's recent developments. Prior to kicking off the live presentation, Polycom affirmed their allegiance to the customer, stating that above all, they were there to "listen, serve and understand" the needs of businesses that rely on them. The word ubiquitous never applied to anything so perfectly, and Polycom is showing the industry how, as their RealPresence solutions take us to new heights, never imagined or achieved before.
Jim Kruger, Senior Vice President of Global Marketing was first to take the floor. He began by elaborating on the excitement you could truly sense in the Polycom family. We've all witnessed them making big headlines lately, getting recognition, and even ringing the opening bell at the NASDAQ – but what's next? In short, a lot of things, which I'll discuss in a moment. The main theme of "industry first" which Polycom so tirelessly devotes itself to, is a sure feature of the new and upcoming releases unveiled today.
Polycom HDX 3.1
Building on what was already a powerful tool, Polycom recently announced Polycom HDX 3.1 – a software update that is generally available worldwide. Besides the previous capabilities, it comes with some new and intuitive ones that'll be sure to enhance collaborations ten-fold. One I found to be really awe inspiring is the Polycom RealPresence Whiteboard, the industry's first embedded virtual whiteboard software.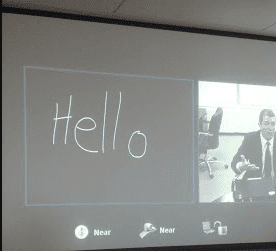 Polycom RealPresence Whiteboard: All you need is a standard, wall mounted whiteboard or monitor. Users may also plug-and-play via the UC Board, in addition to operating the wireless stylus. Polycom really figured out a viable, and useful solution, considering whiteboards are nearly impossible to convey in video conferences, being they are illegible and unclear in most circumstances. The UC board content is automatically shared on other standards based conference systems, creating clear content that can be displayed as it was meant to be. Really nifty stuff, but it doesn't end there…
Content Sharing: With the growth of videoconferencing, this is becoming more of a must than an add-on or privilege. By plugging a USB directly into the HDX (or via a PC or Mac), users may share their entire desktop for presentations and the like. The possibilities are incredibly vast, with the integral part being that the continuity of meetings is never broken as users may continue to converse in audio while viewing the display.
SmartPairing: Enter a conference room, and your tablet will instantly sync via Polycom's SmartPairing. The technology is patent pending, and built into RealPresence 2.0. It wirelessly connects Apple iPads to Group Series, enhanced HDX series and RealPresence VisualEdge. Once linked, SmartPairing allows users to control video meetings with their tablets and transfer a live video call from their tablet to a big screen from their touchscreen. It also allows users to use their tablets in leiu of the standard remote for volume control and other features.
Polycom has set forth to make the software on all application have a "consistent look and feel", so you can pick up anywhere from any device, and immediately recognize the interface. A key part of their goal, is to create backwards- and forwards-compatibility for investment protection, with powerful experiences that are so easy to use, a "five year-old" wouldn't have an issue operating them. From what I could surmise following their demo today, they've successfully reached that goal.
What's Next?
Though Polycom HDX 3.1 is available now, there's still the developing and ambitious CloudAXIS Suite. There were a few important questions presented by the crowd, which were thoroughly answered by Polycom. Here are some of the key points of note that will be included with CloudAXIS:
The original release will support Facebook, Google Talk, and Skype, with more flavors of face-to-face chat to follow
As discussed previously, CloudAXIS will employ a drag and drop system for participants
It will come as a software download built on top of RealPresence, of course
Invitations to meetings/conferences will come in the form of an embedded link (prescheduled, calendar, ad-hoc) which may be shared via IM, e-mail, and other messaging means (Static Links also will be available)
30-40 participants
Will be released towards the end of March, with a beta announcement soon
Polycom has been working diligently to make sure use of CloudAXIS will always be 'authorized and authenticated', thus creating a platform all companies may use securely, and without any issue. We'll be looking forward to more news from the true "best-of-breed" video conferencing company as it becomes available. It might seem like they've thought of everything, but the company has firmly conveyed that their work is only beginning in the neverending quest to create ubiquitous, top solutions.
Big thanks to Polycom for throwing the event and hosting us today – it was truly a pleasure.
Related Articles:
– Polycom Capital Program Creates Flexible Financing for Businesses
– Forbes Interviews Polycom CEO Andrew Miller
– Polycom Takes RealPresence to New Heights