Cisco is launching a version of WebEx for colleges and universities – one I wish I had access to throughout my academic career. The advanced modification on the successful Cisco platform is called WebEx Social for Higher Education – an integrated, cloud-based solution developed in conjunction with several leading institutions of higher education. The new offering integrates WebEx Social, WebEx Meetings and WebEx Messenger. The platform is delivered through the Cisco WebEx Collaboration Cloud, and is available to institutions of higher learning through a site license. Formerly known as Cisco Quad, WebEx Social is integrates social networking, content creation and real-time communications.
WebEx social is highly customizable – with it, users are able to:
Change layouts
Add portlets
Open Social-compliant gadgets
Include RSS feeds
View an activity stream of updates from their network
Monitor a Watch List to keep current with shared content
Stay connected through multiple devices (i.e. tablet, smartphone)
Built for higher learning, WebEx Social also enables universities to dynamically manage access for large numbers of users through the use of Active Directory synchronization and Shibboleth authentication. More than simply a collaboration tool, Cisco's new offering is a 'social meeting place', capturing the essence of collegiate student life and academics in the cloud. Student's may engage material even if they are unable to make it to class for whatever reason that may be. After reading this, I immediately asked "how". Well, the continuity of the learning process has been turned on it's ear, as professors can now pre-record lectures to be accessed later. As more details were obtained, I increasingly wished WebEx Social was in existence during my academic tenure, as I had a few occurrences involving family along with my personal well-being which kept me out of class, and essentially, out of the loop.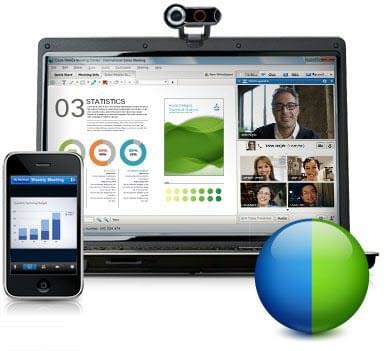 "A student who needs to return home mid-semester because of chemotherapy can even present a paper and take questions from the professor and classmates," says John Tuohy, education solutions manager at Cisco. "Fortunately, not being able to come to the classroom no longer has to interrupt continuity of learning," added Dr. Greg Mathison, manager of education solutions at Cisco. In the same regard, students may also enjoy guest lecturers from anywhere in the world at any time. The professor or instructor simply emails an invitation, and then students and guests can join a voice, video, and web sharing session by clicking a link. The possibilities are pretty much endless, and amazing.
Instructors may also set up a curriculum, enable course registration, and manage courseware within the platform, as it integrates with other LMSs (learning management systems). This open and capable environment provides users with the ability to quickly ID subject matter experts, obtain group feedback, and co-author and share documents, while having access to mentors, relevant communities, syllabi and vidoes.
Within a WebEx social group, members may utilize WebEx Meeting and WebEx Messenger to share information, by posting a document, collaboratively working on a document (à la Google Docs), or conducting a video
Web conference
for up to eight attendees via VoIP. Cisco said Web conferencing beyond the default 8 is also available at an additional charge.
There's no word on when WebEx Social will be globally available, as it's still being tested. For now, the lucky test subjects include leaders from Duke University, North Carolina State University, Case Western Reserve and the University of Chicago. Duke is in the process of making it available throughout its entire academic community, and from the sound of it, saying I empathize with their move would be a gross understatement.