The Good
---
Touch screen interface is easy to use, whether you use a ton of features or just a few.
The Bad
---
Doesn't come with a power adapter. If you don't have a PoE setup then you'll have to purchase one separately.
The Bottom Line
A Plethora of features for the busy executive, the multitasking receptionist, or even the rest of us.
Downloads:
Polycom VVX 500 Frequently Asked Questions
Polycom VVX Camera Practices Guide
Top 5 Pros:
Top 5 Cons:

1. Full Color Touch Screen Display

2. Intuitive & Extensive Menu

3. Various Provisioning Options

4. Easy Installation

5. Flexible Platform Able to Support Future Apps & USB Add-Ons

1. Lack of Hard Keys

2. Does Not Include Power Adapter

3. Inconsistent Touch Screen

4. Handset covers the Speakerphone

5. Small Size, but a little Bulky
Editor's Review
The VVX 500 is a twelve line business media phone that works to integrate expansive voice capabilities with various web-applications. In doing so, however, the device strives to retain simplicity and accessibility, and for the most part, it does. The VVX 500 utilizes intuitive menu layouts and easy-to-use operability, making navigation all the easier. This, along with a number of functions/features, enables users to augment productivity and efficiency with communication exponentially. Though might sound a bit too good to be true, the device allots for a number of implementations that build out function while simplifying communication processes. For example, users can extend the VVX 500 phone screen to their PC desktop to carry out functions. Also, with integrations like Microsoft Exchange, users are able to view their Outlook calendars directly from their phone.
Beyond this, the VVX 500 utilizes unified voice and video solutions, which work to optimize timeliness, as well as overall productivity and efficiency. For example, users can utilize video playback capability for streaming content to compliment training and multipoint communication applications. Again, this can seem a bit intimidating to new(er) users, but the VVX 500 utilizes a stripped, bare bones approach pretty effectively.
While an expansive portfolio of functions and features is always nice, perhaps the most noticeable feature of this phone is its adaptability. The VVX 500 is designed to be easy to manage and maintain; therefore, it is able to flourish in a variety of environments including SMBs and large enterprises. The reason? Web-based intuitive configuration methods allow for easy set up and management of any number of phones (small or large) throughout a business. As such, there is less dependence on IT support—which, along with an accessible user interface, enables businesses to reduce IT support costs. Furthermore, the VVX 500 is highly interoperable; therefore, integration with third-part UC and productivity applications is simple. Beyond this, the Polycom device supports expansion modules and accessories for applications like Video Conferencing and wireless networking. Additionally, the use of extensible technology also readies the device for future apps and USB add-ons.
Overall, the VVX 500 is a complete media phone that's designed to integrate into various UC environments. Though the device is equipped with extensive capabilities it does retain a simplistic approach. Yet, even while the menu is intuitive and the layout is accessible, some amenities may be lost on new(er) less experienced users. Ultimately, however, this device is perfect for businesses—namely executives, knowledge workers, and call attendants—as it is highly versatile.
What's in the Box?
– Base Console   – Universal Power Adapter   -Handset & Cable   – Base Stand   -Network (LAN) Cable
-Quick Start Guide    -E911 Service Information   -Product Registration Card
The Bottom Line: Polycom's VVX 500 features a plethora of features for the busy executive, the multitasking receptionist, and/or even the rest of us.
Interface Experience
The VVX 500 has eight plugs on its back side: 1 for the 48V power supply, 1 for headset, 1 for LAN, 1 for PC, 1 for the handset, 1 for the Aux, and 2 for USB (however one is a bit hidden at the top).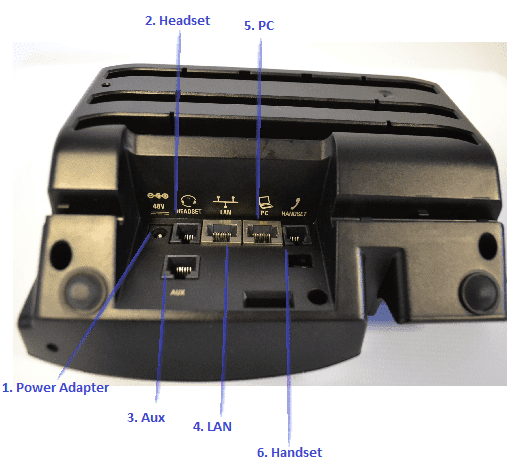 1 for the 48V power supply, 1 for headset, 1 for LAN, 1 for PC, 1 for the handset, 1 for the Aux, and 2 for USB (however one is a bit hidden at the top).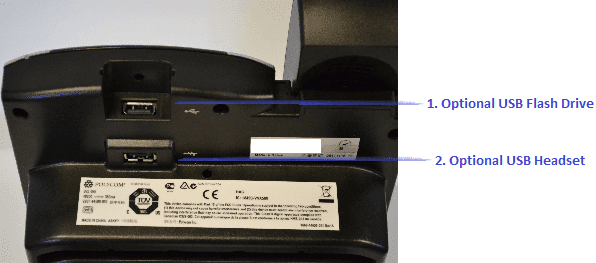 Features Explained:
As stated above, Polycom's VVX 500 includes a wide variety of features and functions, which enable the device to be utilized in a number of different ways. Note: These features are NOT calling features, but actual features of the device itself. As such, the VVX 500 includes:
| | |
| --- | --- |
| Audio Features | Phone Features |
| Polycom HD Voice for each audio path handset, hands free speakerphone, and optional headset | 12 Lines: Up to 24 Simultaneous Calls |
| Polycom Acoustic Clarity Technology; Acoustic Cancellation; Background Noise Suppression | Shared Call/Bridged Line Appearance |
| Frequency Response: 100Hz-20kHz for all modes/paths | One Touch Speed Dial, Redial |
| Codecs: G.711 (A-law and μ law), G.729AB, G.722, G.722.1, and G.722.1C | Flexible Line Appearance |
| Individual Volume Settings with visual feedback for each audio path | Distinctive Incoming Call Treatment/Call Waiting |
| Voice Activity Detection | Local 3-Way Audio Conferencing |
| Low-Delay Audio Packet Transmission | Call Transfer, Hold, Divert, Pickup, Do Not Disturb |
| Comfort Noise Generation | Energy Saving Smart Motion Detector |
| Adaptive Jitter Buffers | Support Compatible USB Headsets |
| Packet Loss Concealment | SIP Protocol Support |
| | |
| --- | --- |
| Security Features | User Interface Features |
| Time and Date Sync | Gesture Based, multi-touch capable, capacitive touch screen |
| Transport Layer Security | 3.5 in TFT LCD Display (320×240 resolution; 4:3 aspect ratio) |
| Media Encryption via SRTP | Screen Saver & Digital Picture Frame Mode |
| Encrypted Configuration Files | On Screen Virtual Keyboard |
| IP Assignment: static/DHCP/PPPoE | Voicemail & Videomail Support |
| Digest Authentication | WebKit based Browser |
| 802.1X Authentication and EAPOL | Unicode UTF-8 Character Support |
| HTTPS Secure Provisioning | Multilingual User Interface including Chinere, Danish, Dutch, English (Canada/US/UK), French, German, Italian, Japanese, Korean, Norwegian, Polish, Spanish, etc. |
Again, these features do NOT include calling features, as those vary based on provider and service plan. The VVX 500 includes the standard set of features users would expect from a premium business media phone; however, it also expands upon these standards through integrations and advanced capabilities.
Impressions Unboxed:
Though Polycom's VVX 500 device is chock full of features and such, it's a very miniature device, especially compared to similar devices. The smaller size is actually nice as it doesn't affect quality in the slightest. Bigger devices, like Polycom's own SoundPoint IP 550, features a larger console; however, even still its key pad buttons end up crammed together.  The VVX 500 doesn't have this issue in the slightest. The space on the face of the device is utilized very well. With this device, there are substantially fewer hard keys. Though this minimalistic approach may seem troubling, it isn't. The hard keys included cover primary functions, leaving the rest of the menu to the intuitive touch screen display. The face of the device also includes a Message Waiting Indicator (a flashing LCD light)—which flashes red to indicate new messages.
Aside from the face, the VVX 500, like most (if not all) IP phones, comes with a base stand. Typically, the stand comes as its own piece and attaches separately. As such, it's usually immobile—i.e. there is only one position. While the stand of the VVX 500 comes separately and attaches, users are able to utilize the stand in different inclinations.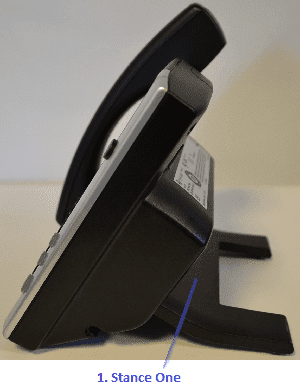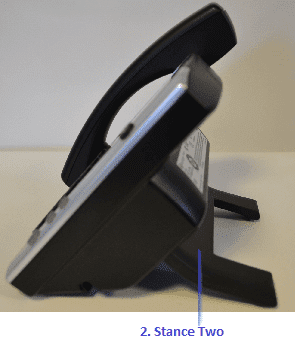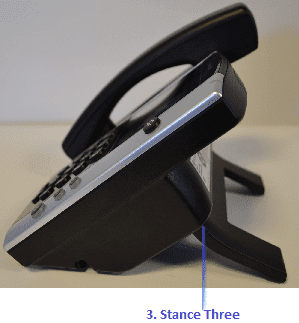 While this doesn't seem like that big of a deal, it can be to some users. With this, users can adjust their device to their optimal position.
Separate from the physical display, the phone's interface is organized quite nicely. For example, to make a call, users can pick up the handset, press the speaker or headset hard key, press new call on the touch screen, or press their line number (which is located at the top right of the touch screen). The main menu, which can be reached by hitting the "Home" hard key on the right hand side, breaks down options nicely—i.e. New Call, Messages, Directories, Settings, and Applications. Each of these options breaks down further upon selection. For example, in choosing Directories, users are allotted a few options: Add a Contact (+ on top of the screen), View Directory, View Favorites, View Recent Calls—users can sort by time/name, ascending/descending. Also, users can select call types (All, Missed, Received, Placed) and lines. Lastly, users can clear call history by All, Missed, Received, Placed, or Displayed Calls.
This type of breakdown happens for each of the options selected. Depending on what you select, there may be more (or less) categorical breakdowns. For example, Directories was pretty straightforward; however, Settings is much more in depth—including Basic, Advanced Features, and Status, each of which has their own menus (i.e. Settings>Basic>1. Preferences, 2. Backlight Intensity, 3. Backlight Timeout, 4. Ring Type, 5. Login Credentials, 6. Screen Clean, 7. Update Configuration, 8. PDC Configuration, and 9. Restart Phone).
In regards to installation and configuration, Polycom keeps things pretty simple. Polycom follows the usual plug-and-play type installation. Typically, phones are shipped in large quantities where they are configured; however, if the device is not in a large order, users may need to configure it themselves using the Web Configuration Utility.
Though the VVX 500 is a tight phone, it does have its own set of faults. The touch screen interface, though expansive and useful, does feel a little inconsistent at times. For example, to go back when navigating some pages allow for swiping, others feature a back touch key, and with some users need to hit the Home hard key. For example, to get out of Directories, users need to hit the Home hard key, but with the Settings page, there is a back touch key. Though aesthetically displeasing, this inconsistency doesn't do much in terms of altering operations; therefore, it's by no means irrevocably detrimental.
Utilization & Implementation:
One aspect of the device I've yet to cover is the audio quality. Regardless of all the various bells and whistles, at the end of the day, the VVX 500 is still a phone. As such, this phone delivers quality by utilizing Polycom's patented HD Voice technology. As such, operations like "advanced signal processing" allow voice to be clear without sounding digital. This quality is retained regardless of the audio path—i.e. headset, handset, and/or speakerphone. So, with superior voice quality, tremendous versatility/flexibility, and a ton of amenities, the VVX 500 looks to be the ideal phone for any and all businesses.
Businesses need a device that is capable of adapting with their business; however, they also need quality service, too. The VVX 500 is highly interoperable; therefore, it's able to be used in a number of different environments. The phone's design is meant to utilize and complement other technologies within office environments. This is done through a variety of applications and integrations. Furthermore, Polycom's device also allots for tremendous customizability—which helps users set up and utilize their phone much more effectively. This is done with small touches for personalization (Digital Photo Frame), as well as with more practical implementations—i.e. "My Info Portal," which delivers stocks, news, sports, and other streamed content directly on the phone screen.
Aside from personality, the device also allows for businesses to better streamline calls. For example, with Group Intercom Paging, users are able to intercom up to 23 paging groups (which the user defines), or even broadcast out to all other VVX 500s in the office. Additionally, there are video capabilities—add a webcam for two way video calls or video conferencing—which can help minimize traveling and increase personability with cliental.
Again, adaptability is probably the most becoming attribute of this device. While there are a number of phones that offer similar functions and features, the VVX 500 is alone in offering quality in measure with versatility. The only setback to doing this is limiting accessibility. Don't get me wrong, the VVX 500 is one of the most accessible devices; however, it allots for a number of advanced functionalities, which may be lost on new(er) less experienced users.
Price:
When the phone was first released, it retailed at around $269.00. Since then, the price hasn't dropped all that much (you can find a new device for at around $230). However, for users looking (or willing) to go the used route, the VVX 500 can be found at around $140-$190.
Performance Tests:
Installation:
As with most Polycom devices, Installation is very simple—i.e. plug-and-play. Users should note, however, that the device does NOT come with a power supply. Therefore, it is the user's responsibility to purchase one unless one chooses to utilize PoE in lieu of a power supply. Again, configuration and upgrades are kept simple as can be; therefore, users don't have to worry about compatability and/or interoperability problems all that much.
Call Quality:
Polycom's VVX 500 offers rich and full call quality when using the handset. This is what the call quality sounds like using the Handset.
The speakerphone quality is just as sharp as the handset. This is what the call quality sounds like using the Speakerphone.
Additionally, the speakerphone retains pretty consistent quality even when the user isn't standing close to the device. This is what the call quality sounds like using the Speakerphone while 10 feet away from the phone.
When using the phone you're going to have to enter prompts at some point—i.e. press buttons while on the line. For example, you'll need to do this to transfer calls, look at call history, etc. Additionally, when you call out to other businesses you may have to hit keys to respond to automated attendants and prompts. Regardless of the reasoning, you will hit keys while using the phone. This is what the pressing of buttons sounds like on the receiver's end.
Features:
Polycom's VVX 500 has an extensive set of bells and whistles; however, it is never crushed by them. Instead, the device is able to supplement each with tremendous versatility and superior quality. Furthermore, the device utilizes an intuitive and easy-to-use menu layout that makes usage and navigation all the simpler.
Menu:
The menu is very easy to use partly due to the precise organization that each layer inhabits. The categorical breakdown throughout the system makes jumping around very easy to do. Furthermore, the minimalistic hard keys service four primary purposes—outside of that, everything is accessible via the touch screen. Also, the touch screen gives the option of using hard or touch dial pad as both are always available. At the top right of the screen, users will see the time, day, and date. Users can sync their devices to any location they want to. While there are a number of advanced features available here, they are wrapped up very neatly and nicely.
Conclusion:
The Polycom VVX 500 is a great business media phone for all businesses, but especially those looking for more than just voice capability. Also, these devices are very scalable; therefore, they may be well suited for businesses that have yet to solidify a solid employee workforce. The VVX 500 takes the quality Polycom is known for and integrates it wholly with tremendous advanced capability. As a result, the device is an incredibly well rounded phone system. While there are always new devices and upgrades coming out, the VVX has legs for the long haul as it works to utilize existing technologies and includes extensions for newer ones. Ultimately, what more could you really ask for?
Technical Specs
Specifications
# of RJ45 Ports
2
# of lines
12
3 way conference
yes
AC Power Supply Included
no
Built-In Bluetooth
no
Built-In Wifi
yes
Color Screen
yes
Desktop Paging
yes
Display Type
3.5-in TFT LCD display, 320×240 resolution
Gigabit Ethernet Support
yes
Headset Interface
Mass Provisioning
yes
MWI Support
yes
Peripheral ports
USB (x 2)
PoE Compatible
yes
Protocol Supported
SIP
Provisioning Method
HTTP, HTTPS, FTP, TFTP, WEB GUI
Sidecar Compatible
yes
Speakerphone
yes
Supported Codecs
G.722, G.729 a/b, G.711 µ/a law
Touch Screen
yes
Voicemail Button
yes
Wideband Voice Protocol
Polycom HD Voice