Videoconferencing is a visual medium. In order to have a great videoconference experience, you want to prepare everything so you come off looking professional and prepared. Here are some tips for the technical aspects of having a great videoconference.
Have a test conference call
This is going to apply for every tip that follows. Whatever suggestions you take, you'll need to fine-tune them for your particular office settings. So, I recommend asking a coworker to have a short conference call with you to make sure you look your best.
Be lit well
Looking good is preferable to being accurate. You don't have to have a movie or photo quality studio, but take into consideration the many aspects of lighting: brightness, direction of the light, color temperature, and so on. If you're a woman, be sure your makeup looks good. If you're a man, make sure the light doesn't create a shiny spot on your head, even if it means wearing a little makeup. Ideally, the lighting would be soft, not directed at the camera, and make you look good. Even a desk lamp above the screen and pointing at you will do wonders. Avoid Venetian blinds.
Pull the camera back, and have the monitor be head-on…
If the monitor and camera are too close, you'll end up looking at the image, and therefore you'll be looking away from the camera, and therefore looking away from the person you're speaking with. There was a prominent politician recently who was looking slightly to one side during an important television speech because she was actually looking at a second camera for a less well-known web site. The politician looked like she wasn't able to look the audience in the eye, which suggested she was distracted. A good tip to avoid this is to back the camera and monitor up so that the difference is less severe. But more importantly, don't have the camera be below you. It's not only an unflattering angle, you'll tend to look like you're reading. Similarly, be sure any props that you need to use are visible to the camera.
…But not too far back…
I once saw a video on Youtube where the presenter was shown from head to toe in front of a blue screen image of her presentation. Because of the forced perspective, she looked like a tiny woman on my monitor. When I made the video full screen, she looked like a giant. In the best videos, the presenters are shown at either waist level or shoulder height. The same can be said for a video conference. But be sure that you have a microphone and speakers near you so you don't shout and that you don't have as much echo. A Bluetooth headset is perfect for this purpose.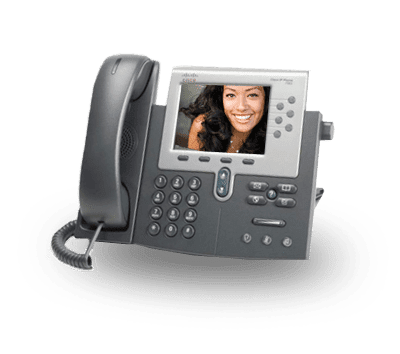 Avoid visual distractions
Be mindful of your jewelry. If it reflects, jingles, or sparkles, it's going to be distracting to the person you're talking to. Striped clothing can produce jaggies if your video quality isn't high enough. The same can be said for having a complicated pattern on the wall behind you. Go for a conservative look and make your presentation bold.
Turn off your phone!
Show some respect for the person you're talking to. Regardless of whether you answer your phone or not, the ringing phone is not only a distraction but a subtle sign that you would rather be talking to anyone else in the world but the person you're having a meeting with. Turn off any distractions, such as phones, instant messengers, and anything else that will interrupt your meeting.
Videoconferencing and other UCC tools are great productivity tools. Keep reading GetVoIP.com for more tips on how to get the most out of them. Have a favorite tip? Share it in our comments section.
Related Articles:
– Video Conference Etiquette Part One: Pants are Not Optional!
– Vidyo Announces Free Videoconference Software for Business