IP PBX Hosted company, DSCI, has outfitted a trailer with some powerful technology, including IP Phones and other peripherals showing off their service. The modified RV has embarked on a 1,300 mile road trip, making stops at various locations to demo DSCI's cloud-based business VoIP phone system. Currently, the trailer is parked on the show floor at the Channel Partners Conference & Expo, which is taking place this week in Orlando, FL.
Challenged with not wanted to be "just another telco" – DSCI decided to partner with Turtle Transit, a leading pioneer of mobile marketing vehicles and exhibits, to creat the Airstream, a demo room on wheels. Not to be fooled by it's crude looking exterior, the inside of the vintage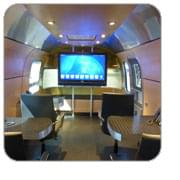 Airstream is chock full of extensive amounts of technology. Turtle Transit completely removed the existing interior, then proceeded to custom-build and revamp it into a moving exhibit. The company went ahead and applied new fixtures and finishes, such as tables, cabinety, overhead lighting, and other architectural accents. DSCI wanted a full IP PBX experience on the road, and thats what they got – the inside of the Airstream has a complete range of Polycom IP phones, a video conferencing station, and a 60″ touchscreen monitor.
Following its inaugural road trip to Florida, the DSCI Airsteam will return to New England, visiting office parks and industry events throughout the region. Those who are interested may visit their website to submit a request for the Airstream to grace their town before it finally heads back to Massachussetts.
Related Articles:
– Polycom Announces Adoption Services Platform
– Video Conferencing Growing in Popularity & Application
– How VoIP, IP PBX, & SIP Make Calls Better