I've heard of running on all cylinders, operating full-steam, etc…but I must say, that Polycom is a company that has perpetually made my jaw drop from week to week, and at times, day to day. Before becoming familiar with the concept of VoIP and unified communications, I knew of Polycom from seeing their insignia on Soundstations, which hooked up to POTs networks in various conference rooms of my former employers (with the exception of Symbol, of course). A trusted name, Polycom's products grace only the most detail oriented businesses' desks. Besides honing in on what they've done, it's much more productive to focus on how they grown.
Polycom's Development History in the Age of VoIP
2001 –  Polycom releases its first Voice over IP conference phone, the SoundStation IP 4000.
2003​ – Polycom introduces its first HD Voice product, the SoundStation VTX 1000 conference phone. Polycom HD Voice, for those who are unfamiliar, is essentially their branding of wideband audio – offering more than twice the clarity of narrowband voice.
2006 – Polycom introduces its Communicator, the C100S, which was the industry's first wideband speakerphone for a PC.
2008 – The SoundStation IP 6000 and SoundStation IP 7000 models were introduced, both of which offered Polycom's HD Voice and Acoustic Clarity Technology.
2011 – Polycom announces the shipment of their 4 millionth phone.
Looking Forward
Not satisfied with these acheivements alone, Polycom has been a name to watch over the past few years as they continue to take big strides. All in all, it's even more impressive to watch not just what they're doing for businesses – rather, it's what they're doing for humankind. Polycom is bringing people together in an unprecedented way, saving lives in the process. I'd like to discuss their most recent development – part of their continued initiative to improve health care across the planet.
Healthcare organizations the world over are turning to Polycom video collaboration solutions to transform how they learn, teach, and deliver care. Polycom solutions eliminate the distances between patients and caregivers, between physicians and educators, and between medical facilities. Eight of the top 10 U.S. hospitals and all of the top 12 pharmaceutical companies worldwide are Polycom customers, using Polycom technology to reduce patient evaluation times, allow caregivers to treat patients remotely, improve medical education, enhance caregiver productivity and quality of life, streamline hospital operations, reduce costs, and ultimately help save lives.
Behold, The Polycom RealPresence Practitioner Cart
The Polycom RealPresence Practitioner cart is a device that makes me want to pinch myself to see if I'm dreaming. It almost seems like an absurd creation, in the regard that it's so capable and futuristic, utter disbelief falls over me that it's even real. It is seemingly the perfect blend of materials, ergonomics, and technology. Here are a few of it's key features: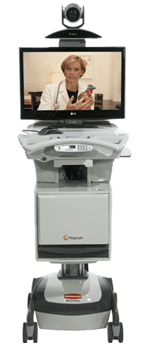 Mobility and Ergonomics​ – With a small, sturdy base, users can easily maneuver the cart in tight spaces and take full-stride steps when transporting the cart. To ensure video participants maintain eye-level contact, a powered electronic lift enables fast and easy height adjustments. A battery power system allows users to operate the cart anywhere a network connection is available.
Medical Device Integration and Connection – Clinicians have a host of input options for connecting laptops and medical peripheral devices, such as digital in-band stethoscopes and video scopes through an integrated, extensive plug-and-play side connection panel.
Security – The new cart protects patient data with AES encryption to assist in the compliance of HIPAA requirements, and secures contents with a keyless entry drawer and lockable storage bin.
Notice that red logo on the bottom of the RealPresence unit, pictured to the right? Your eyes do not deceive – that is indeed Rubbermaid: the same company you used to trust when storing your clothing, chicken cutlets, and other miscellany. The Rubbermaid body makes the unit compact and lightweight. Additionally, the durable frame protects internal electronics from spills, is easy to clean, and provides a superior level of maneuverability and flexibility.
Kevin Boyle, business leader for Rubbermaid Healthcare, weighed in on the elation his company has for playing a part in creation of the cart. "When developing this cart with Polycom, we saw an opportunity to create a highly ergonomic, mobile and versatile platform that uniquely meets the needs of today's very demanding telehealth environment. The Polycom RealPresence Practitioner Cart is a world-class solution that gives providers and patients access to the highest quality medical care no matter where they are. Rubbermaid is thrilled to have played a role in developing it."
Equipped with a simple-to-use Polycom HDX 8000 telepresence unit and Polycom EagleEye camera, the Polycom RealPresence Practitioner Cart integrates productivity with HD video technology for sharp, clear images, and Polycom StereoSurround technology for natural and crisp conversations. In other words, it's ridiculous – something to really marvel at and revere.
The Polycom RealPresence Practitioner cart has a welcome presence in a number of forums and environments – from supporting prevention and wellness programs, to stroke and neurology consultations, to psychiatry and mental health sessions. The new cart also satisfies the latest FDA Class I Medical Device Data Systems (MDDS) requirements.
The South Carolina Department of Mental Health is one organization that has implemented a tele-psychiatry program that has saved South Carolina taxpayers $21.7 million since 2009. "The clarity of the HD video environments that Polycom provides are a key factor in our program's success," said Ed Spencer, director of the tele-psychiatry consultation program at the South Carolina Department of Mental Health. "While the verbal interaction between doctor and patient is very important during a psych consult, the non-verbal cues can be even more important. Psychiatrists can learn a tremendous amount by looking for subtle indicators, like perspiration, pupil dilation and nervous twitches. Ultimately, we want to provide the best possible treatment for more patients and Polycom's Video collaboration technology makes that possible."
Polycom's Mission
The Polycom RealPresence Practitioner cart has been only one part of an effective campaign which has already yielded positive results worldwide for companies seeking to implement it. Polycom President & CEO, Andrew Miller, spoke of ushering in an era where unified communications would become ubiquitous during his Keynote Address at TIA 2012. Mr. Miller, along with Polycom have seemingly made good on that promise, as video communications will most likely become the new norm. The exemplary conception, to deployment and execution from Polycom has made it more than possible.
There are few companies I avidly follow with excitement, but I check Polycom's press releases and networking sites daily to stay on top of announcements, and often read the articles twice – proverbially astounded at what they continue to create and put into action worldwide. Polycom is more than a manufacturer – they are brilliant philanthropists furthering humanity with some of the most amazing advancements on the market. From classrooms to hospitals, Polycom products are keeping us connected, educated, and healthy.
Related Articles:
– Polycom Announces Adoption Services Platform
– Telepresence Robots: Far From Automatic Acceptance
– Alaska School District Uses Polycom RealPresence Video